From The Publisher: Finding Common Ground
Focusing on bipartisan issues could help bridge the gap between political parties in the state.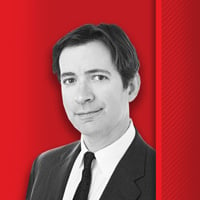 (Note: I wrote the following column prior to the events of Jan. 6. I have decided to leave it mostly unchanged. I only hope that day will serve to illustrate the savage effects of disinformation on America and to start the healing process necessary for our country to move on.)
This month the Georgia Trend Legislative Guide features current members of the Georgia General Assembly, one of the biggest in the country, along with our state leaders and U.S. Congressional delegation. In spite of the budgetary challenges the state faces, it could be a great legislative session.
I say this because some state leaders have courageously defended our elections, showing a solidarity rare for our time against the disinformation that has crept into public debate.
The embrace of disinformation – false information designed to intentionally mislead, as opposed to incorrect information that's shared by mistake – by so many other public officials portends ominous legal wrangling in the years ahead. If a significant chunk of elected officials can willingly mislead their constituents and be rewarded for it, what can stop them from passing laws reflecting wrong information, regardless of the impact on public health or voting rights? What can stop them from claiming sovereignty over other states?
I won't dwell on the fact that this has been a top-down campaign of intimidation, driven primarily by "if he can say wrong things and get away with it why can't I" thinking on multiple levels. I also won't dwell on the cynicism of certain leaders using disinformation they most certainly don't believe to further their political careers.
This is a time to unite, not dwell on divisions. Georgia has good leadership. We have always been a moderate state even if some of the voters swing wild. That centrism has certainly been tested in the past four years but will be an asset moving forward.
Georgia has had a Republican trifecta since 2005, with the GOP holding both state legislative chambers and the governorship. But statewide demographics show voters are fragmenting. Democrats dominate urban areas but hold just three seats in the rural areas of the state, Kyle Wingfield recently reported for the Georgia Public Policy Foundation. And exurban voters, neither rural nor urban by definition, comprised 40% of those who voted Republican in 2020.
Reconciling these Georgia voters who are increasingly isolated from one another is a huge challenge. Wingfield suggested leaders find common ground around bipartisan issues like education, healthcare and housing to bridge the widening gap between party territories.
Georgia's leadership has gained ground in its rural-focused initiatives, establishing a law allowing local electric membership cooperatives (EMCs) to create broadband service, which is critical to addressing education and healthcare issues. And Atlanta has been walking the talk when it comes to incentivizing affordable housing with its Housing Affordability Action Plan.
So it's not impossible to get conversations going to improve the lot of all Georgians. However, it will take a willingness among voters and constituents to harken back to truth-based policy.
And it will take more than broadband to make that happen. Let's face it, in the online universe it isn't easy to tune out the noise of conjecture and remember that the best sources work very hard to earn and keep the respect of their audience. Fact checking is under attack, and social media has amplified the tendency for opinion writers to hold more sway with evangelistic fervor. If "kill the messenger" becomes the prevailing ethic for fringe politics gone mainstream, can book (and magazine) burning be far behind?
Despite being under intense pressure from the Trump administration and other state Republicans, Georgia's top leaders – notably Gov. Brian Kemp, Secretary of State Brad Raffensperger and Lt. Gov. Geoff Duncan – chose truth over conjecture, even staring down threats to their own safety, in defending our elections. National and state leaders who have done the opposite by exploiting news not fit to print should look into their hearts, and to these leaders for having the fortitude to do what is right for the state and for the country.