2021 Georgia Legislative Guide
Challenges and Opportunities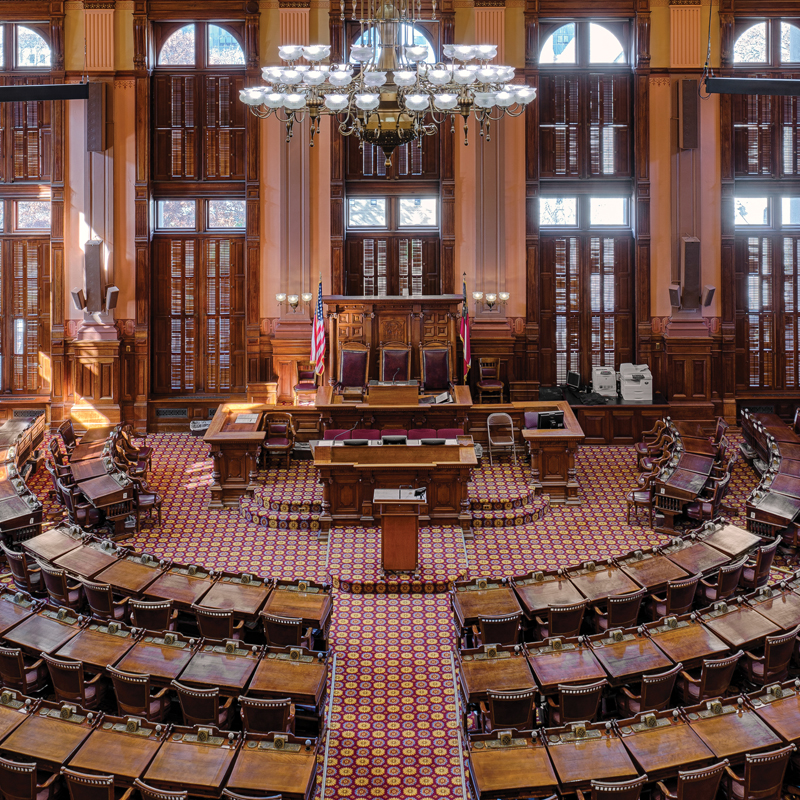 The 2021-2022 Georgia General Assembly session is underway and it's a good time to know your lawmakers and the issues they're likely to focus on this year. Our 2021 Legislative Guide will help you navigate the layers of state and regional government with its listing of the entire General Assembly, including 180 members in the House of Representatives and 56 in the Senate, plus statewide leaders and Georgia's congressional delegation.
Despite the pandemic, state leaders have touted the strength of Georgia's economy. In fact, rather than dip into the "rainy day fund," as expected, Gov. Brian Kemp has asked for increases in spending to partially make up for last year's cuts.
Georgia's budget for the fiscal year that started July 1, 2020 included a $2.2 billion cut from the previous year. Education and healthcare were primarily impacted, with nearly $1 billion slashed from public education funding and a $242 million cut to colleges in the university system. Funding for behavioral health services was decreased by $29 million. The budget for the rest of fiscal 2021 and fiscal 2022 would restore roughly 60% of the previous cuts from K- 12 school funding. That would amount to about $1.2 billion over two budget years.
That's good news for school boards seeking to maintain funding levels at those prior to March 2020 – Cobb County, for instance, lost students and could lose dollars based on the state's education funding formula. Teachers may not see raises – Kemp proposed bonuses instead – but he doesn't anticipate furloughs for any state employees.
Additional revenue sources in play include raising the tobacco tax on cigarettes and vaping products that could generate around $600 million, and sports betting, which could bring in around $300 million. Georgia could reverse the cut to its state income tax from 2016 and expand Medicaid, which would increase federal funding by hundreds of millions, but neither is likely with Republicans in the driver's seat.
Social issues will be much discussed. The Georgia Legislative Black Caucus – a team of 65 legislators – seeks to repeal the Civil War-era citizen's arrest law (which was claimed as a defense in the killing of Ahmaud Arbery) while preserving some elements that protect businesses.
And so will COVID-19. The legislature could authorize public hearings and judicial actions via teleconference, increase the maximum reimbursement for Emergency Medical Services personnel and extend the job tax credit program to disaster- impacted businesses.
Helping rural Georgia remains a priority. The Georgia Broadband Deployment Initiative includes a state grant and loan program to support local initiatives but has not been funded. Georgia cities seek a network of care systems for behavioral health, addictive diseases and developmental disabilities that could offset the impact of closed or closing hospitals. There is pressure to expand PeachCare, a life-line to more than 130,000 Georgia children under age 19 who don't have health insurance.
There's a lot of the unexpected under the Dome this year, and a lot of good that can be done this session for Georgia.
Click HERE to view in Digimag