The Tough Ask for Georgia's Nonprofits
How are Georgia's nonprofits raising money during the pandemic?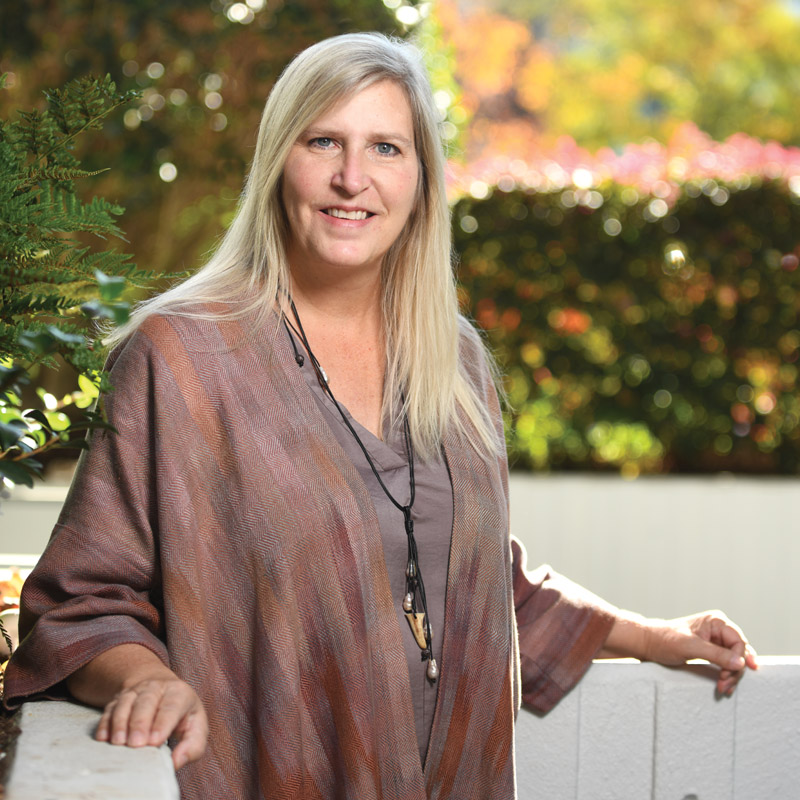 Just over a month ago, more than 40,000 participants laced up their running shoes and headed out for the AJC Peachtree Road Race, an Atlanta tradition dating back to 1970. But the 2020 version of the 10K – like a lot of things from 2020 – was a little bit different than before.
For one, the race started on Thanksgiving Day, rather than the usual Fourth of July. And there wasn't a starting line, at least not officially. There wasn't a defined route, either. For the first time in its 51-year history, the Peachtree Road Race went virtual, letting participants from around the world run their own race on whatever route they chose, wherever they were, tracked through a smartphone app loaded with signature race details.
It was a decision guided as much by necessity as by safety, says Atlanta Track Club Executive Director Rich Kenah. The Atlanta Track Club, which organizes the race each year, is a nonprofit. Its mission is to help Atlanta's children and adults lead healthier lives through walking and running. And the race, imperiled by a pandemic that prohibits large gatherings, is the nonprofit's largest fundraising event, raising through registration fees the bulk of the money the organization needs to deliver its programming throughout the year.
"We've seen a significant decrease in our annual revenues, and it remains to be seen where we're going to land," Kenah says. "We did pivot and move the Peachtree to a virtual event, and that will allow us to deliver something that is authentic, albeit virtual, and keep the organization intact so that we can plan for the 52nd running of the Peachtree in 2021."
Creating a virtual experience of something inherently physical like the Peachtree Road Race is just one example of the moves Georgia's nonprofits have had to make to stay afloat over the past 10 months. Without the typical large, in-person eventsand facing donor apprehension – and sometimes inability – to give during uncertain times, organizations have relied on creative shifts, refined approaches and a sharp focus on their mission.
---
Individual Differences
In June, the Georgia Center for Nonprofits (GCN) conducted a statewide survey of 520 of its member organizations to gauge COVID-19 impacts and 2021 projections. Results show a sector that's quickly adapting to challenges in funding and demand, with impacts – and their severity – depending on a nonprofit's size and mission.
GCN survey data show that 90% of nonprofits in the state reported reductions in revenue, with smaller nonprofits reporting more significant funding reductions – as much as 50% in some cases. Eighty-four percent of survey respondents were confident they could weather the situation, yet only 23% expressed a positive fundraising outlook for the next 12 months.
Why the discrepancy? It's likely tied to mission.
"We've had these bursts of giving, particularly to organizations that are on what we call the 'front lines' in health, community clinics, or food and rent assistance," says Karen Beavor, GCN's president and CEO. "Certainly, people have stepped up and given to those."
The Macon Volunteer Clinic, a medical clinic providing free primary medical, dental and eye care to Bibb County's uninsured working adults, found itself facing unexpected pandemic-related operating costs early last year. The mostly grant-funded clinic moved quickly to identify and apply for COVID-19 relief grant funds offered by community organizations to cover these expenses.
Nearly $30,000 in funds from the Healthcare Georgia Foundation, Community Foundation of Central Georgia and United Way of Central Georgia helped the clinic stand up its new telemedicine service and prepare to safely treat patients in person throughout the pandemic by building mask reserves and installing new HVAC filtration units, for example.
"As far as fundraising goes, I don't think we have been as challenged as many nonprofits have been," says Cathy Loyd, the clinic's chief development officer. "We have stayed very aggressive with our fundraising from minute one, but also healthcare is an essential service. It is probably going to be easier for essential service charities to raise funds in these times than it is for the arts or things that people do not see as essential.
"If they are not in essential services,I just think the challenge is going to be there," she continues. "I know that's a tough ask."
---
Telling the Story
Nonprofits not on the "front lines" – such as arts and civic organizations, educational nonprofits, environmental groups, museums and more – have had to strengthen messaging around how the work they do impacts their communities. This requires effective storytelling that humanizes the work, grounding its impacts in tangible ways that donors can recognize, appreciate and feel compelled to support.
At Step Up Savannah, a nonprofit that works to reduce poverty in the Savannah region through workforce development programs, financial education programs and policy reform advocacy in areas like affordable housing and predatory lending, it's called for reflection to simplify and amplify the organization's mission.
"In the midst of a pandemic, it's been hard for us to think about our work differently, in that we've been doing it for 15 years," says Alicia Johnson, the organization's executive director. "This required us to pivot and to figure out meaningful ways for us to draw connections for people about why this work is still important, why it still needs to be done and why it still needs to be underwritten by all those sectors of the community, whether it's business, local community members, social services and so on."
The nonprofit used its annual meeting, held virtually in late October, to define its importance in the community, juxtaposing statistics about the level of poverty in Chatham County with the tangible impact its programs have had, like the number of program graduates and percentage who found meaningful employment after graduation.
Video testimonials from graduates of the organization's Chatham Apprentice Program and Neighborhood Leadership Academy helped to further ground Step Up Savannah's work and its impact on the community – a message the nonprofit hoped would resonate with viewers when it reached out for corporate sponsorships and donations later.
"We went to great lengths to humanize the work," Johnson says. "Our No. 1 aim is to demonstrate the importance of this work and how valuable it is to the community."
---
Maintaining the Magic
In mid-March, as the coronavirus started to take hold, leaders at Atlanta's Center for Puppetry Arts made two bold moves: They briefly shifted their focus from fundraising to staying in touch with their audiences, and they started streaming free performances and learning programs to viewers around the world.
Children and adults alike needed to escape into something that would bring them joy, says Beth Schiavo, the center's executive director. The center wanted to be their "outlet that felt normal and that felt safe," she says.
From March to June, more than 200,000 unique visitors across 88 countries virtually attended the center's performances, workshops and tours. While its programming clearly resonated with people, the free programming didn't help the organization in terms of raising money.
"We're highly reliant on performance revenue, which we couldn't do anymore," Schiavo says. "So we've put a lot of effort into our museum experience and creating events that can be online events or that can be safe, in-person events with limited people. We're running about 25 to 30% of our normal capacity, but it does allow us to stay engaged with our fans and to introduce new audiences to what we do at the center that got to know us during that free programming time."
Those big spring engagement numbers gave the center something unique to offer to potential corporate donors: specific experiential opportunities, Schiavo says, such as sponsorships of special in-person events.
For example, Kotter International, a consulting firm, sponsored October's in-person Monster Mash event. "Kotter International has never sponsored anything at the center before," she says, "and has not been a corporate donor before, but was excited about the opportunity to bring joy to families onsite at the center and agreed to be a sponsor of that event.
"Rather than have some of the conversations we have around big corporate donations that are more general in nature, we're trying to really appeal to potential donors on how they can get involved in bringing this joy to families," she says.
And selling safe in-person experiences lets the center adjust its fundraising strategy without tinkering too much with what makes the center unique, she says.
"The hardest part of that is you don't want to mess with the programming and the content, the art," she says. "You don't want to mess with the magic, but how do you manage the business a little differently going forward? You have to keep that magic, or else why are you still around?"
The team at the Atlanta Track Club found themselves asking similar questions as coronavirus cases spiked last summer. They weighed different options for holding a safe, in-person event but kept coming back to the same question: What makes the Peachtree Road Race the Peachtree Road Race?
"We ultimately came to the conclusion that we could deliver something … in person that was safe, but it would be so far from what the normal Peachtree is that it wouldn't be the Peachtree. It would be something different, a different event," Kenah says. "For an event that is 50 years old, we thought it more important to lean into the things that people know and love about the Peachtree."
So, they sent the coveted Peachtree Road Race T-shirt back to the printer to add a nod to the year's special circumstances on the back. And they partnered with Haku, a technology platform for virtual events, to create an app that would deliver a virtual race experience that was as close to the in-person race as possible.
The app included race traditions like an opening greeting from Atlanta Mayor Keisha Lance Bottoms as well as a blessing from the Rev. Samuel Candler, dean of the Cathedral of St. Philip, as racers reached the one-mile mark – "Jesus Junction" on the official course.
"There are tens of thousands of people who have been doing the Peachtree for years, if not decades, and we heard time and time again from those folks that they wanted to find a way to keep that tradition and that streak alive," Kenah says. "We want them to enjoy this as best they can with the understanding that we're going to come back as strong as ever once the coronavirus is behind us."
---
After COVID-19
It's true: One day, the coronavirus will be behind us. But what will our communities look like then if we do not support the nonprofits that serve them now?
"The community is going to recover. We're not always going to have this, and are we not going to want our arts institutions [after the pandemic]? Are we not going to want to go to community theater? Are we not going to want to have a jazz performance? Are we not going to want to go to the symphony?" asks Beavor. "People need to think broadly about what nonprofits mean to their lives. We live our lives in nonprofits, and you may not really consider that, but you do."
Nonprofits are also taking this time to ask themselves what they will look like after the pandemic. Many have delivered services virtually out of necessity for the past 10 months. It's a change that will stick for both the Macon Volunteer Clinic and Step Up Savannah that have seen how this technology gives them a level of access to their communities they didn't have before.
In addition to how they deliver services, nonprofits are rethinking how they deliver their messages. The Atlanta Track Club hired a new director of development and community relations in late September to better diversify revenue streams and more clearly communicate the club's story and mission.
The Center for Puppetry Arts is thinking critically about who it reaches, identifying strategies to target more underserved communities and incorporate more diverse voices into its programming. The goal is to become a more inclusive organization that better represents the community it serves, says Schiavo.
Overall, it's a time for intentional, sustained efforts to "really dial down and have some laser focus around what we do and who we are," says Johnson. And sometimes, that means just getting through the hard times.
"The thing that keeps me laser sharp is being a good steward of whatever we have and determining that resiliency is not necessarily about coming out leagues ahead of your peers. Resiliency, sometimes, is about just coming out intact and whole and counting that as a major success," she says. "To live to fight another day is going to be a huge success coming out of this."