Our State: Marietta | Cobb County – Back on Track
Healthcare, parks and tourism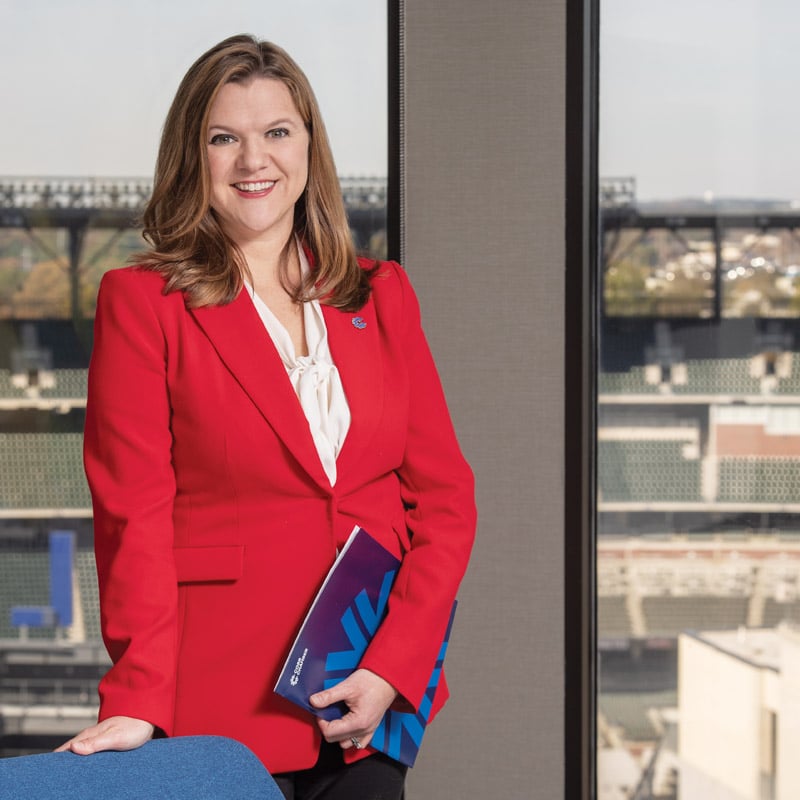 Like almost everyone else, Cobb County's leaders are entering a new year they hope will be dramatically different and smoother than the one that preceded it. Nonetheless, the county has done its best to keep the local economy pumping as the world looks to reduce the COVID-19 threat in 2021.
Last January, the Cobb Chamber of Commerce celebrated its move to impressive new digs on the 10th floor of a tower overlooking Truist Park and The Battery, providing views as far away as Kennesaw Mountain and the Atlanta airport. The chamber vacated its new home just two months later due to COVID, but began moving back in over the summer and has been working to resuscitate Cobb business ever since.
"We're going to keep focusing on recovery," says Chamber President and CEO Sharon Mason. "We know this is continuing, and our role at the chamber has never been more needed for advancing the economy and stimulating the economy."
The chamber's new headquarters offers views right into the stadium, it's brimming with local artwork and many of its features are even sponsored by local businesses. For example, Kaiser Permanente sponsors the hand sanitizer, while Superior Plumbing sponsors the bathrooms.
As the virus marched on, the chamber stayed busy distributing $40 million in grants from the federal CARES Act. In total, more than 3,000 small businesses received relief grants to help pay and hire employees or meet expenses like rent and utilities.
"A lot of businesses have told me this is saving their company," says Mason. "Without these grants, they would have had to completely shut down."
The chamber also helped draft reopening guidelines used by businesses across Cobb, and helped organize a system that has distributed more than 18,000 meals to local residents since May.
Just across the street, the Atlanta Braves wrapped up their fourth season at the stadium now known as Truist Park, winning the National League Division Series and playing in the National League Championship Series. While stadium access was severely limited, the team offered watch parties at the park for the playoff games in Texas, with up to 3,000 fans spreading out on blankets in the outfield and seated in the stands.
---
Cumberland Growth
Outside the stadium, The Battery saw an increase in foot traffic after the state's COVID shutdown ended. The Coca-Cola Roxy resumed its shows, and the Park Bench dueling piano bar began offering another live music option right down the street.
The area also welcomed a second hotel, Aloft Atlanta at The Battery, to complement the existing Omni hotel.
"We realized quickly that because of the destination we created, we probably could have built another 200 rooms at the Omni," says Mike Plant, president and CEO of the Braves Development Company. "Once we finalized the deal with thyssenkrupp, which will bring upwards of 10,000 visitors a year, we realized we can bring in another hotel."
"Upward" has multiple meanings when it comes to thyssenkrupp. The German conglomerate is constructing the North American headquarters for its elevator division, which at 420 feet will be Cobb's tallest building upon completion later this year. The headquarters will employ more than 1,000 when it fully opens, with an average salary exceeding $100,000. Topping the tower will be space that can be rented for events.
One of the biggest events to ever hit Cobb County will arrive at Truist Park in July when the 2021 Major League Baseball All-Star Game is scheduled. The halo impact on the county's economy is expected to be tremendous.
"The All-Star Game is a global impact event," says Plant. "There will be tens of thousands of people here for FanFest at the Cobb Galleria Centre for 10 days. The game will showcase The Battery and everything that's a part of it to a global audience."
Walk across two pedestrian bridges from The Battery and you arrive at Cumberland Mall, still thriving after nearly 50 years in business. But the mall's stakeholders aren't taking this success for granted – instead they're actively working to transform it into a mixed-use development with apartments and hotels, a fire station and a transit terminal.
What is now a sea of asphalt parking on the mall's east side is slated to become more than 300 apartments, two office towers, potentially a hotel, a parking deck, fire station, 10-bay bus terminal and retail, totaling nearly $150 million in development.
"The project will be transformational for the mall, but it's also really good for the community," says former Cobb County Commissioner Bob Ott, who helped lead the project before retiring from the commission in December. "The county gets a needed fire station, and I think the transit options that will become viable with a true transit hub make the area a true destination."
The project will be built in phases, with the apartments coming online first.
"This is the next step in continuing the mall's success," Ott says. "You're taking a classical mall setting and turning it into a mixed-use development."
---
Expanding Horizons
In July, Wellstar Health System celebrated the opening of the new emergency department at Wellstar Kennestone Hospital in Marietta. The ED has the capacity to handle 220,000 patients annually, which has been tremendously helpful during the pandemic.
The new facility also has three different entrances, making it easier to separate those who are COVID-19 positive. At 263,000 square feet, Kennestone's emergency department is larger than many hospitals.
"During the pandemic, the new emergency department has proven to be a very important part of the care model for Cobb County," says Mary Chatman, executive vice president of Wellstar Health System and president of Kennestone and Windy Hill Hospitals. "People want to be able to seek care, but they also want to have confidence that the care is administered safely."
Chatman says that some patients who delayed seeing a doctor last spring for fear of the pandemic started coming in during the fall, many of them sicker for the delay. But with 11 hospitals, Wellstar and its staff have stepped up to care for all who enter its facilities – as well as some who opt to stay home. Before the pandemic, Wellstar was conducting around 100 virtual patient visits per week, systemwide. Now that number has risen to 2,800 per week.
Wellstar has also been a site for coronavirus antibody testing, and Chatman says conversations about administering a vaccine started months ago.
"There are lots of things to work out and figure out related to a vaccine," Chatman says. "But because Wellstar is large, comprehensive and we pride ourselves about being on the cutting edge, when new things happen our leaders and clinicians are sought to be on the front end of that planning."
One less-dire side effect of COVID-19 has been a vast increase in people enjoying the outdoors. For Powder Springs, another option to do so opened in late September with the debut of Thurman Springs Park.
The park is located in downtown as part of a planned transformation of the area. It's named for Powder Springs Mayor Al Thurman, the first Black mayor in Cobb County.
"We decided we needed to create density downtown, and to do that we were in need of a focal point," says Thurman. "The city council decided that the park would be our centerpiece and that we'd develop around that."
The naming came as a surprise for Thurman.
"Our staff suggested the park be named Thurman Springs Park, and a couple of weeks later it was on the agenda and the council voted it in," says Thurman. "I wasn't expecting that. I kind of stayed away from [the naming process], but God is really good."
Another well-known destination in Cobb is Acworth, which bills itself as The Lake City. Acworth celebrated the opening of a 44,000-square-foot community center in April 2019, including a 7,000-square-foot banquet hall, administrative offices and an activity center with a gymnasium, walking track and exercise room. According to Neely Motiejunas, who manages the community center, it hosted a number of weddings, annual meetings, conferences, seminars and dances, among other activities, in the year before the pandemic hit.
"The community center has become an economic development partner for us," says Acworth Mayor Tommy Allegood. "It has brought in different types of events that bring in people who shop downtown and support our local businesses. People are coming to Acworth that never would have come before."
Kim Watt, Acworth's tourism director, says the city looks forward to hosting a full slate of events again in 2021, including an Easter Egg hunt, Pizza, Pints & Pigskins and Pops at Logan Farm Park. The city also continues its investment in sidewalks and trails to further the outdoor fun, such as a planned trail that will completely encircle the lake.
---
Trying Tourism
Locals may find it hard to believe, but tourism is Cobb County's largest industry. It employs over 35,000 and generates more than $3 billion in economic impact annually.
"While tourism has been hit harder than a lot of other industries, it's resilient and tougher," says Holly Quinlan, president and CEO of Cobb Travel and Tourism. "We'll all come out of it on the other side."
Both Six Flags theme parks in Cobb – Six Flags Over Georgia and White Water – reopened in summer, and Quinlan says they've set an example for other parks to follow, working with health experts and employing methods like cashless transactions to ensure the safety of visitors.
Tourism is ramping back up as visitors travel from shorter distances of less than 100 miles, and Quinlan added that youth sports tournaments mostly kept going strong.
In August, Cobb Travel and Tourism launched its "Hello Again" campaign, which provides itineraries for activities that can be done alone, in small groups or around more people.
"The campaign is centered around the idea of saying hello again," Quinlan says. "It's about welcoming people where they are. Some are comfortable in a small group, and others are comfortable going to Six Flags. It's about letting people know we have something for them no matter what their comfort level is."
The Cobb Galleria Centre is also a tourism draw, bringing convention visitors from across the southeast. For the second year running, the Galleria was named a top convention center by Exhibitor magazine.
"The Galleria is a safe and walkable destination," says Michele Swann, general manager and CEO of the Cobb-Marietta Coliseum & Exhibit Authority, which includes Cobb Galleria Centre, Cobb Energy Performing Arts Centre and ArtsBridge Foundation. "Our amenities are extraordinary, with The Battery, Truist Park and Cumberland Mall all within walking distance. We have a tremendous sales staff and a diverse hotel package, so we're extremely proud that we got that award for the second year in a row."
Swann has been with the Galleria since 1995, and she's looking forward to an even brighter future for the convention space, Galleria mall and Cobb Energy Performing Arts Centre.
"We're going to keep doing what we've been doing in terms of service," says Swann. "It has worked well in the past and we think it'll work in the future."
---
Local Flavor
Telling Stories
The Marietta Museum of History doesn't just document history, it is history. Situated next to the train tracks by the Marietta Square, it's located in Kennesaw House, which dates to 1845. The building spent much of its life as a hotel before becoming home to the museum in 1996.
The museum reopened from coronavirus lockdown on June 16 and has been going strong ever since, though Christa McCay, the museum's collections manager and a 16-year employee, says attendance is down as much as 70%. Recent exhibits focused on history that too often goes overlooked.
The first, The Man with the Camera: Photographs by Raymond T. Burford, detailed the life's work of a Black photographer who documented Marietta's African-American history during the mid-20th century. It featured photos from the 1940s through the 1960s, most of which were loaned to the museum from local families.
"Our goal at the museum is to have more diversity and inclusion, not only in our exhibits but in our collections as well," says McCay. "We love to tell stories, but we weren't telling the whole narrative, the whole story. We want to make sure that from now on we're focusing on collecting more of the history of people of color."
Another exhibit highlighted the fight for women's suffrage, and how the battle was waged both locally and nationally, through a selection of posters curated by the Smithsonian Institution to celebrate the 100th anniversary of the 19th Amendment that gave women the right to vote.
A current exhibit, Made by Her Hands: The Beauty, Warmth and Stories of Local Quilting, features quilts made by local Marietta and Cobb County women. Not only are the quilts displayed, the stories of the women who made them are shared as well. The quilts will remain on display until the end of March.
Also in 2021, the museum's Diverse Cobb initiative is planning to create an oral history of domestic workers, preserving their stories for future generations.
Between 10% and 15% of the museum's 35,000-plus artifacts are on display at any given time, with the rest housed on the building's third floor. Before the pandemic, about 60% of visitors hailed from outside the Metro Atlanta area.
"Usually people are here for a good hour or so," says McCay.
McCay also leads tours of the Marietta City Cemetery, which dates to the 1830s, sharing the stories of its notable inhabitants. Among them are Charles Dobbins, namesake of Dobbins Air Reserve Base, and Alexander Stephens Clay, the only U.S. senator born and raised in Cobb County.
For McCay, getting to tell stories and interact with the public is what makes the Marietta Museum of History such a special place to be.
"The best part is when somebody comes in with an artifact related to Marietta or Cobb County and they don't know what it is," she says. "I can look it up, and often within an hour I can figure it out. That's the best day for me."