Our State: Americus | Sumter County – Looking Ahead
New investments, community improvements and education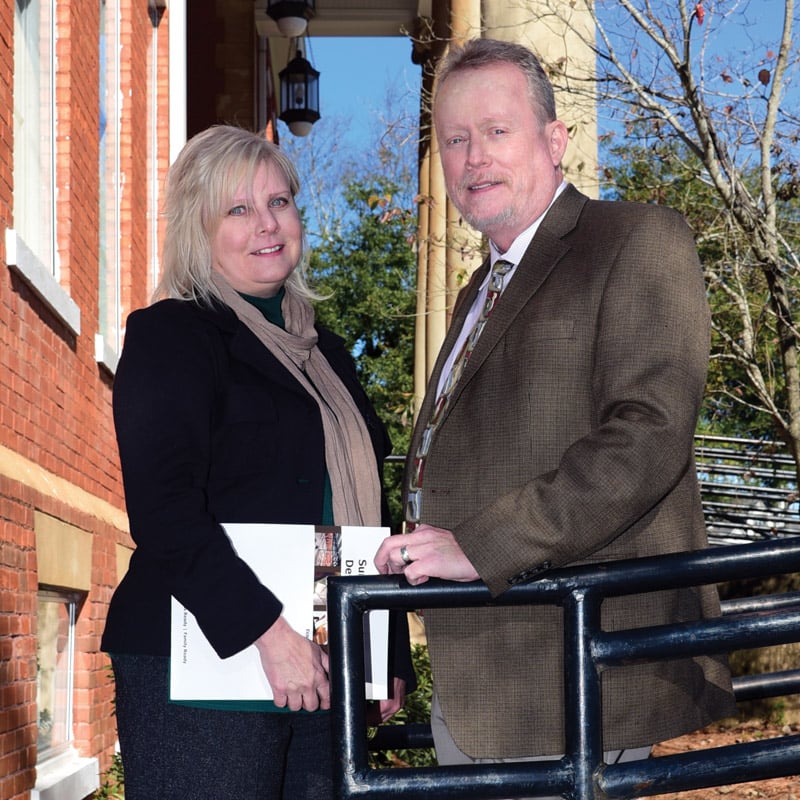 Like the rest of the world, Sumter County was relieved to put 2020 behind it, though the fourth quarter did bring some announcements to cheer about. And while many of the issues from last year remain, Sumter leaders are looking straight ahead.
In late 2019 the county hired the husband and wife team of Rusty and Susan Warner, he as executive director of the Sumter County Development Authority, and she as project manager, also overseeing public relations, marketing and accounting for the authority. The couple has worked similar roles in other areas following years together in real estate, she says.
"Susan basically does all the real work, and I just sit around and kiss babies and smile," he jokes. "We make a pretty good team, and we only fight about 100 times a day."
The Warners can't say enough about the cooperation they receive from the development authority board and the enthusiasm the county has overall. Rusty Warner sees great untapped potential for the county, some of which is already coming to fruition.
The two helped orchestrate several big announcements last fall including the arrival of TLC Associates, an inbound and outbound call center bringing 1,000 jobs to the area. TLC opened its center Nov. 1 at the Ted Baldwin Business and Technology Park. The facility will serve as both a local call center and as a centralized office for TLC's other projects around the country.
"The Industrial Drive building was already perfectly built as a call center with raised flooring, open areas and technology areas, and backup systems," says Rusty Warner. "They are an absolute fit for our community and our building."
Also committing during the fourth quarter was BandD Foods, investing $15 million and creating an initial 100 jobs with more promised, he says. A supplier of frozen meat products, BandD established its new production facility and management offices at the former Glover Building, already well equipped with refrigeration and dock doors.
Earlier in 2020, Southern Wholesale Glass made a multimillion-dollar investment to expand its facility by 20,000 square feet, including a truck and parts shop, and create 60 new jobs ranging from high-tech to maintenance. The company manufactures made-to-order, insulated glass for residential and commercial projects.
---
Downtown Living
Americus Mayor Barry Blount says many planned projects moved forward last year despite the pandemic, including the repaving of Lamar Street – the west-east corridor through Americus – taking it from three lanes to two and adding about 50 angled parking spots on the south side of the street.
"That will hopefully be a benefit to our restaurants and retail shops downtown. It's really changed the whole dynamics and aesthetics of driving through downtown Americus now," he says.
Also downtown is the Allison Building, originally built in the early 1900s and located across from the Windsor Hotel. It currently houses retail on the bottom floor and now the second and third floors are being converted to upscale apartments, says Blount. Demolition began in fall of 2020 and by mid-2021 there will be 12 new residential units downtown, something that is in high demand in Americus.
"We're looking forward to that. People who have downtown lofts now always have a waiting list for them, and this will give us more inventory, so we're certainly excited about that," he says.
Qaijuan Willis, Main Street director at Downtown Americus, seconds that. He's optimistic that local businesses have rounded the corner following pandemic challenges. Main Street was able to reallocate more than $15,000 to provide COVID relief grants to 14 local businesses.
Downtown Americus continues moving forward with projects in its Renaissance Strategic Vision and Plan. Also known as RSVP, the planning process and resulting document are facilitated by the University of Georgia's Carl Vinson Institute of Government. Included in the Americus plan are a downtown streetscape project that will add curb extensions for pedestrian safety, plus tree plantings and new sidewalks for a more walkable environment.
Downtown Americus Program Coordinator Haley Hanniford says that while they were unable to host the popular Hot Glass Cold Beer craft beer event in April, they did sell out their pre-pandemic Women's Wine and Chocolate Walk 2020 in February and enjoyed a successful new event, the Food Truck Festival, in October. They also extended Lenny's Farmers Market into the fall to meet growing demand and they continue to add vendors.
---
A Brighter Tomorrow
Partnering with local leaders, Phoebe Sumter Medical Center has championed making Americus and Sumter County a healthier place to live by establishing community gardens, says Blount. It's part of the hospital's work to target three of the most serious local problems: unhealthy eating and food deserts, colorectal cancer and suicide. The effort also aims to bring down the high rate of diabetes and high blood pressure among residents, he says.
"We know one of the causes is unhealthy diet," Blount says. "A lot of folks that live in our community don't have ready access to fresh vegetables." A garden at Brookdale Park on the northwest side of Americus that opened in November is the first of many planned throughout the county.
Public safety was recognized when the Americus Police Department – already state certified – received national accreditation from the Commission on Accreditation for Law Enforcement Agencies (CALEA). Of the 628 law enforcement agencies across Georgia, only 56 are accredited by CALEA, according to Maya Mitchell, CALEA communications and organizational development manager.
Now in his 27th year as executive director of Sumter County Parks and Recreation, Tim Estes says funds from the 2013 Special Purpose Local Option Sales Tax (SPLOST) along with funding from the SPLOST passed in 2019 will be used to develop an addition to the football/soccer complex, adding a third field early this year. A lighted, covered amphitheater will be constructed adjacent to a new concrete walking path encircling all three fields.
"You're getting a third field but also a community gathering place where we can do concerts, movies in the park, Relay for Life and other big community gatherings," says Estes of the $550,000 project.
About $350,000 in SPLOST funding will be used to replace the 1960s-era Rucker Street swimming pool and bathhouse, bringing the facility up to current regulations, he says. Another $300,000 will be spent on playground renovations countywide, with the bulk of the funds used for semi-permanent, low-maintenance surfacing on playgrounds that meets current national standards.
---
Top of Their Game
Like all schools, South Georgia Technical College altered its delivery of instruction for students because of the pandemic. The coronavirus also halted the streak of record enrollment it experienced each semester for the past five years.
"We're reinventing ourselves like everyone else," says President John Watford. "It's a challenge and an opportunity because we're one of the heaviest occupational instruction hands-on training among technical colleges, with most of the students here for programs like welding, diesel and aviation maintenance.
"We were able to supplement with online instruction during the height of the crisis, but now we're learning how to deliver hands-on training with more strategic scheduling and fewer students in a lab at a given moment, with safety as a priority," he says. "We're meeting that challenge and putting people to work."
Construction on a $1.6 million building that will offer commercial truck-driving instruction, plus a skills field is scheduled for completion in late spring. A five-acre pad will be resurfaced and re-leveled for the skills field and the facility will house truck-driving simulators.
"It's one of the HOPE High-Demand Career Initiatives programs, and there are a lot of jobs for truck drivers and a lot of students wanting truck driving," Watford says. "It's one of our strongest programs as far as growth right now. Because of COVID safety requirements and space, we're training as many as we can process. It's a great field to get into; the sky's the limit with earnings potential."
Interest in post-secondary education is also strong at Georgia Southwestern State University. President Neal Weaver reports that despite the pandemic, enrollment was up about 7.5% overall last fall.
"We saw about a 17% increase in our freshman class and graduate programs are up about 15%. We saw a nice improvement in a lot of different areas that certainly leads us to believe it's not strictly a COVID-related change," he says. The education and business master's programs saw the biggest increases, he adds.
Enrollment is solid for the long-term care management program launched in 2019, which combines business, nursing and caregiving. "Obviously, with the aging population in our region and across the country, folks that know how to provide long-term care are in high demand, so those graduates are doing really well," Weaver says.
Partnerships with Magnolia Manor, Phoebe Putney Health System and the Rosalynn Carter Institute for Caregiving make the program unique. "There's not another school in the country that has that combination of assets," he says. "We put together a program that helps graduates see the issue from such a variety of perspectives."
The university recently completed a $1.2 million indoor practice facility for baseball and softball and reopened the Academic Center for Excellence following a $3.4 million renovation. A $3.5 million renovation of Florrie Chappell Gymnasium is currently underway and scheduled for completion this year.
---
On the Horizon
Carolyn Wright, president of the Sumter County Chamber of Commerce, had to cancel plans last year to celebrate the chamber's 100 years of service to the community. Instead, the board worked to develop a strategic plan for the next three to five years, targeting challenges in the community and areas where it can make a difference.
"Not knowing what our next year is going to hold for our members, we have some great plans going forward," she says. "We'll be doing things a little differently, like hosting webinars and workshops online.
"The chamber kept most of its members this last year. Even if they were temporarily closed, they kept their membership," she says. "We just want to help them grow, get the doors back open. I think going forward with our new plans for 2021, working closely with the Georgia Chamber, and using some of the resources and workshops available will help."
Ivy Oliver, executive director of the One Sumter Economic Development Foundation, saw the launch in 2020 of the organization's second five-year strategic plan dubbed GROW 2024.
"We kept some items from the last plan, and we're capitalizing now on those former plans," says Oliver. "We launched a campaign effort earlier this year but were slowed down by the pandemic. We decided to keep pushing through rather than putting a pause on it, and even with the pandemic we were able to raise $1.5 million for Grow 2024."
Part of the initial One Sumter plan, Sumter's Ignite College and Career Academy was constructed on the new high school campus across from South Georgia Technical College, says Oliver. Don Gilman was hired as CEO last July, and Ignite will welcome its first students in August.
In spite of COVID setbacks, Sumter County is busy preparing to achieve its potential as it benefits from a solid foundation.
---
Local Flavor
Tracking History
A vintage journey through Sumter County is once again chugging down the tracks, as the Historic SAM Shortline Railroad is back in business with reduced capacity and new safety precautions after a pandemic-forced shutdown. The 1949 engine pulls vintage cars retrofitted with modern amenities, including air conditioning. Various excursions include the Sumter Explorer, departing from Georgia Veterans State Park in Cordele and rambling through Leslie to Americus and then to Plains, with stops in each town.
The SAM line – named for its 1880s route through Savannah, Americus and Montgomery – began life in 1884 as the Americus, Preston & Lumpkin (AP&L) Railroad. It was the only privately financed railroad in Georgia history, established by Americus banker and lawyer Samuel H. Hawkins. And it plays a big part in Americus history.
Before rail lines made their way there, Americus was a small courthouse town incorporated in 1832. But when the South Western Railroad (later named the Central of Georgia Railway) arrived in 1854 it set off a population boom. In the ten years between 1850 and 1860 the number of people in the little town increased twentyfold.
If the South Western brought a boom to Sumter County, it was Hawkins' line that garnered attention. Americus native Charles Crisp, who has deep knowledge of the county's history, explains.
"Americus was booming at that time, so there was a lot of development. Just like now, it was a rich agricultural area. But because of having the railroad there, it was also a big trade point for a number of counties," says Crisp, adding that Americus was the biggest town in Southwestern Georgia at that time. "There was a lot of farm trade and some small manufacturing, bankers, merchants and a number of whole- salers here; it was a regional trade center."
With a station built about every 10 miles along Hawkins' line, many towns sprung up across Southwest Georgia, most notably Cordele – named for Hawkins' wife, Cordelia – and Plains.
But soon Americus and the rest of the country would fall on hard times with a nationwide recession beginning in 1893, he says. "There was a lot of fallout from that," particularly for businesses that carried a lot of debt. That included the SAM Shortline, which Hawkins was forced to relinquish. "But the railroad had already been built, so there were long-term economic benefits," Crisp says.
Hawkins' reimagined railroad is still providing economic benefits with its regular excursions and holiday-themed trips drawing tourists to the old stops along the way. Hawkins was honored in 2019 with the dedication of an historical marker at the SAM Shortline train depot on South Jackson Street in Americus, home of the original station.
Get your tickets or learn more about the railroad at samshortline.com.