2021 Georgians of the Year: COVID Heroes
Frontline workers fighting the pandemic and its effects.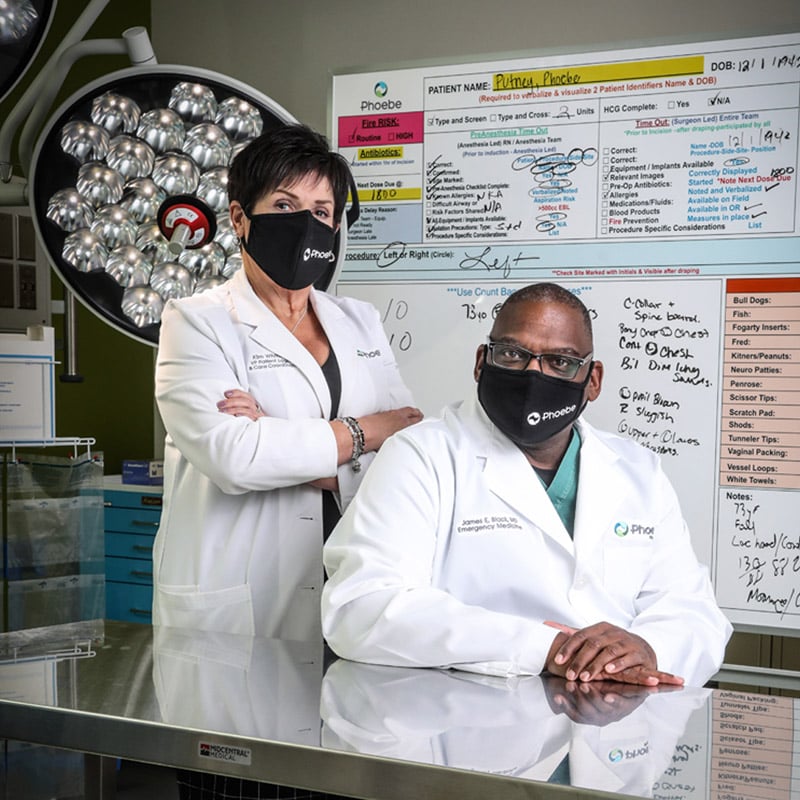 This year, Georgia Trend honors those working to combat and mitigate the COVID-19 crisis that upended the state so dramatically last spring. Bestowing our Georgian of the Year award on a group rather than an individual is a first for us, but we are proud to pay tribute to all those who have confronted the health, economic and social challenges of the pandemic, often at considerable personal cost.
The roster of Georgians going above and beyond the call of duty is a long one that includes healthcare professionals, researchers, educators, food bank workers, business owners, first responders, service industry personnel, retail and delivery employees, public officials, artists and ordinary citizens.
In recognition of all Georgia's heroes, we are highlighting eight individuals who have used their work to help guide the state through a difficult and dangerous time.
---
Dr. James "Eddie" Black
Medical Director for Emergency Services
Phoebe Putney Health System
Albany
When Albany became an early COVID hotspot thanks to a super-spreader event – a large funeral – Dr. James "Eddie" Black and his colleagues at Phoebe Putney were among the first in the South to deal with an influx of infected patients.
"We got our first patient, who had a history of respiratory problems," Black says. "The second came in – and had no history of respiratory issues." More followed. Yet doctors were hesitant to jump to conclusions because there hadn't been many COVID cases outside of distant places like Washington State and New York.
Early on, Black recalls, it was difficult even to run a test. "You had to go to a website, print out a form, fill it out, fax it to the CDC, then wait till they called you back to let you know whether or not you were OK to give a test." Everything had to be sent to Atlanta, with the results coming back a week or two weeks later. "That wasn't necessarily helpful to early management. We were making treatment decisions without knowing exactly what it was."
But it soon became apparent they were treating COVID-19 patients – sometimes 70 or 80 a day.
"We're used to compartmentalizing," says Black of his ER colleagues, "but it became very personal to all of us. You'd walk into work praying you are going to see two less patients than you saw the day before and, invariably, it was two more patients. The numbers just kept going up, the sheer numbers of sick people."
Black grew up in Albany, went away for his medical training, then came back when his father's health began to decline. He didn't intend to stay but is glad he did. "This is what I was meant to do, this is why I was here."
He lost count of the number of days he worked without a break. In the face of such a crisis, he says, "Do you sit at home? I guess I could clean out my garage, or I could be at work helping people, doing what I was trained to do."
---
Kim Whitley, RN
Vice President for Patient Logistics & Care Coordination
Phoebe Putney Health System
Albany
While her medical colleagues were determining the best way to treat COVID-19 patients, many of the logistical concerns were the responsibility of Kim Whitley, Phoebe Putney Health System's vice president for patient logistics and care coordination.
She was dealing with bed placement and care management, addressing questions of staffing and supplies, making decisions about converting units to COVID-only, and – no small task – keeping up with the CDC's changing guidelines.
At one point, there were more than 160 COVID-19 patients in the hospital. "We had ceased normal operations," Whitley says. "The hospital was mainly COVID patients or non-COVID patients who were so ill they had to be cared for."
COVID patients coming in would deteriorate quickly, she says. "A patient might come in with a little shortness of breath, then all of a sudden they were so severe they had to go to the ICU. They might have to be placed on a ventilator or high-flow oxygen."
Staffing became a problem. "We had no more nurses. It got to the point that the hospital had to start transferring patients to other facilities."
Senior administrators met every morning and afternoon to assess the situation. "In between, we were consumed with what fire are we having to put out to meet the needs of our patients and our community." It was not unusual for the staff to come in at 6:00 or 7:00 in the morning and go home at 11:00 p.m.
The intensity lessened in June, when some state help came; but cases spiked again in July. By late October, Phoebe was seeing 30 to 50 COVID patients every day but was able to get back to a more normal routine.
"It was very intense, but there was a camaraderie," Whitley says. "We just hunkered down and did what we had to do to take care of our patients."
---
Mary Jane Crouch
Executive Director
America's Second Harvest of Coastal Georgia
Savannah
In good times and bad, food banks provide nutritious food to people who need it, but the pandemic ramped up the challenges.
"We all pivoted to be able to deliver that food," says Mary Jane Crouch, who heads America's Second Harvest of Coastal Georgia, which covers 21 counties. The Kids Café, an after-school program offering an evening meal at several different sites, required immediate changes. "When the school system went virtual," Crouch says, "we went to a grab-and-go program to make sure that children out of school were able to have some sort of nutrition."
Staff members would come in at 3:30 or 4:00 in the morning to prepare the food – sometimes as many as 7,000 meals a day. Second Harvest started a mobile food pantry, offering contactless drive-through delivery, with assistance from the Georgia National Guard, which helped load groceries into car trunks.
"Hunger is one of the major issues with COVID," Crouch says. "People have lost everything. I'm not just talking about people at risk for hunger before, I'm talking about people who probably were never at risk." Some in the mobile pantry lines told her they have always been food drive donors, not recipients.
Throughout the first few months of the pandemic, the food bank provided more than 15 million pounds of food – the equivalent of about 12 million meals. "Our staff really were the heroes. They were willing to do anything," she says.
---
Rafi Ahmed
Director
Emory Vaccine Center, Emory University
Atlanta
Researchers at the Emory Vaccine Center were not caught off guard, as most of us were, when the COVID-19 crisis hit.
"It was not a surprise at all to any immunologist," says Rafi Ahmed, the Georgia Research Alliance Eminent Scholar who directs the center. "Every time a new pathogen emerges, in 99% of the cases this happens because one of the animal viruses is coming to humans. In the case of COVID-19, it's a very, very different virus from what we have seen before."
So the center's scientists went to work quickly, drawing on previous research to help in the effort to develop an effective vaccine.
Jens Wrammert, an assistant professor in Emory Medical School's Department of Microbiology and Immunology, and Mehul Suthar, an assistant professor in the Pediatrics Department, were able to work even when some campus labs were still closed.
Wrammert's expertise is in characterizing B cell antibody responses, Ahmed says. B cells, part of the body's immune system, are a kind of white blood cell that makes antibodies. Wrammert's earlier work characterized influenza-specific responses during the 2009 H1N1 pandemic.
"Jens made some very important observations about the antibody responses of people who were infected," Ahmed says. Wrammert also developed a technique for making monoclonal antibodies from the patients – cloning and producing the antibodies that could be used for diagnostic or therapeutic purposes. "He had the skill sets needed to tackle the COVID-19 issues." He quickly developed serology tests so he could look at antibody response in patients with COVID.
At the same time, Suthar was focusing on developing neutralizing antibodies. Their work, Ahmed says, "showed that pretty much all COVID-19 patients made neutralizing antibodies. This finding was very important because very often after a [viral] infection, it takes several months to develop new antibodies. But this virus is letting antibodies develop quite quickly," within two weeks of the onset of symptoms.
The early demonstration of antibody response and the development of serology tests were a huge step toward developing effective COVID vaccines. "We prioritized COVID," Ahmed says. "We have done our part and contributed, as many, many people across the world have done."
---
Krystle Rodriguez
Owner
Hodgepodge Coffeehouses
Atlanta
Krystle Rodriguez's focus has been offering "a space where the community can gather" ever since she opened her first Hodgepodge Coffeehouse in 2012 in East Atlanta's Ormewood Park neighborhood.
"When COVID hit, it was a pretty sudden pivot," she says. Sales dropped about 70%; she feared if she closed, it might be for good. So she decided to remain open – for takeout – and to expand the offerings at the original Hodgepodge and a second location in nearby Reynoldstown.
First she addressed shortages facing her regulars in the early days of the crisis. "There were a lot of shortages – basic necessities like toilet paper, flour, yeast." Grocery stores were out, but she could still get the items through her suppliers. She sold them, typically at lower prices than the stores. "We also had COVID-impact pricing: If you were financially impacted in any way by COVID, we gave it to you at cost," she says. "Didn't want any proof, it was just on the honor system."
Rodriguez had been planning a Hodgepodge market; she finished the buildout and obtained a loan for refrigeration equipment that allowed her to add more products, including some from local food merchants. She even found artisans to make cloth masks, which she sells without taking a cut.
Her Ormewood location has become part of the national Free99Fridge network, with a well-stocked refrigerator outside so neighbors can help themselves to things they need but can't afford – or make a food contribution. "We try to help as much as a coffee shop can," Rodriguez says.
---
Sandy Weaver
Assessment & Curriculum Coordinator
Annandale Village
Suwanee
The pandemic brought major changes to educational activities at Annandale Village, a residential community for adults who are intellectually or developmentally disabled or have had traumatic brain injuries.
Early on, the staff recognized that they were getting the health part under control, but didn't want to neglect the residents' emotional wellness.
Sandy Weaver, assessment and curriculum coordinator at the facility, put her almost-30 years of experience to work to come up with what she calls a "corona-riculum," developing new subject matter and different teaching methodologies for the 190 or so people they serve, including about 145 residents. "We look at areas where there are deficits, where we can support villagers to be more independent. That really is the focus in the disability world," she says.
She and the staff had to work around some technological shortcomings but devised a series of presentations and videos to supplant in-person offerings. "We had to think about content that would still be engaging. It had to be on a basic level, so people weren't overwhelmed." And it couldn't be too schoolish, since a lot of the residents did not have a positive school experience.
The new curriculum covers health, safety and life skills: things like mask-wearing, the importance of hydration, electrical appliance use, even how to use free time. The reception by the residents has been gratifying. "We want to open the world to them," Weaver says.
---
Carol Bowman
CEO
Learning in Color Corp.
Atlanta
The nonprofit started by special education teacher Carol Bowman, Learning in Color Corp., has been transforming bland public classroom interiors into colorful spaces that inspire students since 2014. But when the pandemic hit, she had to change direction.
Typically, Bowman employs artists to add color to the standard institutional white walls. "So much research supports that that type of sterile environment is counter-productive to the academic and social-emotional aspects of learning," she says. A typical project might have 15 people working together in a small space.
COVID put a stop to that, but she was determined to continue her endeavors. "The arts community was really hurt in terms of a lot of artists being out of work," she says. And, as a former public school teacher, Bowman was sad for the 2020 high school graduates who were missing out on the final months of their senior year.
Her solution: Hire artists to paint colorful murals that pay tribute to the graduates – a project that can be done safely, involving fewer people. The first one adorns a wall at Atlanta Public Schools' B.E.S.T. Academy and others are in the queue.
"I thought about the seniors," she says. "I wanted to make sure the school had something in it to celebrate that class." As for the artists, she wanted to give them work, but also "the opportunity to do something where they feel like they are giving back."
---
Lisa Isham
Associate Superintendent
Wilkes County Schools
Washington
Her school system, like many others, was unprepared for online instruction when the pandemic brought in-person classes to an end last March, so Wilkes County Associate Superintendent Lisa Isham and her team got busy, fast. "We did the best we could. A lot of our kids were not equipped. Some of our teachers were ready; some were not."
Thanks to a lot of planning, hard work and some grant money, technological capability has greatly improved. When the approximately 1,400-pupil system reopened in the fall, teachers were prepared, each equipped with a Google classroom set-up, "ready to go to online learning with the flip of a switch" if necessary.
But before that happened, to finish out the truncated 2019-20 school year, Wilkes established a delivery system using the school bus fleet to get food and instructional materials to students.
Even before COVID, schools were providing free breakfast and lunch to all students. To keep that going, "We ran every bus in the county – about 30," Isham says. "We ran the regular bus routes once a week and handed out meals for the week." They were even able to supply meals to children not enrolled in the school system. Employees would gather to pack lunches one day, then deliver them the next. "Then we got so good at it we could pack and deliver in one day."
Administrators went along on the rides, Isham says. "We would pass out work as needed. It was a good way for us to get to check in on the kids, too. We'd get to see the little faces, and it gave us at least a weekly opportunity when we could have a check-in."
These eight individuals represent the countless number of citizens across the state to whom we owe a debt of gratitude for their compassion, creativity and hard work to reduce the negative impacts of the pandemic.