Georgia Trend Daily – Dec. 1, 2020
Dec. 1, 2020 Capitol Beat News
Beau Evans reports that Georgia is gearing up to distribute the first doses of COVID-19 vaccines to health-care workers and the state's elderly residents in the coming weeks once federal officials approve the vaccines for emergency use. Gov. Brian Kemp said Monday he expects health-care workers and nursing home residents in the state to start receiving vaccines in the second or third week of December, noting several state agencies have been preparing to move quickly on distribution as soon as the initial vaccine shipments arrive.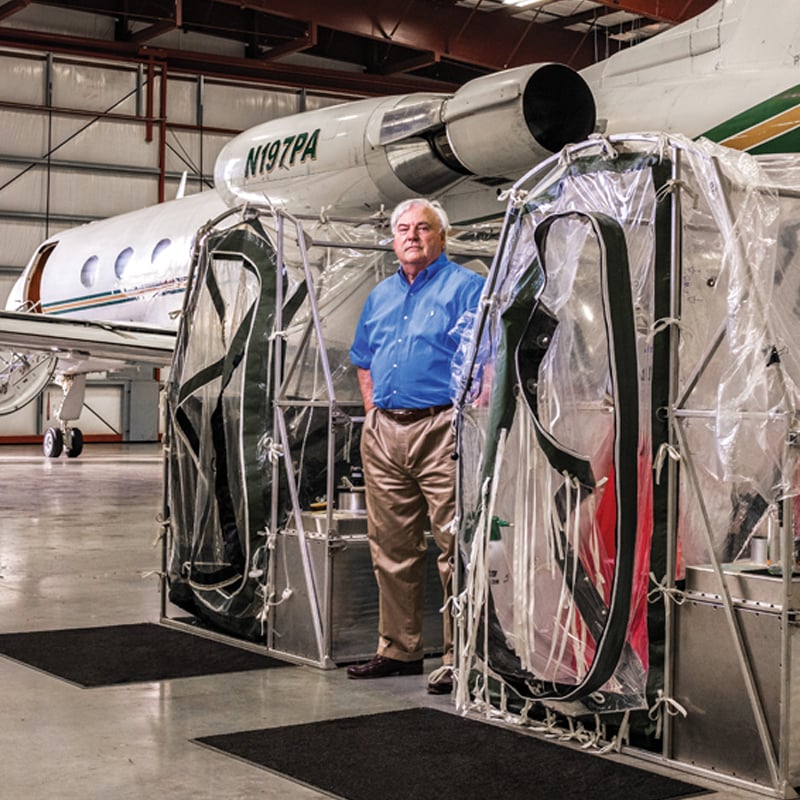 Dec. 1, 2020 Georgia Trend – Exclusive!
Anna Bentley reports that aerospace products are the state's No. 1 export, yet the sector seems to fly under the radar of public perception. "We're in the top-tier rankings all the time, in the top five nationally usually, [and] people are sometimes surprised by the depth and breadth of the aerospace industry here in Georgia," says Amy Kohler Hudnall, director of the Center of Innovation for Aerospace at the Georgia Department of Economic Development.
Dec. 1, 2020 Savannah Morning News
Katie Nussbaum reports that October proved to be another busy month for the Port of Savannah with container volumes reaching 464,095 twenty-foot equivalent container units (TEUs), up 35,714 TEUs or 8.3% compared to the same month last year. It marked the best overall month on record in the history of the Georgia Ports Authority (GPA), surpassing the previous record of 441,600 TEUs, which was set in August.
Dec. 1, 2020 Atlanta Journal-Constitution
Andy Peters reports that Kara Kapczynski could tell something wasn't right. The Vinings School of Art — which she started in 2006 to offer painting, drawing and music classes — had received a federal pandemic relief loan in May.
Dec. 1, 2020 GlobalAtlanta.com
Georgia Department of Economic Development's International Trade Division publishes periodic Exporter Spotlight interviews showcasing how companies based in the state are tapping into new markets around the world. In November, the state caught up with Gary Clay, vice president of global business development at Crider Foods, to talk about the Emanuel County-based company's export journey and how investing in the infrastructure needed to scale up manufacturing has paid off now that global demand for canned chicken and other meats is booming during the pandemic.
Dec. 1, 2020 Brunswick News
Larry Hobbs reports that the ship's bow comprises only about an eighth of the shipwrecked Golden Ray's overall size. However, perched alone Monday atop the barge Julie B at a mooring near Mary Ross Waterfront Park, the recently separated bow looked somehow more imposing than the remaining balance of the half- submerged shipwreck in the St. Simons Sound.
Dec. 1, 2020 Saporta Report
David Pendered reports that Georgia's woes with rural broadband don't seem so rural when it turns out the shortages include portions of metro Atlanta's urban core – in Clayton, Cobb, DeKalb, Fulton and Gwinnett counties. By Dec. 15, a plan to help alleviate the shortages is due from the state utilities regulator.
Dec. 1, 2020 GPB, Inside Climate News
David Hasemyer reports that from a distance, the inland marsh a few miles from the Atlantic Ocean in Brunswick, Georgia, looks like a broad, green mat broken by silvery threads of meandering rivers and creeks. There's cordgrass four feet tall, and sea daisies that add a splash of starburst color.
Dec. 1, 2020 University of Georgia
Clarke Schwabe reports that the University of Georgia has received a record-breaking $10 million pledge from Chick-fil-A Inc. to expand and enhance UGA's Institute for Leadership Advancement. "This tremendous commitment from Chick-fil-A will strengthen ILA's efforts and broaden its reach like never before," said UGA President Jere W. Morehead.
Dec. 1, 2020 11 Alive
Staff reports, millions of dollars are being spent in Georgia on ads for and against each candidate in the two runoff races that will determine the balance of power in the Senate. Our 11Alive Verify Team is fact-checking what is being said in the political ads and online ahead of the January 5 runoff election.
Dec. 1, 2020 New York Times
Lisa Lerer, Richard Fausset and Maggie Haberman report that President Trump's sustained assault on his own party in Georgia, and his repeated claims of election fraud in the state, have intensified worries among Republicans that he could be hurting their ability to win two crucial Senate runoff races next month.
Dec. 1, 2020 WABE 90.1
Emma Hurt reports that President Donald Trump has continued to question the integrity of Georgia's elections and personally targeted its top Republican officials, including Secretary of State Brad Raffensperger and Gov. Brian Kemp. On Monday morning, he tweeted at Kemp, calling him "hapless" and urging him to "use his emergency powers, which can be easily done, to overrule his obstinate Secretary of State" in order to conduct a signature audit of absentee ballot envelopes.
Dec. 1, 2020 The Center Square
Jason Schaumburg reports that Georgia Secretary of State Brad Raffensperger said Monday his office has opened investigations into third-party groups working to register people in other states to vote in Georgia ahead of January's U.S. Senate runoff elections. Both of Georgia's U.S. Senate seats are up for grabs in runoff elections Jan. 5.
Dec. 1, 2020 Atlanta Journal-Constitution
Tia Mitchell reports, now that all the major news organizations have declared Joe Biden the president-elect, focus is shifting to his transition and speculation about whom he will pick for his inner circle. President Donald Trump selected several Georgians for his team, including U.S. Agriculture Secretary Sonny Perdue and former Health Secretary Tom Price. Callista Gingrich, wife of former U.S. House Speaker Newt Gingrich, serves as the ambassador to the Vatican.