Crash Courses for Georgia's Private Schools
With resources and ingenuity, Georgia's private schools are adjusting to COVID-19.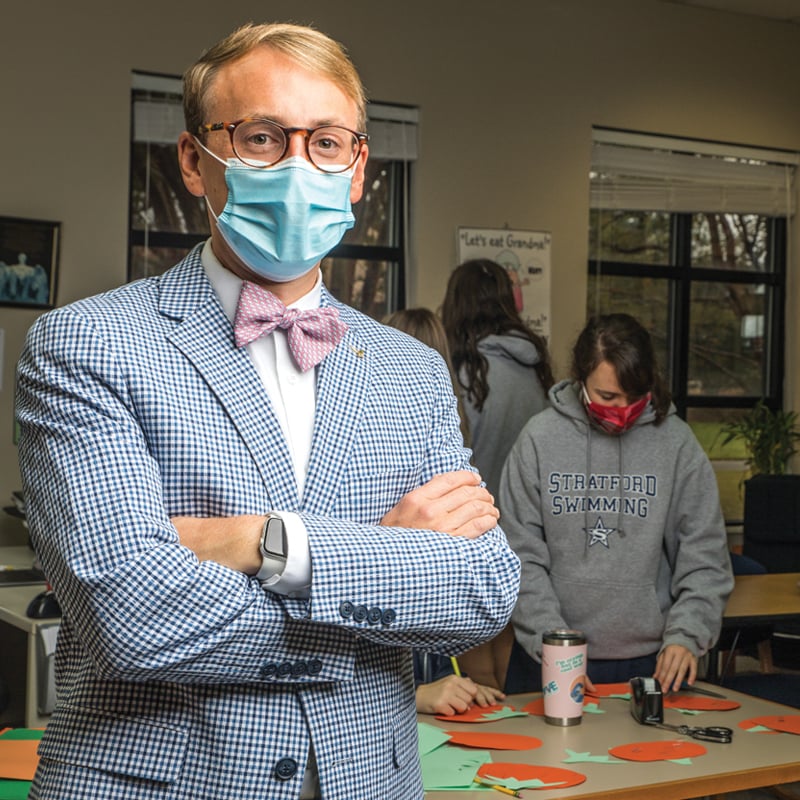 In March, it was a scramble. As the state went into lockdown to combat COVID-19, private schools across Georgia had to figure out how to educate their students remotely. Although they had some advantages over their public-school counterparts because their students were less likely to lack a broadband connection or a laptop, or to rely on school lunch as their main meal of the day, they faced similar challenges. Lessons that relied on in-person interaction were instantly transformed into virtual experiences. Teachers tried to master Zoom video conferencing overnight. And students coped with the loss of all that had defined their school days – friends, sports, even graduation for seniors.
"We kind of just survived March, April and May," says Logan Bowlds, head of school at Macon's Stratford Academy, although he notes that classes were dismissed on a Friday and virtual learning started the following Monday with no interruption.
The first few weeks were "crazy," says David Chester, middle school academic dean and assistant head of school at Tallulah Falls School. His boss Larry Peevy had established a risk management team, which Chester helmed, in late February. "You'd go into a meeting and [when] you would walk out you would be three days behind already, because all the information you were just talking about was outdated," he recalls.
But in some ways those weeks were easier than what came after, because schools didn't have to make the choice about shutting down and going to remote learning, he adds. Returning in the fall was going to be a different matter.
Realizing that, many private schools across the country began to plan around other advantages that could allow them to open safely for the fall semester while many public schools remained virtual. Smaller class sizes made social distancing easier. Mask mandates were readily enforced. For some, large campuses meant there was plenty of space for outdoor lunch and even class. And for others, expensive air filtration or disinfecting systems were added.
But for all their advantages, private schools weren't immune from the risks of a highly contagious respiratory virus – a number of graduates of Atlanta's Lovett School tested positive in May after attending graduation parties, even though classes had been remote since March, garnering the school unwanted national attention. Parents were saying they wanted their kids back at school. Could Georgia's private schools keep them healthy?
---
Masks and More
So far, so good – that's what a selection of schools across the state say. Tallulah Falls, an international boarding and day school with 531 students in grades 5-12, located in Northeast Georgia, had three students test positive in its first five weeks. At Savannah Country Day School in Savannah, there were six positive cases out of 1,000 pre-K through grade 12 students, and in Macon at Stratford Academy the number was three out of 800 pre-K though grade 12 students.
All require that older students wear masks; at Tallulah Falls and Pace Academy in Atlanta, that's everyone, at Country Day that means kids four and older, and at Stratford it's kids older than kindergarten age, though masks are "strongly suggested" in the three- and four-year-old classes, according to Bowlds.
Somewhat surprisingly, students have complied. Bowlds says even about 75% of the youngest students are wearing them. And Peevy, head of school at Tallulah Falls, says students there were "so happy to be back with each other that they said any protocols they had to follow were not a problem."
Fred Assaf, head of school at Pace, says the school asks each student, faculty and staff member, and even members of their households to answer three questions each day: Fever? Feeling sick? Face covering? There are thermal temperature scanners at each entrance, and hallway markers help kids keep social distance when possible. "We decided to ease back into the school year and took the first eight days to adapt to new in-person protocols and virtual learning procedures with a limited number of students on campus each day," Assaf says. After working out some kinks, "more than 90% of our students have returned to in-person learning," he says.
In Savannah, Country Day also opened with a phased-in approach involving a hybrid-learning model that split students into two cohorts, so that only half were on campus each day. The first to come back were younger kids in the lower school, followed by middle and upper school students. But by the end of September everyone was back on campus.
The school worked out some kinks in its plans over the summer. Country Day reopened its daycare in late May, then held several day camps during the summer. Upper school sports teams also held summer practices. "We spent the summer tweaking our procedures and mitigation measures, even as we were planning for the start of the school year," says Head of School Kef Wilson.
Wilson believes one of the most effective measures has been requiring students, faculty and staff to wear facemasks. The fact that Savannah Mayor Van Johnson was among the first officials to sign a mask mandate helped Country Day to think through its policy, Wilson says. "At first, we thought it was going to be hard to enforce, but I think the kids have been great, from the younger ones all the way up to the high schoolers," he says. "Everybody is in facemasks all the time with the exception of when they're eating lunch or engaged in outdoor physical activity, so that's a big part of our system."
Classes have switched to a block system to minimize the time students spend in the halls changing classes. And every outdoor space that's covered has been turned into "al fresco dining," Wilson says. "There are tables all over campus where kids can eat."
Tallulah Falls started out having students eat grab-and-go lunches in their classrooms, but has now gone to al fresco dining, as well. It made a difference to the students, Chester says, when they could eat with their friends. "We created an outside dining area under our portico," he says. "We were able to get all students at the same grade level eating lunch at the same time. It provided an opportunity for them to have fellowship together, which was important."
Pace, too, has tried to make things as "normal" for students as possible. "We no longer have large-group assemblies and attendance at sporting events can't be what it was in the past," Assaf says. "But otherwise, the feeling on campus is very similar to what it was pre-COVID. Learning is happening!"
---
Special Considerations
Of course, private schools have access to resources that public schools can't even dream of. In Macon, two of the city's top infectious disease specialists are Stratford parents. "They were instrumental in crafting our return to campus plans," Bowlds says. The school uses an electrostatic disinfecting system – "We look like ghostbusters," Bowlds says of the backpack sprayers – as well as a UV light system that cleans all the toys that younger students play with.
At Country Day, Wilson meets weekly with an advisory group of four doctors who are also parents of kids at the school. The campus was able to install an ionization air purification system thanks to a board member's donation that covered the $170,000 cost. And some walls came down, too. Unlike some of the other schools, social distancing at Country Day wasn't easy. One older, small building was renovated – "We tore down a couple of walls," Wilson says – to combine smaller classrooms into a few larger ones, and some modular buildings were reconfigured. Some underused spaces in the lower school building were transformed into a mini-cluster of four classrooms for upper school students, with a separate entrance and exit and bathroom to minimize any interaction with younger kids.
Tallulah Falls changed all its fixtures – water fountains, bathrooms – to be touchless, and over the summer installed cameras in each classroom for virtual learning. Each of the schools is doing its own contact tracing when needed; Pace's team included full-time nurses and athletic trainers who are certified in the procedure. Both Country Day and Stratford added new nurses to their staffs.
Tallulah Falls, in particular, has given a lot of thought to virtual learning. Although the majority of its day and boarding students are back on campus, a number of international students weren't able to travel and are relying on virtual classes, so those classroom cameras are all in use. (As is the case at other schools, a few students who are high risk or have family members in that category are also learning via laptop.) For those international students who did make it back to campus, the school is offering options for the fall and winter holidays.
Dorms will stay open during Thanksgiving and Christmas breaks, says Chester. If international students choose to go home at Thanksgiving and either can't or don't want to travel back for the three weeks before Christmas break, they can do virtual classes to finish the semester.
"We want them to feel comfortable, and we also don't want them to put other students at risk," says Peevy. "We're asking them to choose what fits their lifestyle best and also what's safest for them and for other students." Peevy also notes that the school's virtual learning program lets day or boarding students take advantage of the "blended learning" option if they need to stay home for a day or two. "It takes the pressure off parents feeling like they have to send their kids to school even if they're not feeling well," he says.
---
'Temporary Normal'
Each of the schools regularly communicates with parents about any positive tests among students, faculty and staff and also keeps them updated on any changes to the procedures on campus. Tallulah Falls posts updated numbers of any positive tests and people in quarantine every Friday, while Stratford nurses update a COVID dashboard daily. Bowlds admits it's a "Herculean task" but says it's essential. "We have to keep our parents informed," he says. "Normally, you hear 'no news is good news,' but that's just not the case now."
But as the semester goes on and the mitigation measures seem to be working, the schools are looking for safe ways to relax some of the restrictions if they can. For example, Stratford started out banning kids from using their lockers but has now lifted that restriction, since it's unlikely that kids would be less than six feet apart for more than 15 minutes (what CDC guidelines say increases risk of exposure) at their lockers. Now students can reconnect briefly with friends between classes.
Tallulah Falls started out keeping class "pods" together in the same classroom all day, but has now staggered class times so that pods can switch classrooms without students crowding the halls. "Simple adjustments like that really made a big difference in the mindset of our students who are not trapped in this classroom all day long," Chester says.
Sports, too, have been a bright spot for students. The schools vary on their regulations – at Pace, volleyball players wear masks during matches, for example, while Country Day lifted that regulation for its volleyball players in October. But it's Georgia, so high school football went on with only a few hiccups. Country Day postponed one game after a player tested positive and the entire team quarantined, but managed to play the game later.
Still, "new normal" isn't a phrase that students, parents, staff and faculty want to get used to. While right now the charge is to "stay apart so we can stay together," as Tallulah Falls Athletic Director Scott Neal says, they are all longing for a return to regular life even as they maintain the safety measures.
"These restrictive measures really stink," says Bowlds. "But clearly these kinds of strict protocols have worked. … This is a temporary normal, I keep saying. This is what we need to do to stay healthy, to stay in school, until we have a vaccine, until we see case numbers go down, until we're able to confidently say, 'We have done what we needed to do to get past this.'"