Upcoming folk art auction features Howard Finster's largest painting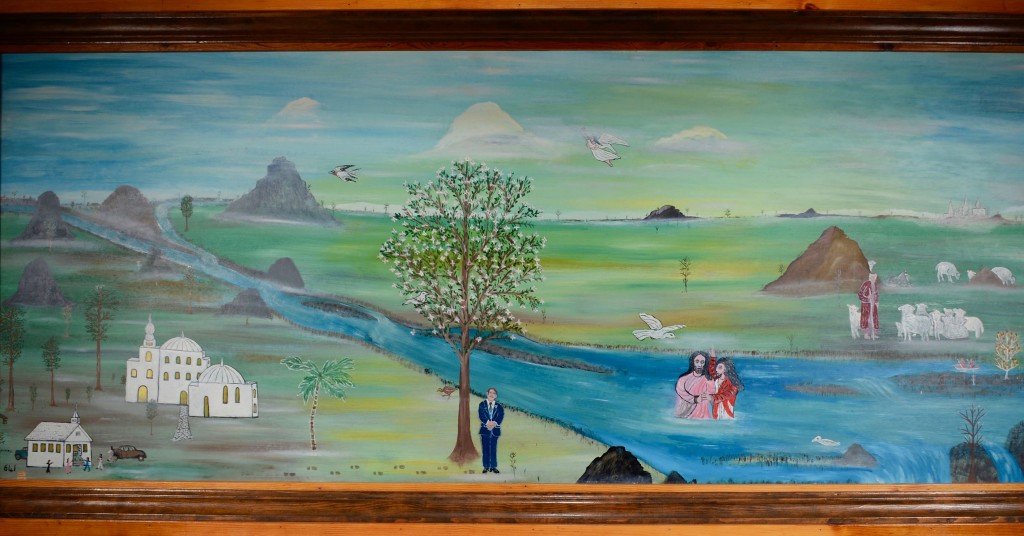 A 1977 painting by Georgia's acclaimed folk artist Howard Finster, believed to be his largest, will be auctioned virtually on Saturday, Nov. 14. Online bids for the painting, which is presented by the Buford-based Slotin Folk Art Auction, will begin at 10 am. Entitled "Chelsea Baptist Church," Finster's painting measures 103.5 in. wide by 44 in. tall. It features the Northwest Georgia church where the former preacher ministered from 1950 to 1965. The auctioneers estimate the painting's value at $40,000 to $70,000. Sale proceeds will benefit Chelsea Baptist Church along with the Paradise Garden Foundation, which preserves the Summerville attraction dedicated to Finster.
Saturday's Self-taught Art Masterpiece Sale will also offer important works by major Black artists of the 20th century along with 25 pieces from a corporate collection assembled 45 years ago in New York. Phone and absentee bidding for all artwork is available.
Learn more about Finster, Paradise Garden and another renowned Georgia folk artist, Eddie Owens Martin aka St. EOM, in our July 2017 feature, "Hidden Gems."
Photo of "Chelsea Baptist Church" by Howard Pousner for Slotin Folk Art Auction
 Do you follow us? Find us on Linkedin, Facebook, Twitter and Instagram.