From the Publisher: Healthcare Dilemma
The election could decide how rising healthcare costs are tackled.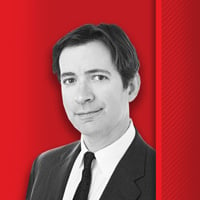 Georgia ranks near the bottom in the country in affordable quality healthcare. The number of uninsured residents here is at 23%, according to the American Journal of Managed Care. This month's election could decide the path forward for what is likely to become the biggest drag on our national economy: rising healthcare costs.
Last year, 40,000 patients in Northeast Georgia lost in-network access to doctors and hospitals when Anthem (formerly Blue Cross Blue Shield) and Northeast Georgia Health System (NGHS) let their contract expire. Most of the doctors in Gainesville, Braselton, Winder and Dahlonega were suddenly out of network for nearby patients. Out-of-pocket costs per visit were higher and sometimes didn't count toward a deductible. In other words, Anthem-insured patients in the region had to pay more or drive hours away to a healthcare system that had a contract with their insurance.
NGHS reached an agreement with Anthem in January. But consolidation in the industry has created an environment w­here something like this can happen again, and an entire region of residents on one of the state's largest insurance plans could find their local healthcare system suddenly out of network.
Rising healthcare costs and reduced eligibility for Medicare, which covers seniors, and Medicaid for low-income and disabled individuals are combining to make routine healthcare unaffordable for many people. This increases the number of uninsured people who rely on emergency rooms (ERs) for care, since ERs are required to treat patients regardless of their ability to pay. That, in turn, leaves health systems to cover the cost for indigent and charity care by passing it on to insured patients.
Nationally, enrollment in both Medicaid and CHIP (Children's Health Insurance Program) fell by more than 1.7 million participants between March 2017 and March 2019, according to the Center on Budget and Policy Priorities. You would think this is a good thing, but in fact Medicaid enrollment tends to slow in growth – not decline – during a good economy. The decline in enrolled children by 818,000 is more than three times what would be expected as a result of declining unemployment.
So you can't say more people were going back to work and were privately insured. Some may have been no longer eligible for Medicaid and CHIP, but some may have neglected to reapply, perhaps because they could visit the ER if needed.
NGHS spent $63.9 million on indigent and charity care in Gainesville and Braselton in fiscal year 2018, according to the Gainesville Times, and all Georgia hospitals are likely to see a rise in indigent care costs as a result of COVID-19. The Kaiser Family Foundation found a Medicaid coverage gap affecting 267,000 Georgians who live below the poverty level, but are not eligible for Medicaid under state rules.
Of course, healthcare reform is more complicated than just increasing Medicaid enrollment. The real problem is the actual cost of services vs. what insurers will pay. In Georgia, for instance, private insurance companies typically pay more than double what Medicare pays for the same services, according to a recent RAND Corp. study. Nationally, private employers and insurance companies paid about $20 billion more than Medicare from 2016 to 2018. For both Medicaid and Medicare, some reimbursement is better than nothing, but the reimbursement disparity further complicates hospitals' and physicians' ability to make up for the cost of indigent and charity care.
Models for reform exist – creating a national standard cost for non-elective surgeries, for instance – that improve on strategies that have been effective in other countries. Political will is another story. Neither presidential candidate is likely to take this on while hospitals are on the front lines of a vast pandemic. But the issue may soon be brought into greater focus with the continued closure of rural hospitals or the overturning of the Affordable Care Act by the Supreme Court.