Dalton | Whitfield County: Providing Opportunities
Manufacturing, education and downtown destinations.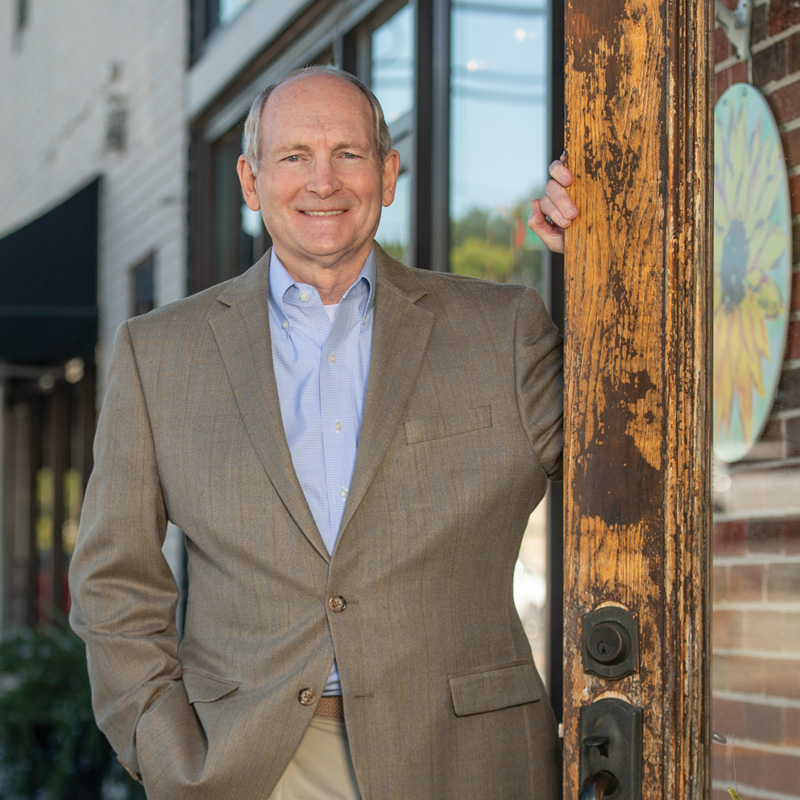 Manufacturing is part of Dalton's DNA. It's a point of pride among local residents and leaders. During the Great Recession, being the "carpet capital of the world" was sometimes viewed as a weakness. But people in the area learned to lean into their heritage and use it as a strong base to spring into a new economy of advanced manufacturing and technology. So far that's helping it through the latest economic shock caused by COVID-19.
Whitfield County claimed one of the more notable announcements in 2020 when German auto parts maker GEDIA decided to build an $85-million plant to manufacture parts for electric vehicles. The plant is scheduled to open in 2021 with about 200 jobs, and it's at the very forefront of the kind of advanced manufacturing that Georgia is working hard to recruit.
"I would say right now the biggest ecosystem that we're … focused on is the electrification of automobiles," says Scott McMurray, deputy commissioner for global commerce at the Georgia Department of Economic Development. "All of the new investment in the automotive industry seems to be going into electrification. So we're looking to really build out that ecosystem in particular."
And as Carl Campbell, executive director of the Dalton-Whitfield County Joint Development Authority, notes, auto parts manufacturing has been on the state's wish list for some time. With a big Volkswagen assembly plant just over 30 miles away in Chattanooga, leaders in Northwest Georgia had long hoped to land parts suppliers. Now those dominoes may be starting to fall Georgia's way.
GEDIA will be neighbors in the Carbondale Business Park with the largest solar panel plant in the Western Hemisphere. South Korea-based Hanwha Q CELLS opened that facility in 2019 and employs 650. And floor coverings are still strong here: Novalis Innovative Flooring, a China-based manufacturer of luxury vinyl tiles, opened its first U.S. plant with 120 jobs. In fact Northwest Georgia is having a bit of a renaissance when it comes to floor coverings, with several other manufacturers planning plants in nearby counties. Meanwhile Shaw Industries and Mohawk Industries remain the state's third and fifth largest manufacturers, respectively, and the top employers in the area, although the economic downturn from COVID has hurt their revenues.
"We're known as the floor covering capital of the world, yet two of our biggest economic development announcements have been the manufacture of solar panels and then components for electric vehicles," says Rob Bradham, president and CEO of the Greater Dalton Chamber of Commerce. "But those are exactly the type of tenants we want at Carbondale Business Park. They diversify our economy, which is good for us. They play to our strength, which is manufacturing products. … We're proud of our manufacturing heritage. We're one of the few places in the country that has a truly manufacturing-based economy. We don't shy away from that. And translating our manufacturing heritage into the new clean-energy types of manufacturing is really good for us."
---
Regional Responsibilities
Dalton is part of the metropolitan statistical area with Chattanooga and Cleveland, Tenn., and Whitfield County is part of the Greater Chattanooga Economic Partnership (GCEP), a public-private effort that includes a 16-county region in Northeast Alabama, Northwest Georgia and Southeast Tennessee. Taking a regional approach to promoting the area just makes sense, says Campbell. "We all benefit if one of us wins because we have a very mobile society," he says. "If I lose a project to Chattanooga or Cleveland, there's a good chance that somebody who lives in Dalton could [still] see their life improve because of it."
There's so much back-and-forth commuting that Charles Wood, chief economic development officer for GCEP, quotes a former mayor of Chattanooga joking that it was the second-biggest city in Georgia. The GCEP's effort "has really been around trying to send one message that covers the full success of the region," he says. The availability of a trained workforce is a key factor, and the region as a whole has had success with foreign direct investment. Wood sees some additional opportunity with the recent shifts in global trade, as international companies look to onshore more production.
From its Chattanooga home base, GCEP regularly brings a regional delegation to a Volkswagen supplier fair in Germany, for example (though not this year due to COVID travel restrictions). It includes representatives from Alabama, Tennessee and Georgia – Campbell has made the trip before.
"It's a very powerful message when you're sitting across the table from a corporate executive and they ask what the region is like in the different states, and we're sitting there together, focused on supporting their business as opposed to looking at it from a purely competitive perspective," Wood says.
"It just makes sense to cooperate," says Campbell. "We've got somebody in a bigger market that's willing to pull us into the fold and say, 'Here's a project we can't serve, but it might be a good fit for you.'"
Growing the advanced manufacturing sector requires a skilled workforce. While Dalton has a good base, its two postsecondary schools – Dalton State College and Georgia Northwestern Technical College – are focused on training the next generation. Dalton State President Margaret Venable says the four-year college's job is to "educate students that will enter the workforce in this community. We're very proud of the fact that about 87% of our students come from this immediate region, and part of the reason they come here is because they don't want to leave."
Dalton State works with companies in the region to develop programs, most recently an engineering technology degree guided by the needs of local employers. "Literally, every year we create degree programs that respond to what people in our community say they need," Venable says.
Dalton State remains the only school in Georgia designated a Hispanic Serving Institution, and one of only a few in the Southeast. As part of the designation, which allows the college to apply for federal grants, Dalton State had to increase its population of Latinx students to 25%. Venable says that last fall about 31% of students were of Hispanic heritage, an important milestone in Dalton where about 50% of the population is Hispanic.
After a few years of substantial renovations on campus, this year students and faculty won't hear construction noise. The college is starting the design phase of renovations to turn its gym into a full-fledged rec center, with construction hopefully starting later in 2021. Instead, the institution is focusing on its curriculum and website. "We've set as a goal this year to beef up our website communication of how [a particular] major translates into different career opportunities, and what are the job and salary prospects for each career you might pursue with this degree program," Venable says.
And the school aims to do a better job of serving its adult students, many of whom work full time and need a flexible schedule. Among the options being considered are online degree programs, hybrid learning options (part online, part in person) and weekend or evening programs.
---
Downtown Draws
While there have been some big announcements in Whitfield County this year – and Campbell says the pipeline looks good despite COVID-19 disruptions – small businesses are trying to gut out a tough year. In downtown Dalton, popular Burr Park, which drew 16,000 people downtown in 2019, hasn't been able to host events that bring residents to nearby shops, restaurants and brew pubs.
George Woodward, director of the Downtown Dalton Development Authority (DDA), says many of the merchants and restaurateurs have been able to make adjustments by catering to their existing clientele, although their business is off from last year and some have closed. However, Woodward says that two new companies have moved into downtown so net employment has actually increased.
Bradham says downtown is a much livelier place than it was five years ago, when he came to Dalton. Then, if he wanted to grab a beer after work with friends and colleagues, he had just a few options. Now, he says, he can choose from many more, including popular spots like Cherokee Brewing + Pizza Co., Hamilton's Food & Spirits and Dalton Brewing Co., and of course long-time local favorite Oakwood Cafe. "Downtown is still going strong in spite of COVID," he says.
The numbers bear that out, with more than 200 businesses downtown. More than 1,000 people work there and the area contributes $91.5 million to the local economy. Among the downtown projects planned are adding a pavilion with restrooms, a green room where performers could change and a vending area to Burr Park; renovations to the city parking deck; sprucing up two major alleyways to make them more inviting for pedestrians and ongoing streetscaping. The DDA has also been encouraging businesses to take advantage of a reimbursement of 50% up to $5,000 for making façade improvements while traffic downtown is lighter than normal.
One thing still lacking is housing. Six apartments opened in September and another 10 are in the planning stages. A planned project to renovate the old Belk department store building into 18 apartments has been temporarily delayed but is still viable, Woodward says. "We also want to see more lofts come online and more downtown living," he adds.
More housing is a desire throughout the city, not just downtown. Bradham says the size of the market makes it tough to attract developers who want to do large-scale projects, so the city is getting creative. "We're contemplating doing Tax Allocation Districts specifically for housing developments, whether single family or multifamily," he says. "And we're in talks with another developer to use traditional tax incentives, like you would use to attract a manufacturer, to build housing."
If that works, it should ensure success – because if there's one thing Dalton knows best, it's how to leverage its manufacturing expertise in different ways. "I think people are starting to understand that there's more to Dalton than carpeting," says Campbell. "Dalton can do a lot of things, and what we're really good at is manufacturing and doing business. We always want to be known as the floor covering capital of the world – we don't want that to ever change … but it's not the only thing we have."
---
Local Flavor
Spinning Success
Want to see Dalton's history and its present intersect in real time? Head to The Mill at Crown Garden, a former textile mill built in 1885 that was the city's first major manufacturing plant. Located in the historic Crown Mill Village, where owners have been renovating old mill homes to take advantage of the near-downtown location and the close-by Crown Mill Greenway, it's been reborn as a retail and restaurant destination with exposed brick walls and enormous, industrial-sized windows streaming in light. The Mill building also includes loft apartments.
It's where Atlanta restaurateur John Metz and his partners chose to open the appropriately named Spinning Room, a wine-and-beer bar offering seasonal small plates. "The owners of the building were looking for some unique places to really accent the space, and also create the energy and excitement around that whole area," Metz says. The Mill, he says, is truly a special place. "The history of carpet and textiles in Dalton really started there," he says.
Metz, best known as cofounder and executive chef of Marlow's Tavern chain in Atlanta, says the Dalton team "really wanted to be local and to feel warm and rich … and it all spun out from there." Literally, as the Spinning Room features spinning equipment repurposed as lighting fixtures and used to decorate the small space.
The offerings include seven to 10 beers on tap, with the majority from Georgia and several from Dalton. In addition to wine by the glass or bottle, there's always a red and a white on tap. The venue also offers live music and events throughout the year featuring wine tastings and menu samplings. It typically hosts wine tastings and other activities on Third Thursdays, when many of The Mill's shops and restaurants feature special offerings and events. The Mill has taken advantage of its big (4,000 square feet) open atrium and patios to implement safety measures during COVID, like spacing tables eight feet apart, and the Spinning Room is following safety guidelines as well.
There's also a wine club – named, of course, Spun and Done – where members get two sommelier-selected wines four times a year. When the state shut down in March and the Spinning Room closed temporarily, Metz says they offered wine club members "a big blowout wine sale" to get rid of inventory – but also to make sure people could enjoy their favorite wines at home. Now reopened, he says he's looking forward to offering the new fall wines and menu options in The Mill, with safety and sanitation protocols in place.