How Adversity Is Affecting Georgia Nurses
The pandemic's impact on student and seasoned nurses.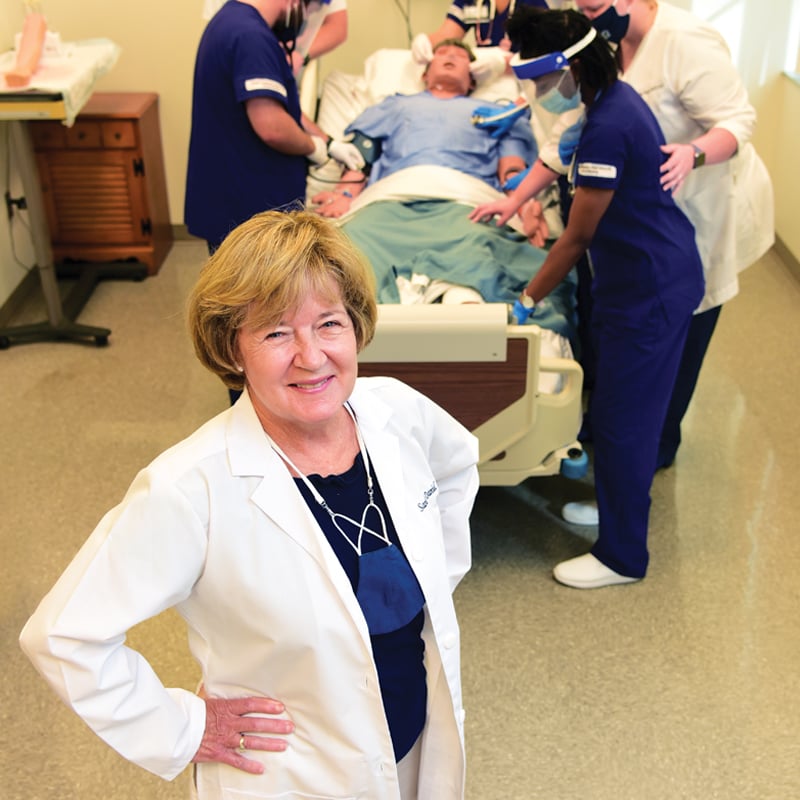 During the coronavirus pandemic, the contributions of many essential workers have been in the spotlight. Nurses are among the biggest heroes to be applauded. And it appears interest in the profession has increased in Georgia in spite of over-flowing intensive care units, rising death rates and dwindling stocks of personal protective equipment (PPE).
However, the state still faces a nursing shortage. Today, more than 80,000 nurses work here. But by 2030, the National Center for Health Workforce Analysis estimates that 101,000 registered nurses will be needed – that's 10,000 more than are projected to be employed in Georgia.
Most of the state's public universities and technical colleges have two- or four-year nursing programs and work closely with health system partners to increase the number of nurses educated and trained. For example, Georgia Southwestern State University (GSW) in Americus and Albany's Phoebe Putney Health System have worked over the years to essentially double nursing student enrollment. The college's undergraduate program is now close to its 150-student capacity, with about an equal number of students in its graduate programs.
"Our aim is to recruit from Southwest Georgia and hopefully retain them in the long run," says Sandra Daniel, dean and professor at GSW College of Nursing and Health Sciences. "When we went through the initial COVID impact in March, I was concerned we would either have a decrease in interest because of fear and concerns about safety or it will be appealing to future nurses. Just anecdotally, prospective students and those in our program are not seeing it as a negative. It has not negatively impacted us."
Earlier this year, Wellstar Health System donated nearly $9 million to expand the Kennesaw State University (KSU) nursing program. The gift to KSU's Wellstar School of Nursing will fund hiring of up to 32 faculty members and 20 staff positions by 2025 to accommodate an increase in student enrollment. In addition, the donation will fund about 50 scholarships each year. Over the next five years, the goal is to increase nursing students from the current 500 to more than 1,000 future nurses.
In Milledgeville, a partnership between Georgia College and Navicent Health Baldwin resulted in the creation of the School of Nursing Simulation and Translational Research Center two years ago at the Baldwin hospital, where the simulation center occupies a full floor. There, student and staff nurses train on high-tech mannequins and translate research into practice. According to Deborah MacMillan, director and professor at the Georgia College School of Nursing, the program is currently at capacity and has had to turn students away. In the past two years, about 225 students were enrolled.
---
Spring Disruption
When the force of the pandemic struck Georgia in the spring, the lives of nursing students and the practice of nursing were immediately altered, in some ways perhaps permanently. Colleges suspended classes overnight and within two weeks had moved to online instruction. Clinical settings for hands-on patient care were mostly closed to students and replaced by virtual patient experiences and simulations. Nursing students in their last semester lacked only a few weeks of in-person clinical training, but those slated to graduate during the summer and later faced tremendous uncertainty.
"I was very shocked that we would be transitioning to more online-centered learning because our previous experience in nursing school was centered on hands-on work and in-person clinicals, so it was concerning," says Johns Creek resident Nkem Otaluka, a July graduate from KSU who has been hired by Wellstar Kennestone Hospital in Marietta. "I didn't know if we would be able to get the information and experience we needed to practice in a clinical setting."
At KSU, she and other undergraduate nursing students had a variety of new activities "that spanned virtual simulations to clinical case studies students had to discuss with their clinical instructor online," says Yvonne Eaves, director of KSU's Wellstar School of Nursing. "We continued to meet with them [virtually] so they would get the conceptual knowledge." She says several companies also offered free use of their software systems for simulated clinicals online. And graduate students in KSU's nurse practitioner program were able to do telehealth visits with patients, supervised by the practitioners who would normally work with them in person.
"My main concern was, what if we didn't get to graduate on time?" says Annalee Marsh, an Albany resident who graduated from GSW in the spring and now works at Phoebe Putney. "Our school did a really good job of pulling everything together and making sure we got our required materials and got everything done. It was a mess at first, but it all came together."
---
Bridging the Gap
The early effects of the pandemic on nursing education in Georgia reinforced the benefits of partnerships between colleges and health systems. Collaboration has been ongoing to ensure students whose training was interrupted are ready to step into the role of professional nurse. The partners are continuing to work together to minimize risks to students while providing appropriate training.
MacMillan says the key to being able to offer in-person instruction and clinical training this fall is reviewing pandemic risks day to day and making changes as needed throughout the semester. While she and other nursing educators are hoping face-to-face instructions and clinicals remain possible, she says, "We are planning for the Plan B." That includes increased reliance on simulation centers at the colleges or hospitals.
Phoebe Putney was able to take advantage of its newly completed high-tech simulation center to create a one-of-a-kind Nursing Simulation and Training Education Program (NSTEP) to support new nurse graduates. The $5.3-million center, which is on the system's Albany campus, was built to train workers in a variety of healthcare roles. It duplicates Phoebe Putney hospital environments exactly, including patient rooms, operating rooms, intensive care units and the emergency department. According to Tracy Suber, Phoebe Putney assistant vice president, Center for Learning and Innovation, the facility provides the ideal setting in which to train new nurses whose education has been affected by the pandemic.
"NSTEP was created as a response to COVID," she says. "We were able to put together a program to meet the needs of that last semester, and we combined it with what we have in the simulation center. We were able to quickly use resources to train graduate nurses to make sure they're successful. We need every one of these nurses."
Spring and summer graduates were in the center's dedicated education unit for four weeks, eight hours a day. Starting in the fifth week, they worked on the floors for which they were hired while continuing training in the simulation center for three more weeks. Along with this supplemental learning, the graduates were monitored closely to make sure they were studying for their nursing exams, which they must pass in order to receive a license to practice. Suber stresses that the NSTEP program is additional intensive training and does not replace the traditional orientation nurses receive on their designated floors.
Other health systems offer similar training periods where new nurses are monitored and mentored for varying amounts of time. Wellstar has long had a nurse residency program that spans the first year of a graduate nurse's career, but the spring and summer education disruption made the program even more valuable.
"It's very purposeful," says Jill Case-Wirth, Wellstar senior vice president and chief nurse executive. "It's intended to aid in the transition from student to nurse and enable them to be highly successful." She says the stories of nurses who worked during the pandemic in the final months of their residency program gave her tremendous "pride and excitement about the future of nursing and the scholars we have. The experience created within them a greatness that will lead them down a successful path in their nursing career."
---
Practice Changes
Nursing is a profession where some level of risk is always present, whether it's being stuck by a needle or exposed to infections in other ways. The pandemic caused nurses – new and seasoned – to pay more attention to safety protocols and disaster preparedness. In addition, COVID-19 generated solutions to unanticipated challenges and altered the practice of nursing in many ways.
One of the biggest hurdles nurses had to overcome was figuring out how to include patients' families and friends in their care due to pandemic restrictions on visitation.
"Nurses brought it to our attention that they needed someone to help communicate with families," says Tracey Blalock, chief nursing executive at Navicent Health in Macon. The solution Navicent worked out involved using nurses who were reassigned when elective medical procedures were halted because of the coronavirus. The redeployed nurses scheduled talks with patients' family members three times a day. Using a computer tablet and FaceTime, the nurses were able to let the families at home see their loved ones and discuss their care.
In addition to developing ways to talk with families, Navicent Health nurses created ways for medical professionals to communicate with COVID patients without entering their rooms, thus reducing exposure for both parties and eliminating the need to change PPE for each new encounter. They used baby monitors that allowed patient and nurse to see each other and talk. And, they figured out a way to extend IV units outside patient rooms to further reduce the number of times nurses had to enter.
At Navicent Health Baldwin, Chief Nursing Officer Lorraine Daniel says nurses began drawing blood for lab work to reduce phlebotomists' unnecessary exposure and conserve PPE. A critical care cart was created to connect Baldwin nurses and physicians with Navicent specialists in other locations via telemedicine. "It was all about making the best use of the supplies and the employees we have," she says.
As patient care priorities shifted during the pandemic, Wellstar nurses moved from one area of specialty to another, partnering with colleagues in the new settings and receiving ongoing training to strengthen their skills at the bedside.
"This flexibility of practice carried us through those early months," says Case-Wirth. "We learned that flexibility of practice to meet patient needs is even more important as we move forward through the pandemic and into the future. [That includes] really being thoughtful and intentional about multispecialty development of our team members."
Nurses at Phoebe Putney also took on different roles early in the pandemic when the system was hit hard with infections. For example, nurse educators switched gears to work as contact tracers, and nurses who normally didn't work at the bedside helped ensure staff members stayed safe through proper use of PPE. But the experience of working with COVID patients pointed out the need for additional training, both through the NSTEP program and for experienced nurses.
"The COVID patients would de-escalate so quickly, it was hard to wrap your brain around how quickly they could turn," says Suber. "We learned we could develop some training scenarios to help nurses rapidly assess and monitor those patients moving forward."
---
Lasting Effects
Despite nurses' ingenuity and resilience, the pandemic has taken an emotional and psychological toll. "They really had to learn how to deal with it on a personal and professional level," says Blalock. "There was no sense of normalcy."
Wellstar began preparing for the pandemic back in January with a plan to care for patients and support the nursing staff. As time went on, Case-Wirth says the system became focused on how to care for the caregivers and help maintain their health and wellbeing.
"At the onset of the pandemic, we partnered with our behavioral health leadership team and we looked back at past pandemics in history to see the effects on healthcare workers overall," she says. "We prepared for the mental and moral distress our team members would be experiencing as the pandemic continued."
That preparation involved assembling a group of therapists who would call nurses as they were coming off their shifts, reaching out to help them handle their stress and making sure they knew they were supported. In addition, Wellstar opened food pantries at its sites, offering nurses grocery staples and prepared meals to help reduce after-work shopping for necessities. And the system has worked to keep child care available.
"Being able to debrief is so important because it's very overwhelming," says Suber. "Our chaplain services and employee assistance program have been tremendous during all of this. But it's something we really have to keep our eyes on or else we're going to [have] tremendous burnout because the patients are so sick."
---
Silver Linings
Among the grim realities student and seasoned nurses have faced during the pandemic, a few positives have come to light. Not only has it provided a once-in-a-generation learning opportunity, the pandemic has also highlighted the importance of the profession.
"We have seen so much support from the communities, and the stature of nursing has been raised," says Blalock. "It's so good for others to see the work that nurses have always done, and it does me good to see how nurses have risen to the challenge. That response is just amazing.""[The pandemic] fueled my passion even more to become a nurse because this is what we're called to as a profession – to help when times get like this," says Otaluka. "I felt so proud that I could witness this and be a part of it when I graduated."