Hazlehurst | Jeff Davis County: Admirable Amenities
Manufacturing, solar farming and tourism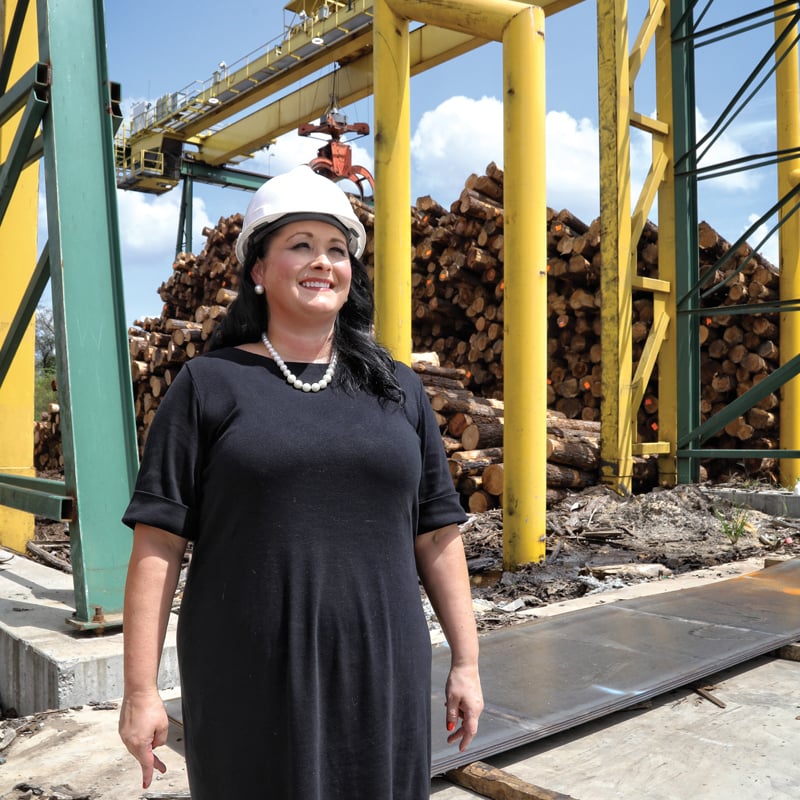 They're farming the sun down in Jeff Davis County, and the crop forecast is good. Open a conversation with "What's happening business-wise around here?" and the locals want to talk about solar power.
The small, decidedly rural town of Hazlehurst and the county that surrounds it don't seem, at first glance, like a hotbed of alternative energy. That field of sunflowers out near the Hazlehurst Municipal Airport, its blooms tracking the sun throughout the day, seems more in keeping with the atmosphere of the place. But several thousand acres of the county are now devoted to solar energy farming, taking the place of conventional farmland, and when current plans are completed, 6,000 acres will be covered with Silicon Ranch's solar panels staring up at the southeast Georgia sun.
Count Ricky Crosby, chair of the Jeff Davis County Commission, among the fans of the solar project. "It's bringing in some good tax revenue for the county, and the county has really gotten into this project," he says.
Silicon Ranch Corp., which bought its first Jeff Davis County land in 2013, is a bit of an economic development anomaly. Once the panels are installed, they produce almost no new jobs – the sun, after all, is doing the work. But they do produce something else besides energy – tax revenue.
"I understand we're the largest taxpayer there," says Luke Wilkinson, vice president of property development for the Nashville, Tenn.-based Silicon Ranch. "On the acreage we buy, when we put these assets on them, they range from $40 to $100 million. It's a real shot in the arm for some of these rural communities."
However, instead of actual property taxes, Silicon Ranch pays the local government a predetermined amount under a long-term agreement. It's known as payment in lieu of taxes (PILOT).
The solar facilities connect to the power grid and sell their energy to power companies and electric membership cooperatives (EMCs) in the region. In fact, when an upcoming phase of installation is complete, this rural corner of southeast Georgia can claim credit for powering Facebook – part of its future production is contracted to Walton EMC to power the Newton Facebook Data Center.
---
A Region of Firsts
Hazlehurst and Jeff Davis County don't have all their eggs in the solar power basket. In fact, despite its size, the area can claim the superlative "largest" in two disparate industries – footwear manufacturing and sawmilling.
Much of the industry in the county is tied to traditional forest products, and Beasley Forest Products accounts for a sizable chunk of it.
"They do everything – flooring, fuel pellets, production mats [the wooden flats that support heavy equipment on wet sites]," says Andrea Taylor, president and CEO of the Hazlehurst-Jeff Davis Chamber of Commerce and Joint Development Authority. "The sawmill recently had a $75-million upgrade to its existing complex. The jobs there are highly technical now, not like the old, traditional sawmills."
It's this sawmill and woodyard that is billed as the largest production hardwood sawmill in the country, and backing that claim up, you can smell the cut wood as you drive past.
The other "largest" title, the one about domestic footwear, stems from EP American Footwear, which opened production in 2016 and produces molded shoes.
"This comes from the big push for Walmart to reshore more of its products," says Taylor.
When it comes to recruiting new industry, the region has a number of assets to offer. General aviation needs are met by the Hazlehurst Municipal Airport, and the county has that increasingly rare find, a financially sound, highly regarded rural hospital.
Local officials lavish praise on the 25-bed Jeff Davis Hospital, which went through serious financial problems a few years ago but has since turned a financial corner.
"They have seen some rough times, but all I hear now is good," Crosby says. "The rural hospitals are hardly left, and we're blessed to have the one we've got. I don't hear anything but good about it."
Hospital CEO Barry Bloom credits the previous hospital administration with the turnaround. "It did the hard work of cutting costs and reducing services and moving the needle from losses to profits," he says.
"We're designated a critical access hospital, which provides us a little better reimbursement for Medicare and Medicaid," he explains. Even after several months of the COVID-19 pandemic, the facility is still on track to end the year in the black.
The hospital had a spike of cases in the March/April time frame and an even bigger one in July, Bloom says, operating at capacity at times with half of its beds devoted to COVID cases, including its four-bed ICU. However, hospital leadership decided to go ahead with planned projects, including reroofing the hospital, remodeling the urgent care facility and upgrading the radiology system, despite the pandemic and its demands, Bloom says.
---
Outdoor Attractions
Hunters, fishers, kayakers, hikers and boaters find plenty of recreational opportunities to draw them to Jeff Davis County.
"We are very fortunate to be located at the confluence of the Ocmulgee and Oconee rivers, which form the Altamaha, so it stands to reason that a lot of our tourism is hunting, fishing and boating. We've got a wide, gentle-flowing flat river, and that appeals to kayakers and other boaters," says Jim Sewell, executive director of the Hazlehurst-Jeff Davis County Board of Tourism.
To accommodate the outdoor enthusiasts, Hazlehurst has 140 rooms spread out among three motels.
The area also has some unique lodging, especially at Towns Bluff Park, a boat ramp/camping area maintained by the county. Sewell outlines the park offerings, and they clearly are aimed at variety. Not only does the park offer standard camping spaces, but those are joined by two campers set up as rental units, complete with decks. Plus, the park has yurts, those trendy round tents. They can sleep up to six people and come with amenities like ceiling fans. At $65 a night, roughing it in style is affordable.
Hunting is a major attraction, both at the Bullard Creek Wildlife Management Area and on leased hunting preserves, Sewell says. He lists deer as the main target, followed by turkey, hogs and game birds. And if you want to hunt with binoculars instead of a gun, birding trails run along and around the river.
"We're a great spot for the outdoor enthusiast," Sewell says.
If you'd rather spend your leisure time searching for man-made treasures instead of Mother Nature's, Hazlehurst has a plan for you, at least once a year. Each March, what's billed as the state of Georgia's longest yard sale – something like 200 miles – runs right through town. It's a veritable picker's dream known as the Peaches to the Beaches yard sale.
"It runs from I-75 to Brunswick along Highway 341 and, yes, goodness, it's popular," says Keith Carter, county administrator. "There's a committee that helps look after it."
---
Downtown Revitalization
Meanwhile, authorities are taking a look at downtown revitalization.
"We've got the master plan funded. We've never had a downtown master plan done, and this effort brings together the city, the county and the board of tourism," says Taylor. The Group turned to the Heart of Georgia Altamaha Regional Commission for the professional study and expects it to be completed by this coming January. A new branding and marketing campaign for Hazlehurst is also in the works.
But a handful of plucky entrepreneurs aren't waiting for studies or master plans. Like the folks behind Olde Towne Mercantile.
"We're just local citizens who want to see our community improved," says Rory Chaney, describing her adventures opening the store and trying her hand with her husband at historic preservation. "I have a love of architecture and design and old buildings. We own several buildings downtown, and we opened a business to bring more people down there.
"I'm learning through all of this that it is a marathon and not a sprint," she says of her new venture. The store – a refurbished building whose previous lives were as a grocery store and a Western Auto – is home to seven different vendors offering everything from clothing to antiques to giftware.
Chaney's venture inspired a friend to make a go of a neighboring building cut into a boutique, a coffee shop, and a future salon and spa. And the Chaneys themselves are in the process of buying another building where they have visions of "a really good steakhouse" topped with six apartments.
Like any good preservationist, she mourns the old buildings that were torn down to make way for parking or modern replacements.
Another optimistic entrepreneur is Ryan Herndon, a young man who grew tired of his jobs managing fast food and dollar stores. He patched up an old theater building in Hazlehurst and began screening first-run movies in a single-screen setting in 2018. Ventures like that are long shots at best, and the pandemic has hit The Theater of Hazlehurst pretty hard, he admits. But he still has hopes of making a go of it.
"We were just getting going good when (COVID-19) hit," he says.
The Theater of Hazlehurst has seats for 160, but will lose 20 seats when the latest round of renovations are finished. The place had been empty for 10 years, the roof had caved in and water was pooling inside when he launched his venture. Its bread-and-butter is the family movie, and it has also done well with religious movies, he says.
The family movie focus is no surprise in a community where people make reference to grandparents and other relatives as a way of identifying folks, and where directions are sprinkled with references to whomever once owned the land you will be driving past. That's the appeal that locals find here.
"There's a low crime rate and a good quality of life," says Carter. Two big attractions among the list of others that keep folks rooted to the area.

---
Local Flavor
Call of the Wild
Turkey hunting is a way of life, especially for those in pursuit of the sport's elusive Grand Slam – shooting all four of the various turkey subspecies in the United States. And in Jeff Davis County, for one enterprising artisan, turkey hunting is not only a lifestyle but a livelihood.
Jerry White's turkey calls – devices that lure in wild turkeys by mimicking their sounds – have been bringing the wily wild turkey before hunters' guns for 23 years. They've been sold in every state in the nation – fetching up to $125 apiece – via his website, dadscalls.net. The painstaking work that goes into their construction and their effectiveness in the field have earned White 12 national awards from the National Wild Turkey Federation.
White, better known even outside the family as Dad, is mostly retired now, but he still makes and sells his calls – albeit at a reduced pace and occasionally with the help of his grandson – from a workshop behind his home just outside Hazlehurst.
"I got started with turkey hunting about 1985, and I got tired of buying these production calls that didn't do what they said they would do," says White. So he set out to make his own.
Jealousy, lust and deception are what make a turkey call effective in the hands of a good caller. It can bring in male turkeys by imitating the sound of a young jake courting his hens or the "purr" of a receptive female.
Making things comes naturally to White, who was a contractor before devoting 10 years to full-time creation of his custom turkey calls. He built the house he shares with his wife of 51 years and the sprawling collection of workshop spaces behind it that houses his turkey call production.
"I've got a little one-man factory down here," he says, surveying rooms filled with workbenches and drill presses, essential tools in the manufacture of the box calls that are his main product, along with smaller pot calls (circular discs that are worked by scraping a striker across them).
Jerry White turkey box calls – aka Dad's Custom Box Calls – are part folk art, part musical instrument, part utilitarian outdoorsman gear. The narrow handheld box, played by scraping the lid, or paddle, across the wooden chamber, is constructed from a variety of wood, including walnut, poplar, butternut and cedar. White's most popular call is cedar and purpleheart, an imported wood.
Not every call White makes winds up in the woods. Artisan turkey calls are also appreciated as collector's items, and his work is featured in plenty of prized collections, giving Hazlehurst a claim to folk art fame.