Gainesville | Hall County: Brighter Future
Healthcare, education and housing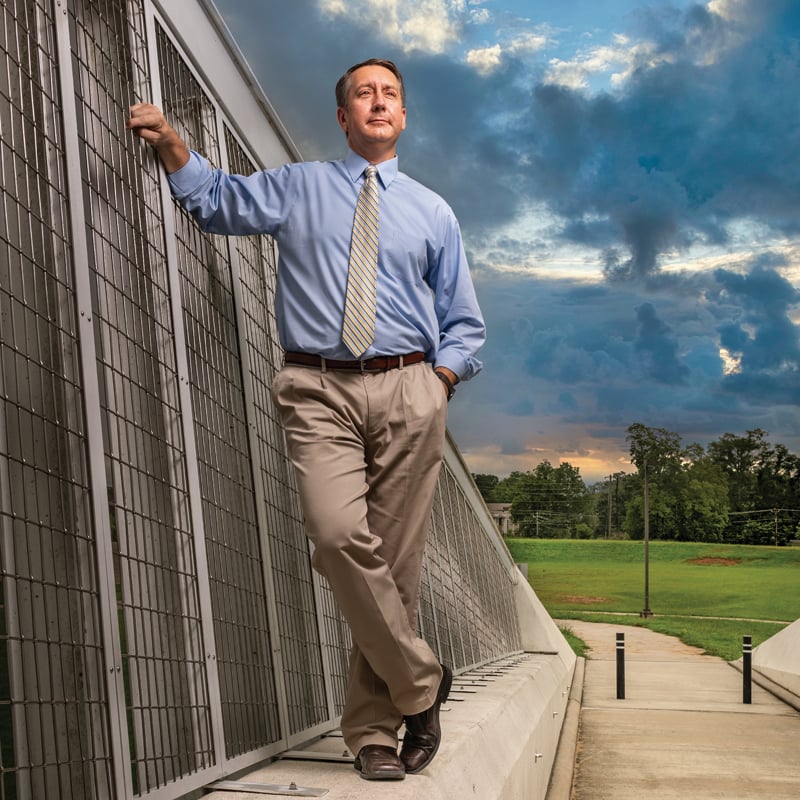 Before: Gainesville and Hall County had a really good year. In 2019 some 14 companies, both new and existing, brought 1,024 jobs and $292 million in capital investment to the county. Site Selection magazine put the area on its top performing small metro areas in Georgia.
Lanier Technical College, one of the county's cluster of higher-education cornerstones – along with Brenau University and University of North Georgia (UNG) – moved into a new campus and saw record enrollment. Another cornerstone of the region (and the largest employer in the county), Northeast Georgia Health System (NGHS), launched a new graduate medical education program. The biggest challenges were making sure employers could find enough trained employees and addressing infrastructure needs like a new library, parking decks and trail expansions through a Special Purpose Local Option Sales Tax (SPLOST) passed in November.
Then: In April and May of this year as COVID-19 hit Georgia, Gainesville and Hall County became a hotspot. NGHS' four campuses delayed elective procedures, preserving capacity to treat COVID patients but taking a hit to the bottom line. After a dip, the number of COVID patients being treated in Gainesville and Braselton rose again in July, surpassing earlier levels.
NGHS President and CEO Carol Burrell says the hospitals have expanded ICU beds and retrofitted some non-ICU beds into negative pressure rooms. However, the real strain comes with staffing.
"It's a bit more challenging with this second peak because during the first peak, we weren't doing surgeries and a number of other procedures," Burrell says. Offering those services again has helped the hospitals recover revenue but stretched staffing thin. Burrell, who says NGHS learned a lot from hospitals like Phoebe Putney in Albany that were hit early in the pandemic, is quick to praise doctors and nurses for "doing an incredible job" and the state of Georgia with providing staff help when it can.
Lanier Tech, too, had to scramble in March to provide its classes exclusively online. It did so, says college President Ray Perren, with basically a week of prep.
"They moved from on-site to online instruction almost overnight," he says. "We took a week off to get everyone prepared. When we came back, our instructors were going at it. Over 90% of our students completed everything they started – I'm very proud of that number." The college also proudly maintained another number: a 100% employment rate for students after graduation.
What makes the county successful, says Greater Hall County Chamber of Commerce President and CEO Kit Dunlap, is the diversity of its economic base: manufacturing, poultry processing, tourism, higher education, healthcare and retail. And a growing number of company headquarters.
"We've got a lot of great choices for people, and quality of life attracts the talent to run those businesses," says Tim Evans, vice president of economic development at the chamber.
---
Medicine and More
At both Lanier Tech and NGHS, some things are likely to remain even after the pandemic ends. Perren says the college developed robust online teaching skills and strategies that will enhance instruction to students, and he expects to see record enrollment return in 2022. Likewise, Burrell expects that changes the medical community implemented almost overnight – like vastly increasing telehealth appointments – have the potential to improve access to care.
NGHS contributes about $1.8 billion to the local and state economy each year and employs about 8,000. That's a large footprint, and it got bigger with the addition of the graduate program in internal medicine and surgery last year at the Northeast Georgia Medical Center in Gainesville. This year, as those residents enter their second year, the hospital is welcoming an inaugural class in family medicine.
Over the next three years, the program will expand to include emergency medicine, OB-GYN and psychiatry, according to Burrell. "Our mission is to improve the health of the community in all we do," she says. "But through that, in turn it contributes from an economic standpoint." The new programs are projected to add $66 million over the next five years.
They also contribute to improved care. Burrell says two doctors spoke at a recent board meeting and said that teaching residents was inspiring them to learn as well.
"The residents, who are so curious … are doing research that the physicians, who have full-time practices, don't necessarily have time to do," Burrell recalls one of the physicians saying. "That helps us to further advance our care."
A three-story office building, Medical Park 2, opened in Gainesville in June. It houses practices in family and internal medicine, general surgery and pulmonology. Plans are being made for additional medical towers in Gainesville and an outpatient surgery center in Braselton.
The labor market may no longer be tight, but companies are still hiring in Hall County. Lanier Tech was able to keep its placement rate at 100% thanks to a robust apprenticeship program. Apprenticeship 101, for example, is a partnership with the chamber that uses an Appalachian Regional Commission grant to fund two-year apprenticeships in machining, mechatronics and industrial maintenance. Lanier Tech is also in its second year of working with Carroll Daniel Construction to train apprentices to become field management supervisors and has a strong dual enrollment program with public high schools.
"These programs are a great priority for our manufacturing community," says Dunlap.
Collaborations – between the chamber of commerce, industry, high schools, UNG and others – make it work, says Perren. "Of course part of the apprenticeship program is beyond the classroom," he says. "It's the hands-on experience, and that's where our community partners come into play in a big way. The students are employees of the industry where they are apprenticing, and they're coming to us to take the classroom portion."
There's growth at UNG and Brenau, too. UNG has begun renovating the old Lanier Tech campus to accommodate its expansion. And thanks to a $2.6-million endowment from former Coca-Cola CEO Doug Ivester, Brenau University will turn its psychology department into the Lynn J. Darby School of Psychology and Adolescent Counseling, making it possible to offer a Ph.D. program in the future. The school will move into downtown Gainesville's new Renaissance development.
---
Downtown Developments
Hall County's two largest cities, Gainesville and Flowery Branch, are both in the middle of reimagining and redeveloping their downtowns.
Flowery Branch took an economic hit when the NFL prevented the Atlanta Falcons from hosting fans at its annual training camp there in the summer due to COVID-19. Mayor Mike Miller says that many small businesses, from restaurants to gas stations to the hotel, felt the impact. But he also praised residents for supporting local businesses, and hopes that home sales, which have increased rather than slowed down, will provide an even larger customer base for small businesses in the area.
In fact, residential growth has continued through the pandemic, and downtown is prepping for a strong retail recovery. The Residential Group is constructing a mixed-use development with 7,000 square feet of retail and restaurant space with 13 apartments above. Two parks, including one with a permanent farmer's market, are also part of the project, which is next to the Historic Train Depot. It should be complete in 2021. "We feel confident that – hopefully in the next six months or so – we'll have an improving retail environment," says Miller.
The Residential Group is also developing a complex just off I-985 that includes 324 apartments and several large parcels of land that Miller says would be ideal for national restaurants. That project, too, will be complete in 2021.
Although the Falcons didn't invite fans to this year's training camp, the team's presence was still felt in a big way. It partnered with Emory University to build a 29,000-square-foot sports medicine and orthopedics clinic on the Falcons' campus that will treat both players and local residents. "Our residents will have access to the same world-class sports doctors that treat world-class athletes," says Miller. The site includes a sports performance and research center.
Along with growth come road improvements, such as widening Spout Springs Road, one of the major thoroughfares in South Hall County. Newly opened Exit 14 on 985 is expected to lead to new development off Martin Road, as well.
Gainesville's downtown is also being transformed thanks to redevelopment of the "fourth side of the square" into Gainesville Renaissance, a 45,000-square-foot mixed-use project with retail, eight condos and office space that will be home to Brenau's school of psychology. The second big mixed-use project, Solis Gainesville, located close to the end of the pedestrian bridge on Jesse Jewell Parkway, will feature 10,000 square feet of retail and restaurant space along with 220 apartments and will incorporate the Highlands to Islands trail system.
Much of the new development comes in response to increased housing needs for healthcare professionals and other employees, says Evans. "As we grow and add jobs we have people moving to the community, and we need to continue to have housing options for them."
In addition, Gainesville is completing renovations to its downtown library. "We're excited about the traffic and just the positive vibes it's going to generate for people coming into downtown," says City Manager Bryan Lackey. A new parking deck will provide spaces for both the library and for downtown parking, and new streetscaping will improve the outdoor "sidewalk café" experience for diners at local restaurants.
"We're excited because we've been working for a couple of years to get these projects there," says Lackey.
Some other long-standing projects that are coming to fruition include a renovation of the boathouse at Lake Lanier Olympic Park that will include meeting and event space. Lackey says the city has been invited to submit a bid on the NCAA Women's Rowing National Championship for 2025/2026. Also underway is a youth sports complex that will include fields for baseball, softball, football, soccer and lacrosse. "We think this park is going to help drive economic development just to the east side of Gainesville," Lackey says.
---
Looking Beyond
So, finally, now: As of July, 13 businesses have announced either new or expanded operations in the county, bringing 785 new jobs and $270 million in investment. Heavy equipment manufacturer Kubota Manufacturing is building a research and development center next to its Gainesville factory; King's Hawaiian bakery added a fourth baking line to its Oakwood facility; and Fox Factory, designer and manufacturer of parts for bicycles, on- and off-road vehicles, motorcycles and all-terrain vehicles, constructed a 160,000-square-foot manufacturing facility that's adding about 800 jobs. Fox is also moving its corporate headquarters to Gainesville.
Although some projects slowed or stopped in the first half of 2020 due to uncertainty over the pandemic, many are back on track. Evans notes that 45 companies were hiring in the summer, and the pipeline for economic development is still full.
Local leaders say the region's long-term prospects are excellent, thanks to an economy that encompasses not just manufacturing and processing but also healthcare, education and tourism. In Gainesville, Lackey points to renewed progress on Gainesville 85 Business Park, a new 1,300-acre site just off U.S. 129. An anchor tenant was lined up but delayed after the pandemic struck, according to Lackey. "In just the past couple of weeks, they've come back and said, 'Not only do we want to do the project, we actually want to do it bigger,'" he says.
It's indicative of the strength in this top-performing metro area.
---
Local Flavor
The Gift of Outdoors
"Spending time outdoors is the most valuable gift we can give our children right now," says Andrea Timpone, president and CEO of the Elachee Nature Science Center in Gainesville. "And that's not just because of the pandemic." Indeed, it's central to the organization's mission: to encourage environmental understanding through education and conservation.
From its founding in the late '70s by five local women, Elachee (the word comes from the Cherokee language and means "new green earth") has offered day camps for kids and hiking and nature activities for families. In 1984 the Chicopee Woods Area Park was created from donated land, and Elachee became the caretaker for the nearly 1,500-acre Chicopee Woods Nature Preserve. It now has 12 miles of hiking trails, the nature center with classroom space and a visitor center. Timpone came on board in 1985 as the first staff educator, before the organization even had a building.
Elachee offers young students (preschool through first grade) a unique private school experience through its Nature Academy – meaning that even though there's classroom space, the kids are still mostly learning (and playing) outdoors. Typical enrollment is about 45 students, according to Timpone. The school is open this year, with safety precautions in place.
"We usually say they will spend 50% of their time outdoors, but this year it will be more like 85 or 90%," she says. A summer camp, which was shortened to five weeks instead of nine but otherwise went off without any issues, was a good warm up for school, Timpone says.
In a normal year, Elachee also hosts tens of thousands of students on field trips. Knowing that won't be possible this year, the staff created interactive learning programs. "It's a combination of a virtual presentation as well as an interactive with our staff," Timpone says. "So we'll have staff on the call where they can answer questions from students."
Some popular events at the center, like Raptor Fest and Snake Days, were canceled this year. But October's Trillium Trek races are on, with limited numbers of participants. And on weekends visitors can see live animal demonstrations at the visitor center.
Kids aren't the only ones enjoying the outdoors during the pandemic. In May, the number of people on Elachee's hiking trails doubled.
"We're all lacking that time outdoors, of free play and exploration," Timpone says. "It's not just the physical opportunity. It's also the mental and spiritual opportunity."