From the Publisher: Protect the Post
The postal service is an American institution that deserves defending.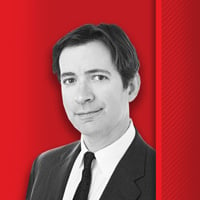 The post office is an American institution that deserves defending. These last six months, the U.S. Postal Service (USPS) has endured reckless reforms that have crippled its ability to process mail and packages – including "last-mile" package delivery that private carriers like Georgia's UPS rely on.
Along with providing services such as delivering Georgia Trend, post offices and postal workers contribute to the health and livelihood of Americans. Millions of people get their prescription drugs through the mail, and when service is delayed, these people are at risk for severe health problems.
Likewise, the USPS sends out millions of Social Security and unemployment checks that are critical during the coronavirus pandemic, when many are facing dire financial circumstances. And the potential for mail-in ballot delays in our upcoming election is consequential.
For a couple of decades, the post office was a staple of my life. Twice a week or so I would walk to my local branch to collect checks and demos for the record label, Old Gold, I run with Marshall Avett.
Those trips to the post office placed me in a network that stretched far beyond my local community into a world where I felt I was making a greater difference, and it sparked a real ambition that has served me well in the intervening years. I feel a great sense of gratitude to the post office, and I feel I haven't thanked postal workers enough.
The summer's disruptions to the USPS are particularly bad for small businesses. The ability to ship and receive products in a timely fashion is critical to establishing and maintaining a company's reputation. In turn, small and large businesses are key to USPS future success.
The agency receives no tax dollars for operating expenses, instead relying on the sale of postage, products and services to fund its operations. As letter delivery declines and package delivery increases, revenue from that service is crucial to the USPS's continued viability.
Recently Atlanta was chosen for a pilot project by the USPS to improve the customer experience for small businesses, featuring events promoting resources like Every Door Direct Mail and shipping discounts for small business owners. The program is also designed to establish more consistent pickups, set a clear point of contact for customer service and improve on the employee lead generation program.
Customer Connect is another initiative that aims to help small businesses. It's a joint program between the USPS and the National Association of Letter Carriers that encourages letter carriers to seek sales opportunities. Mail carriers are asked to tell their business customers about the benefits of shipping with USPS and keep an eye on opportunities where the agency might be more competitive than a business's current delivery service. The USPS also has a small business support line (1-USPS-4-SMBIZ).
Such work with customers often enhances efficiency as well as sales. Since it began in 2003, Customer Connect has generated more than $3 billion in annual revenue for the USPS.
While the agency has pursued its own funding reforms, for the last decade the USPS has been mandated by Congress to pre-fund healthcare benefits for current and future employees. And most recently, overtime restrictions have hampered employees' timely deliveries during the COVID-19 stay-at-home requirements.
In August, non-union employees were encouraged to accept early retirement and a hiring freeze for management level positions was put in place. Around the same time, high-volume sorting equipment began to be dismantled and blue mail collection boxes removed around the country.
Postmaster General Louis DeJoy suspended those two directives for the time being after a public outcry. However, while the policy was in effect, the backlog of mail and packages increased dramatically.
Rural residents have it worse because private carriers like UPS, FedEx and Amazon that don't generally deliver to rural areas rely on USPS for what is known as "last mile" delivery. Unlike private carriers, USPS is required by congressional mandate to serve rural areas. Previous attempts at reform have stalled in part because so many rely on USPS.
Postal workers are concerned that the cost-cutting measures instituted since DeJoy was appointed to the position in May will have the effect of undermining the agency and paving the way to privatize it, which President Donald Trump has said he favors. The business community needs to support efforts to save the Postal Service from slash-and-burn tactics, give it the latitude to structure its own reforms and reconsider applying private business models to these public services.
More than 18,000 Georgians work for the USPS, and a substantial number could be out of work if the agency is privatized to companies like XPO and Amazon, in which DeJoy reportedly owns shares.
Save the USPS, and take time to thank your postal workers.