Georgia Southern University: Catalyzing Regional Growth
The university stands ready to support an economic development revolution in Southeast Georgia.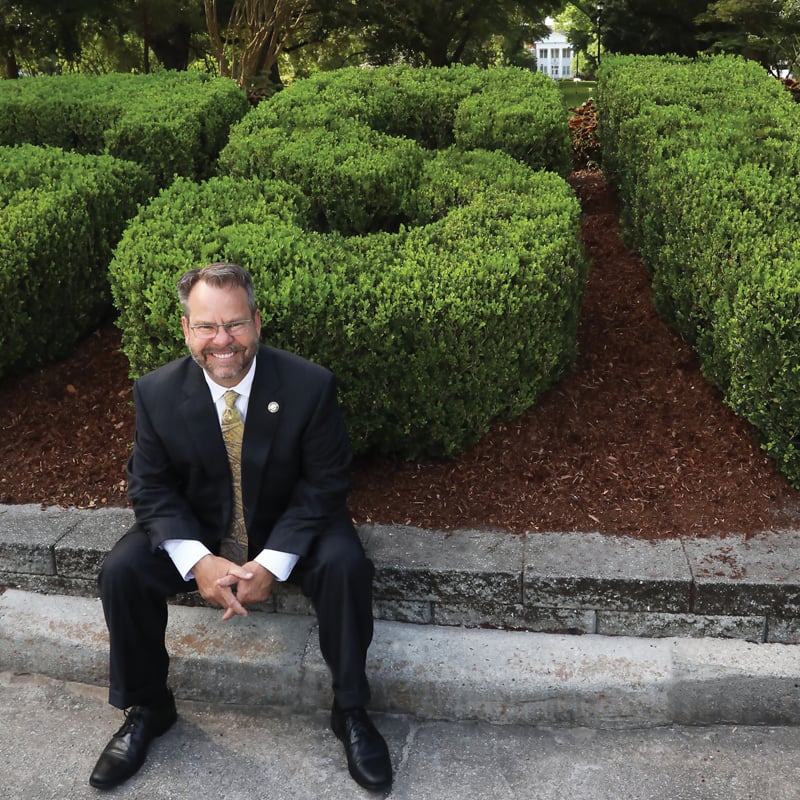 Any institution that's been around 114 years is bound to go through more than a few life-changing events. Georgia Southern University (GSU), founded in 1906, has certainly seen its share. But the consolidation of GSU with Armstrong Atlantic State University in Savannah ranks as one of the most significant inflection points in the university's history.
The move, approved by the University System of Georgia (USG) Board of Regents in December 2017, became official on Jan. 1, 2018. The reasoning behind the consolidation was both regional and strategic. The newly shaped university is able to offer specially tailored degrees, like a Ph.D. program in logistics or a degree in data analytics, that support the massive workforce needs at the Port of Savannah, Garden City Terminal and myriad distribution centers throughout Southeast Georgia. A new program in hospitality management is a perfect fit for the Savannah campus where, despite COVID-19, tourism remains one of the fastest-growing economic sectors.
Thanks to that decision, the university's administration, faculty and backers believe it will soon see a new era of educational and economic growth not just regionally, but statewide. Indeed, if all goes as planned, GSU, with campuses in Statesboro, Savannah and Hinesville, will be the catalyst for a much-needed second research and economic hub in Georgia.
---
Leading Powerhouse
"When we think about the breadth and scope of what we are – with more than 26,000 students from all 50 states and 102 countries, 141 academic programs and nine colleges, an economic impact of over $1 billion to the region, 3,350 employees, a one half billion-dollar annual operating budget – we're a powerhouse," says Kyle Marrero, who became president of GSU in April 2019. "From economic development to talent development to public impact research to technology transfer, we're positioned and ready to serve the growth of an entire region."
These aren't just pie-in-the-sky platitudes but real-world plans being implemented even in the midst of a global pandemic. Take the health professions, for example, where GSU and Armstrong were already considered leaders in nursing, radiology and health information technology.
"Now, combined, nearly one of every five undergraduate health professions degrees granted in the state of Georgia are from GSU," says Marrero. "That's our combined impact in terms of what we produce – over 300 licensed nurses a year. And we're going to expand that cohort in our region."
Proximity matters. The Georgia Southern Armstrong campus is literally down the street from St. Joseph's/Candler Hospital in Savannah, making it an excellent location for the Waters College of Health Professions and the Jiann-Ping Hsu College of Public Health.
"Many of our nurses do their training at St. Joseph's," says Carl Reiber, provost and vice president of academic affairs. "They train at Memorial Health University Medical Center [in Savannah], too."
Reiber points out that while GSU's College of Public Health began as a rural initiative, the instruction remains relevant since many of the same health disparities present in rural communities are also prevalent and applicable in population-dense Savannah.
---
Logistical Support
An acknowledged leader in logistics and supply chain education, the university is home to the Southern Center for Logistics and Intermodal Transportation, which is in the Department of Logistics and Supply Chain Management (LSCM) in the Parker College of Business. GSU became a natural partner to assist with the Savannah Logistics Technology Corridor (SLTC) initiative, a regional project bringing together business, government, education and the community to support economic development within a specific regional corridor by growing and encouraging investment in logistics technology.
The corridor boundaries cover portions of Interstates 95 and 16, the Savannah River and U.S. Highway 17. The types of jobs envisioned in such a corridor – logistics, supply chain, technology, information technology and more – are right in the wheelhouse of Georgia Southern graduates.
Though the location has yet to be determined, a physical space for SLTC will be built with funding from the state and from the Savannah Economic Development Authority (SEDA). And this is where GSU is stepping in. The university is currently heading up a study to move the needle forward on the SLTC. Marrero envisions a model similar to Georgia Tech's Tech Square in Midtown Atlanta where industry, academia, research and entrepreneurs come together to innovate – specifically in the fields of logistics, supply chain and IT.
"Our advisory group is building a project scope and a business plan to develop around that," he says. "That's where we bring in the incredible power of Georgia Southern Statesboro and Georgia Southern Savannah, serving a region with the type of research that can not only deliver in a logistics industry that we know has incredible potential because of the port and what will be growing on the I-16 corridor all the way to Macon as a result of that, but [also] being at the center of research and movement in terms of building a tech-hub concept in the future."
---
A Second Center of Gravity
This vision of creating a center of research, innovation, economic and workforce development outside the Metro Atlanta region has long been talked about. Specialty hubs have emerged – finance in Columbus, cybersecurity in Augusta, logistics in Savannah – but what if Southeast Georgia could collaborate to become something more?
"Georgia needs a second center of gravity, and if it's going to grow anywhere it seems likely to grow along the intersection of I-95 and I-16, with a port, with inexpensive land to the west, rail, a good airport and access," says Allen Amason, dean of the Parker College of Business. "Add a strong university to the mix, and you get a catalyst effect that causes the growth to explode. In particular, it needs to be strong in business, engineering and healthcare, and I think we're competitive in all three."
The Parker College is an essential contributor with eight majors and seven minors, three master's degrees (two in accounting and one in the science of applied economics) and a Ph.D. in logistics and supply chain management. In February, the Parker College MBA tied for 59th nationally on the Best Online MBA Programs list and tied for the 37th spot on the Best Online MBA Programs for Veterans list by U.S. News & World Report. The two non-MBA business programs, master's of accounting and master's of applied economics, were both ranked 50th in the nation by U.S. News.
In March 2019, the college celebrated its naming after the university received a $5-million gift (the largest in university history) from Greg Parker, founder and CEO of The Parker Companies, a Savannah-based convenience store chain. But Parker is more than a check-writing alum looking to put his name on a building. The funds established the Parker Business Scholars Program, Parker Business Scholarship Fund and the Parker Faculty Support Fund, which, among other things, help raise the level of business student recruitment and retention; provide more funding for professional development, scholarship and faculty research; and provide experiential learning opportunities.
"We have a group of honor students within the Parker College, Parker Business Scholars – all rising seniors – and they go and spend a day visiting Greg's company, meeting with him, members of his team," says Amason. "Parker's has one or two of our interns working there most any time, in marketing, data analysis, etc. We leverage that energy quite a lot."
---
Manufacturing Infrastructure
GSU's Allen E. Paulson College of Engineering and Computing is getting a lot of attention these days with a new $55-million Engineering and Research Building scheduled to open in January. Situated in the center of the Statesboro campus, the 135,000-square-foot facility is designed to support mechanical, electrical, civil and particularly manufacturing engineering, a program that was funded as a result of former Gov. Nathan Deal's High Demand Career Initiative.
In addition to 21 research labs and 25 academic learning spaces, the new facility has a host of manufacturing labs including metal, non-metal and 3D printing manufacturing space; robotic and automated manufacturing labs; precision manufacturing/Class 10,000 clean-lab space; nano material and manufacturing labs; instrumentation and control labs and jointing and welding labs. There's even a renewable energy lab on the roof to study solar, wind and weather.
It's a functional building that allows for collaboration; it's designed and built with long-term industrial sustainability and relevance in mind. And that's essential to the mission of the university, says Mohammad Davoud, dean of the College of Engineering and Computing.
"It was designed to support and create a manufacturing infrastructure and entrepreneurship infrastructure for technical people," he says. "We have space and labs that companies can subscribe to under lock and key, for as long as they need, to do their work. And students will be able to work on those projects as well. The undergraduate research is very strong in our college."
The college has nearly 4,000 students; more than 600 students are in the online IT degree program alone.
"It just shows how much need there is in the state," says Davoud.
GSU recently added six master's degrees in the engineering programs and in IT and computer science; a Ph.D. is on the wish list. Right now, Davoud, the founding dean of the college in 2012, is just trying to catch his breath and is looking forward to opening the new building.
"It will definitely enhance our research capabilities and our faculty's ability to develop collaborative research projects with industry, government agencies and other partners," says Davoud. "The new building will move the needle forward on economic development in our region."
Moving the needle forward on GSU's research status is equally important and a key factor behind a new degree that's been proposed. The new field of study – coastal plain sustainability – covers everything from biology and chemistry to GIS (geographic information system) mapping, law and politics.
"It's an interdisciplinary program out of the sciences but covers several colleges," says Reiber. "Sustainability is an area of rapid growth and critical importance. Georgia Southern is perfectly positioned to claim that territory, and our move into Savannah puts us even more front and center in that area."
Another partnership currently in the planning stages is the Junior Achievement Discovery Center on the Georgia Southern Savannah campus. The discovery center, which is a hands-on financial literacy learning center, will be the first of its kind in the United States located on a college campus.
"Our students will teach some of the courses," says Marrero. "Between 15,000 and 17,000 middle and high school students will be bussed there every year to have that training experience."
---
Maximum Flexibility
When Shay Little stepped into the role of vice president of student affairs in June, she brought more than her years of professional experience at premier institutions. She brought first-hand knowledge of what it's like to have a child attend and graduate from GSU. That bit of familiarity helps her understand both student and parent concerns around this academic year.
"The college experience as we've known it will be different for students this year, and appropriately so," she says. "There will be activities on campus, but there will also be a lot of connecting points virtually. We've given students a guide for their student organizations to use in terms of how to have events, when to do it virtually, when to do things in person and if they do plan to meet to follow social distancing and wear masks."
The recreation centers, always popular gathering spots, opened on both the Statesboro and Savannah campuses. "There are modifications in terms of where we put cardio equipment," Little says. "There's a system in place [turning a card from green to red after use] so the staff knows it needs to be cleaned. We are doing health check assessments at the entrance, as suggested by the governor. We have an app for that. If the student can't pass the health screening, they wouldn't be able to get in."
Modified kick-off events were held at both campus rec centers including a scavenger hunt – facilitated through an app – on the Statesboro campus to help incoming freshmen learn their way around since they were unable to attend in-person orientations.
The university launched its own COVID-19 Answers Resources Evaluation and Self-Reporting (CARES) Center.
"It's a call center," says Little. "It allows our community to self-report information, and then that information goes to support teams serving students, faculty and staff, people who have tested positive for COVID or people who have COVID symptoms but no test."
For example, if a student has a positive COVID test and lives on campus, he or she may need to be isolated in a different location. GSU has a plan to provide meals to those individuals if they're on the meal plan. The university's support looks different for employees because they have different needs. "We also created a contact notification team," she says. "We reassigned individuals away from their usual jobs to support this."
Like all universities, GSU is working with guidance from the Board of Regents. "The plan is to prepare for face-to-face instruction, understanding that it is held within all social distancing guidelines," says Marrero.
To that end, every classroom space was audited to determine the maximum number of students allowed in the actual physical space with six feet of social distancing.
"Then we ask, 'is there any other place on campus we could move that class to where the whole class could meet,'" he says. "The answer is usually no. Next, we work with the professor and the department chair and ask, 'how can we honor face-to-face instruction as much as possible?'"
The end result is typically a hybrid schedule of classroom and online instruction, striving to honor the timing and schedule of the class the student originally signed up for. The challenge is daunting, and Marrero is keenly aware of the students and employees under his care.
"We'll adapt, be flexible, innovate and figure out what we do each step of the way," he says. "Lord willing, we'll make it through the semester with a continuum of education that isn't interrupted. Because at any time if it progresses to a point where we need to toggle over to fully online, we will. Maybe we'd keep the students in the residence halls so we could come back to face-to-face if needed." Marrero says the plan's name is Maximum Flexibility, because they aim to be fluid to what comes next.
"We have good people who are passionate about what they do," he adds. "Georgia Southern is poised, ready and empowered to serve the region. Even in the challenges with COVID, I'm proud of where we are now."