Statesboro | Bulloch County: A Vibrant Community
Education, Logistics and Manufacturing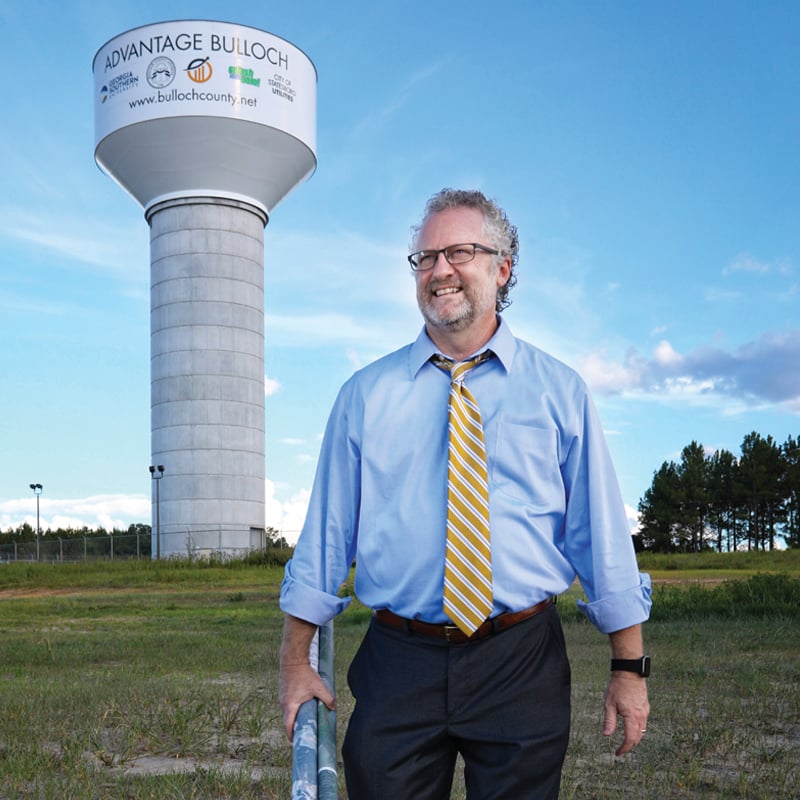 In a Georgia Southern University football Saturday in Statesboro, there's room for as many as 25,000 fans in Paulson Stadium. When you consider that Statesboro's population, per the U.S. Census, is 32,954, you get a feel for the impact of that population surge on fall weekends.
Whether fans can come back in those numbers, if at all, in 2020 remains to be seen (at press time students were slated to return) – but they will be back at some point. And their impact illustrates how Georgia Southern's fingerprints are all over Statesboro, a classic university town embedded in Bulloch County, which still retains much of its rural flavor.
Despite all those higher-ed fingerprints, however, Statesboro and Bulloch County have escaped a one-dimensional economy. Sure, Georgia Southern is the largest single employer and, per the University System of Georgia's annual study of the economic impact of its various institutions, generates a yearly $1.4-billion punch.
But you don't have to get far out of town to find land producing everything from cotton to carrots, and the county is home to a stable collection of smaller, varied industries manufacturing everything from lawnmower engines to architectural glass to pepper jelly. Top that off with the logistics boon that goes along with having four interchanges on Interstate 16, the umbilical that links to the Port of Savannah about an hour away, and you get a community that's far from in thrall to academia.
But back to football for a moment. Those thousands of fans are a revenue stream that downtown Statesboro is eager to tap. And one of the ways city leaders are trying to tap it is with a new open-container law.
"This is going to bring a little more life and excitement to our downtown," says Statesboro Mayor Jonathan McCollar. "We think our downtown is very beautiful, and this will allow people a new way to enjoy it."
Open-container laws, which allow pedestrians to carry to-go cups of alcoholic beverages, previously were basically a novelty in the patchwork of laws governing how and where people consume alcoholic beverages. They were almost exclusively found in tourist-heavy cities with defined historic entertainment districts, like Savannah and New Orleans. Now, as of mid-summer, add Statesboro to that list – with restrictions on cup size and a defined downtown district.
The idea, McCollar explains, is to bring football fans and families downtown on the Fridays before the games.
The city hopes to draw even more sports fans downtown after the 5,000-seat soccer stadium for the local professional USL League One team, the Tormenta, is completed in 2021. When soccer isn't in play, the stadium can play host to concerts, and the complex will include a new Publix supermarket, a hotel, retail and restaurants.
The locals may have to wait a while to find out how well that if-you-pour-it-they-will-come strategy works. Whatever form college football and soccer games take this season, odds are good it will involve less of the shoulder-to-shoulder crowds of the past.
COVID-19 has done more in Statesboro than dampen football fever. "Whenever the students are not in Statesboro, you know it – the roads are empty, the stores are empty," McCollar says. To make sure that emptiness did not become permanent, Statesboro responded to support its small businesses with a dual approach that includes philanthropy and a solid, substantial guaranteed loan program.
The mayor says the "Love UR City Campaign" collected more than $42,000 in private donations to support local businesses and families via the Statesboro Small Business Relief Fund and the Family Relief Fund. But that was just a drop in the bucket compared to what was really needed, so the city partnered with Carver State Bank, a Black-owned Savannah-based bank, on a loan loss reserve program. The partnership created a loan loss reserve fund of $250,000, which is the maximum amount Statesboro is at risk for in loan guarantees of up to $25,000 for any individual business. The money came out of enterprise funds from the water and natural gas utilities the city operates as retail-style entities. Between those two programs, McCollar is optimistic most of the Statesboro small business community will weather the pandemic intact.
New Statesboro-Bulloch County Chamber of Commerce President Skip Alford has also mobilized the might of his organization to help support small businesses during this challenging time.
"The No. 1 thing is we're actually being a stronger information conduit. One of my key things is to make absolutely sure that every business, every chamber partner that we have in this organization is informed. That way they can keep their business decisions sharp, timely and they can be effective."
While information is essential, the chamber has also helped members put together an online marketplace for local businesses in order to boost revenue streams – and it worked for many businesses. But a side benefit was just as important, Alford says. "We had people say that they had done business together for years but had never known each other. Now, because of the pandemic and things the chamber created that brought them together, they got to make new business relationships."
---
Logistical Strength
Statesboro is an hour away from the Port of Savannah, but with an economic engine that big, the distance isn't a barrier. Witness Bulloch County's Walmart distribution center, an import center of 20-plus years standing that brings containers in via the Savannah port and then breaks them down into smaller units for dispatch to distribution centers farther away.
"I can safely say it is one of the largest customers of the Port of Savannah. They've got 2 million square feet at the center," says Benjy Thompson, CEO of the Development Authority of Bulloch County.
"I'm excited, and I think people in Statesboro are, too, about working more closely with metro Savannah," Thompson says. "Savannah is the major player in our part of the state. We have a lot of affinities with Savannah in terms of the university, in terms of the port, even people driving here to come to work. We are members of the Savannah Harbor-Interstate 16 Corridor Joint Development Authority, which brings us together with Chatham, Effingham and Bryan counties, primarily because we share the interstate."
Economic developers like to talk about the diversity of their area's economy; Thompson can back his talk up. "One of the things we are proud about here – we haven't had a closure of a manufacturing facility or a significant layoff in over a decade [pre-pandemic]. Our existing industry has been very successful, and I think what that speaks to is the value of the workforce," he says. "They're not just from Bulloch County. We like the fact we draw from surrounding counties."
The Development Authority of Bulloch County is in the process of bringing online its Southern Gateway Commerce Park, which lies at Interstate 16 and Highway 301 South. Mass grading was recently carried out at the greenfield project, city utilities have been extended and the entire site is now pad-ready to the standards of the Georgia Ready for Accelerated Development (GRAD) program, Thompson points out.
The park's 200-acre stretch of land used to be covered with a cotton crop, not concrete. It illustrates that, while still important, agriculture is not as dominant as it once was. Bill Tyson, the county extension coordinator and agricultural agent for the county, acknowledges that former farmland is rapidly being developed.
"People are attracted to the way of life in Bulloch County, so we're losing some land to subdivisions, too," Tyson says.
But even in its reduced circumstances, Tyson figures agriculture accounts for about 10% of the income in the county. Bulloch County crops had a $148-million farm gate value according to a 2019 University of Georgia report.
There's variety to go with the volume, he says, with about 50,000 acres of cotton, 25,000 acres of peanuts and smaller acreage still mounting up in corn, carrots, watermelons and even that easy-peel citrus, satsumas. Add the forestry and a healthy sprinkling of livestock, and you get a snapshot of a still-vibrant agriculture sector.
But the biggest crop in Bulloch County is probably students.
---
Nurturing Education
Georgia Southern University boasts about 26,000 students – the bulk of them in Statesboro, although there are satellite campuses at the former Armstrong State University in Savannah and its Liberty County auxiliary. The university calculates that the main campus educates about 70% of the students, the Armstrong campus about 20%, Liberty County about 2% and the rest learn online – though that may all change this fall.
"We're a big part of the economic fabric, not just of Statesboro but the entire region, and really our job is talent development," says Georgia Southern President Kyle Marrero. "We're the pipeline. One in every five health professions degrees in Georgia is from Georgia Southern. … Our ROTC program that's been around since the 1980s is the ninth highest producer of commissioned officers in the United States."
The offerings are diverse, from business to engineering, and they reflect the direction of the region – the university recently began offering a doctorate in logistics, for example.
The campus is growing, too. Under construction and nearing completion is the latest large project, a 135,000-square-foot engineering and research building to house programs in manufacturing, civil, electrical and mechanical engineering.
"It will be one of the highest-tech buildings in Southeast Georgia, really in all of Georgia," Marrero says. "It's where innovation can happen, where we'll have project-based solutions for the logistics and technology industry. These are big, hangar-sized laboratories that can be opened up into even larger spaces, and the neat thing is there's lots of glass and open area so you can see everything, too."
Even as that building goes into the punch-list phase, the next big project is taking shape on the drawing board, preparing for the five- to six-year process that leads to approval, funding and construction. The largest one in the pipeline is a convocation center that will house indoor sports, a selection of health professions programs like kinesiology and physical therapy, and even graduations.
Along the way there are dorm renovations, a reimagining of the former student union building to house activities and organizations and an indoor football practice facility for the team that jumpstarted the university's latest growth run in the early 1980s.
"There are towns in Georgia that have a college or university or a technical college and a nice downtown," says Marrero. "But what's special about Statesboro is we're looking at building a vibrant community that will not only develop talent but create activity."
---
Local Flavor
Town to Gown
In the heart of Statesboro, there's a line that runs from downtown straight to Georgia Southern University known as the Blue Mile. Why the Blue Mile?
Well, it's pretty close to a mile from the front gates of Georgia Southern to the courthouse steps in Statesboro. And Georgia Southern's colors are blue and white. Hence, the Blue Mile.
The Blue Mile is a target of a redevelopment program designed to channel students, parents, football fans and their dollars into downtown Statesboro. Restaurateurs, bar owners and merchants can profit and, in turn, students and their university get access to amenities and quality-of-life resources needed to sustain or grow enrollment.
Within this broader project winds The Creek on the Blue Mile. At the moment, it winds only on paper – or more accurately, on a computer screen. But in a few years, developer Andy Burns, who co-chairs the private Creek on the Blue Mile commission with Development Authority of Bulloch County Assistant Secretary-Treasurer Doug Lambert, expects to see a reservoir with recreational potential, a linear park and an entertainment district of hotels, restaurants, bars and shops. Along the way, backers expect the project to drain a flood plain and open up 75 acres of largely undeveloped land for sale and development.
Right now, the creek is basically nonexistent, except for a partially concreted drainage canal – coastal Georgia terminology that translates into "ditch." The public-private partnership behind The Creek on the Blue Mile is three-quarters of the way through a formal engineering study to determine its feasibility, but Burns says he's already been assured that it's a go.
The 24-acre lake will alleviate flooding and control runoff, while also serving as a backup drinking reservoir for the university and the town, he says. It will host nature trails, fishing, kayaking and a playground/pavilion, but its most important function will be to drain 75 acres in and around downtown Statesboro out of the hundred-year flood plan and into the realm of fiscally realistic development.
Burns maintains the $20-million-plus project will be built without any new taxes. Financing began with a $5.5-million grant to build the reservoir and a state budget allocation made possible by former Gov. Nathan Deal. The sale of the newly developable land – where expensive flood insurance previously prevented building – will chip in to the pot, and bargain land on the tax digest will become much more valuable as the creek begins to flow. Another revenue stream will be private developers who want a share of the creek-front property to develop businesses along the linear park.
"A lack of dreaming has never been my problem," says Burns. And it looks as if the pieces of this particular dream are likely to fall into place.