From the Publisher: Tradition of Integrity
As Georgia Trend celebrates 35 years, we're committed to spotlighting all of Georgia and will continue to share the stories about the businesses, nonprofi ts and people who make this state great.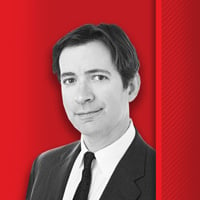 This issue celebrates the 35th anniversary of Georgia Trend. It's really a celebration of the lives that have made Georgia such a successful state. These people and their stories are reflected in the pages of our magazine each month. And it's with a big thank you that we present this issue.
As we celebrate our people, we also celebrate our title. The magazine has earned the respect and admiration of so many Georgians that after three and a half decades it is stronger than ever. Georgia Trend is practically woven into the fabric of our state's leadership.
Each January, Georgia Trend selects the 100 Most Influential Georgians, the Georgian of the Year and Hall of Fame inductees. Our February issue pays tribute to the Georgia Trustees, the state's highest honor. That issue also connects readers to our Legislative Guide, putting faces to the hundreds of lawmakers working together each year to shape our state.
In May, we honor our Most Respected Business Leader and our Top Doctors. In September, we publish the Higher Education Directory, and in October we honor our 40 Under 40, selecting the best and brightest up and comers, and feature the Top 100 Public Companies. In December, we publish the Legal Elite through a peer-driven process selecting the best lawyers.
Throughout the year, our articles feature the people making things happen, working to meet challenges and improving the lives of Georgians in a specific career sector or region. With our Q&As, we provide a platform for people to speak directly to community and corporate leaders about issues that affect all residents.
As we continue to expand digitally – Georgia Trend has a monthly digital edition of the magazine, a website, the Georgia Trend Daily e-newsletter, the Latest Trends blog as well as social media accounts on Facebook, Twitter, LinkedIn and Instagram – we strive to maintain that integrity and to build upon our ability to be a voice for all Georgians within and beyond the business community.
Through our focus not only on successful businesses but also the outstanding nonprofits working to meet the state's needs, we strive to be a voice for the philanthropy community, which we feel is interwoven with Georgia's economic development success. Investments – whether time or money – should not only be based on dividends, but on social responsibility as well.
Georgia Trend is uniquely suited to provide this service. We are committed to spotlighting what's working for economic developers and nonprofits, regardless of where they are located in the state – rural or urban, city or county – and feel the solutions we share are valuable across all sectors. Peer-to-peer lessons that can be shared are key to maintaining Georgia's leadership role in business across the nation and internationally.
As the world has increasingly turned to the internet to get its of-the-moment news over the last decade, the importance of magazines still rings true. According to Statista, a provider of market and consumer data, the total number of magazine readers in the U.S. is rising steadily – from 210.7 million in 2012 to 224.6 million in 2018 – while the number of total magazines has remained fairly constant (around 7,250) since 2008.
That means more readers are reading the same titles. And it's readers of every age, from teens to retirees, who are turning to print, according to Forbes. The advent of digital news and social media has people scrambling for what is real, returning to legacy titles like Georgia Trend that have built on decades of integrity.
For this month's anniversary issue, we offer our first edition of Legacy Leaders. Many of these people, who have often toiled in the shadows and never sought publicity, were recommended by you, our readers, after we asked for suggestions of great Georgians we may have missed in our years of coverage. It's wonderful to see the ways our citizens do so much for the state and contribute to our business and cultural leadership in the south.
It is the people of Georgia who have made this state great and continue to inspire us to create this magazine month after month. On behalf of our staff, thank you for 35 years.