Georgia Trend Daily – Aug. 7, 2020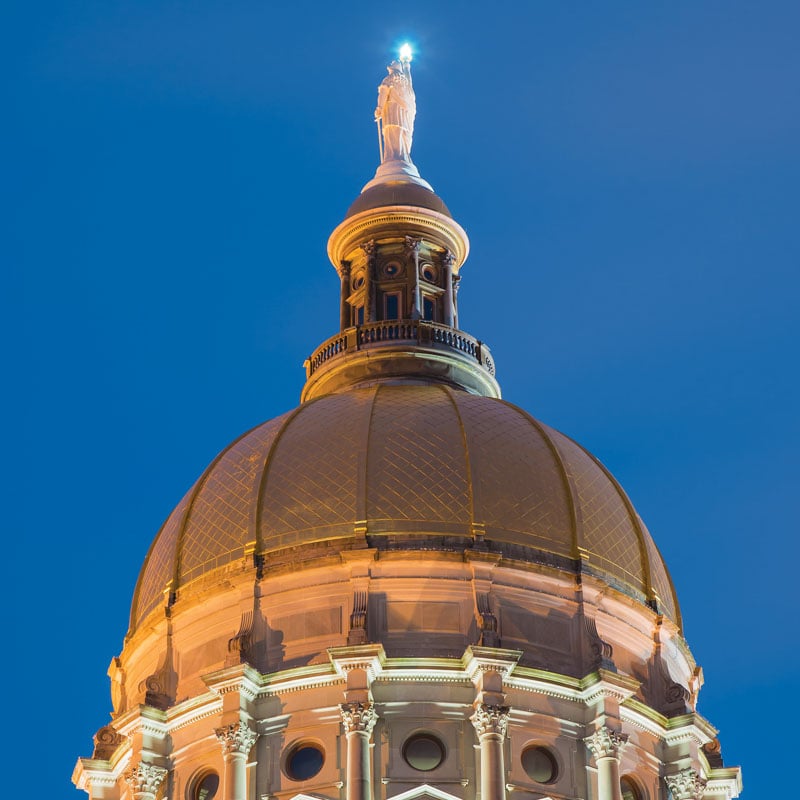 Aug. 7, 2020 Georgia.org
Staff reports that Governor Brian P. Kemp, in conjunction with the Georgia Department of Economic Development (GDEcD), yesterday announced a strong start to the first month of fiscal year 2021, as the state attracted new investment projects. In the month of July, Georgia announced roughly $574 million in new investments and 3,629 new jobs created in nearly every region of the state.
Aug. 7, 2020 Georgia Trend – Exclusive!
Susan Percy reports that Georgia finally has a state law specifically banning crimes committed against individuals based on their race, gender, sexual orientation, ethnicity, disability or religious beliefs. It was a struggle, but in the final days of this year's postponed legislative session, lawmakers approved HB 426, a bipartisan bill.
Aug. 7, 2020 Capitol Beat News
Dave Williams reports that first-time unemployment claims in Georgia fell by 11,053 last week to 73,931, the state Department of Labor reported Thursday. Still, the nearly 3.4 million initial claims the state agency has processed since March 21 is more than the labor department handled during the last eight years combined.
Aug. 7, 2020 Savannah Morning News
Katie Nussbaum reports that development continued in Pooler this week with the groundbreaking for the construction of the first building in the Kansa Center, located on Pooler Parkway, between St. Joseph's/Candler Pooler campus and Interstate 16. The 13,000 square-foot shopping center will be the first retail space of the Kansa Center and is currently in the initial leasing stage for its three retail stores.
Aug. 7, 2020 Augusta Chronicle
Damon Cline reports that a local investment firm has acquired the former Dart Container Corp. cup factory on Wrightsboro Road for $4 million. An Augusta-based investment group has purchased the former Dart Container Corp. plant for $4 million and intends to market the Wrightsboro Road property to manufacturing and distribution tenants.
Aug. 7, 2020 Rome News-Tribune
Doug Walker reports that forecasting the short-term economic outlook for Georgia and the rest of the nation is a little trickier than taking a longer look into the future, according to a top state economist. Tom Cunningham, senior vice president and chief economist for the Metro Atlanta Chamber of Commerce, said the country is not in the midst of a typical recession.
Aug. 7, 2020 The Center Square
Nyamekye Daniel reports that Georgia counties have received the first portion of federal aid meant to help with COVID-19 relief efforts. Local leaders, however, say the funds are not enough to address ongoing budget issues.
Aug. 7, 2020 Marietta Daily Journal, Capitol Beat News
Dave Williams reports that manufacturers that use the cancer-causing chemical ethylene oxide face new restrictions in Georgia under legislation Gov. Brian Kemp has signed into law. Senate Bill 426 was among a flurry of 40 bills Kemp signed on Wednesday, the legal deadline for the governor to sign or veto measures the General Assembly passed during this year's session.
Aug. 7, 2020 Brunswick News
Taylor Cooper reports that Glynn County government confirmed Thursday that it would take the state to court to stop the Georgia General Assembly from putting the decision to abolish the Glynn County Police Department on the November ballot. State legislators passed three bills during the recent legislative session giving the registered electorate the chance to decide whether to abolish the GCPD and fold it into the Glynn County Sheriff's Office.
Aug. 7, 2020 All On Georgia
Staff reports, on Wednesday, Governor Brian Kemp was joined by Commissioner John F. King, State Senator Kay Kirkpatrick, and State Representative Ron Stephens for the signing of legislation to allow for early prescription refills during a state of emergency.
Aug. 7, 2020 Fox 5 Atlanta
Claire Simms reports that on the 55th anniversary of the Voting Rights Act, the Georgia Democratic Party called on Congress to pass an update to the landmark legislation. "It is so important that Congress pass a new 'John Lewis Voting Rights Act,'" said Democratic Party of Georgia Chair Nikema Williams.
Aug. 7, 2020 Albany Herald
Staff reports that U.S. Senators Kelly Loeffler, R-Ga., and Tom Cotton, R-Ark., have introduced legislation to empower immigration judges to crack down on illegal immigrants trying to subvert the law. The senators introduced the Immigration Court Efficiency (ICE) Act to give immigration judges the authority to hold immigrants who fail to appear for proceedings in contempt of court and to issue bench warrants for the arrest of these individuals.
Aug. 7, 2020 Valdosta Daily Times, CNHI
Riley Bunch reports that U.S. Senate hopeful Doug Collins has leaned on his conservative track record despite initial criticism from some in his own party. Collins decided to try his luck at a spot across the hall and announced his candidacy in the special election to fill former U.S. Sen. Johnny Isakson's vacant seat after backlash to Gov. Brian Kemp's choice — Sen. Kelly Loeffler.
Aug. 7, 2020 Georgia Recorder
Stephen Fowler reports that a new lawsuit filed in federal court Thursday alleges Georgia's secretary of state and several counties are disenfranchising voters through long lines at the polls caused by shortages in staffing, resources and voting locations. The 81-page lawsuit claims local elections officials have a history of neglecting to adequately accommodate in-person voters, citing problems in Fulton, DeKalb, Cobb, Gwinnett, Clayton, Henry, Douglas, Bibb and Chatham Counties from as far back as 2008 to make their case.
Aug. 7, 2020 Atlanta Journal-Constitution
Jim Dinery reports that a U.S. House investigation has found misuse of campaign money raised for U.S. Rep. Sanford Bishop as well as a taxpayer-funded account that pays for management of the congressman's offices in Washington and the 2nd Congressional District in southwest Georgia.