Police Officer, Soldier, Advocate
Q&A with John King: State Insurance and Safety Fire Commissioner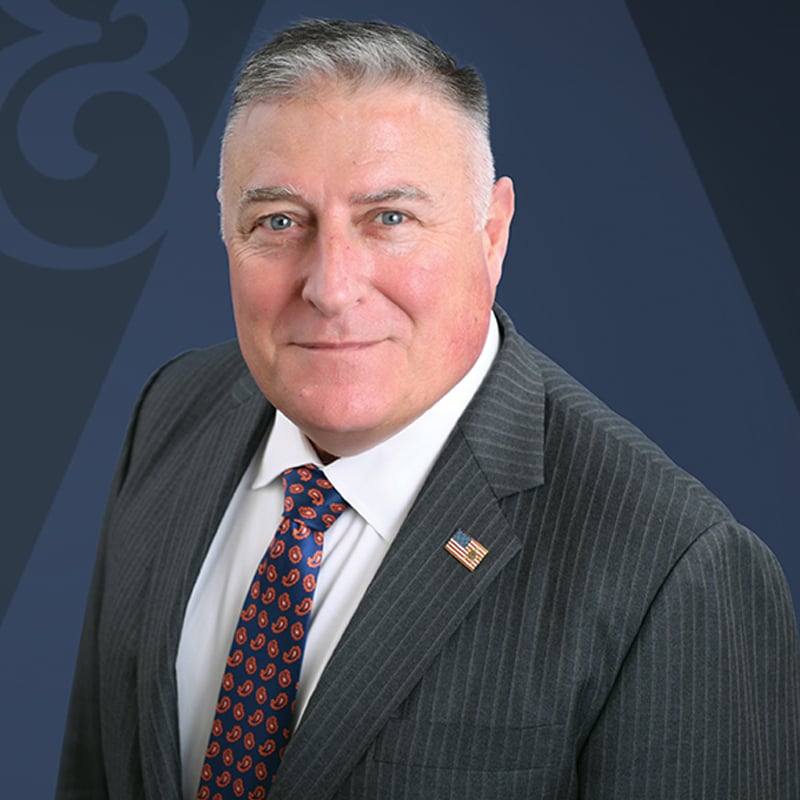 John King became Georgia's insurance and safety fire commissioner just over a year ago, named by Gov. Brian Kemp. He took over a department that was reeling from the indictment and subsequent departure of its head, Jim Beck, an insurance industry insider elected in 2018. Just four months after he took office, Beck was charged by a federal grand jury with wire fraud, mail fraud and money laundering.
The commissioner's office enforces fire safety regulations, regulates the insurance industry and is charged with investigating insurance fraud – whether by an individual trying to defraud an insurance company or a company trying to take advantage of consumers.
King is Georgia's first Hispanic constitutional officer. He was born and raised in Mexico, grew up on a farm and moved to Georgia as a teenager.
A major general in the U.S. Army Reserves, with deployments to Iraq and Afghanistan, King spent time this past spring in New Orleans and New Jersey helping lead the federal response to the COVID-19 emergency. In early June, he was deployed a third time this year, returning a few weeks later.
He has a background in law enforcement, having served as an Atlanta Police Department officer and chief of police for the city of Doraville, but he has no formal insurance background.
He will run for election in 2022.
Georgia Trend's Susan Percy talked to King about his career, his duties as commissioner and his role in the pandemic. Following are edited highlights of the interview.
---
GT: You have an unusual job history for an insurance commissioner, especially for one faced with so many unusual challenges right off the bat. How has that been?
King: Obviously, when the governor asked me to serve last July, nobody envisioned a hurricane to start with and a pandemic on top of that. It's been a fascinating time to be serving. I've had an incredible opportunity to learn and to learn very quickly. The industry has been good, and the legislature has been very good to me. They've helped me a great deal getting my feet on the ground. Part of my experience as a first responder, not only as a law enforcement officer but as a reservist, a military officer – I know the processes and procedures, how we approach a response.
---
GT: Your predecessor left under a cloud. When you took the job, you indicated that rebuilding the public trust in the department was important to you. How do you feel you're doing?
King: We have transformed this agency. We made it smaller. We've instituted a culture of engagement at all levels. Initially people were tiptoeing around the whole office of the commissioner. Now I invite people. I want people to come in and talk to me and engage, because there's some fascinating people who work with this agency, people that know so much about the regulatory environment. They've never been asked by the commissioner. They've got a great deal to contribute. We empowered them.
---
GT: Not having an insurance background — how much of a hurdle has that been?
King: I realized that this agency did not need an insurance expert; they needed somebody who was willing to lead and empower some great talent here. You know, sit down and talk to them about strategy and how do we get the changes and [accomplish the] things that we're going to do for Georgians. This agency needed leadership. They didn't need another insurance expert. There are plenty of great experts already.
---
GT: You have complimented the insurance industry for its early response to the COVID emergency. What did that involve?
King: The industry, very early during the pandemic, called to ask, "What can we do to help?"
We put regulations out there – and guidance. All of it happened because the industry supported it on the front end, so we didn't really feel like we were having to twist arms to get the things done to stabilize not only our consumers but also our economy in Georgia.
---
GT: What kind of things did you ask of the industry?
King: Not to cancel policies for non-payment, especially while emergency orders were out there – the industry said we can do this. We want to stabilize.
---
GT: Some auto insurers issued refunds, didn't they?
King: Obviously, a lot [fewer] people are driving, meaning the risk has dropped considerably.
---
GT: What about health insurance?
King: Asking [companies] not to cancel health insurance, to support telemedicine, not to charge people for COVID testing. Those are things the industry jumped all over. It did not take a whole lot of urging for them to come forward.
---
GT: There has been concern about businesses that had to close because of the governor's shelter-in-place order, rather than a decision the owners made, and how that might affect their insurance coverage and claims. What's your take on that?
King: It's a very difficult topic. I have great relationships with insurance commissioners around the Southeast and in the United States. We talk about this. How do we give our guidance [and use the] amount of control that we have as insurance commissioners? There's a lot of stuff that will end up, unfortunately, in the courts.
---
GT: How do you balance your responsibilities to consumers and to the insurance industry?
King: Ultimately, at end of the day, I am the consumers' advocate. For the insurance industry, I have to be able to support the enterprise and generate additional opportunities for insurance companies to operate in Georgia, but I can't forget the fact that I am the advocate for consumers, to make sure that things don't get out of whack. It's a very careful balance. My primary task is to be the consumers' advocate without wrecking the industry in the process.
---
GT: What about fraud? How are you addressing that?
King: Unfortunately, Georgia and Florida are the No. 1 and No. 2 states for fraud in our industry. We've revamped our investigations department. That's part of the confidence-building activities in our agency, putting in qualified professional investigators, people who can not only be advocates for consumers who have been victimized, but can present successfully cases across the state.
---
GT: Do you expect a lot more in the way of fraud as a result of the COVID crisis?
King: As we start re-warming up and restarting our economy, we're going to see a lot of these claims. We are looking very carefully at business interruption insurance policies. We have to make sure we keep an eye on fraud. Every time we've had a major event, we've had not only fraud claims but also arson – that's something our agency also investigates on behalf of the state.
---
GT: Do you have any advice for people worried about getting the help they need? Or people who have questions about their insurance companies' response?
King: When in doubt, talk to us – we've got consumer representatives available to answer questions. If someone thinks they have been done wrong, call us. The insurance industry is very receptive to us asking; [they] have to answer our questions. We're fair with the industry, but we also hold them accountable.
---
GT: Now that we are focused on working through the effects of the pandemic and beginning the recovery process, what other kinds of things are you asking the industry to do or not to do?
King: To cut through as much red tape as possible, give relief to consumers as quickly and efficiently as possible. We understand the insurance companies have taken losses as well. We're watching very carefully that the industry doesn't try and recoup their losses too quickly. We know that there is a cost. We know that, ultimately, we have to keep a close eye on higher rates. We're asking insurers to be sensitive to the fact that if they crush consumers with increasing costs, they're going to hurt the economy and, at the end of day, going to hurt their bottom line as well. We have to have a gradual warming up of our economy.
---
GT: There has been talk of limiting liability related to COVID-19 for businesses as they reopen and concern over what some call frivolous lawsuits. Can you speak to that?
King: That's something for the state legislature to try to tackle – not only our state, but [for] members of our congressional delegation. Looking at tort reform, we watch very carefully, provide some recommendations. It's a very hard issue. It's a two-sided street. You have the rights of the plaintiffs, but if it starts having an adverse effect on the entire state and the opportunity to reopen the economy … it's a very careful balance.
---
GT: As businesses are reopening, maybe rethinking their insurance needs, do you have any guidance for them?
King: This is a time [when] we have to encourage businesses owners to sit down with company representatives. Those companies that innovate in this new normal, they're going to thrive. Insurance is part of that innovation process. A lot of people don't pay a lot of attention to what the fine details are in a contract. This is a time to review your policies and really have a conversation with your agent – they're not just representing insurance carriers but representing you. What kind of coverage do you really need? There's nothing that's more powerful than an informed consumer.
---
GT: What do you see for the insurance industry in Georgia going forward?
King: I think the outlook is going to be great. The economy was incredibly strong. Georgia is becoming that place of niche insurance products, really focused on the future of business – ecommerce, unmanned vehicles; those will all require insurance products tailored to that industry and those companies that provide that innovation and that space. Every great new product out there is backed up by a solid insurance program.
How do we provide [for] businesses of the future with less personal contact? All those are going to require some kind of insurance product. I think it's wide open. The small business environment is going to thrive.
---
GT: Should Georgians expect to see rates going up?
King: I think it's going to be relatively stable. We will work very closely to see that the rates stay stable as the economy is starting to warm up. Companies have to have some good reasons [for raising rates]. It's all based on risk.
---
GT: You have done some speaking and interacting with Latinx communities during the pandemic, to encourage compliance with restrictions and encourage testing. Didn't you accompany Gov. Kemp to Hall County as the number of COVID cases there was increasing?
King: As somebody born and raised in Mexico – Spanish is my first language – I've spent a lot of time working with the governor on COVID testing with Latino communities. In Gainesville, I had the opportunity to engage with the Hispanic community and businesses and make sure they know what the rules are to operate in the new environment.
---
GT: What kind of response did you get?
King: The response has been outstanding. Communities appreciate somebody talking to them in their native language, somebody [who] grew up on a farm [and] understands the environment they're operating in. Having community leaders that speak the language is the quickest way of getting behavior changes we desperately need so we can cut down on the rate of positives [COVID cases].
---
GT: I'm curious about your service with the National Guard this past spring in New Orleans and New Jersey. What was your role?
King: I'm a major general in the U.S. Army. I'm a reservist in the National Guard, assigned to the U.S. Army North at Fort Sam Houston Texas. [Mine] is a deployable unit that goes out to the states, that helps DOD [Department of Defense] support local authorities. When there's a hurricane, earthquake, now a pandemic, my element gets deployed and works with governors, works with emergency directors, works with local National Guard units, bringing DOD capability to the community to assist, especially in the area of specialized equipment and service members. In New Orleans, we helped bring medical professionals from the Navy into New Orleans and helped in construction at the Morial Convention Center and helped increase bed capacity.
In New Jersey, we built three facilities and brought medical professionals from active duty for not only those facilities, but hospitals. We brought a lot of medics and doctors to help. It was incredibly rewarding and a great way to get to see how other states approach this problem.
I actually used my relationships with insurance commissioners to get a foothold and get to know who the key decision makers in those states were. They made my job as a soldier a lot easier and enabled me to bring a lot more focused help into those states.
---
GT: You have an election in 2022. Are you looking ahead toward that?
King: I know it's there. I'm paying attention to it; I have a great team of folks that are helping me with that. Honestly, my focus right now is helping with the pandemic, stabilizing the industry. At the end of this period, the citizens of Georgia will be able to judge whether I was effective and whether I ought to keep the job. This is why it's so important for insurance commissioners to be elected – there are not that many [elected commissioners] across the nation. We need to be accountable. I should be accountable. I look forward to facing that challenge.
---
GT: Anything else you'd like to say?
King: I'm very humbled by the governor's appointment. It gave me the opportunity to take on this incredible task, to change and innovate our department. Just as business has to innovate, government has to innovate, too.