From The Publisher: Injustice- Seeking a Way Forward
A string of tragic deaths and the civil unrest that has followed have led to an increased focus on justice, but to effect change more solutions are needed.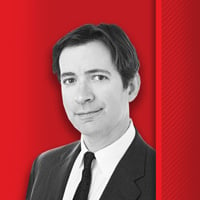 It's been a rough summer.
Georgia has been rocked with two killings that have inspired protests engulfing the world following the death of George Floyd in Minnesota and in reaction to the broader mistreatment of Black Americans by authorities. It is impossible not to be moved by watching the video and reading accounts of the killing of Ahmaud Arbery in Brunswick, knowing those responsible weren't arrested for nearly three months. The death of Rayshard Brooks in Atlanta at the hands of police as protests continued was also disturbing.
These tragic deaths and the civil unrest that has followed have led to an increased focus on justice. In the June legislative session, Georgia House Speaker David Ralston urged swift passage of hate crimes legislation to extend sentences for crimes against people targeted on the basis of race, color, religion, national origin, sexual orientation, gender or mental or physical disability. Georgia is one of four states without a hate crimes law, along with South Carolina, Arkansas and Wyoming. After much debate in the Senate, the legislation was passed and signed into law by Gov. Brian Kemp. On the federal level, Congress is working to make lynching a federal crime with the Emmitt Till Antilynching Act.
These legal changes are important when the alternative, doing nothing, is to sanction a status quo that is unacceptable. With hate crimes sharply on the rise (up 20% in 2016 alone), the adults in the room need to signal they are paying attention.
In terms of effecting change, however, many more solutions are needed, particularly in our policies of incarceration. In Georgia, Black people comprise 32% of the population but 51% of people in jail and 60% of people in prison.
While we've made strides in recent years in criminal justice reform, Georgia remains in the top 10 states with the most prisoners per population, with more than 50,000 in state prisons.
To see how this went from a rumble to an eruption, consider that Georgia's prison population increased 222% since 1983, and that since the 1970s, the prison population of the U.S. has increased fourfold. Now more than ever, we need to ask why and figure out how to make long-term changes. But it won't be easy, especially in rural Georgia.
In Georgia, cities are actually sending fewer to state prisons and county jails, while rural incarceration is on the rise. Where agriculture and manufacturing jobs vanished, the growing prison sector remains a lucrative taxpayer and steady employer.
Since many incarcerated people are unable to afford bail and there is often a shortage of public defenders and probation officers in rural areas, a disproportionate number of poor people must wait out the slow process of rural justice behind bars. A study by the Vera Institute of Justice, a New York-based independent nonprofit national research and policy organization, found a national rise in pretrial detention rates of 436% in rural counties between 1970 and 2013.
Some prison system populations dwarf the communities in which they are located, with massive jail complexes contrasting with the lack of public health infrastructure needed for the incarcerated. Local investment in incarceration often consists of funds diverted from education and public health needs.
Prisons provide a number of jobs in rural communities, which could prompt leaders and representatives from these areas to fight reforms that would end the tough-on-crime policies that created the prison boom. But these jobs could be replaced through crime prevention efforts that would better serve citizens and should take precedence over preserving a broken system.
The Vera Institute is currently partnering with the University of Georgia to study 15 rural Georgia communities, along with rural communities in Washington State. The project will look at issues such as uneven access to mental health services, the effects of expanded probation supervision in rural counties and how counties in South Georgia, often with higher Black and Latinx populations, are distanced from state-level debate on the issue. This is exactly the kind of collaboration that can lead to the systemic change we need.
Georgia can lead in the fight against injustice in a nonviolent way. We have a massive Civil Rights legacy to build on. We just need to find a way forward.