Albany | Dougherty County: A Steady Course
Healthcare, transportation and worker training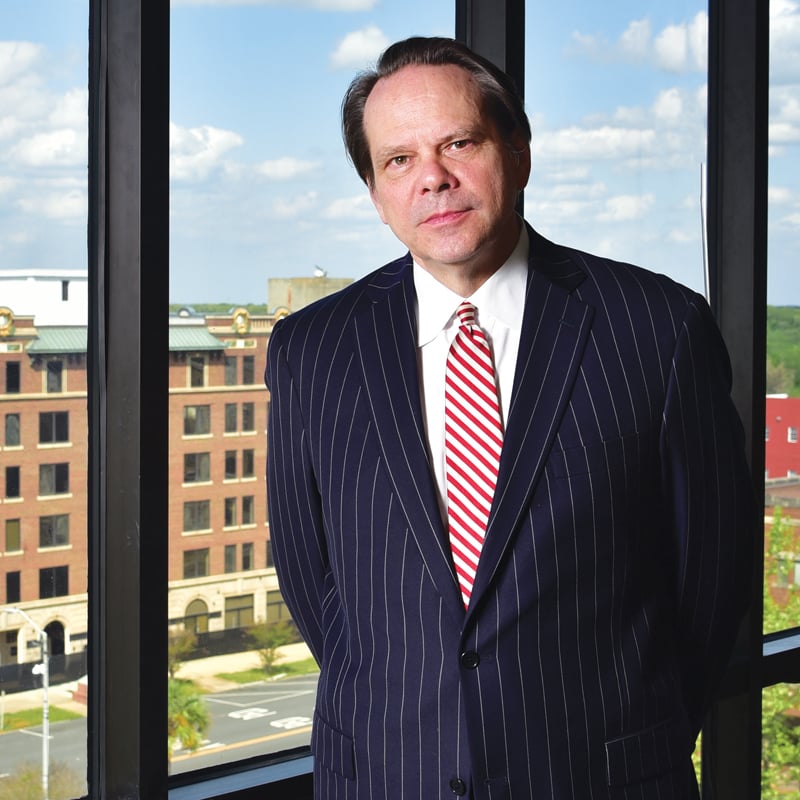 As Phoebe Putney Health System President and CEO Scott Steiner marked his first year on the job in early 2020, Dougherty County faced a crisis no one could have foreseen when he took the position. The county of approximately 88,000 people had erupted as a COVID-19 hotspot, following the well-attended funerals of two locals. By April, the county had one of the highest per capita rates of infection in the country.
Because the area was hit early and hard, local healthcare workers struggled to find the supplies needed and worked to become experts at treating people with COVID-19, with no direction and a massive interruption in the supply chain, according to Steiner.
The number of people seeking treatment at Phoebe in Albany was so high beginning in mid-March that a six-month supply of personal protective equipment, including gloves, gowns and masks, was exhausted in less than a week, Steiner says. Employees and volunteers from around the world were busy hand-sewing temporary mask covers to extend the supply.
Mid-June brought a reason to celebrate when the county went a full week without a COVID-19 death to report, says Albany Mayor Bo Dorough. "But the virus is still here and is still actively being transmitted. The rate of transmission has been contained, which was the whole objective of the shelter-in-place."
By late June, the county began implementing a three-phase plan for gradually reopening government offices and buildings to the public, transitioning more personnel back to the workplace with each phase. Both employees and visitors to these facilities are instructed to social distance and wear masks among other guidelines.
---
"Keep Me Safe"
The pandemic was an abrupt and dire departure from the work Steiner had been doing to develop a strategic plan for the hospital. That plan is moving forward, though changes will be made to reflect lessons learned from the pandemic, says Steiner, including rethinking the overall design of the new emergency center to make it more efficient.
"Our emergency room is about 30 years old. It was great 30 years ago but isn't very efficient for our staff and the different way you treat patients today," says Steiner, adding that they're studying the best emergency rooms in the country and getting public opinion on what the new center should include. They plan to break ground in the summer of 2021 and be in operation by the end of 2022, he says.
Over the next five years, Phoebe is committed to improving employee appreciation and satisfaction; influencing community health; creating post-acute care facilities on the north campus in Albany; updating emergency rooms; converting the remaining semi-private rooms at the main hospital in Albany to private; and constructing a new neonatal intensive care unit, five ambulatory centers and a new emergency center.
These goals come from the 12 months before the pandemic when Steiner had more than 700 meetings with doctors, employees, city and county officials and others, making the rounds throughout the region, addressing civic groups and visiting communities the system serves. That, combined with data analysis and strategic planning, led to the creation of Phoebe Focus, a strategic plan targeting several key areas, including patient safety.
Efforts will begin with a two-year window for all 4,500 employees – from housekeeping to physicians – in the regional system to undergo high reliability organization (HRO) training designed to keep patients safe, whether it's professional safety in the delivery of care or physical safety while they're on hospital property.
"I have a saying that I think our patients want three things: keep me safe, heal me and be nice to me," says Steiner. "And keep me safe is that first part."
The training will only increase Steiner's overwhelming respect for hospital
personnel and their commitment to see the community through even the worst weeks of the pandemic, when Phoebe ran out of beds and ventilators and was forced to send patients to other cities for care. He recalls witnessing an especially emotional moment when exhausted medical staff gathered around a hospital bed, arm in arm, in prayer for the successful extubation of a patient who had spent weeks on a ventilator.
"I get chills," he says, remembering the experience. "I'm inspired by them. We're fighting this as a community, and the community has embraced us with a hug."
From the beginning of the pandemic, Steiner says he was determined not to cut staff or lay off any employees. Instead, they found other areas where additional labor was needed and shifted staff accordingly, such as those who stepped in to set up Phoebe Kids Camp when schools were shut down. The camp provided child care for children of employees who were desperately needed at the hospital.
---
Digging In
The coronavirus pandemic followed on the heels of a devastating tornado that touched down in Radium Springs, south of Albany, killing five people in January 2017; and Hurricane Michael, which made a direct hit on the area in October 2018.
Despite these challenges, leaders are working on recovery and building for the future. By mid-June, many local businesses had resumed operations, accommodating COVID-19 guidelines when required. Limited occupancy in stores created occasional waiting lines, additional outdoor seating was established at some eateries, and fewer diners were seated indoors at the same time to meet distancing guidelines.
While dealing with the fallout from COVID-19, the cleanup process in the Radium Springs area continues. Road construction and repavement through the area is finished, as is the removal of damaged buildings.
Looking forward, the county is working on a new trailhead and walking trails funded by last year's passage of a Transportation Special Purpose Local Option Sales Tax (T-SPLOST), which is estimated to bring $80 million in new funding for transportation-related projects.
The planned 27-mile trail system along the east and west sides of the Flint River not only makes use of county property that can't be built on, it also provides increased opportunities for recreation, health and wellness activities and, leaders hope, additional economic development, says Chris Cohilas, chair of the Dougherty County Commission.
Currently, drawings are underway for the piece of the trail extending from Albany State University (ASU) to the existing trail along the river in downtown Albany. Eventually it will stretch from Radium Springs to ASU and into downtown and beyond, he says.
"We're also going to be focusing a lot of our efforts on rebuilding and developing the Radium Springs area and south Dougherty County and making a lot of investment there," says Cohilas. "We've sought state dollars to couple with SPLOST dollars in order to rebuild that community and bring it back to the vibrant place that it once was."
The county is putting in trails near the natural springs in the Radium community as well as on the former golf course property adjacent to the springs. "We're working with the state to access additional dollars to be able to repair the bridge and the dam that controls Spring Creek and helps maintain the water flow in the actual spring itself," says Cohilas, adding that a road-widening project in Radium Springs will also include additional walking trails.
"We're spending a lot of money in the form of smart investment in a community that was hit hard in the '94 and '98 floods and obviously in the January 2017 tornado," he says. "We need to put in some smart structured investment. We've been very aggressive in going after state and federal grant opportunities to pair with local investment so we can accelerate recovery in that area."
---
New Faces, New Directions
Dorough became Albany's mayor following a runoff election against incumbent Dorothy Hubbard in December. He landed in the position just in time for the worst crisis the city has ever experienced.
"It's certainly not what I expected to encounter two months into office," says Dorough, who was thrust into the spotlight during news conferences hosted daily early on and then on a decreasing frequency until the last was held mid-June.
"We were in the midst of the pandemic before we had time to prepare," he says. "As a result, we were the second city, behind Athens-Clarke County, to implement a shelter-in-place order, some two weeks before the governor did."
The well-being of the community is a major priority, he says, as the city begins to focus on the future. His concerns include the vacancy of 15% of single-family residences in Albany, a poverty level more than twice the national average and the crime rate. In addition, he plans to explore the possibility of generating income from the production of renewable energy.
Dorough is also focused on the police department, where there are about two dozen vacant positions. He would like to see a return to the community precinct policing program Albany once had, an idea he shared before many across the country began demanding police reform this summer. "There's been a challenge for several years with both recruiting officers and with retaining those officers," he says. He hopes his proposed 5% pay increase will improve the situation.
He would like to see Albany's attractions such as Chehaw, a 700-acre park and zoo; Flint RiverQuarium environmental education center; the Thronateeska Heritage Center, which includes science and history museums; and others work to complement one another to help increase attendance. There are opportunities, he says, to promote the rich heritage of the region's first inhabitants, the Muskogee Creek Nation. (Thronateeska is a Creek word that means "the place where flint is picked up.")
Along with a new mayor, the Albany Dougherty County Economic Development Commission has a leadership team and search committee looking for a new president, says Cynthia George, board chair.
"I am beside myself with what we've been able to pull together," she says. Matt Reed, president and CEO of community news organization Georgia CEO, is serving as interim president. Albany native and Atlanta banker Sonny Deriso and Albany businessman Jeff "Bodine" Sinyard are also part of the leadership team.
"We're working to make sure that we have not only a smooth transition but that we're providing the best talent and leadership we can in the interim," says George. "We want to keep our momentum moving forward. I never dreamed that we could assemble such a dynamic team that is this experienced and this well-known but, even more, respected across the state. They all three have a resounding passion for this community and region."
Bárbara Rivera Holmes, president and CEO of the Albany Area Chamber of Commerce, says the chamber, in partnership with the Albany-Dougherty Economic Development Commission, recently launched the community's first workforce comprehensive strategy, the result of 2019 efforts with the University of Georgia's Carl Vinson Institute of Government.
"It basically catalogs all the resources addressing workforce development and strategically positions us to move forward in a more focused and intentional way to strengthen the talent pipeline," she says, noting it's a unique tool for a community to have. In addition, the chamber is working on its own strategic plan, which it anticipated rolling out this summer.
---
Meeting Demand
Efforts to continue turning out a qualified workforce led Albany Technical College (ATC) to begin offering adults a joint enrollment option through which they can work to earn a GED or high school equivalency while enrolled in 39 programs at ATC. The new offering was prompted by the governor's High Demand Career Initiative, says Anthony Parker, president of ATC.
"We think for those individuals that need a GED and need workforce skills at the same time, they won't be forced to wait until they get their GED to start because they'll be able to get financial aid through the federal government and through PELL," he says. The program began
this spring, and he's optimistic enrollment will increase.
With a continued demand for healthcare workers and truck drivers, ATC is working to increase courses in both fields of study. The school has offered an accredited radiologic technology program since 1980 and in January added advanced medical imaging.
"That gives us an opportunity to train people for those occupations and professions in this community," says Parker, adding they are working closely with Phoebe Putney Memorial Hospital to offer students clinical experiences and a place for them to train with the most advanced equipment.
Also experiencing an increase in demand, ATC's transportation center includes not only truck driving, but also diesel technology, auto collision and automotive technology programs, all of which have expanded in the past two years, says Parker. Aging facilities and the need for additional space and updated technology are driving a request for $7.69 million in state funding for a proposed Diesel Equipment and Auto Collision Demonstration Center, he says, though it was not included in the governor's capital budget for this year.
Transporting goods by air is on the rise in Dougherty County, where just down the road at Southwest Georgia Regional Airport, UPS experienced an increase in the volume of cargo during the holiday season and added a flight, says Sharon Subadan, Albany city manager. While the addition was seasonal, Subadan suspects UPS may permanently add that extra flight in the future.
The airport continues to undergo improvements to the tune of $13.3 million, and the first jet bridge has been installed, "making it a much more effective travel experience for passengers," adds Subadan. Next door, the General Aviation private terminal will break ground in 2021 on a new terminal, new hangars and runway work, she says.
In all, Dougherty County is maintaining a steady course in its efforts to improve services and quality of life for residents following a series of hard knocks.
---
Local Flavor
The Commodores
Schools shut down early in the spring, but with plans to reopen in August, the Commodores robotics team is once again looking to crush the competition.
Commodore Conyers College & Career Academy (4C), a specialized charter school serving Dougherty, Terrell, Baker and Calhoun counties, has innovation through industry-focused education as its mission. Exemplifying this mission is the school's 28-member robotics team, the Commodores.
The Commodores are in their third year of competing in the FIRST Robotics World Championship Game, a nonprofit program designed to increase interest in science, technology, engineering and math (STEM) education and careers. Each year, the competition provides details about what the robots will be required to do. Then the team, coaches and mentors strategize, design and fabricate their robot, says Chris Hatcher, CEO of 4C Academy.
In February, the academy, students and community partners celebrated the opening of the team's practice field in the 4C STEM gym on the Albany campus. Marine Corps Logistics Base Albany, Phoebe Putney Health System and Proctor & Gamble are among the program's industry partners.
"There are other high schools in our area with robotics teams, and then we have the 4C team. They all work out of here because we've got the equipment and this field, and all the mentors can come together in one spot and help each team," says Hatcher, noting the mentors are all volunteers.
Commodores coach Darren Hagler teaches information technology programming at 4C Academy and says female students are the majority among his team's membership, holding positions of both lead mechanical and lead electrical. The students come from a variety of career pathways, Hatcher says, including engineering, of course, but also filmmaking and healthcare.
During the competition season, members meet four days a week, even Saturdays, to build and refine their robots. The Commodores won the Rookie All-Star Award for Georgia in 2018. Last year they finished ninth in the state and qualified to compete against 400 teams at the international event held in Texas. The team placed first in a February competition in Gainesville, before competitions were canceled for the rest of the school year. The team plans to be up and running again come fall.