Georgia Trend Daily – July 23, 2020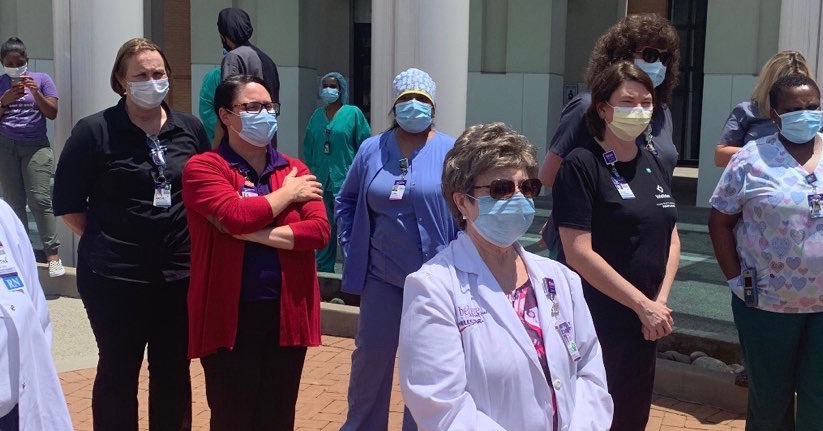 July 23, 2020 Valdosta Daily Times, CNHI
Riley Bunch reports that rural hospitals in Georgia were already treading water before the pandemic hit. Facilities that were spared from early clusters watched as places like Dougherty County were overrun with positive patients. Angela Ammons, CEO Clinch Memorial Hospital in Homerville, likened the outbreak in Albany to "watching a burning building."
July 23, 2020 Georgia Trend – Exclusive!
Mary Ann DeMuth reports that twelve construction and rehabilitation projects on trails around the state are receiving grants from the Georgia Department of Natural Resources Recreational Trails Program (RTP). Nearly $2.5 million in RTP funding will support improved outdoor access for nonmotorized and motorized recreation.
July 23, 2020 Atlanta Journal-Constitution
Kelly Yamanouchi reports that Delta Air Lines spent more than $10 million on sanitization and cleaning measures in response to the coronavirus. The measures include electrostatic spraying to sanitize planes and expenditures on personnel, supplies and equipment, according to Delta's chief customer experience officer Bill Lentsch.
July 23, 2020 GlobalAtlanta.com
Trevor Williams reports that the Small Business Development Center at the University of Georgia is offering its ExportGA courses free for the fall session, helping companies boost sales during the pandemic. In place since 1999, the four-month, 16-hour educational module usually costs $650; the SBDC has helped more than 200 Georgia firms sell more than $40 million worth of goods around the world.
July 23, 2020 Atlanta Business Chronicle
Jessica Saunders reports that state banking regulators are reviewing the first application to form a new bank they've received in 2020. Classic City Bank in Athens seeks to become a traditional community bank with between $16 million to $20 million market capitalization, according to proposed CEO and Chairman C. William "Bill" Hopper III and the public filing with the state banking department.
July 23, 2020 Georgia Recorder
Jill Nolin reports that a revised version of the governor's plan to remake the private insurance market in Georgia continues to draw opposition to the state's plan to bypass healthcare.gov. Marla Loyal, an Atlanta resident who said she purchased insurance through the federal marketplace this year without assistance, said she finds Gov. Brian Kemp's proposal confusing.
July 23, 2020 Georgia State University
Jennifer Rainey Marquez reports that Georgia State University researchers have received a one-year, $200,000 rapid response grant from the National Science Foundation to develop a tool to detect the presence of SARS-CoV-2, the virus causing the COVID-19 pandemic. Technology being developed by chemistry professor Gangli Wang in collaboration with assistant biology professor Mukesh Kumar is anticipated to provide several benefits, including fast turnaround time and greatly decreased false negative outcomes.
July 23, 2020 Savannah Morning News, USA Today
Chris Bumbaca reports that Sen. Kelly Loeffler, R-Georgia, told ESPN on Tuesday she does not intend to sell her stake in the Atlanta Dream as the league embraces the "Black Lives Matter" cause she has discredited recently. "They can't push me out for my views," Loeffler told ESPN. "I intend to own the team. I am not going."
July 23, 2020 Capitol Beat News
Dave Williams reports that a new internal poll taken by Democrat Jon Ossoff's U.S. Senate campaign shows the investigative journalist essentially tied with incumbent Republican Sen. David Perdue. The survey of 800 likely general election Georgia voters conducted between July 9 and July 15 found Ossoff holding a slight lead over Perdue, 45% to 44%. However, that margin was well within the poll's margin of error of plus-or-minus 3.5%.
July 23, 2020 WABE 90.1
Johnny Kauffman reports that Georgians who have been convicted of a felony and served their time but still owe the government money may be able to vote in this year's election, but they can't be sure unless they get extra paperwork. And if they register to vote, or cast a ballot, without the paperwork, they could risk prosecution.
July 23, 2020 GPB
Stephen Fowler reports that in the first hour of voting on June 9, 148 people used the state's new poll pad check-in system to cast their ballot in Georgia's primary election at the Newnan Centre polling place in Coweta County. Across the metro Atlanta area at Cross Keys High School in DeKalb County, that number was one.
July 23, 2020 Law.com|Daily Report
Katheryn Tucker reports that a new Zoom hearing has been set for the showdown over masks between Georgia Gov. Brian Kemp and Atlanta Mayor Keisha Lance Bottoms. Save the date: Next Tuesday at 10 a.m. That's exactly one week after the first attempt.
July 23, 2020 Atlanta Journal-Constitution
Greg Bluestein reports that two years ago, Republican Brian Kemp narrowly won the race for governor with the help of a stealthy canvassing initiative aimed at supporters of President Donald Trump dubbed "Operation Red Wall." The program mobilized Trump voters in deep-red rural counties who typically skip midterm elections, and it ultimately knocked on more than 120,000 doors to help Republicans counter Democrat Stacey Abrams' drive for new left-leaning voters.