New emergency department opens at Wellstar Kennestone Hospital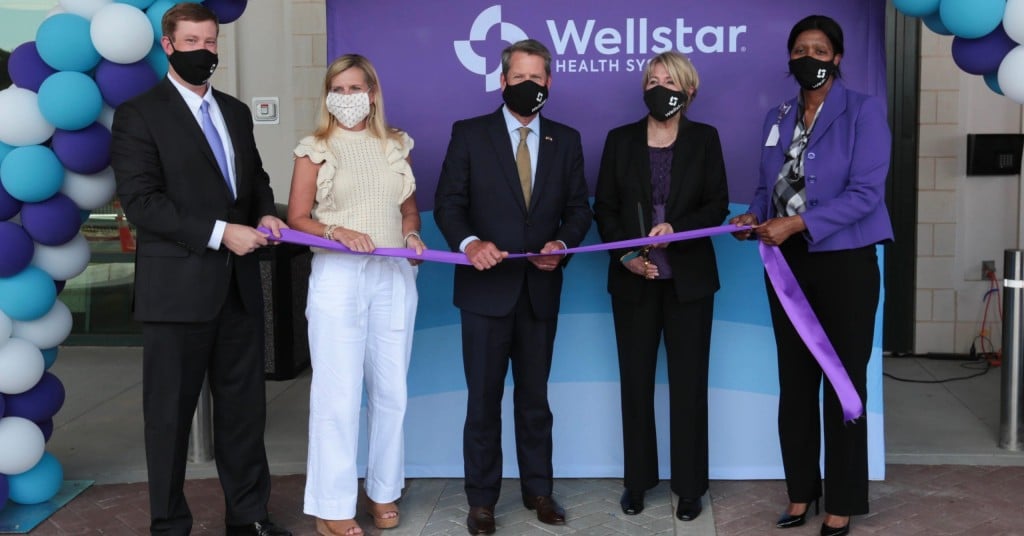 Last week, Wellstar Health System cut the ribbon on its state-of-the-art emergency department (ED) at Wellstar Kennestone Hospital in Marietta. The event was livestreamed and gave viewers across Cobb County and beyond an opportunity to learn about the new facility and its trauma services. The 263,000-square-foot ED – the nation's second largest – begins receiving patients on July 23 and can accommodate up to 600 patients per day. That adds up to 220,000 patients a year, which is double the hospital's former emergency and trauma capacity.
Before construction on its new facility was completed, the existing Kennestone Hospital ED was already the busiest in the state. To meet the increased demand for emergency services, the new Level II trauma center was designed to get patients in and out faster and provide a better experience for them. It has a host of special features, including:
Separate entrances and wings for adult and pediatric patients
Flexible spaces for treating high and low acuity patients
Private exam rooms with adjacent rooms where healthcare workers can put on and take off personal protective equipment (PPE)
14 negative pressure rooms
Designated spaces and processes for receiving patients with infectious diseases or behavioral health issues
12 dedicated second-floor beds for behavioral health and crisis intervention services
Three separate ambulance bays to accommodate patients whose conditions are at different levels of severity, and parking for up to 17 ambulances
Rooftop helipad to receive high acuity or trauma patients
Imaging rooms adjacent to trauma rooms
Wellstar Kennestone Hospital has been serving the community for 70 years and is part of the not-for-profit system that has served one out of six Georgians from nearly every county across the state. The new ED is expected to become a leader in best practices for emergency medicine and have an immediate positive impact on patient care.
Photos provided by Wellstar. At the ribbon cutting, from left: Otis A. Brumby III, chair of the Wellstar Health System Board of Trustees; First Lady of Georgia Marty Kemp; Georgia Gov. Brian Kemp; Candice Saunders, president and CEO, Wellstar Health System; and Mary Chatman, executive vice president, Wellstar Health System and president of Wellstar Kennestone Hospital.
Do you follow us? Find us on Linkedin, Facebook, Twitter and Instagram.