Georgia Trend Daily – July 15, 2020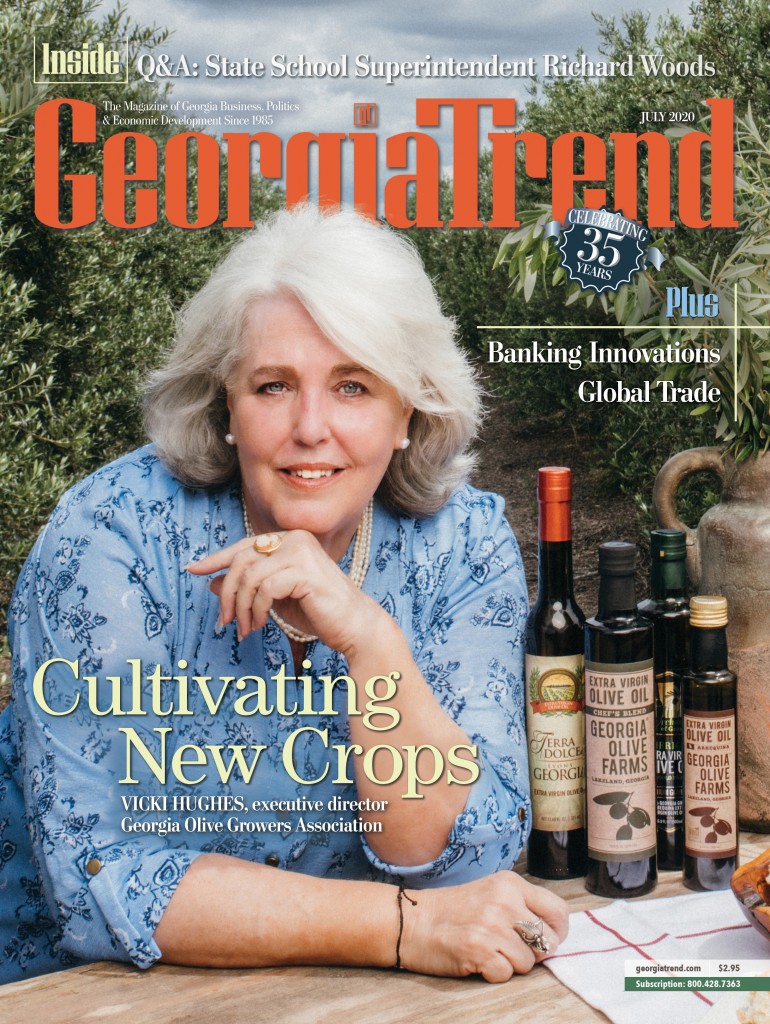 July 15, 2020 11 Alive
Michael King reports that President Donald Trump will be visiting metro Atlanta on Wednesday afternoon for the sixth time since becoming chief executive. This trip will take him to the UPS Hapeville Airport Hub, which is located at Hartsfield-Jackson International Airport.
July 15, 2020 Georgia Trend – Exclusive!
Haisten Willis reports, for more than 50 years, the city of Sandersville and Washington County have been associated with one mineral – kaolin, a white aluminosilicate clay that is mined by various companies along the well-named Kaolin Road and processed for an amazingly wide variety of uses all over the world.
July 15, 2020 Atlanta Journal-Constitution
Todd C. Duncan reports that automakers were expecting a major financial disaster as the coronavirus spread around the globe, shutting down assembly lines and causing sales to plummet. Slowly, factories have begun to resume production and consumers seem eager to purchase vehicles.
July 15, 2020 Georgia Southern University
Staff reports that the School of Accountancy in the Parker College of Business at Georgia Southern University helped more than 60 students meet with potential employers during its first-ever virtual career fair held in June. The virtual event took the place of the school's annual Accounting Day career fair.
July 15, 2020 Metro Atlanta CEO
Staff reports that the Georgia Lottery Corp. today announced that fiscal year 2020 profits transferred to the State Treasury's Lottery for Education Account amount to a record $1,237,345,246. This brings the total raised for education in the Georgia Lottery's 27-year history to more than $22.3 billion.
July 15 2020 Capitol Beat News
Dave Williams reports that more than 30 national, state, and local organizations have joined forces to oppose a proposed titanium mine near the Okefenokee National Wildlife Refuge. The Okefenokee Protection Alliance includes the Sierra Club, Georgia Conservancy, Georgia River Network, the Southern Environmental Law Center and St. Marys EarthKeepers.
July 15, 2020 WABE 90.1
Martha Dalton reports, Atlanta Public Schools, the DeKalb County School District, and the Clayton County Public Schools recently announced plans for the beginning of the 2020-21 school year. All three school systems plan to begin the year virtually, based on current public health data on the spread of the coronavirus in metro Atlanta.
July 15, 2020 Brunswick News
Larry Hobbs reports, with shipwrecked Golden Ray is corralled and waiting in the St. Simons Sound. The mega contraption VB 10,000 continues to ready itself in nearby Fernandina Beach, Fla., for the daunting task of cutting the 656-foot overturned vessel into eight giant pieces for removal from the sound.
July 15, 2020 Albany Herald, Capitol Beat News
Beau Evans reports that a potential vaccine for COVID-19 being tested at Emory University in Atlanta has shown promising early results after months of clinical trials, researchers announced late Tuesday. The candidate vaccine appears to be producing high levels of virus-blocking antibodies and interacting well with immune systems in 45 adult test subjects who volunteered for the project, said Dr. Nadine Rouphael, an associate professor of medicine at Emory's School of Medicine and interim director of the Hope Clinic at Emory's Vaccine Center, who is helping lead the vaccine study.
July 15, 2020 Atlanta Journal-Constitution
Greg Bluestein reports that U.S. Sen. David Perdue has amassed a campaign war chest of nearly $11 million to boost his re-election bid against Democrat Jon Ossoff, after collecting roughly $2.2 million between April and June. The Republican also will report raising another $700,000 during the second quarter for outside groups that will help his quest for another term.