Sandersville|Washington County: A Lot to Offer
Kaolin, manufacturing and art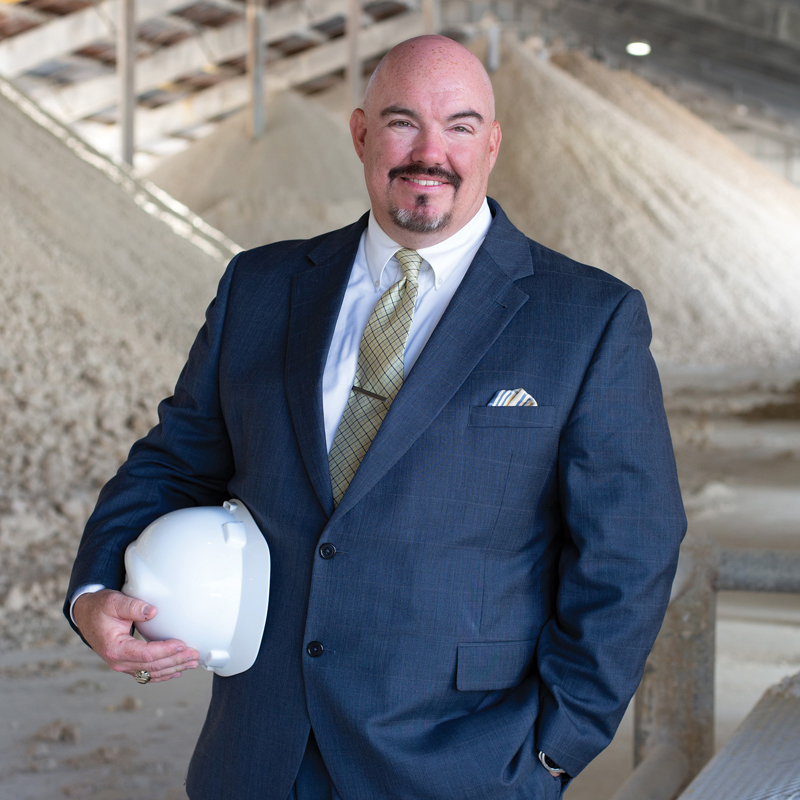 For more than 50 years, the city of Sandersville and Washington County have been associated with one mineral – kaolin, a white aluminosilicate clay that is mined by various companies along the well-named Kaolin Road and processed for an amazingly wide variety of uses all over the world.
Kaolin can be found in glossy magazine paper, toothpaste, cosmetics, rubber, paint and stomach remedies, among other uses. Nicknamed the "Kaolin Capital of the World," Washington County's economy has prospered thanks to the clay for decades.
"Kaolin is still our leading industry along with transportation, which is tied to kaolin. And it's doing very well even during this time [of the coronavirus]," says Jayson Johnston, executive director of the Development Authority of Washington County. "We're moving a lot of product, and in some cases demand has even picked up."
The city is a well-positioned hub for both truck and rail transport, as evidenced by the presence of companies like The Sandersville Railroad Co. and trucking firm Howard Sheppard Inc. Located halfway between Interstate 20 and I-16, the city serves both Savannah with its port and Atlanta with its international airport and 6 million residents.
"We've been a part of things here for a long time, with operations beginning in 1893," says Ben Tarbutton III, president of Sandersville Railroad Co. "We're certainly excited and happy to play our part in the retaining of existing industries and the recruitment of new ones. We firmly believe that the American dream starts with a job."
The railroad, Howard Sheppard Inc. and kaolin mining firms including KaMin, Thiele Kaolin Co., Imerys Kaolin and Burgess Pigment Co., continue to support Washington County's economy into the 21st century.
"Washington County is the most abundant source of kaolin in North America, and it has historically been the lifeblood of the county," says Eric Tillirson, president of Thiele Kaolin. "People refer to it as 'white gold,' and our products are shipped all over the world."
But there's a lot more to Sandersville than just minerals. Plenty of non-kaolin businesses now call Washington County home, including facilities for Trojan Battery, Dura-Line and Azalea Solar, plus the Shared Services Center, a human resources and payroll processing facility for the University System of Georgia.
---
Planning Ahead
Washington County leaders are busy preparing themselves for the future as new technologies continue to reshape the working world.
"I think technical colleges will be needed more than ever in the future," says Erica Harden, president of Oconee Fall Line Technical College (OFTC). "When we recover [from COVID-19], there will be an influx of dislocated workers who will need training. We can provide short-term training to get people back into the workforce. We have a pretty robust truck driving program and added a new full-time instructor in the spring. We're relying on the trucking industry more than ever right now."
A unit of the Technical College System of Georgia, OFTC operates campuses in Sandersville and Dublin serving an 11-county area the size of Connecticut. The college offers more than 100 instructional programs leading to associate degrees and technical certificates.
Last fall, the college began offering an associate degree in nursing bridge program and a cybersecurity program, and will add a degree in stenography this fall.
The post-coronavirus world will potentially reshape many aspects of business, which could prove beneficial to Washington County and rural America as a whole, Harden says.
"Rural Georgia is sparsely populated, which has always been viewed as a negative in terms of workforce involvement. But I can see that being a positive now," says Harden. "I'm thankful that [Georgia Gov. Brian] Kemp has made rural broadband a priority. We are seeing the need for that, and I think rural Georgia is positioned to provide more for the state. We've been relying on metro areas, but I feel we can turn it around and be very helpful to Georgia's economy."
The mission of educating tomorrow's workforce is shared not only by the technical college, but by the Washington County School District, the local campus of Georgia Military College and the private Brentwood School, which offers Pre-K through 12th grade.
The Washington County Chamber of Commerce also gets involved through initiatives like WaCo Works, a twice-yearly event that draws about 100 local high school students and their teachers to OFTC to learn about local career and skills-training opportunities.
"Not only students but teachers from the local high school come out to see what jobs we have available here," says chamber president Katie Moncus. "The teachers learn how much money you can make as a truck driver or that there's a diesel mechanic shortage, and they can later share that information with their students. It also helps build strong relationships between our schools and businesses."
---
Transportation Improvements
A key for future growth in Sandersville is continuing to provide the logistics and infrastructure required to keep up with Georgia's increasing importance as a shipping destination.
"A lot of our growth is based on the progress of the Port of Savannah," says Trey Sheppard, vice president of crude kaolin mining operations at Howard Sheppard Inc., which was founded by his grandfather in 1943 to support the kaolin industry. "Sandersville is strategically located. Savannah has positioned itself to be a logistics provider for the entire eastern seaboard. We're just 120 miles from that. We're a next step into the interior part of the country."
Washington County is part of just three regions of Georgia that approved a 1% Transportation Special Purpose Local Option Sales Tax (T-SPLOST) in 2012, an investment that is paying dividends today. The tax is funding an expansion of SR-15 and other road improvements. With more manufacturing potentially being brought back to the U.S., the county and region could be positioned well for future growth.
"We're tailor-made for any kind of manufacturing jobs," says Tarbutton. "That's a sweet spot for our workforce. It seems like more and more companies are looking to reshore their operations. That's something we're focused on."
It's easy to get into and out of Washington County via truck, train or car, meaning people can commute to the city from places like Macon or Augusta and make it back home without a lot of hassle.
"Sixty minutes of drive time here gets you 60 miles," says Johnston. "Augusta and Macon are an hour's drive away, and some people live as far away as Warner Robins or Lake Oconee and work here. We have a great draw area for our labor force. Our cost of living is very reasonable, our labor costs are reasonable, and we're very competitive."
---
Big Community
Sandersville and Washington County boast a strong sense of community as exemplified through the Kaolin Festival, held annually since 1956, and the Dairy Lane, a restaurant and community gathering place that before the pandemic was frequented by locals and visitors alike. (It's currently offering menu favorites via takeout.) Building on that sense of community and developing it further is the primary task for Andrew Simpson, economic development director for the city of Sandersville.
"We're a federal opportunity zone, which enables tax credits for anyone who wants to relocate to Sandersville," Simpson says.
One initiative involves placing and improving murals around town through a partnership with the Lamar Dodd School of Art at the University of Georgia, reflecting the history of Sandersville and Washington County. Berry Gordy Sr., father and unsung supporter of the Motown Records founder, hails from Sandersville. Musicians including Ray Charles and James Brown played gigs in the city in the 1950s and '60s. One mural would reflect that aspect of the city's history.
Sandersville also offers a facade incentive program for businesses to improve their buildings, which can only enhance an already impressive downtown area.
"Sandersville has one of the best downtown cores that I've seen," says Simpson. "Especially around Christmas time, it's almost like a Hallmark Christmas village with all of the lights. When you see it, you know the community really cares about this town."
That community involvement makes Sandersville and Washington County a great place not only to work, but also to live and play as well.
"If you want a hometown feel, that's what you'll get here," says the chamber's Moncus. "Washington County has a wonderful feel. We have a very pretty downtown area, and a lot of young professionals who grew up here and left for college are coming back. We have a lot to offer."
---
Local Flavor
Peppy Pimento
Southern recipes often get handed down from generation to generation, passed around at family reunions and taught to the little ones to begin the cycle anew, with a few even evolving into brand names sold at grocery stores across the region.
That's not the story of Proper Pepper, a line of pimento cheese created and owned by Sandersville resident Deana Bibb.
"My recipe is not passed down from my family," says Bibb. "It came from a friend in Waycross in 1995. She brought some over as a welcome-to-the-neighborhood gift, and it was the best pimento cheese I had ever tasted."
Bibb soon learned that recipe and began making it herself. Many years later, she started selling it under the brand name Proper Pepper, which is now available at select stores and restaurants across Georgia.
Bibb grew up on a farm in Wrightsville, and while her mother was a top-notch cook known for her cinnamon rolls, vegetable soup and biscuits, she did not make pimento cheese. The recipe from her friend sparked a new interest that Bibb tweaked, for example switching out orange cheddar cheese for aged white sharp Cabot cheddar cheese, and has made it her own for the last 25 years.
She also learned that the Peach State boasts quite a history with pimento peppers.
"Griffin, Georgia, was once the pimento capital of the world," says Bibb. "The pimento plant is of Spanish origin, and somehow or another a plant arrived in Griffin at the Experiment Station, which was owned by the University of Georgia [UGA]. Pimentos were grown en masse in Griffin, and they canned and shipped them all over the United States."
Proper Pepper aims to bring some of that heritage back, winning a 2015 UGA Flavor of Georgia award. Its ingredients also include Duke's mayonnaise and cottage cheese, which Bibb says makes it more spreadable. Bibb made the recipe for two decades before winning the Flavor of Georgia award and launching Proper Pepper as a full-fledged business. From there, the brand has taken off, taking a 2019 American Cheese Society award.
"It really grew organically, without a lot of cold calling and effort," Bibb says. "One consumer will purchase it at a shop and then ask another shop if they'll start carrying it. That shop will then come to me saying, 'I've got a customer requesting pimento cheese.'"
Bibb offers two varieties of Proper Pepper, Classic and the jalapeno-spiced Get Back Jack. Her website also offers complimentary products like crackers and ginger snaps, plus Proper Pepper raspberry preserves.
Last May, the company outgrew the capacity in its kitchen and transitioned into a larger manufacturing space, and in February – in a bit of fortuitous pre-coronavirus timing – Proper Pepper launched online sales.
"It has been a blessing that people are comfortable ordering food online and enjoying the comfort of a Southern small-batch pimento cheese," says Bibb.
She touts the versatility of the product. It can be served on white bread for everyday occasions or dressed up and served on a ginger snap for cocktail party appetizers. Pimento cheese also pairs well with grits and scrambled eggs, hamburgers, hot dogs and quesadillas, just to name a few.
"It's just delicious," Bibb says. "Everybody enjoys it."