Thomasville|Thomas County: A Rising Tide
Industry, infrastructure and tourism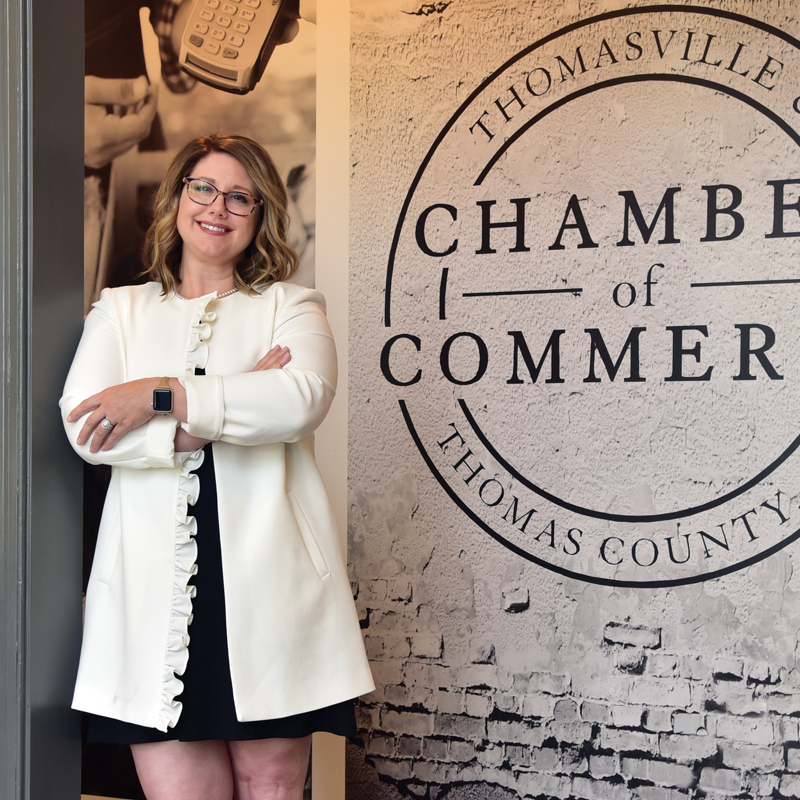 Following a record year of $190 million in new investment and nearly 800 new manufacturing jobs, economic development prospects in Thomas County waned this spring, understandably. But county leaders are optimistic things are on the upswing as some of the industry expansion announcements made late last year are coming to fruition. And a strong manufacturing base is providing job opportunities for employees who might have lost their jobs in other sectors.
"A lot of manufacturing jobs haven't been affected. The good news is that we were going strong before this. Thomasville had one of its strongest years," says Shelley Zorn, executive director of the Thomasville Payroll Development Authority, adding that 2019 was her biggest year in economic development in 20 years.
"Everything in economic development is a long process; it usually lasts multiple years, not just one," she says, of the 2019 projects that continue to come to life.
For example, continued growth at metal stamping and tool and die manufacturer Check-Mate Industries has happened quicker than planned, with increased demand for the medical tooling they do, such as the metal pieces used in facemasks, says Zorn.
Walmart's first meat processing and packaging facility opened in January in Thomas County with 200 employees, and another 150 are anticipated by the time the plant is fully operational. The facility is part of Walmart's supply chain for Black Angus beef, which are raised in Texas, slaughtered in Kansas and brought to Thomas County to package.
"We're very fortunate because food processing has seen an increase not a decrease, because people are going to continue to eat and drink no matter what," says Zorn.
A new 107-room Marriott is under construction a block from downtown and will open later this year with 50-60 new jobs. Another 160 new jobs were added downtown in the last 24 months, says Zorn. New big-box stores and chain restaurants were added in 2019 along the main corridor on Highway 19 South, including TJ Maxx and Publix.
Elsewhere in the county, through a federal grant administered by the Georgia Department of Natural Resources and local in-kind contributions, Thomas County is developing a $2.1-million public shooting range, including a 25-yard pistol range, a 100-yard rifle range, and two skeet and trap fields. An adjacent large pond will be developed for public fishing, says Wiley Grady, vice chair of Thomas County Commission.
---
Paving the Way
Having the skilled workers to put in the jobs coming to Thomas County is the idea behind Project Purpose, piloted last year and now in its second year, says Andrea Collins, executive director of the Thomasville-Thomas County Chamber of Commerce. The program identifies and celebrates high school seniors interested in starting careers right after high school and hosts a summer "Boot Camp," giving participants a chance to tour local industries, become OSHA certified and connect with potential employers.
"Maybe they have not applied for college, they're not joining the military, maybe they are interested in going to the technical college and gaining a trade," says Collins of the profile for participants. "We were trying to figure out how to serve as a bridge or a connector between our education system and our business community."
Feedback from manufacturers frequently cites the lack of a qualified and skilled workforce. "They're just looking for someone who will show up, show up on time and be motivated," says Collins, noting Check-Mate, Flowers Foods bakery, industrial boiler manufacturer Hurst Boiler, city of Thomasville, Cleaver- Brooks boiler room solutions, Blackwater Timber Co., CCH Construction and Evoqua Water Technologies are among partnering companies.
The chamber has also formed some new committees to focus on specific needs of the business community. One new committee targets minority business development and is focused on cultivating relationships between minority business owners and the chamber to provide services that could be helpful to their future success.
---
About Town
City Manager Alan Carson says Thomasville was looking forward to a positive year coming off such a successful 2019. Completion of a 15-mile trail was in the plans but postponed by the virus. About six or seven miles of trails through downtown were already completed, and the rest is scheduled out, says Carson, though the slowed receipt of Special Purpose Local Option Sales Tax (SPLOST) dollars due to COVID-19 will affect many projects, including the $500,000 renovation of Weston Park.
"Those dollars are going to come in but probably not going to come in as fast as previously thought," Carson says. "Right now, we're backing up all our capital, looking to see what we can push out and figure out how the money is going to flow over the next six, eight, nine months, could be a year."
Carson says many downtown improvements on West Jackson Street were completed in October, including new sidewalks, burying utilities, new street lamps and relaying the original brick pavers after upgrades to curbs, gutters and crosswalks. Remington Drive improvements, addition of roundabouts and other projects will need to be rescheduled.
"We have a lot of infrastructure needs, so it was mostly water and sewer we were dealing with. We'll have to reprioritize those and determine when would be a good time to float a bond or borrow some money to get those done. That's what we plan on working on for the next several years, some infrastructure needs," says Carson.
That West Jackson streetscape project was a feather in the cap of the Thomasville Main Street Program headed by April Norton, Main Street and business development director. The West Jackson Streetscape and Creative District Vision Plan project won two awards from the Georgia Downtown Association last year, one for design and another for promotion.
"It's a gateway into our downtown from Florida, and it was an area that had not been revitalized," she says of the historic district project that began in August 2017. The downtown area is now home to more than 90 retail specialty shops and 30 restaurants.
Last year, more than 3,000 promotional events were held in downtown Thomasville, attended by nearly 163,000 people. "What that shows me is that we have a great tourism following," says Norton. "We know that our downtown is our number one tourist attraction. … We had over 13,000 volunteer hours in our downtown through those promotional events. Not only do we have great tourism, our community supports it. Those volunteer hours are our citizens, they're special community members."
In early March, Thomasville was one of three towns to host the Mobilize Main Street Tour, along with Bainbridge and Valdosta. Forty downtown professionals from across the state participated in the tour organized by the Georgia Department of Community Affairs and the Downtown Development Office. Visitors enjoyed the Taste of Thomasville food tour, heard testimonials from downtown merchants, toured the Flowers Foods bakery and visited the revitalized West Jackson historic area.
---
Sweet Success
One of the local success stories that now has a presence in downtown is Sweet Grass Dairy, which last year announced plans for an expanded creamery. Owner Jessica Little says construction was slowed earlier this year, but she is hopeful it will be completed by the end of the year.
The business was founded in 2000 by her parents, Al and Desiree Wehner, and the couple, along with their son, Clay, still operate the dairy farm in nearby Brooks County. Jessica and her husband, Jeremy, purchased the creamery in 2005 and added a downtown restaurant and cheese shop. In addition to mail order, Sweet Grass Dairy cheeses can be found at Whole Foods and specialty markets and fine dining establishments around the Southeast and beyond.
"When my parents originally built the creamery in 2000, they built it on a shoestring budget. It was more of a test kitchen that they thought would maybe last 10 years. They wanted to see if it was something they really wanted to do at that phase of their life," says Jessica. After numerous additions, the Littles decided it was time for a new production facility.
The new plant will allow them to not only make more of their current cheeses but also make them in new formats, allowing them to sell wrapped slices in addition to the wheels they currently offer. "It's going to open up a lot of channels that we don't currently have at the moment," she says, noting they also plan to develop a few new products and add more jobs with the new facility.
Continued manufacturing along with new businesses and jobs are on the horizon for Thomasville and Thomas County, a good example of the old adage, "a rising tide lifts all boats."
---
Local Flavor
Picture Perfect
Thomasville's reputation as a picturesque Southern town is widespread, so the idea of producing movies there isn't at all farfetched. Equal distance from Georgia's two filmmaking hotspots of Atlanta and Savannah, Thomasville was top of mind for native Allen Cheney, a producer now living in Los Angeles. Late last year, he brought production of Tiger Rising to his hometown, along with its $15-million budget and stars Queen Latifah and Dennis Quaid. The production pumped more than $1.5 million into the local economy, says Cheney.
"With Georgia being a hotbed for production, I thought this makes sense if this can work. Tiger Rising was our test project," he says. The movie is based on Kate DiCamillo's book about a 12-year-old boy who finds a caged tiger in the woods near his home. Cheney started the local production company Thomasville Pictures and plans to bring more filmmaking opportunities to the county now that his first go was so successful.
Being from Thomasville and Southwest Georgia, I understand how important it is for us to honor our communities and people in them. Such a foreign industry like the film industry could really come in and make a splash and not in a good way. If you're not careful and if you're not smart about it, it can be intrusive," says Cheney.
With his family going back several generations in the community, he felt the heavy weight of responsibility to make the production a positive experience for everyone.
"A lot of times film people want to come in and promise the world. I knew I wanted to brand locally with Thomasville Pictures, and I wanted to bring in a film that I'd been part of developing. … My business partner, Ryan Smith, is head of a film finance company that financed the film, and we worked together to carefully roll this one out, under the radar, under promise and over deliver everything I could," he says.
Cheney studied finance and music and initially planned to be a music producer. A job out of college took him to Nashville, Tenn., where he met Smith and worked on his first feature film, Some Freaks, which won nine major awards, with five additional nominations, and was called by NPR one of the best independent films of the summer in 2016.
Tiger Rising is an independent film, so Cheney is working with a couple of major studios and hoping for a buyout that would land the movie in theaters early next year.
"Because of the high-level talent, that puts value on it and major studios would want to be a part of it," he says, noting that actors Katharine McPhee and Sam Trammell are also in the cast. "The coolest thing to me was getting them all to Thomasville, and they all walked away in love with the town."