Optimism Among the Challenges: Q&A with Richard Woods
A Q&A with State School Superintendent Richard Woods about learning in the time of COVID-19, indications for the future and his belief that public education will overcome the difficulties it faces.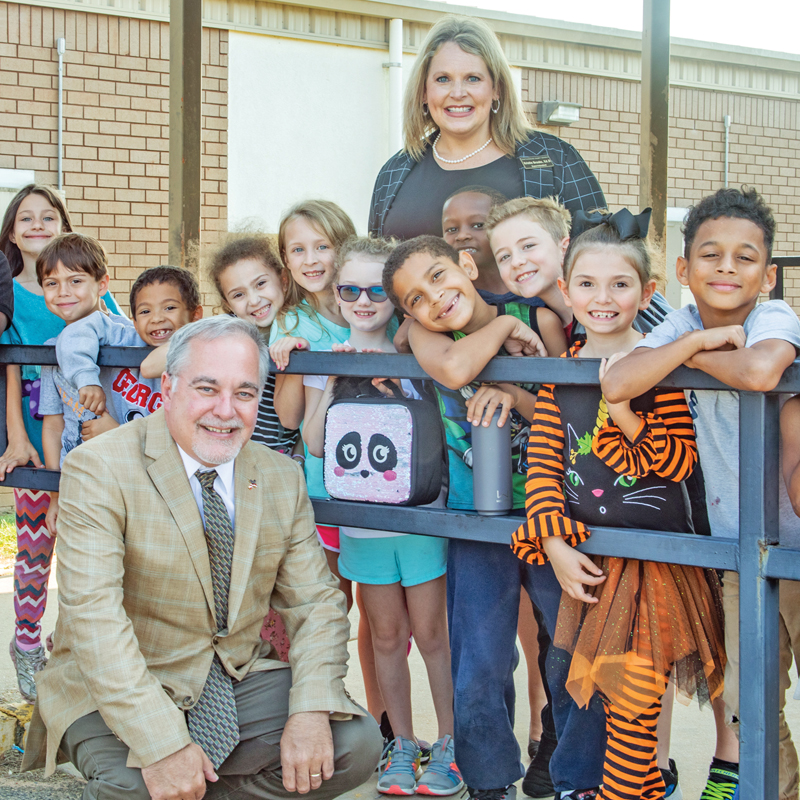 The traditional school year ended abruptly in March for Georgia's 1.7 million public school students, as the COVID-19 crisis prompted a move to distance learning – a challenge in a state that has 212 school systems covering urban, rural and suburban communities.
Many students rely on their schools for two meals a day, and the state's well-documented digital divide – households lacking computers or internet access – make out-of-classroom teaching and learning considerably more difficult.
In late April, the Georgia Department of Education (DOE), headed by State School Superintendent Richard Woods, announced some $21.5 million in grants from federal school improvement funds for digital learning in 55 school districts. The money will be used to purchase devices, like laptops or tablets; to provide training for teachers; and to install mobile hotspots on buses or otherwise provide access for students.
Nonetheless, concerns remain for the coming school year and beyond: State agencies are slashing their budgets by perhaps 11%. For the DOE, that's more than a billion dollars.
Georgia Trend's Susan Percy first interviewed Woods as the 2019-20 school year was winding down and the state's educators were looking ahead and hoping for a return to something close to normalcy. She followed up with additional questions as budget cuts were announced.
Woods, a former classroom teacher and administrator who was elected superintendent in 2014, talked about challenges, indications for the future, his high regard for Georgia's teachers and his belief that public education will overcome the difficulties it faces.
Following are edited highlights of the interview and follow-up.
GT: Overall, how would you assess the distance learning that students and teachers had to implement and adjust to?
Woods: We've been pleased across the state. What's reassuring is that these kids have grown up with technology. It's the way they communicate, the way they interact. It really has probably made an easier transition – it's probably harder for us as adults. We're encouraged by that. There have definitely been challenges. One of the things we have found out is where some of our weaknesses are as far as connectivity, trying to make sure our kids have accessibility.
GT: That varies a great deal, doesn't it, even among students who have computers and connection?
Woods: If you have multiple students in a home but one device, it offers some challenges. It's been a challenge, but we're learning a lot. It just reinforces [what we know about] some of the shortfalls that we have had. It's given us a great opportunity to really think about the future.
GT: What are some things that helped with the distance learning process?
Woods: Seventy-five percent of [the school year's] learning has taken place [by March]. If this was going to happen, it's probably one of the better times to happen.
GT: What about access to food and good nutrition with schools closed?
Woods: One of things we really focused on was just making sure that our kids were safe and that families and students had food. School districts had experience in the area of nutrition. They provided [by the end of April] at least 8 million meals throughout the state. They delivered meals and delivered instruction as well.
GT: What about year-end grades for the students?
Woods: One of the things we've done is waived grading per se and just have a pass/fail [in grades K through 8]. We're taking at least that burden off. A teacher, by this time of year, knows where students are. They have a good feel. When I was in school, that's the way we operated – we didn't have Milestone tests, we just relied on the teacher.
GT: In March, you announced the suspension of Georgia Milestones and other standardized testing for the rest of the year. And in April, you sent out a letter to school districts, teachers, students and parents urging "compassion over compliance." What exactly does that mean, and what was your motivation for sending the letter?
Woods: Sometimes we can be over exuberant in trying to focus on the compliance nature of education – we feel like we have to test. Right now, to me, we make more of an impact with the compassion aspect – realizing that for students the daily routine has changed. We have to be mindful. Some of our students are now having to be daycare workers, having to look after younger siblings. Some of their parents continue to have to go out to work; those individuals are taking on more responsibility within the home. We have to put that into perspective, trying not to punish anyone for something that is no fault of their own.
GT: That compassion has to extend to teachers as well, doesn't it?
Woods: Sometimes people think that our teachers stay in a closet and come out every morning at school. But they are moms and dads. They have responsibilities with their children. Think of adults trying to look after elderly parents as well. A lot of things are going on. I think if we somewhat slow down and keep the focus on what's absolutely necessary, we'll be in good shape.
GT: Looking toward the 2020-21 school year, what are some of the likely scenarios?
Woods: My anticipation and hope is that this continues to leap forward in a positive way in which we can start school back at least on time in August. One thing our school districts do have – they have flexibility as far as their schedules. Some individuals have talked about maybe starting back in July at some point – that continues to be an option for students and districts as well. I'm hoping we can get back to normal so that we do have our kids back on campus and have activities, whether it's sporting events or extracurricular activities, continue to open up. I think that would help everything.
GT: What are some of the particular concerns once students get back in school?
Woods: One of the things we're going to have to look at is just being able to evaluate our children. This has kind of been an extended summer break – a lot of time outside the classroom. We're going to have to evaluate our students and where they're at and try to catch them up. We always talk about a summer learning drop, and this will be somewhat of challenge.
We're looking at doing some things with extending connectivity, just in case there's a rebound or we need some flexibility as we work forward.
GT: When kids get back into their classrooms, do you expect they will be wearing masks and practicing social distancing?
Woods: On the optimistic side, I hope we are beyond that. Some things we've got to potentially prepare for. Maybe we can have a modified scheduling in some of the districts – we want to take our guidance from government and public health. There may be some things we look at from a regional standpoint. Some areas are definitely harder hit than others. We've got to give our districts at least that flexibility to react to their reality and not put everybody in the same box.
(Editor's Note: In June, the Department of Education, working with the Department of Public Health, provided preliminary guidelines for schools as they plan for the 2020-2021 school year. Georgia's Path to Recovery for K-12 Schools – at gadoe.org/k12recovery – offers what the DOE calls "a tiered approach with clear, actionable steps" for districts where there is "substantial spread," "minimal/moderate spread" and "low/no spread" [of COVID-19] to allow school leaders to develop their own plans.)
GT: Once schools are back in session, teachers will have to deal with lots of different experiences their students have had. What will that require from your department?
Woods: That emotional aspect, the social trauma for lack of a better word, we're looking at providing guidance. It's not something unusual. We've actually been somewhat experienced in dealing with hurricanes and tornadoes in some of the southwestern parts of the state. We're going to apply what we know and what we've learned from situations in which people have been isolated and endured a lot of trauma.
For us, it goes back to that compassion part. The strength of being a teacher is building relationships with their kids. That's one thing teachers do an extremely good job of. If we allow them – again not put a burden on them about all these bureaucratic requirements or things that perhaps rely on a lot of compliance – let them get to know their kids, settle in. Having someone in place they can trust, such as a teacher, will do a lot to put their world back together.
GT: Sounds like a great deal of the responsibility will rest on the individual classroom teacher.
Woods: Very much so. That's where the heartbeat of education is – in the classroom, our teachers that are there. The principal is key to making sure the environment, when teachers and staff return, students return, is one that will be successful. Once you close that [classroom] door, all is in the teacher's hands.
GT: Looking ahead, are there lessons learned from this difficult time that might affect teaching in the future?
Woods: Very much so. Can we do more things virtually? We've found out what our shortcomings are. What are the needs we have that make our schools have more availability to teach online? That requires looking at hot spots, availability in the home. We are looking at expanding, looking at teacher training. It's nice to have all this technology, but if you're not trained on how to use it or how to teach with it, that can be problematic. How do we make sure we're using technology appropriately, what home looks like, [is it] suitable for distance learning?
It's not just education opportunities – but for the state from an economic standpoint. What does the workplace look like? We may be training the students to enter into a new reality.
GT: Despite the efforts of your department, school districts and teachers, there likely will be consequences of children losing weeks or months of classroom instruction. What are you most concerned about?
Woods: In education, one thing you find out is you have to be very flexible, work with what you've been given. We're looking at a lot of different ways to innovate and improve. If we come together as a state, prioritizing and putting our focus on what needs to be done, I feel we'll come out pretty strong. Common sense goes a long way.
GT: Let's talk about money and the fact that your department is being asked to make severe budget cuts.
Woods: Like all other state agencies and programs, the Georgia Department of Education has been directed to prepare for a 14%, across-the-board budget reduction.
(Editor's Note: Subsequent announcements indicated that the cuts may be 11%, rather than 14%.)
GT: That's about $1.6 billion right?
Woods: Yes, $1.6 billion. However, school districts are receiving a combined $400 million through the CARES Act [the federal coronavirus response bill]. So, we are really looking at a net reduction of $1.2 billion.
GT: What is that likely to mean for Georgia's schools?
Woods: In the initial round of budget reductions for FY20 and FY21, QBE [Quality Basic Education] – the formula that provides state funding for K-12 education – was exempt. Unfortunately, given the impact of COVID-19 on state revenues, legislators are facing difficult choices, and we have been informed that we must prepare for a cut to QBE in addition to a cut to the department's operational budget.
It is important to note that this does not equate to a 14% [or 11%] cut to a given school district's entire operational budget. Districts are funded through three revenue streams – federal, state and local funds. What we're talking about here is a reduction to the state funds a district would receive for FY21.
GT: Do you expect to lose any federal funding? And what about local funding?
Woods: We do not anticipate any decrease in the amount of federal funds for schools – in fact, some additional funds for K-12 education were allocated through the federal stimulus package. Unfortunately, we do expect school districts' local funds may be impacted as communities across the state deal with revenue reductions as a result of the pandemic.
GT: Is the budget cut likely to mean furloughs or layoffs for teachers or even shortened school schedules?
Woods: I want to be careful about speculating, but, yes, it is possible some districts may be faced with the decision to furlough faculty or staff or reduce calendar days. I do not want to minimize the impact here at all. There are very tough decisions ahead. As a state, we are facing this together.
My priority right now is leading the Department of Education in doing everything we possibly can to support our school districts, teachers and students. We are going to seek out grant funding wherever possible, and we are going to maintain supports for our districts even as we tighten our own belts and seek efficiencies as an agency.
GT: Anything else you'd like to say?
Woods: To all the students and teachers, this is not the way we wanted to end the school year, especially for our seniors. That's where my heart really goes out.
Our teachers want to get back in the classroom. I appreciate what they have done. I know they will be up to the challenge when they come back.
I do ask all of Georgia – the business community, nonprofits, faith-based – we're looking for all hands on deck to reach out and be part of this process as we gear back up and make sure that we are safe, that's first and foremost, and that we accomplish what we need to do, preparing our kids for life. Education is not just a Department of Education issue; it is a Georgia issue.