Dinosaurs roaming Gwinnett County?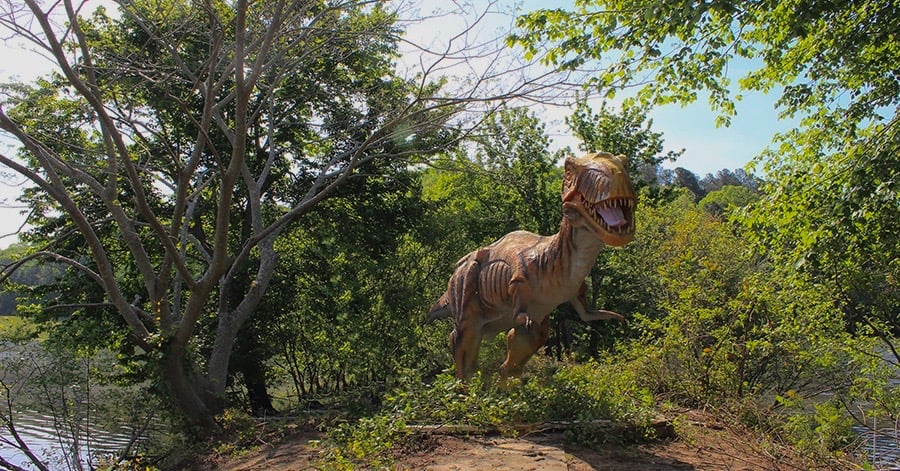 Visitors to Gwinnett County parks this summer will find some rather large, unexpected residents. Eight dinosaur statues are finding homes in the county as part of the "Meet Me in the Park" program. The initiative encourages families to come to the parks for recreation and fitness — following guidelines from the Centers for Disease Control (CDC) and practicing social distancing, of course.
Which of Gwinnett's 50 parks have the dinosaurs? That's where the fun comes in. Clues to their whereabouts are being shared on the county parks department's Facebook page and Instagram. When visitors discover the Pterodactyl or the Stegosaurus or any of the other prehistoric favorites, they're encouraged to take a selfie and post it on social media with the hashtag, #MeetMeAtThePark.
Signs with facts about each regal reptile are being installed, as are paved, accessible trails to the viewing areas. The dinosaur replicas were donated by Duluth-based NDI Development, and a grant from the Walt Disney Company and the National Recreation and Park Association helped cover the cost of creating their new habitat.
There's plenty of time to join the dinosaur scavenger hunt, which is expected to last throughout the summer.
Photo provided by Gwinnett County Parks & Recreation.
Do you follow us? Find us on Linkedin, Facebook, Twitter and Instagram.