Columbus | Muscogee County: Writing a New Chapter
Entrepreneurship, education and infrastructure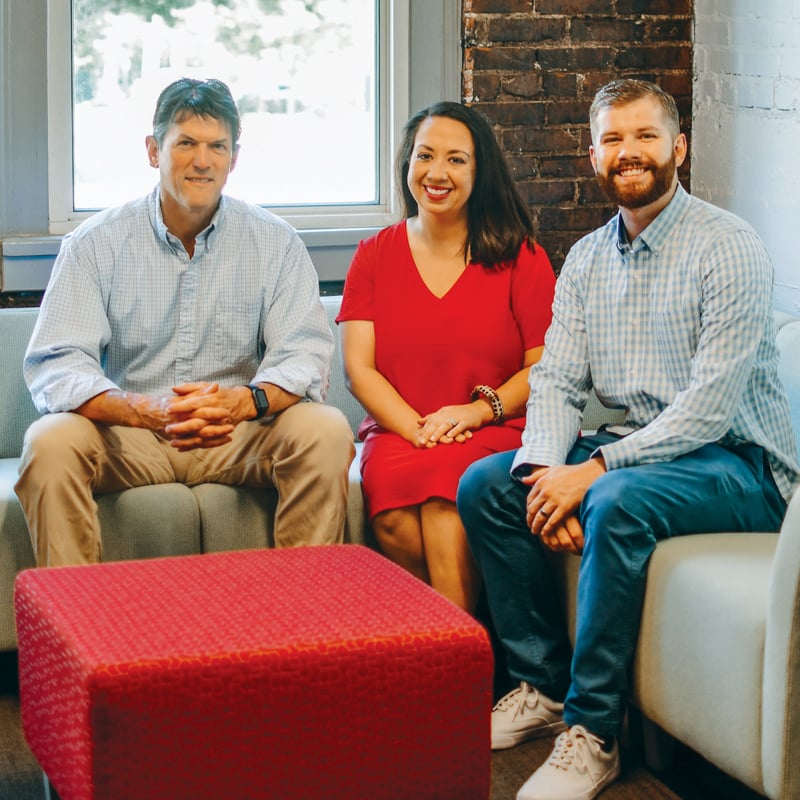 As in most municipalities, Columbus leaders have drafted stacks of strategic plans over the years, but this time they were determined to write a new chapter. The result is Columbus 2025, a multi-layered plan for community collaboration to make the region more competitive and prosperous. The overarching principles are to increase prosperity, reduce poverty and improve overall quality of life. Now in its fourth year since conception, Columbus 2025, managed out of the Greater Columbus Georgia Chamber of Commerce, is impacting not only those already living in the region but is also serving to attract others who want to be part of the synergy.
While the initiative has Columbus in the name, it's a regional prosperity plan, encompassing a five-county area: Muscogee, Marion, Chattahoochee and Harris counties in Georgia, and Russell County, Alabama, just across the Chattahoochee River from Columbus. The five action areas of the plan are: Cohesive Image and Identity; Enterprising Culture; Targeted Economic Growth; Vibrant and Connected Places; and Talented, Educated People.
No plan like this could have foreseen all of the challenges of a global pandemic, but with a plan in place, tweaks can be made as circumstances evolve.
"This is the beauty of having a plan like this," says Tabetha Getz, senior vice president of Columbus 2025. "We can continue to work it, or we can make changes if our economy warrants it."
Audrey Tillman, executive vice president and general counsel at Aflac and chair of the Columbus 2025 executive committee, agrees with Getz and puts great focus on the challenges of poverty in the area challenges that are sure to grow as a result of coronavirus. The task force Tillman established in early 2020 to recommend actionable and meaningful work that can be done to reduce poverty continues to forge ahead and won't be hindered by delays COVID-19 presents, she says.
"We're not advertising that we've got a cure for poverty, because that would be unrealistic," she says. "But I'm confident there are some things we can do or stop doing that are targeted toward poverty reductions specifically that will be impactful for our community."
The hard conversations about the challenges of the community have been had, says Betsy Covington, president and CEO of the Community Foundation of the Chattahoochee Valley and vice chair of Columbus 2025.
"Maybe there's a way to celebrate the fact that we're seeing people anew as part of our community, and how do we bring everyone along for the kind of future we want," she says, noting the recent challenges of COVID-19.
Now, she says, is the opportunity to strengthen the entire community, including those vulnerable populations who are no longer invisible.
---
Cohesive Image and Identity
Work in the area of Cohesive Image and Identity resulted in a new tagline for the region: "We Do Amazing." It's reflective of all there is to see and do in the community, from recreation and museums to higher learning and entertainment. A website, amazingcolumbusga.com, brings it all together in one place – a live-work-play-learn-connect hub for visitors and residents, says Getz.
Not only is the new site a resource for locals, it also serves as a recruitment tool for new residents, business and industry, says Peter Bowden, president and CEO of Visit Columbus, GA and chair of the action area.
Film production is one of the industries under Bowden's committee, which has been focused on establishing the workforce, infrastructure and incentives necessary to make Columbus a player in the sector, says Bowden. It's been on the radar for years. In fact, Columbus was one of the state's first certified Camera Ready communities a decade ago.
In 2018, local leaders began the push to become the state's third film production hub, behind Atlanta and Savannah. Working with the Georgia Film Academy, the Georgia Film Office and Columbus State University (CSU), they were able to fast-track state academic approval for Georgia Film Academy's on-set film production certificate program at CSU, which has now graduated about 100 students.
The city's goal was 10 films in three years, says Bowden, incentivized by a $5-million Columbus Film Fund, raised by the private sector and enhanced by a 180,000-square-foot sound stage developed by W.C. Bradley Co. To date, Survive the Night, starring Bruce Willis, and Electric Jesus have been produced in Columbus, with other projects in the pipeline, says Bowden.
---
Enterprising Culture
Offering solid support to area entrepreneurs is the purpose of the Enterprising Culture action area, chaired by Russ Carreker, president of C3 Property Investments. The committee, backed by large homegrown companies including Aflac, Synovus and TSYS, was instrumental in the launch of StartUP Columbus. Headed up by Director Ben MacMinn, the organization offers support to entrepreneurs and startups through mentorship programs and accessibility to human, financial and professional resources.
An incubator space for StartUP Columbus will become reality this summer in part through the generosity of partner CSU, which provided space in Frank Brown Hall on its Uptown campus, says Carreker.
His committee is ready to identify its next opportunity to support entrepreneurs, most likely in underserved communities and impoverished neighborhoods.
"How do we … find people who are doing entrepreneurial things already, like someone serving lunches out of their kitchen?" says Carreker. "How do we help [them] become more successful at what they're doing?"
---
Talented, Educated People
While all five action areas of Columbus 2025 drill down to helping people, the cradle-to-career plan for education and workforce – Talented, Educated People – literally starts at birth. Its Success Ready model, a collaboration of educators and business and civic leaders to address the workforce needs of the region's employers, most recently focused specifically on children from birth to age three, says David White, who chairs the group and serves as vice chancellor for Troy University's Phenix City Campus.
The Basics Chattahoochee Valley is a birth-to-age-three program to help parents and caregivers with the brain growth of toddlers in preparation to successfully enter school. Born of Harvard University's Achievement Gap Initiative, it's the first of its kind in Georgia and recently received a $275,000 grant from the Community Foundation of the Chattahoochee Valley, says Getz.
Overall, the action group works to attract, retain, reengage and develop talent in the region. That's visible in their 21st Century Workforce program that resulted in creation of a talent hub website, a tool requested by area business and industry for potential newcomers to see available jobs in the area as well as options for housing, schools, dining, entertainment and more.
---
Vibrant and Connected Places
The Vibrant and Connected Places committee, chaired by Rebecca Zajac, executive director of the Dragonfly Trail Network, helps measure connectedness – or lack thereof – in the region. The aim is to determine return on investment of such things as the $10.5 million spent last year on greenway and trail infrastructure and the $2.3 million for new parks and projects such as Phenix City's art park, Standing Boy mountain bike trail and Mat Swift Park.
"We are placing trails around areas that are accessible to large clusters of neighborhoods," Zajac says. "Unlike other cities where they view trails as primarily recreation, in Columbus we view them as a mode of transportation. So when it comes to placing these trails, we are looking at the neighborhoods that are underserved or have residents that don't have vehicles."
VibrantAndConnectedColumbus.com aims to overlap public infrastructure such as trails, parks and sidewalks with things like health outcomes, school scores and crime statistics to see how things line up.
"It really shows how our community leadership is thinking about Columbus in the long run," Zajac says. "This is the most selfless project I've ever worked on, for so many people to give up so much time and energy to the future of Columbus because this is really for the next few generations to enjoy and benefit from."
---
Targeted Economic Growth
Certainly an essential part of strengthening a community and a vital tool in a strategic plan is economic development. Columbus 2025 is taking economic development a step further, says Heath Schondelmayer, Columbus market president for Synovus Bank and chair of the Targeted Economic Growth action area committee, by tying it to the other four areas. In fact, best practices show that the most successful model is often holistic community and economic development. It's a model that embraces everything from talent development to quality of life to successfully improve a community's competitive position and grow the economy.
To that end, the Targeted Economic Growth action area is building up all three legs of the economic development stool – entrepreneurship, business retention and expansion and luring new business and industry.
The goals are to engage existing business and industry and attract others, especially in the region's high-impact sectors, including military, financial tech, insurance, aerospace, automotive, cybersecurity and the growing food and beverage manufacturing area, says Brian J. Sillitto, executive vice president, economic development for the Greater Columbus Georgia Chamber of Commerce.
---
A Solid Base
Economic development in the Columbus area owes a great deal to the presence of Fort Benning, the largest employer in the region.
Maj. Gen. Gary Brito, commanding general, U.S. Army Maneuver Center of Excellence at Fort Benning, has witnessed firsthand the evolution of the base and the community that embraces it. One of the Army's premier training facilities, Fort Benning has an estimated annual economic impact on the region of nearly $5 billion.
Now on his third command assignment at Fort Benning, Brito is encouraged by the positive growth he sees on the base, in Columbus and throughout the Chattahoochee Valley Region. Including the base in the Columbus 2025 initiative was crucial, and Brito says that effort nests well within the base's 2028 timeline for modernization efforts, including emerging technology. Overall, he explains, the U.S. Army has six major modernization priorities, a subcomponent of some of them being robotics.
"One of our modernization priorities is the next-generation combat vehicle," says Brito. "Tied to that portfolio are several initiatives using robotic vehicles, robotic tools and things that, quite frankly, a robot or some form of artificial intelligence could do, and a soldier would not have to."
Breaching a mine inside an obstacle of some type, for instance, that could kill a soldier, could instead be conducted by a robotic breaching system or robotic vehicle or both, he says.
"We're working on a lot of those initiatives here on the installation, in conjunction with the bigger Army, and for the Army we do a lot of experimentation right here on the post through our Maneuver Battle Lab," Brito says. "Some of that is simulation, and some of that is actual kit or prototypes. We test those for robotic systems, unmanned vehicles – autonomous vehicles that you can be 50 meters away [from] and give commands, and the vehicle moves and does things. … All of those big ideas will become realities one day, not unlike the civilian sector."
The relationship between the base and Columbus is palpable, from Fort Benning serving as an active member of Partners in Education, a collaboration between the chamber and the Muscogee County School District, to the city's participation in the Soldier for Life program, which helps soldiers transition methodically to becoming civilians when they retire or leave the military. Fort Benning has about 23,000 people assigned to it, including about 12,000 uniformed soldiers and their family members. About 60% live on base and 40% in Columbus, Brito says.
"You just can't break us apart, and you shouldn't. Schools, churches, vision, employment, everything," says Brito. "I can say with confidence after 33 years, this is the best military-community relationship I've ever seen."
It's great community relations that will keep Columbus on track.