From the Publisher: Disturbing Trend
As COVID-19 testing ramps up, I wish public health departments were in better shape.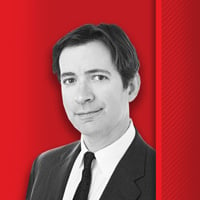 It is my hope that current conditions related to the spread of the coronavirus will help us appreciate the important role public health departments play in our lives.
As of April 15, the Georgia Department of Public Health revised its testing criteria for COVID-19 to allow all symptomatic individuals to be eligible for testing and to allow referrals from their local health department. Referrals are still required and can also come from healthcare providers. The state is increasing its number of specimen collection sites statewide to accommodate more testing.
I would feel better about this news if public health departments were in better shape.
Georgia's budget last year cut $6.4 million in funds to county health departments, and the budget for 2020-2021 includes another $9.2-million reduction in grant funds. This follows a national trend that has rapidly accelerated since November 2016.
State and local health departments receive most of their funding from grants provided by the federal Prevention and Public Health Fund (PPHF). Administered by the Atlanta-based Centers for Disease Control and Prevention (CDC), PPHF was created in 2010 to provide $15 billion for public health over 10 years. The fund was cut by $750 million in the 2017 federal Tax Cuts and Jobs Act to divert funding to the Children's Health Insurance Program. In 2018, the president signed into law an additional $1.35 billion in cuts to the PPHF over the next 10 years, leaving the fund up to $1 billion short of its initial goal each year.
The CDC distributes this funding to county and local public health facilities. Without it, experts had to request emergency funding to address the Ebola outbreak in 2014, the Zika virus in 2016 and the opioid epidemic, according to Modern Health Care.
In December 2016, funding was also cut by $3.5 billion over seven years (fiscal years 2018-24) to pay for the 21st Century Cures Act. And in 2019, the U.S. budget failed to renew a five-year, $582-million supplemental package that was originally created to combat the Ebola virus but also used in support of efforts to prevent infectious-disease epidemics and other health threats. Those funds ran out in 2019. As a result, the CDC had to reduce or stop work focused on preventing epidemics and other health threats in 39 of 49 foreign countries, including known hotspots for emerging infectious diseases such as Pakistan, Haiti, Rwanda, the Congo – and China.
Furthermore, the Public Health Emergency Preparedness (PHEP) program, which through the CDC provides additional funding for states and local communities, has been cut by more than one-third (from $940 million to $651 million) per year since it was established after 9/11, except for one-time funding for Ebola and Zika response.
Cuts at the CDC since 2016 include $236 million to chronic disease prevention and health promotion, $146 million for the National Institute for Occupational Safety and Health, $102 million for emerging and zoonotic diseases that are carried by animals and spread to humans and $52 million for environmental health activities, including funding for asthma and childhood lead poisoning.
The CDC cuts included nearly $20 million slashed from injury prevention and control, $30 million from public health preparedness and response, and more than $78 million in cuts to immunization activities.
It could be argued that starving public health of funds has led to current nightmarish healthcare costs. According to the Trust For America's Health, core funding for disease prevention and health promotion programs has declined by around $580 million federally and has remained flat in states since 2010. Only about $4 per person is spent on chronic disease prevention activities each year at the CDC ($1.2 billion total), while almost half of Americans have one or more chronic diseases, most of which are preventable. More than 80% of healthcare spending is for chronic conditions.
The cuts in the state budget to public health in Georgia can be addressed through local municipality efforts to shore up funding through such methods as health inspection fees, although in these times of low sales tax revenues, local governments are likely in no condition to help. Nonprofits, already stretched thin, need help more than ever.
The cuts in federal funding to public health and the CDC, however, may have sent us into a spiral that has left us ill equipped to handle this and future health emergencies. Why? A close look at the U.S. budget reveals spending choices that often seem at odds – cutting funding for childhood lead poisoning, for instance, while increasing funding for children's insurance.
The impact of the tax cut bill on the economy, some may argue, is more important than its impact on public health. However you try to sell it, though, this perspective is simply inexcusable.