Brunswick | Golden Isles: Strategic Reset
Tourism, transit and training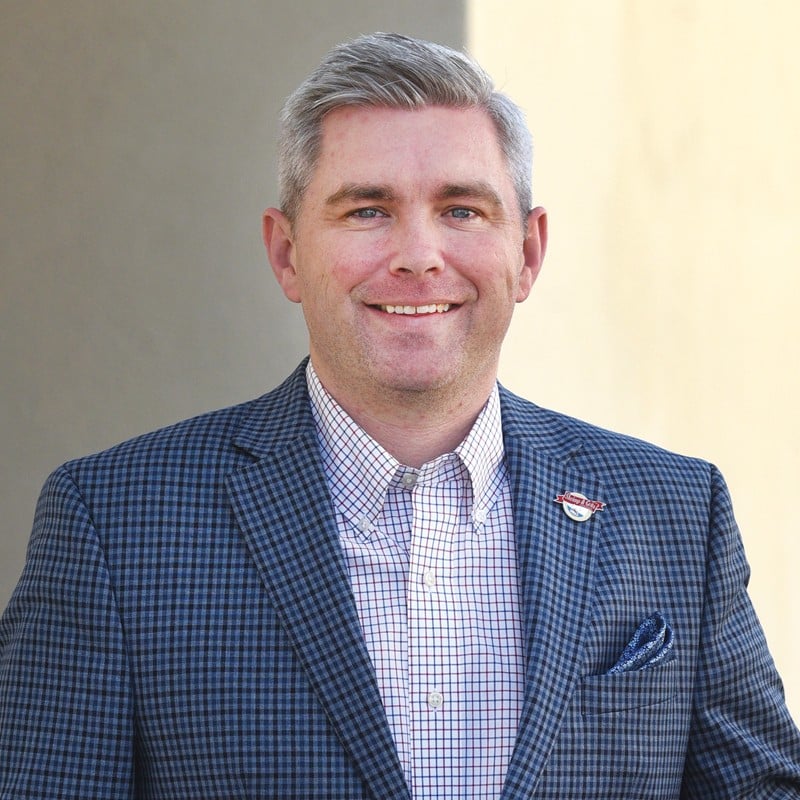 It took a pandemic to derail the year-over-year records tourism was setting for Brunswick and the Golden Isles, but officials there are already talking about a recently freshened set of attractions and the potential contained in undeveloped resources as they anticipate recovery.
"Tourism is a major industry here, and this won't change despite what we're going through," says Scott McQuade, president and CEO of the Golden Isles Convention and Visitors Bureau. He notes that in the group's most recently completed fiscal year, which ended June 30, 2019, the area welcomed almost 3.4 million overnight visitors and reaped a $1.8-billion economic impact.
"When we face this type of situation, we go back to our very foundation and say, 'What is our strategy? What are our markets?' We are in better shape than destinations where the only way to reach them is through air travel," McQuade says. "We draw drive-in traffic from Charleston down to Orlando. We've built strongly on our regional markets. We've expanded those markets to go further out. When people start staying closer to home, we're in a good position."
The natural attractions of its beaches, waterways and bike paths are the area's major draw, he acknowledges, but supporting those are built attractions. Eighteen months ago, St. Simons added a museum dedicated to the region's significant role in World War II, and a year ago, Jekyll Island opened an expanded museum known as the Mosaic.
"The more we expand heritage tourism collectively as a region, the more visitors we stand to attract," McQuade says. "A lot of folks think of us as a beach destination, but one of the most popular aspects is history and heritage. What better thing to complement that wonderful effort on St. Simons than with something of equal caliber on Jekyll Island?"
Further increasing access to natural resources is another plus factor, he says. The private St. Simons Land Trust has consolidated three major land purchases made over recent years into the newly rechristened Guale Preserve, named for the island's original Native American inhabitants. The site features walking and hiking trails, and plans call for it eventually to offer water and boat access.
The region's hotel inventory continues to expand, not just in size but also in variety, McQuade points out. Hotel Simone, which opened last year on St. Simons Island, is a 24-suite boutique hotel with an adults-only policy and a rooftop pool.
And as for the potential for future growth, consider this: Glynn County has four interchanges on Interstate 95, the east coast pipeline to Florida. Three of these are already well developed with lodging for interstate through-travelers, but Exit 42 has yet to be developed, McQuade says, which translates into room to grow.
---
New Leadership
Ralph Staffins III, president and CEO of the Brunswick-Golden Isles Chamber of Commerce, just marked his first year as head of the chamber. He assumed the post upon the retirement of his predecessor, Woody Woodside, who had held the job for 34 years. Predictably, it's been a busy 12 months.
"We have some goals, among them to receive our accreditation from both the Georgia and the U.S. Chambers – only about 3% nationally have accreditation," Staffins says. "It gives you credibility around the state and around the country. It makes you take a long, hard look at yourself in the mirror. We were doing 90% of the stuff that was required but it wasn't documented, so we've worked on that."
Staffins has already led the chamber through its first rebranding in 57 years, complete with a sleeker, more modernized logo that retains elements from the historic one. He also helmed a dramatic increase in the chamber's use of social media and video.
Last year saw 40 ribbon-cuttings for new small businesses in the community, he says.
One of the problems faced by a revitalization of downtown Brunswick, Staffins says, has been the sheer size of many of the buildings involved – large structures that call for major investment to bring them up to standards and puts them beyond the scope of most individual entrepreneurs.
One solution to that problem has been investors like Michael Kaufman, who rehabbed first one (The Wick), then a second (Wick 2.0) and now a third of those large buildings into office space for startups, creatives and entrepreneurs.
"Wick 3.0 is right next door to us, full of small businesses. It's not an incubator or a shared workspace, but it allows small businesses to have shared common space," Staffins says.
---
Shovel Ready
That untapped interchange off I-95 is also in the plans of the Golden Isles Development Authority, newly rebranded from its previous identity as the Brunswick and Glynn County Development Authority. The fourth and only remaining greenfield property the authority holds is accessed via that interchange.
"We've been investing in those properties and getting things like our wetlands delineations into shovel-ready status," says Ryan Moore, president and CEO of the authority. "Three of our industrial parks are clustered around the airport."
Glynn County has been blessed with incremental gains among its existing industries for several years, Moore says. Among the latest of those is an expansion by PaR Marine, a manufacturer of large metal components for navies around the world. They'll be building a new site that when finished will have added between 40 and 50 new employees, he says.
Perhaps the most impressive thing for Glynn County's industrial economy – and that of the state, as well – is not what did happen in the past year but what did not. When the MV Golden Ray partially capsized in St. Simons Sound on Sept. 8, 2019, it ran aground in shallow waters – and not in the shipping channel. That does not mean there wasn't environmental damage, and that threat won't be over until the vessel is removed. But there was limited disruption to the traffic in and out of the Port of Brunswick.
The two-year-old ship – a roll-on, roll-off, or ro-ro vessel, essentially an enormous floating parking garage that was carrying some 4,200 Hyundai and Kia vehicles – is to be cut into eight sections and removed in a massive cleanup effort. (You can see the progress of the removal effort at ssiresponse.com, the website of the St. Simons Sound Response, composed of the U.S. Coast Guard, the Georgia Department of Natural Resources and Gallagher Marine Systems, the contractor retained by ship owner Hyundai.)
---
City Infrastructure
Brunswick Mayor Cornell Harvey, now halfway through his second and final term, says he's particularly pleased with progress the city has made on infrastructure improvements – especially those that serve the 19.1% of the population that lives in poverty.
Plans call for 130 new housing units in Brunswick, he says, ranging from trendy lofts in the redeveloping historic downtown to affordable housing units. "We've got $60 million in new investments in housing, and about a third of that is affordable housing," Harvey says.
And for the first time in decades, plans call for a re-establishment of public transportation in the city, perhaps as early as sometime in 2021. The labor-intensive resorts on the Golden Isles draw much of their workforce from Brunswick and have been providing their own transportation via resources like company vans, Harvey says, and the new transit system hopes to partner with them to extend its ridership.
"We'll start small and go toward expansion instead of going all-out and maybe having to cut back," Harvey says, describing a system that starts with smaller buses and concentrates predominantly on the municipal area's needs.
Harvey points out that the entire community will also benefit from the Special Purpose Local Option Sales Tax (SPLOST)-funded Glynn County Veterans Memorial Park on Newcastle Street, near where U.S. Highway 341 comes into the city. The greenspace features memorials to all branches of U.S. military service.
---
50 Years of FLETC
The closure of a military base can be a devastating economic blow to a community, and that's exactly what happened to Glynn County in a round of base closures in the waning days of the Vietnam War. Glynco Naval Air Station had been around since World War II, when it housed blimps used in the Battle of the Atlantic, and it had moved on to modern aircraft and other training missions by the time it was shuttered in 1974. A year later came a sort of consolation prize – the federal decision to relocate its fledgling law enforcement training center to the facility. Now, the Federal Law Enforcement Training Center (FLETC) is marking its 50th year in business (45 of them in Glynn County) on July 1 of this year.
Today, FLETC is one of the county's largest employers, with an estimated 1,051 people at the Brunswick facility that serves as the agency's headquarters. Its sprawling 1,600-acre campus includes dorms, classrooms, a dining hall, 18 firing ranges, driving ranges and other facilities used for basic and advanced training of officers from 95 federal law enforcement agencies. In 2019, FLETC trained 67,810 officers and agents.
"Over the past five decades, FLETC has performed its essential function for our nation to train federal law enforcement officers from across our federal government who safeguard the American people, our homeland and our values," says FLETC Director Thomas J. Walters.
---
An Upscale Turn in Darien
Just up the road a piece from Brunswick, not far as the jellyfish floats, lies Darien, county seat of McIntosh County. This is commercial seafood country, and don't let it be said you can't teach a shrimper new tricks. These days, the shrimp fleet bridges the months between shrimping seasons "jellyballing," trawling for the cannonball jellyfish that are considered a delicacy in many Asian countries.
But before COVID-19, there was a new cash crop along the Darien River riverfront, where the shrimp boats dock between runs – the deep-pocketed tourist.
McIntosh County retains its rural character, which means hunting and fishing are important to locals. Now, Art Lucas, of Lucas Properties, is turning a prime swath of riverfront land he bought from the McIntosh County Industrial Development Authority into a triple-pronged development dubbed Oaks on the River: a 53-unit independent boutique hotel that aims to capitalize on well-heeled eco-tourism related to hunting, fishing and birdwatching; 12 luxury condos paired with deepwater boat slips; and an upscale restaurant.
Parts of the complex are complete or nearly so. The condos were at the punch-list stage by spring and on the market, with two reported at the contract stage. The restaurant was roofed in and taking shape, and the hotel was the final piece of the trio, with site preparation underway.
To get an idea of the impact – and the contrast – the Oaks on the River presents for Darien, consider this: the condos range in price from $499,000 to $624,000. Those prices may seem unremarkable to, say, a Buckhead resident, but in McIntosh County, the cheapest of them is more than four times the median value of owner-occupied housing, which is $120,300 according to the latest available U.S. Census figures.
As businesses around the state face the challenges of recovering from the pandemic, those in Brunswick and the Golden Isles area are poised to tap the potential of many regional resources.
---
Local Flavor
Sweet Georgia Shrimp
Georgia's commercial shrimp haul in 2019 was 2.61 million pounds, worth $11.4 million, according to the Georgia Department of Natural Resources. And that doesn't even include the pink peppermint-flavored ones.
If something about that last statement sounds fishy to you, you're wrong. There's nothing remotely fishy, other than the appearance, about the sculptured confections of peppermint-flavored, pink-tinted white chocolate that come from the kitchens of Darien's Sugar Marsh Cottage. They're just the most eye-catching of the line of ocean-themed sweet treats that Sugar Marsh Cottage produces for luxury resorts like Sea Island's The Cloister and St. Simons Island's King and Prince. And for the buying public, as well.
Sugar Marsh Cottage owner and chocolatier Dale Potts holds two degrees from Georgia Tech and, in the earlier years of her working life, supervised the construction of more than a million square feet of tenant space. Market conditions prompted the Atlanta construction firm she worked for to get out of tenant space construction, and she turned her hobby of making treats for family and friends into a thriving niche business.
"We wanted to see if we could sell anything at the Atlanta Gourmet Market [c. 2006]. I had a few things to exhibit, my seashell-shaped shortbread, my toffee. We wrote $10,000 worth of orders at that show," Potts says. "At that time, it was only me, and I had to produce and package those $10,000 in orders – it was certainly a challenge!"
That shell-shaped shortbread cookie dipped in flavored chocolate has always been her signature piece, and it netted the company's first score in the luxury hotel market. For nine years, up until the resort opened its own onsite confectionary and started producing its own product, Potts provided treats for The Breakers, the iconic luxury resort in Palm Beach. By the time the resort moved on to other products, she'd found clientele among the Golden Isle's posher hotels.
Producing for luxury hotels presents a particular challenge. Not only do the treats have to taste good to people who are accustomed to luxury goods, but they must appeal to the eye as well. That's where Potts's flair for design serves her well.
Potts and her husband acquired a vacation property in Darien early in their marriage, and 10 years ago, they decided to make it their home. To house her growing business, they bought a picturesque c. 1930s residence, and Sugar Marsh Cottage was off and running.
The business might have stayed in its luxury wholesale niche, but one day, during a Darien festival, Potts set up what she describes as "a card table with some good things on it," and suddenly Sugar Marsh Cottage had a retail aspect, too. Now, two rooms in the cottage are devoted to exquisitely staged confections, and there's also a thriving internet order business.
How do sweet shrimp compare to the real thing? Find out for yourself. Haul in 2.2 ounces of the peppermint version for $11 at sugarmarshcottage.com.