Georgia Fare: Dalton Devotee
Cyra's simple goodness is welcoming in these times.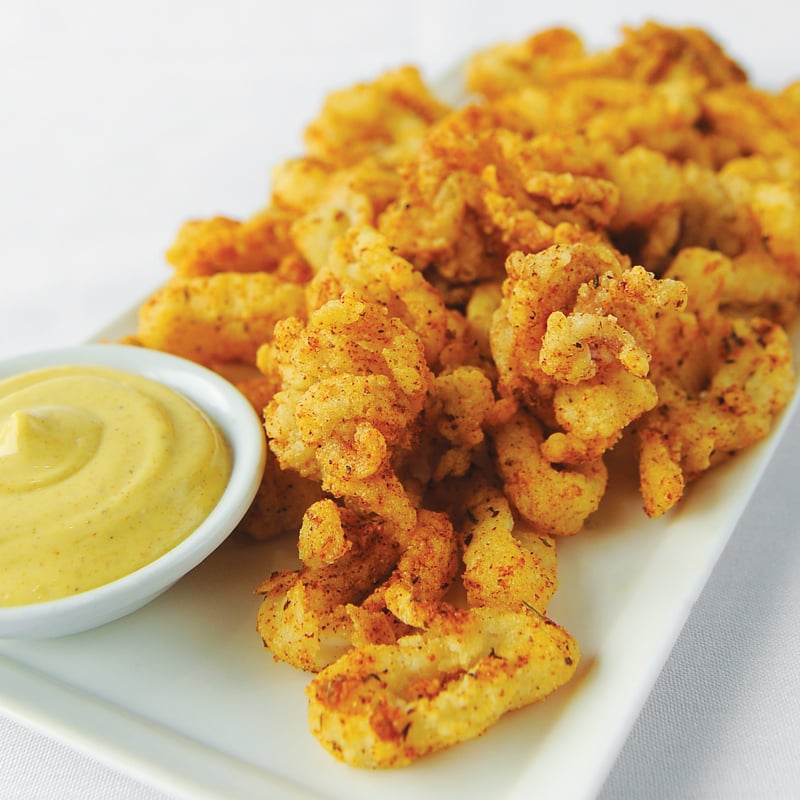 After years of suburban big-box stores and chains drawing people away from downtowns, small Southern towns have been finding their way back to vibrancy. Beautiful little downtowns spruced up and drew new life – new shoppers, new businesses, new diners. Mom-and-pop shops returned to once-vacant storefronts. And in so many of these little communities, restaurants led the way.
If you thought that the only winning formula for a small-town Southern restaurant was either an old-fashioned meat-and-three or maybe a burger or pizza joint, then you couldn't have foreseen Cyra's Simple Goodness. The restaurant is a sit-down, white-tablecloth restaurant with an ambitious but affordable menu, a carefully selected wine list, an adventurous bar program and a commitment to responsibly sourced, quality ingredients.
The Dalton restaurant has been so successful that it has become a downtown mainstay, and its owner, T.J. Kaikobad, is an anchor of the business community. (Kaikobad also owns and operates downtown wings-and-tacos spot Baja Coop with his wife, Danielle.)
Before the coronavirus pandemic upended the restaurant world, Kaikobad ("Just call me T.J. It's easier on the both of us.") was open all afternoon on weekdays (for dinner only Saturday and closed Sundays), and its portions seemed to reflect a willingness to compete with restaurant chains. One example, Cyra's French onion soup – a deep, dark elixir served with two gooey fontina cheese sandwiches on thick, butter-grilled white bread.
Cyra's menu changes often, but Kaikobad says his customers demand his most popular dishes stay put, including crab cakes, avocado fries, filet mignon and creme brûlée. Then there's the grilled Caesar – a split head of Romaine lettuce, blackened at the tips and covered with a blizzard of Parmesan and pooled Caesar dressing.
Lunchtime specials (on one visit, buttermilk fried chicken and a Wagyu roast beef sandwich) were, like the rest of the lunch menu, available until 4 p.m. "Fifteen or 20 years ago, industry and business ran in a totally different way," he says of the decision to stay open weekday afternoons. No longer bound by traditional 9-to-5 workdays and strict noontime lunch hours, entrepreneurs and the self-employed would often drop by for a 3 p.m. meeting, or with their laptops, to work and take advantage of the free WiFi and great food.
Coming from a corporate management background, Kaikobad says that looking back, price ruled almost every decision in that environment. But at Cyra's, he says, he came to another philosophy: "Cost control is important to be effective, but here, we will never allow cost to supersede quality. We ask, 'Is this the best price?' Not 'Is this the lowest price?'"
That philosophy pays off in a number of ways: In the delectable, giant bison burger, available with Nueske bacon, fontina and sautéed mushrooms and onions; in a basil-encrusted chicken breast, served by request over mashed potatoes instead of risotto; in the "Big Easy flounder," with wild-caught crab in a shrimp and lobster cream sauce. The cookies and ice cream dessert satisfies the kid in you – a big chocolate chip cookie baked in a small gratin dish and a fat little bowl of choco-syruped ice cream. Perhaps one of our favorite dishes was the crisp and spicy "Cajun-dusted" calamari in tempura batter, with a goat cheese aioli.
It also pays off with solid business acumen: In 2019, the Kaikobads won the Small Business Entrepreneur of the Year Award from ACE (Access to Capital for Entrepreneurs, a Georgia-based nonprofit organization that loaned startup funding for the original Cyra's) for an enterprise that has grown from its 2016 opening to employ 46. Before the coronavirus hit, it was on track to earn $1.2 million this year.
It's another achievement perhaps unexpected from a man whose first trip to the United States from his native Pakistan was alone, at 18, to attend Indiana University. He fell in love with America from afar, he says, after watching both U.S. information service documentaries about farm life and John Wayne movies.
As a student, he took a bet that he couldn't last two weeks in a friend's grueling restaurant job and fell in love again. After bouncing around in corporate and restaurant jobs that took him from Bloomington to Fort Wayne, Peoria and Atlanta, he settled in Dalton, where he could see the stars at night and it only took him a little extra time to travel to the airport.
Now a pillar of the Dalton business community, active in local charities and civic organizations, Kaikobad says although Dalton suffered similar (or more severe) job losses as other small towns in the 2008 downturn, he never saw the kinds of negativity he witnessed in other areas. Positivity "resides in the hearts and minds of the community," he says.
"You can't plant poison and grow great things," he says, citing good schools and solid law enforcement as critical factors, along with Dalton's uniquely low utility rates and good water source. "We rode out the storms and are building back up."
At press time, as another kind of storm assaults the nation, Kaikobad remains just as sure about the can-do attitudes of his fellow citizens, even as he follows a county shutdown of in-restaurant dining during the coronavirus outbreak. "Just like in 2008," he says, "this will alter the way we do things. People will change. But we will make it through this."