Dawsonville | Dawson County: Expect the Unexpected
Racing, retail and recreation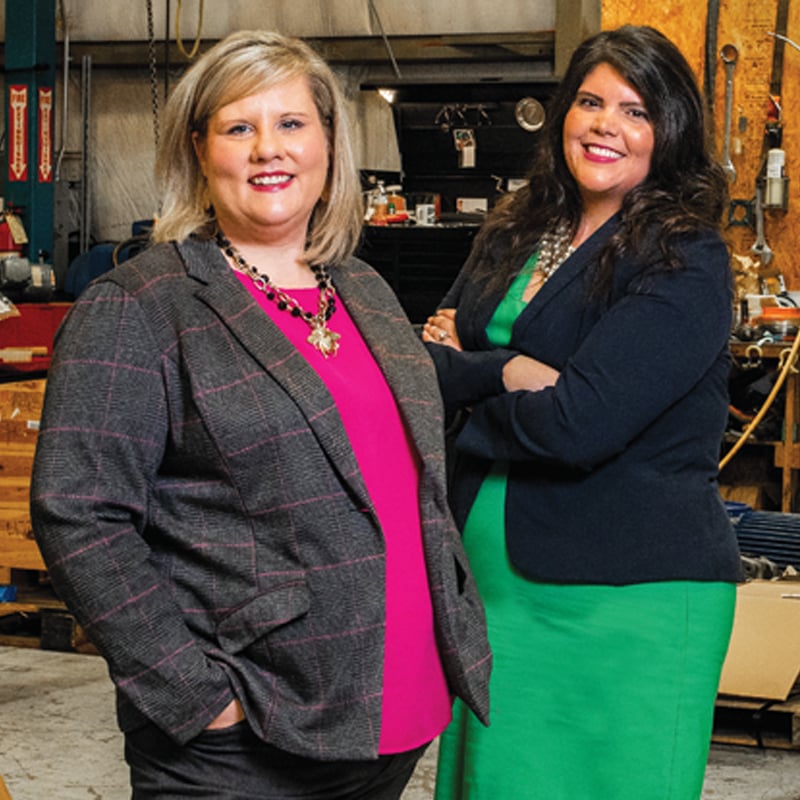 Dawsonville and Dawson County mean different things to different people. To some, it's a place to spend the day shopping at the North Georgia Premium Outlets. To others it's the birthplace of NASCAR and racing's Elliott family. To some it's the unofficial start of the Appalachian Trail and home to tourist destinations like Atlanta Motorsports Park, Lake Lanier and Burt's Pumpkin Farm. More and more it's also becoming the site of major manufacturing operations.
There's a lot to offer for a county of just 25,000, and many don't realize Dawson claims so much within its borders.
"In general, we are unexpected," says Dawson County Chamber of Commerce President Christie Moore. "One thing our leadership has done a great job of over the last two decades is allowing growth in a very specific part of our county while maintaining the quality of life throughout. You can have suburban life where everything is convenient, or, if you live up near Amicalola Falls, you can feel like you're six hours away from anywhere but only be 25 minutes away. That is something that's pretty rare."
---
Driving Business
There are two main highways in Dawson County, State Route 9, also known as Thunder Road, and Georgia 400.
Highway 9 is the older of the two, passing through downtown Dawsonville and carrying a tremendous amount of history in its path. The road became a favorite of moonshine runners during Prohibition a century ago, who used it to race illegal liquor from stills hidden in the north Georgia mountains into Atlanta.
A key to "racing 'shine down Highway 9" was having a car fast enough to escape the authorities. Different distillers claimed to own the fastest car, which led to races, which led to ticket sales and, eventually, NASCAR.
Today that story is alive and well thanks to the Georgia Racing Hall of Fame and Dawsonville Moonshine Distillery, both of which are attached to city hall.
"This is probably the only city hall in the universe where you can come in and pay your water bill, visit the Georgia Racing Hall of Fame to see how stock car started and turned into NASCAR, then go right on across the hallway and visit a moonshine distillery, see moonshine being made, and they'll even give you a taste," says Gordon Pirkle, the museum's 83-year-old curator.
"Only in Dawsonville."
Among Dawsonville's most famous sons are NASCAR drivers Bill and Chase Elliott, who still reside in the area. The Elliott family and plenty of others play a role in moonshine distilleries that still create the now-legal substance.
Cheryl Wood is a ninth-generation moonshiner who gives tasting tours of the potent concoctions made with corn and Ellijay apples at the distillery, advising visitors, "everything in moderation, that's the key."
Those are stories many people know about Dawsonville. Less well-known is the Atlanta Motorsports Park, which opened in 2012 and serves a new generation of car enthusiasts.
The smaller Highway 9 still affords a strong sense of community for residents, and the local school system still boasts just one high school, as reflected in its "One Dawson" motto.
But the larger, busier Georgia 400 brings with it the conveniences of suburban living, with large chain stores and, traffic depending, quick access to Atlanta. North Georgia Premium Outlets sits on 400, bringing in millions of sales tax dollars that help support the school system's impressive facilities and other county buildings.
The idea is to balance the best of both worlds. While a drive down 400 can be hectic, concentrated growth in the area has allowed other parts of Dawson County to retain a rural feel. Essentially, there are three distinct communities – the Georgia 400 corridor, downtown Dawsonville and the true wilderness in the northwestern portion of the county.
---
High-end Manufacturing
Along with its strong retail presence, Dawson County has begun attracting more manufacturing businesses, among the most exciting of which is Hellman-Chang, an uber-high-end furniture maker.
Best friends Dan Hellman and Eric Chang grew up in suburban Maryland before heading off to universities in two different states and launching their careers. They later collaborated on what was supposed to be a hobby that has grown into a business success story.
The company sells furniture to what Hellman describes as "the 1% of the 1%," people like pro athletes, celebrities and titans of industry. They're the only ones who can afford dining room tables costing $19,000 and up, and usually the only ones with homes big enough to accommodate them. Initially based completely in Brooklyn, Hellman-Chang moved its manufacturing to Dawson County last year in order to get a bigger warehouse.
Chang still works in Brooklyn and runs the sales and marketing side of the company. Hellman, who got to know Georgia through his wife's family, runs the operations side working in Dawson County.
The pair lured some incentives in order to make the move, including some from the Georgia Rural Investment Fund, but say it was the availability of a skilled workforce and the family approach of the county that truly sold them.
"It has been heartwarming to hear people say, 'I hope this is the last job I ever have,'" says Chang. "We want Dawsonville to become synonymous with Hellman- Chang and vice-versa."
That mission is reflected in the company's new slogan – Born in Brooklyn, Grown in Georgia.
Dawson's leaders were also excited to have Hellman-Chang move into town and pride themselves on finding ways to draw new businesses and jobs.
"One of the things we're most proud of at the chamber is connecting people," says Betsy McGriff, director of economic development at the Dawson County Chamber of Commerce. "We love our community, and we would do anything for it."
That means not just getting new businesses, but helping maintain and grow established ones.
With a strong economy and steady, managed growth at the beginning of 2020, McGriff says Dawson can be picky about which jobs it attracts and can focus on incubating new small businesses. Another successful relocation, though from a little closer by, was Premier Surplus, which moved from Canton to Dawson County in 2017.
A family-owned electronic recycling company, Premier Surplus moved into a warehouse on Nordson Drive, just off Industrial Park Road. The company's offerings include electronics recycling, data and product destruction and universal waste recycling.
Other major employers include shrink-wrap labeling company SleeveCo, laboratory supplies and research equipment provider The Lab Depot, plus Gold Creek Foods, World Wide Manufacturing and Impulse Manufacturing, proving there's no lack of industrial might in Dawson County.
To accommodate the employees at these growing businesses, new subdivisions are popping up. The population of Dawson County was 15,999 in 2000, 22,300 in 2010 and 25,083 in 2018 according to the U.S. Census Bureau. But the county prides itself on managing that growth at a steady pace.
County Board of Commissioners Chair Billy Thurmond, a lifelong Dawson resident, describes it as simply, "a great place to live, work and play," with a quiet, family-friendly atmosphere.
"Whatever it is you like to do, whether it's shopping, hunting, fishing, biking, walking the trails, things that you can do with your family, we offer it here," he says.
---
Getting Away
Visitors making one of America's most famous pilgrimages – hiking the 2,200-mile Appalachian Trail – often begin from its unofficial starting point in Dawson County. Each March the Amicalola Falls State Park & Lodge hosts the Appalachian Trail Kick-Off Weekend, helping elite hikers begin their journey to Maine.
But that's just one attraction at Amicalola Falls, one of the Seven Natural Wonders of Georgia and home to a lodge offering stunning views and a place for business meetings, weddings and weekend getaways.
"You probably won't see any advertising in Dawsonville without the waterfall," says Lori VanSickle, director of sales, marketing and revenue at Amicalola Falls State Park & Lodge. "Even if they don't specify it, Amicalola is known throughout Georgia and the Southeast."
For something unexpected, there's the LEED Platinum-certified Len Foote Hike Inn, which is a backcountry lodge requiring a five-mile hike just to enter the front door. (The certification from the U.S. Green Building Council recognizes the inn's sustainable building practices.)
"The biggest reason people come here is to truly get away," says the 20-room inn's executive director, Eric Graves. "Hiking five miles into the national forest is a nice disconnect from the digital world. We really discourage guests from using cell phones and handheld devices, which gives our guests a nice chance to get into nature and away from their busy lifestyles."
Back in town, improvements are underway to give locals more to do there. Downtown Dawsonville gained a new park in April, complete with walking trails, a playground and space for a farmer's market. An amphitheater is in the works as well, with the idea of creating a downtown that's more vibrant and more walkable.
Going forward, the chamber's Moore says Dawson County will work to diversify its economy, continuing to grow its healthcare facilities and adding new employers from across the business spectrum. For now, the county retains a mix of rural and suburban, with access to retail and amenities, but also relatively low housing prices, a strong sense of community and plenty of space to spread out.
"In Dawson County," she says, "you can have your cake and eat it, too."
---
Local Flavor
Car Country

Dawson County and fast cars have enjoyed a close relationship for nearly 100 years. That relationship continues today through NASCAR, the Elliott family and, since 2012, Atlanta Motorsports Park (AMP).
The venue maintains something of a low profile, at least with the general public. But it hasn't struggled to attract members, boasting more than 450 from the ranks of business executives and the well-heeled.
"We're just like a golf country club, but instead of a golf course you've got a race course for cars, motorcycles and go-karts," says AMP CEO Jeremy Porter.
The larger car track spans two winding miles, with the go-kart track coming in at just under one. Speed is the name of the game, with the carts traveling 55 miles per hour and the full-fledged cars – well, it just depends on the car. Memberships begin at $2,500 for karts and $10,000 for cars, plus monthly fees, though the track is open to the public for shorter outings.
AMP boasts 205 rental garages for its members, a 21,000-square-foot conference center, a resort pool and skid pads that simulate driving on ice or hydroplaning, which is useful for Georgia's film stunt drivers. It's even got traditional country club digs, with a 10,000-square-foot clubhouse and plans for 150 track-adjacent condos. Porter, AMP's founder, says most will be vacation homes for members rather than permanent residences.
While it attracts an upper-crust crowd, Porter says about 80% of the park's members hail from Georgia, and many visitors come for corporate events or client entertainment.
"Our members are basically your neighbor who owns a sports car and wants to drive fast and legal," he says. "They're not necessarily racers, just people who enjoy fast cars and motorcycles and want to hang out in a special atmosphere."
The venue's story dates back to 2000, when Porter pitched Braselton's Road Atlanta on a second track. While that didn't fly, the idea was resurrected in 2007 and, after five years, Atlanta Motorsports Park opened in Dawson County in 2012 through a partnership with the city of Dawsonville.
"They race everything from McLarens and Ferraris to Indy cars out there," says Dawsonville Mayor Mike Eason. "It's open to the public, and people from all over come to it."
Porter still enjoys driving by Dawsonville's checkered flag-fronted city hall. But his venue's appeal ranges beyond the city, beyond Georgia and beyond the Southeast. In an increasingly adrenaline-fueled society, he sees tracks like his as 21st-century entertainment with a fast future.
"We're the next new social club," he says.