2020 Economic Yearbook: West Central Georgia
Manufacturing Muscle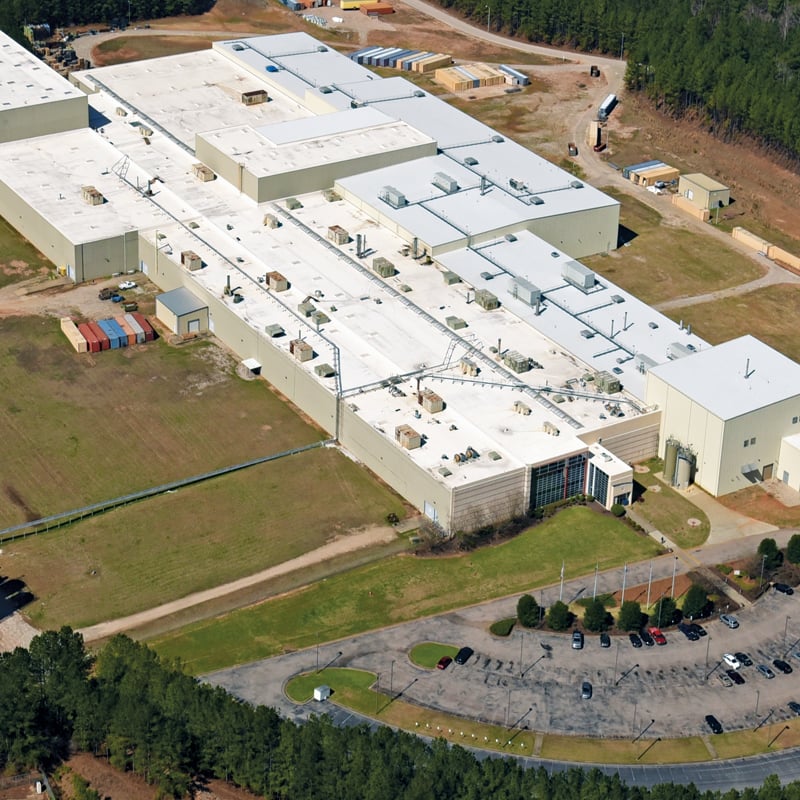 Laced by highways and railroads, with a diversifying economy, counties in West Central Georgia have been welcoming businesses from Asia and across the globe. New regional healthcare facilities will bring high-paying jobs and needed services to the region, and educational institutions are working with business and civic leaders to create a well-prepared workforce with the 21st century skills needed for the area's many high-tech manufacturing companies.
Longtime economic leaders are Columbus-Muscogee County and Troup County, which each draw thousands of commuters from Georgia and neighboring Alabama. Columbus hasn't had "any big home runs this year, just a lot of singles for the region," says Brian Sillitto, executive vice president for economic development with the Greater Columbus Georgia Chamber of Commerce. "We've done a labor shed analysis, and 40% of our workers live outside Columbus. We all work together to market the region to businesses and site selection consultants."
Sillitto helped South Korean car parts manufacturer Daechang Seat Co. find a suitable location in Phenix City, Ala., which is just across the Chattahoochee River from Columbus. The company is investing $10 million and will bring 100 jobs to the area beginning this spring.
In addition, Zummit Plastics, which makes biodegradable plastic film, is investing $25 million in its new Columbus plant and expects to hire 50 people.
Mercer University School of Medicine will open a four-year medical school in downtown Columbus next year. A combination of more than $25 million in public and private funding secured the new school, which will train physicians to work in Georgia's rural counties.
Sillitto says he's excited about the growing hospitality scene in Uptown Columbus, where four hotel projects are under construction. With a view of the Chattahoochee River, the Indigo Hotel will have 107 rooms and a rooftop bar. Negotiations are underway for adding 88 rooms to an existing Marriott Hotel and connecting it with a skybridge to the Columbus Convention and Trade Center. And a new $18-million AC Hotel by Marriott is also coming to Uptown.
Columbus is home to Aflac, a Fortune 500 company, as well as Synovus, TSYS, W.C. Bradley, Anthem and Pratt & Whitney, all of which mean thousands of employees. Fort Benning adds another $4.75 billion in economic impact.
---
Auto Advantage
In Troup County, signage along I-85 announces the Georgia International Business Park. With $1.5 billion in international investment, it stretches for 18 miles, covers 10,000 acres and includes 41 companies from 18 countries.
Among the companies in the park is an assembly plant for the South Korean automotive giant Kia. About 3,000 people work at Kia, and another 12,000 are employed by the various businesses supplying materials for those vehicles. The automotive workforce comes from 12 counties, four in Alabama and eight in Georgia, and suppliers are scattered throughout West Central Georgia.
SEWON America is undergoing a $215-million expansion that will add 600 employees to make stamped metal parts, including chassis and car doors.
In their quest to strengthen LaGrange's manufacturing base, LaGrange Economic Development Director Scott Malone and Senior Development Specialist Kelley Bush have traveled to China five times in the last year, recruiting businesses and landing a tire company whose $500-million plant – with 1,000 workers – was put on hold because of tariffs. Other Chinese companies did decide to build in Troup County. Malone and Bush work closely with county and city officials on all development projects.
"Kelley speaks Mandarin," Malone says. "It helps when you walk into a meeting to have someone who speaks the language and understands the culture."
Troup County also has four German companies, three of which make auto parts. Malone says the companies and West Georgia Technical College have created a German-style apprenticeship program to give students "a very technical education. They want a deep skill set for advanced manufacturing to operate their facility, to maintain and program and take care of robots."
The county's THINC College & Career Academy is a workforce-based learning center for high school students. In addition to hands-on training in local businesses, there are traditional classroom instruction and AP classes. Students can participate in internship and apprentice programs and enroll in college courses with West Georgia Tech and LaGrange College. One emphasis is training for students to work in advanced manufacturing.
Neighboring Meriwether County has an out-of-county commuting workforce, "but we're trying to change that with more opportunities right here," says Jane Fryer, president of the county's industrial development authority.
The county does have three Korean companies serving Kia and other carmakers. Mando opened an $80-million casting plant in 2015. The company already had a facility making electronic steering and brakes for Tesla, Honda, GM and Ford. It employs more than 1,000 in the two operations. The 300 people at DongWon make vehicle door frames. Custom Truck and Body Work ships its bodies for emergency vehicles all over the world, and Prolific Metals sells its roll-off trash containers across the country.
---
International and Domestic Unite
Pike County is the new American headquarters for Staxi, a Canadian company that manufactures transport chairs, "which are like wheelchairs but taller and easier to get out of," says Ginny Blakeney, economic development director at the Development Authority of Pike County. The $2.5-million plant "is big for us," she says, adding that the company will have an assembly plant as well.
Another international company, TenCate Fabric, based in the Netherlands, has several facilities in the region, including Pike County, where a weaving plant makes fibers for the company's fire-resistant fabric. The fabric is used worldwide by military personnel and fire fighters. TenCate bought the Southern Mills facility and spent $2 million expanding it in 2017, Blakeney says.
A little north of Zebulon, work has already begun on a new VA clinic, scheduled to open in late 2021 or early 2022. With 150 employees in a 60,000-square-foot facility, the clinic is expected to handle 1 million veteran visits a year.
A well-known international export from Stewart County is Richland Rum, an award-winning libation, with a second distillery in Brunswick. The distiller is the only one in the country growing its own sugar cane.
Sumter County Development Authority Executive Director Rusty Warner says an exporter in Atlanta will soon be sending peanuts from Plains to buyers in Japan. "He heard about a need and found a vendor to fill it," Warner says.
Imerys takes advantage of local resources, mining kaolin to create refractory materials, which are stable at high temperatures. With 196 employees in Andersonville, the company ships these products around the world. TCI Powder Coatings, which has an international market, is headquartered in Sumter County.
Upson County is far from hurricane-prone Miami, where United Teleports is headquartered, making "a fiber rich" facility an ideal location for its receiver stations and antennae. The company provides a full range of broadcast television content and distribution services to networks in Latin America and the U.S., says Kyle Fletcher, executive director of the Thomaston-Upson Development Authority.
A Canadian company, Interfor, is investing $115 million to modernize its Thomaston plant, which produces more than 154 million board feet of Southern Yellow Pine annually. Ranew's will hire 32 people for its 100,000-square-foot Thomaston facility, where it will paint parts for John Deere, Caterpillar and Blue Bird, Fletcher says.
Attracting a base of international and domestic industries, Georgia's West Central region is flexing its manufacturing muscles to create jobs and economic development.