2020 Economic Yearbook: Southeast Georgia
Radiating Opportunity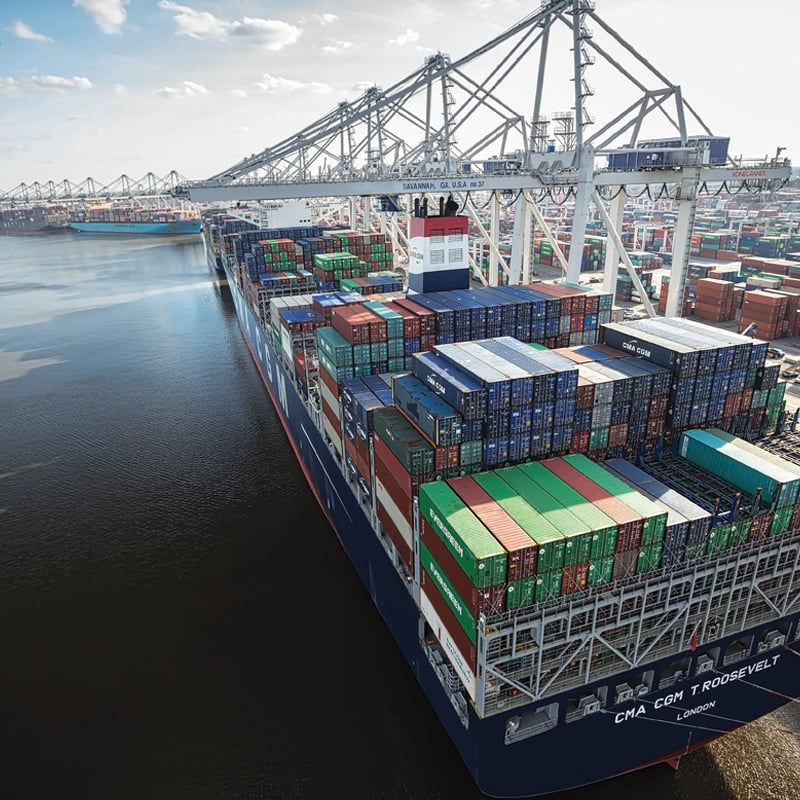 There's big business, and then there's the big business of global trade. Combine the longest economic expansion in U.S. history with Georgia's major port in Savannah, and it's no surprise things have been looking positively peachy in the southeastern part of the state.
The third busiest and the fastest-growing container port gateway in the country, the Port of Savannah plans to double its capacity from the current level of 5.5 million twenty-foot equivalent container units (TEUs) to 11 million TEUs in the next decade. For perspective, that's the equivalent of 4.4 billion flat-screen TVs or 528 billion bananas.
Georgia's gateway to the business world continues to spur massive growth numbers for the Savannah metropolitan statistical area (MSA), which includes Bryan, Chatham and Effingham counties. Exports account for 24.1% of the metro's gross domestic product (GDP), according to Georgia Southern University's Parker College of Business.
"Land close to the port is becoming increasingly scarce and expensive, which is driving developments farther away along the Interstate 16 corridor," says Anna Chafin, CEO of the Development Authority of Bryan County. "Additionally, because industrial activity has been so high in the market over the last several years, developers have begun to develop more land speculatively."
Bryan County's strategic position stretching from the I-95 corridor south of Savannah to I-16 west of the city means industrial strength for sure. The county already has seen five internationally headquartered industries invest more than $250 million, which will translate to nearly 700 jobs.
Access to I-16 was a critical factor when Preci-Dip, a Swiss manufacturer of electronic connector pins, announced last July that its first U.S. production facility would be established in Bryan County's Interstate Centre industrial park. The $13.6-million, 47,000-square-foot facility will create 100 new jobs.
---
Game Changers
he Port of Savannah, the area's new, advanced facilities and Georgia's vast interstate system not surprisingly appealed to many companies in 2019, attracting millions of investment dollars. The Canadian company Anatolia Tile + Stone and Plastic Express, a large plastic resins manufacturer and exporter, together accounted for nearly 300 jobs and a $270-million influx last year.
"Plastic Express is a game changer for our region," says Savannah Economic Development Authority (SEDA) President and CEO Trip Tollison. "This industry has the potential for huge growth here with the utilization of the Port of Savannah."
Foreign direct investment (FDI) projects were a hot trend in Savannah in 2019. SEDA won six FDI projects representing Ireland, China, Canada and Israel and spanning a variety of industries, including manufacturing, office, distribution and technology. Also last year, World Trade Center Savannah, the international arm of SEDA that works with 16 economic development authorities, the city of Savannah and dozens of partners through programs such as trade research and inbound and outbound delegations, landed its first international company when Raceix, an Irish boating tech startup, established its American headquarters in Savannah.
"Continuing to leverage the Port of Savannah's success and the global access through World Trade Center Savannah, our 2019 strategic plan, Propel Savannah, establishes a target of assembly and manufacturing related to existing warehouse and distribution and leveraging the port to attract high-wage jobs in logistics tech," says Tollison.
The automotive trade is helping to fuel growth in the Golden Isles, and the industry has made the Port of Brunswick the No. 2 fastest-growing roll-on/roll-off gateway in the country. Through its Share the Future initiative, a Golden Isles Development Authority (GIDA) grant to International Auto Processing (IAP) will help expand the flow of vehicles, number of jobs and capital investment at Brunswick's Colonel's Island Terminal, where IAP has processed more than 6.3 million vehicles since 1986.
"Although the uncertainty on trade policy has impacted certain aspects of manufacturing in Georgia, the past several years' increases and projected continued growth in consumer spending is supporting several of our industries," says Vanessa Wagner, GIDA's director of business development in Brunswick.
Further down the coast, Camden County continues to work toward Spaceport Camden. In January, the county submitted a request to the FAA for a launch site operator license with a focus on small-size launch vehicles, which would include nano- and microsatellites.
---
At Liberty to Distribute
In 2019, three companies announced distribution centers in Liberty County that will bring more than 200 jobs and $33 million in capital investment. Belgium-based Balta Home and Marine Container South will occupy 308,000- and 47,000-square-foot buildings, respectively, in Midway Industrial Park. Western Power Sports, which makes parts and accessories for motorcycles, ATVs, snowmobiles and watercraft, constructed a new 240,000-square-foot facility in Tradeport East Business Center (TEBC).
"They all stated the importance of access to Interstate 95 and the Savannah port," says Ronald Tolley, CEO of Liberty County Development Authority (LCDA). "Global trade is very important with approximately 70% of the county's employment in manufacturing and distribution attributable to foreign direct investment provided by French, German, English, Belgium and Korean companies."
The LCDA saw the spatial demand radiating south from the Port of Savannah to the more than 60,000-person county straddling I-95 and acted fast when its smaller industrial parks were approaching full occupancy. In 2004, it purchased 1,700 acres a half-mile from the interstate that became the TEBC. Since then, the business park has welcomed five industrial tenants, including a 1.5-million-square-foot Target distribution center, that brought a total of nearly 1,200 jobs and $329 million in capital investment.
---
Domestic Gains
Domestic trade within the world's No. 1 economy can promote and float a lot of boats. Brandt Herndon, CEO of Effingham County Industrial Development Authority, says that the majority of county projects in the past 24 months have been domestic. Shaw Industries Group, a Dalton-based flooring company, has committed considerable investment and 100 new jobs to more than 1 million square feet at the $500-million Georgia International Trade Center, about 15 miles up Hwy. 21 from the port.
"The Shaw announcement brought legitimacy to the 7-million-square-foot industrial park, as well as the Effingham community and our ability to work with private investors and multinational companies to create a business friendly environment," Herndon says.
Waycross-Ware County has welcomed 550 new jobs since 2017 and approximately 450,000 new square feet of commercial space for a total capital investment of $71 million. Baily International Foods, which is already expanding on its $10-million-plus relocation to the area in late 2018, more than tripled its projected employee count to more than 170.
"Our focus has definitely shifted in the last five years from one that maintained the status quo to working to ensure our workforce obtains the needed skill sets for not only today, but also for the future," says Jana Dyke, president and CEO of Waycross-Ware County Development.