2020 Economic Yearbook: Northeast Georgia
A Winning Hand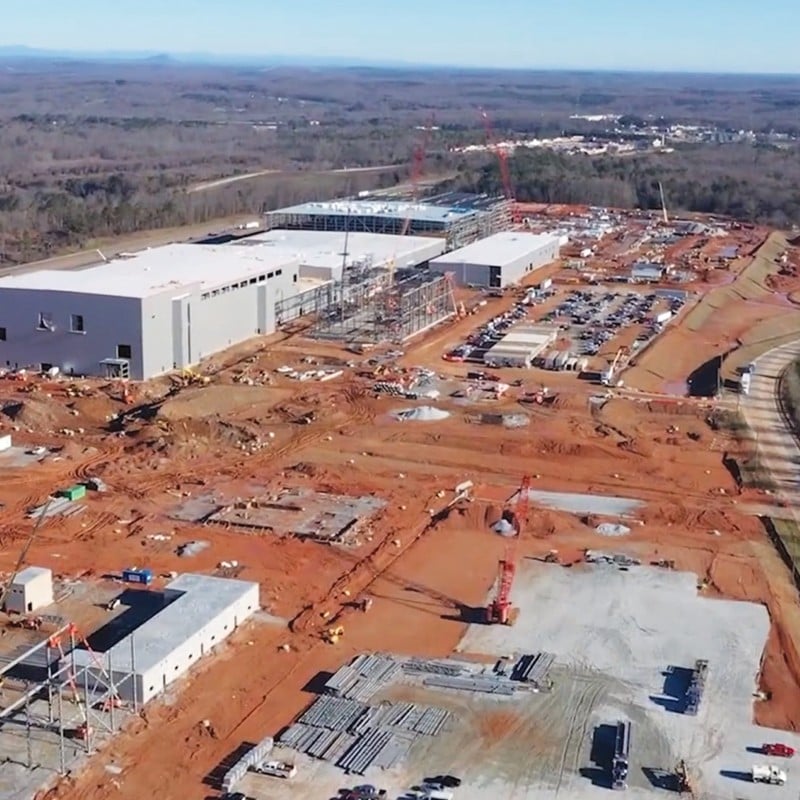 If economic development was a poker game, the Northeast Georgia region would be holding a royal flush. From its abundant natural beauty and plentiful recreational opportunities to its proximity to I-20 and Hartsfield- Jackson Atlanta International Airport, the region has been cashing in on its winning hand.
"We're very excited about what's happening in Northeast Georgia," says Burke Walker, executive director of the Northeast Georgia Regional Commission. "Last year was a very good year. Many of our counties are seeing a lot of money being spent."
Nowhere is that more true than Jackson County.
"We have a lot of global investment and economic development in Jackson County," says John Scott, vice president and director of economic development for the Jackson County Area Chamber of Commerce. "SK Battery America announced a brand new project here in November of 2018. It's the state's largest foreign direct investment – at the time of the project announcement – in the state's history."
South Korean-based SK Innovation, the parent company of SK Battery America, is investing $1.67 billion in Jackson County to build a battery manufacturing plant. The facility will produce lithium ion batteries for electric cars.
"The plant is well under construction, and they plan to be in some production later this year," Scott says. "Between now and 2025, they're anticipating hiring 2,000 employees."
In January, another Korea-based company became the first announced supplier for SK Innovation. Enchem Ltd. is investing $61.35 million to build two new manufacturing plants in Jackson County that will create more than 300 jobs. The company develops and manufactures electrolytes for rechargeable batteries and electrostatic double-layer capacitors.
"In the past 10 to 15 years in particular, we've seen a lot of growth in foreign direct investment in Jackson County," Scott says. "Thirty percent of the county's workforce is employed by global-based companies."
In addition to the new construction, several companies are also expanding in the county, including Southeast Toyota Distributors. The business, which distributes vehicles, parts and accessories to Toyota dealerships across the Southeast, will complete a $90-million expansion this spring.
The 350,000-square-foot plant is situated across the highway from the distributor's current plant, and the new facility will feature amenities such as a health and wellness center, nature trail, fitness center, meeting area and an expanded café for the company's 236 full-time employees.
Takeuchi-US is also expanding its presence nearby, building a new training facility slated to open this spring. Takeuchi produces small compact tractors at its headquarters in Japan, which are then distributed from Jackson County. Dealers from North America and around the globe will gather at the facility to learn about Takeuchi products. Takeuchi's North American headquarters is also located in the community.
"Our proximity to Hartsfield-Jackson played a big part in Takeuchi's decision to expand here," Scott says. "People can fly in and after a short drive north on 85, they can get their training. Their CEOs can fly in and have easy access to these locations."
But Hartsfield-Jackson isn't the region's only airport option. Athens Ben Epps Airport contributes to the region's economic vitality by handling "a lot" of corporate flights daily, according to airport director Mike Mathews.
"Probably 65% of our traffic is corporate aircraft," he says. "We also have a flying school. We have 50,000 operations, take-offs and landings, annually."
The airport spent $10 million last year to rebuild its 6,100-foot main runway.
Jackson County isn't alone in catching the eye of internationally based companies. Hall County has also caught the attention – and investments – of several global corporations. Economic highlights from 2019 include:
• 14 new and expansion
announcements
• $293 million in announced capital
investment
•1,054 new jobs
• 1.4 million square feet of new or renovated space; nearly 800,000 square feet of new construction
New industry announcements included: Alfrex (Korea), Geveko Markings (Sweden), Test Rite Group (Taiwan) and Contemporary Marketing. Expansions included: Elringklinger (Germany), ALBAform (Czech Republic), Cargill, Marel (Iceland), Kubota (Japan), OTR Wheel Engineering, American Yazaki (Japan), Boehringer Ingelheim (Germany), Syfan Logistics and Mars Wrigley.
"To attract these companies you have to have the talent to lead the C-suite, and they want the quality of life we have to offer – the lake, metro areas, the mountains – and also a workforce with a lot of manufacturing skills and talents," says Tim Evans, vice president of economic development for the Greater Hall Chamber of Commerce. "We're best at providing a single location for the company that wants its North American headquarters and its manufacturing operations in one location."
In 2019, UGA's Terry College of Business ranked Hall County No. 1 for jobs created among all 16 metro areas in Georgia. "We were forecast to be No. 1 in 2020, as well," Evans says.
---
Healthcare Boom
In addition to being a top employment center in the region, Hall County is an epicenter for healthcare. The county's two hospitals and 366 healthcare service providers support a population of 1.5 million people. Northeast Georgia Medical Center Gainesville and Northeast Georgia Medical Center Braselton have both undergone significant expansions, including $12-million at the Braselton hospital that should be completed this spring. Northeast Georgia Medical System also launched a graduate medical program last year. The program is expected to grow to as many as 170 residents by 2024.
"There's a high probability that once these doctors complete their residencies, they will practice medicine here in the future," Evans says.
Last year, Northeast Georgia Health Center purchased Dahlonega's Chestatee Regional Hospital, which closed in late 2018. The health system subsequently sold the site to the University of North Georgia but is leasing space until construction begins on a new hospital later this year.
"This is going to be quite a game changer for us," says Robb Nichols, president of the Dahlonega-Lumpkin County Chamber and Visitors Bureau. "The new hospital will be an anchor for a great deal of economic development as the growth of Atlanta continues up the 400 corridor."
---
More Manufacturing
In other economic news, JTEKT Corp., an international manufacturer of Koyo brand bearings for automotive applications and the largest private employer in Dahlonega, is celebrating its 40th anniversary in Lumpkin County.
In Greene County, a 40-year-old plant is undergoing a $36-million upgrade and modernization, according to Sam Young, economic development director with the Greene County Development Authority. The new investment will enable the Novelis facility to recycle automotive aluminum scrap and improve sitewide safety.
"The Novelis aluminum recycling plant is the world's largest importer of scrap aluminum," Young says. "They bring in a lot of scrap aluminum from South America and other parts of the world, and it will typically come through the Port of Savannah."
On Jan. 17, Rabun County continued the region's winning ways when it sold its 1-million-square-foot business park building for $8.1 million to ELK Group International, a Pennsylvania-based manufacturer of lighting fixtures, decorative accessories and furniture that has been leasing the building.
Fortunately, we had an existing building that met their needs, and we have gained an amazing new community partner in the process," says Rick Story, Rabun County director of development.
---
Residential Resurgence
The county's biggest growth, however, is residential around Lake Oconee, according to Terry Lawler, president of the Greene County Chamber of Commerce. "The value of building permits in 2019 was $125 million," Lawler says.
The county is also in the state's Top 10, per capita for tourism spending, in large part because of The Ritz-Carlton Reynolds, Lake Oconee and the various fishing, boating, camping, waterskiing and golfing opportunities centered around the lake.
Also cashing in on its good looks is Fannin County.
"We had visitors from 30 different countries in 2019," says Christie Gribble, executive director of the Fannin County Development Authority. "We're very much a recreation-oriented county. We have more than 1,000 cabins that are rented on a short-term basis."
In turn, those cabin rentals have fueled an increase every year in the county's lodging tax.
"The lodging tax has helped fund a lot of what's going on in the county," Gribble says. "In 2019, 2020 and into 2021, we've had more than $30 million in private and public investment."
Two mixed-use projects in downtown Blue Ridge, a boutique Hampton Inn that's under construction and a retail development with a parking deck that will hold 186 cars, are among those investments. Another $5.5 million is being invested by the University of North Georgia, which broke ground on a new, larger 13,000-square-foot campus last year that will be able to accommodate 500 students.
Undoubtedly, Northeast Georgia will continue to foster a flourishing economic environment in the years ahead.