2020 Economic Yearbook: East Central Georgia
A Region's Reach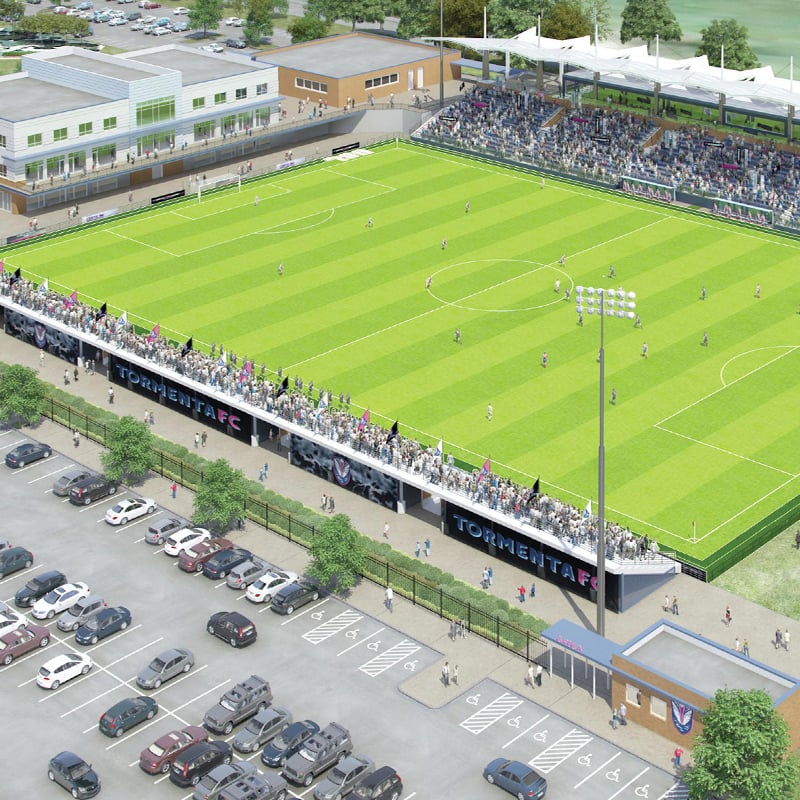 The international language of sports is bringing big changes to Bulloch County's Statesboro. A new $250-million soccer stadium development for the United Soccer League's Tormenta FC will provide sports and music entertainment, shopping, living spaces and jobs.
The South Georgia Tormentas play in Division 3 of the American soccer pyramid. Started in 2015, bringing professional sports to Statesboro was a dream of team president Darin Von Tassell, team co-owner with his wife, Netra.
"I wanted to grow my hometown," says Von Tassell, who is also a three-time Olympic coach for baseball and former Georgia Southern University professor. Like food, music and art, sports "is a global language," he says, "If you want to build bridges, that's the way to do it."
The 230-acre development will have a Publix, hotel, movie theater and condominiums in addition to the 5,300-seat stadium. Sidewalks and bike paths will connect to other greenspaces in Statesboro. It will also include the Von Tassell's other business, the 38-acre Clubhouse family entertainment center with bowling, games, go-carts and a golf driving range.
He points to the Atlanta Braves Truist Park and The Battery as a model, albeit on a smaller scale. "Smaller communities don't mean people aren't just as sophisticated," he says, and the stadium will also host concerts with a 14,000 capacity. The project is being funded by private investors and through a Tax Allocation District (TAD) approved by the Bulloch County Board of Education. The Tormenta team expects to start playing at the stadium in 2021.
"With Georgia being named the No. 1 state for business, having the addition of professional sports here in Statesboro – it just enriches our local culture," says Skip Alford, president of the Statesboro-Bulloch Chamber of Commerce. A new resident, he says he is impressed by the city's mixture of "culture, people and agriculture."
---
Location Advantage
In Augusta-Richmond County, cybersecurity technology company Parsons Corp. has expanded its offices in the $100-million Georgia Cyber Center. With the addition of 80 more jobs, the company has over 100 employed there.
The company does cybersecurity and intelligence work for commercial firms as well as for U.S. Army Cyber Command at nearby Fort Gordon and the Department of Defense. With the expansion, the two-building center is nearly full, says Michael Shaffer, executive vice president for economic development and strategic partnerships at Augusta University and the school's liaison to the center.
"We have made sure that anyone coming into this campus is a good fit," says Shaffer, who notes the collaborative structure of the tech hub. Part training center with branches of Augusta Technical College and Augusta University, the center offers "400 plus students per day coming through the building," he says, a huge help when it comes to recruiting talent.
Waynesboro in Burke County is seeing a focus on downtown, with retail capacity "higher than we've been in 40 years," says Don Lively, Waynesboro Downtown Development director. A shortage of housing in the county has led to plans to transform some of the area's historic buildings into townhomes and mixed-use development. "Plant Vogtle employees need places to live and were moving to Columbia or Richmond counties," says Lively, who is hopeful the projects will provide Waynesboro with more housing options.
That's good news given that the county announced one new company and an expansion in the area. Italian automotive supplier CMS Group is opening its first U.S. facility in Waynesboro, a 200,000-square-foot building. And Galaxy, which imports and distributes window coverings and home décor textile products for customers like Walmart, Kohl's, Target and Amazon, is expanding into a new 250,000-square-foot facility.
George Milligan, administrator for the Wrightsville-Johnson County Chamber of Commerce, says location has brought business like trucking firm Kauffman Logistics, which recently moved into the county's industrial park and has close to 25 employees to start. "Georgia Power's economic development team has told us we're in an excellent location between I-16 and I-20 with access to I-95," he says. Like Waynesboro, historic downtown Wrightsville is being renewed by young professionals, says Milligan. "They want to see Wrightsville have a revival."
The historic downtown of Washington in Wilkes County was recently named one of seven "Rural Zones" by the Georgia Department of Community Affairs, a five-year designation that includes job and investment tax credits and rehabilitation credits to help with job creation. "We are adding this to our toolbox to recruit businesses to our downtown," says Washington-Wilkes Economic Development's Janet Parker.
Flipping an entire 115,000-square-foot-factory is quite a project – but one that Standard Iron is undertaking in McDuffie County. The Minneapolis-based family-owned business provides metal fabrication to builders. It acquired a former Badcock Furniture property in Thomson and is renovating and expanding in the 21-acre spot. The company has hired 32 locally and plans to add 10 more this year.
McDuffie County also entered into its third year as an Archway Partnership community, part of a University of Georgia Public Service and Outreach program. One result was the start of a strategic plan for downtown Thomson, developed with input from residents and faculty from UGA's Carl Vinson Institute of Government. It should be completed later this year, says Don Powers, president and CEO of Forward McDuffie.
Jefferson County is seeing lots of interest in its three industrial parks, offering a total of 1,412 acres. Additionally, three "well-established manufacturing companies are expanding," says Greg Sellars, executive director of the Development Authority of Jefferson County. Poultry manufacturing company Coastal Processing in Louisville recently completed a "small but significant expansion by adding a deboning line as well as an adjacent logistics center," he says. The plant employs 215 local residents.
In Lincoln County, Soap Creek Marina and Resort, which was established in 1954, has reopened. It's the only full-service marina on Thurmond Lake. The project, funded with $1 million from the Georgia Agribusiness and Rural Jobs Act (GARJA), includes a marina, resort, WillieMacs Steaks & Seafood restaurant and a boat-building factory run by Michigan-based Apex Marine.
---
Global Trade Partners
Exporting goods is big business in East Central Georgia. According to the Georgia Department of Economic Development, Burke, Columbia, Glascock, Hancock, Jefferson, Jenkins, Lincoln, McDuffie, Richmond, Taliaferro, Warren, Washington and Wilkes counties shipped more than $1.7 billion of goods overseas in 2018. (The state includes Treutlen, Candler, Emanuel and Johnson counties in Region 9, which saw $1.39 billion the same year; Bulloch County's Region 12 saw a whopping $5.8 billion.)
In Emanuel County, a 60-year-old family-run company has made a name globally with its exporting of canned meat, mainly chicken. Crider Foods in Stillmore, which employs more than 500 workers, received a GLOBE award for 2019 Georgia Exporter of the Year (special large business category) from the Georgia Department of Economic Development. The company's plant is close to ports in Charleston, Jacksonville, Savannah and Miami and ships products to 20 different countries.
Proximity to the Port of Savannah for receiving goods is key in the region as well. It is the reason business owners like Australian Sebastian Falzon, president and CEO of CPE America, chose Candler County.
Falzon did his research before opening his concrete pump business five years ago. After leaving a large company in his native Australia, he became a distributor for Korean concrete pump manufacturer Everdigm.
"I started looking at places with a checklist," he recalls, and found the small town of Metter (population 4,000) checked all the boxes: warm climate, right-to-work state, reasonable travel times to many of his customers. Most importantly, as the machines are shipped from South Korea "it had to be close to a port."
After comparing offers, he chose the Savannah port and began looking for a company location. The Candler County Industrial Authority (about an hour from Savannah) was ready, offering him a spec building and "the best presentation," he recalls. Since finishing the factory and offices, he has 15 employees and is offering a free training course for concrete pump operators nationwide. "He came here and took a chance on this little town," says Hannah Mullins, executive director of the Candler County Industrial Authority.
---
Producing Results
"In 2008, we lost every job [1,700] in this county," recalls King Rocker, mayor of Millen and chair of the Jenkins County Development Authority. Since then, the area has redefined itself, with employers including correctional facility operator Corrections Corporation of America, aluminum manufacturer MI Metals and, more recently, roadway materials manufacturer Ozark Materials and supplements manufacturer Southern Nature Products.
Jenkins County Development Authority Executive Director Mandy Underwood says they successfully recruited mobile home builder ScotBilt in 2017, "and they went into production exactly a year later with 200 employees." Distribution warehouses are driving business at the county's industrial park, where companies like Roto Polymers have a 70,000-square-foot warehouse to distribute its product, used to make "Little Tykes" toys.
The Development Authority of Washington County Executive Director Jayson Johnston notes the county is continuing workforce development projects and growing existing businesses. New manufacturers moving to the county include a Fowler Flemister concrete plant, a $3-million investment that will bring 12 to 15 new jobs. "Our largest current project is in traditional manufacturing," says Johnston, "which will be a $10- to $12-million project expected to employ 40 to 50 workers." Two rail-served Georgia Ready for Accelerated Development (GRAD) industrial parks are available, with a four-lane truck route currently under construction by the state DOT.
Warren County continued success with the 2019 opening of Georgia Pacific's $135-million facility in Warrenton, adding more than 66 jobs for a total of 181 workers, "which we didn't anticipate," says O.B. McCorkle, executive director of the Warren County Development Authority. Additional new industry includes Heart Woods Products, which built a $5-million pallet manufacturing plant, creating an initial 30-40 jobs, and began shipping products last year.
Warrenton also recently welcomed pet-friendly Molly's Food and Fuel, a $2-million truck stop/convenience store owned by local resident Robert Wilson. Offering truck service and home-cooked food, the location has caught on with residents and truck drivers, says McCorkle. "They're a pretty loyal bunch."
Columbia County is home to Rec Tec Grills, a local business shipping an average of 200 grills a day from its newly acquired 275,000-square-foot building in Evans. The wood-pellet-fueled grills are constructed in China and shipped to the Savannah port. After that, the company's location near I-20 makes shipping to customers nationwide easier, notes co-owner Ray Carnes, who developed the grill and later grew the business with longtime friend Ron Cundy. He estimates the business is growing at 40% to 50% a year.
Growth like Rec Tec's is helping put the county on the map. After implementing a strategic plan in 2016, the county acquired more land near I-20, and its 300-acre, environmentally friendly White Oak Business Park in Appling has an additional 220 acres planned.
First tenant Ingersoll Rand's Club Car moved into a 550,000-square-foot distribution center at the industrial park in 2018. The new space allowed it to consolidate two of its Augusta distribution spots. The business park "continues to be a major catalyst for us," says Robert Bennett, executive director of the Development Authority of Columbia County.
In fact, a new tenant is expected to be announced, one of the biggest wins for the county in a while. There's no doubt it won't be the last.