Savannah| Chatham County: Multifaceted Momentum
Tourism, training and development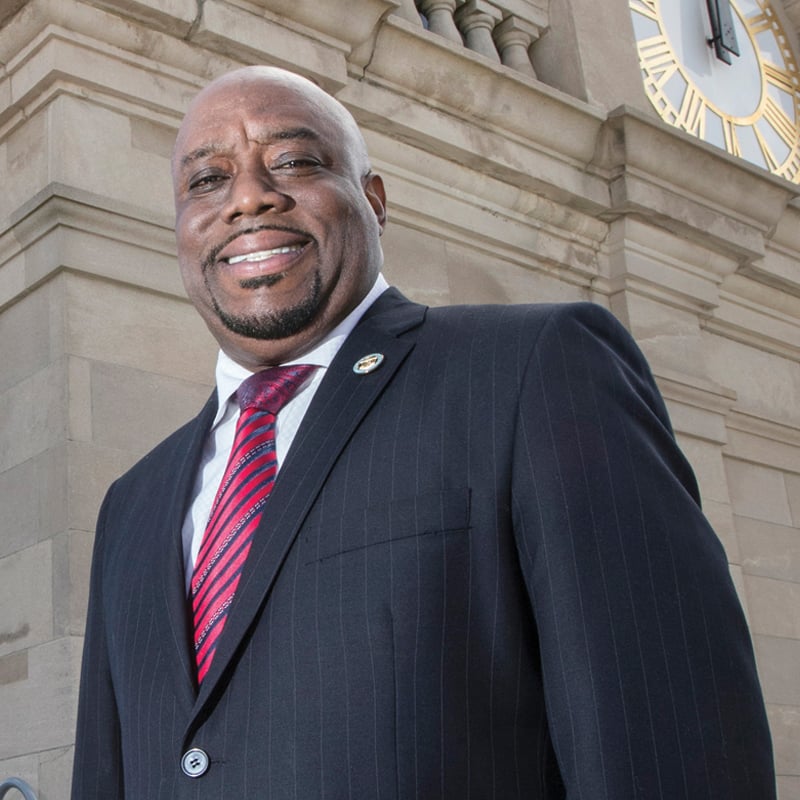 Savannah's River Street is where the area's multifaceted economy intersects. The street's string of souvenir shops, nightclubs and restaurants is a mainstay for the 14.5 million tourists that Visit Savannah estimates arrive annually. The massive container ships passing by, just a stone's throw from that revelry en route to the Port of Savannah, represent the muscle and brawn of the local economy.
The two economic sectors don't cross paths that often, unless you count the jaw-dropping of inland visitors as they watch some of the biggest ships in the world churn by. After all, the highly secured port is hardly a tourist attraction. But there's a symbol that represents both of them, and it's the focus of a bit of local controversy of the style that Savannah just dearly loves.
Toward the east end of River Street stands a statue of Florence Martus, better known as the Waving Girl. For much of her life, she greeted passing ships as they entered the port, and her devotion to the maritime community is commemorated by the statue that was erected in 1972. Since then, generations of tourists have had their snapshots taken in front of that statue.
But now, as Savannah's tourism-related waterfront expands with mixed-use projects in both directions – eastward with the Eastern Wharf and westward with the Plant Riverside development – the statue has become controversial. Maritime interests want to move it to the west end, saying it would be more visible to the mariners who were the focus of the real-life woman behind the statue. Skeptics point out that the move appears to benefit the hotel development nearing completion in the Plant Riverside area – an area long on plush new construction but perhaps a bit lacking in marketable historical cachet.
The Savannah City Council approved the move by a 7-2 vote late last year – but one of those losing votes was cast by the man who won the hotly contested mayoral race last fall. In his first week in office, Savannah Mayor Van R. Johnson II announced he'd brokered a deal with the interested parties to hold off, indefinitely, on the move. It was a clear signal that there's a new mayor in town.
Johnson may be new to the mayor's office but he's a veteran of city government, logging 16 years on the council. Now he takes the helm at a time when unemployment is at historic
lows, but U.S. Census figures show 23% of the city's residents live in poverty. He contends that near-full employment isn't an adequate measure of prosperity.
"The misnomer here is talking about full employment. It basically means everyone who wants a job has a job; but it doesn't have to be a job paying a living wage, it doesn't have to be a job with benefits," says Johnson. The answer, he contends, is improving wages, and he plans to start with the city itself.
"It's a multifaceted issue that extends beyond the city's boundaries of control. However, I pledged we would increase the city of Savannah's minimum wage for our employees by $2 an hour by year three of my administration, and that will take it to $15," he says of the lowest-paid city employees. The entire region will benefit from such an increase, he says, because people making more money can spend more time with their kids, help them with school and participate in the community in different ways.
---
Economic Driver
Of course, the Port of Savannah has an enormous economic impact on the Savannah region and the state of Georgia as a whole, with a record 4.6 million twenty-foot equivalent container units (TEUs) moved through the port last year. More than 40% of its shipping volume comes from China, however, so officials expect the coronavirus-related manufacturing slowdown in China will affect the port in the short-term.
Aside from imports and exports, one of Savannah's strengths has always been the diversity of its local economy, with tourism one of the main drivers that continues to gain momentum.
"It's absolutely clear tourism is continuing to grow, and as people continue to discover Savannah, we just have to make sure we have a healthy mix," Johnson says. "It's an issue of development, but it has to be the right mix of development. We don't want Savannah to become Disney World; everyone likes to visit Disney World but no one wants to live there. You can end up with those high-end developments that no one in Savannah can afford."
Construction cranes have become familiar landmarks on Savannah's skyline, and the city will soon be the force behind some of that construction, as preliminary work begins on a $165-million arena on the west side of the city, just beyond the Historic District.
"This is going to be the biggest municipal project in our lifetime," Johnson says of the project, slated for completion by the end of 2022.
That will deliver another tourism boost, but by current metrics, tourism is already a juggernaut.
Visit Savannah, the tourism and convention promotion agency that guides Savannah's tourism efforts, measures its success by three annual metrics – hotel occupancy, hotel rates and hotel/motel or bed tax collections, says Joseph Marinelli, president of the agency. Those measures for 2019 equaled those of 2018, but he still sees that as a gain since "2019 matched our best year ever." That's despite the city absorbing 350 new hotel rooms in 2019 without seeing rates or occupancy decline, not to mention a precautionary evacuation for a hurricane that never really hit. With the hotel cancellations that go along with an evacuation, a hurricane can take a bite out of the local economy even if it gives the area a complete miss.
For the record, last year's hotel occupancy in Savannah's historic district was 81.5%, the average hotel rate in the same area was $174.36 and hotel/motel tax collections countywide were up by 4%.
The big tourism news for 2020, Marinelli says, will be the Plant Riverside District, which extends River Street's tourism development further upriver than ever before, into an area of disused industrial development.
The J.W. Marriott Hotel at Plant Riverside District will be a game changer, not only for Savannah but for this part of the coast. This hotel is a renovation of a historic power plant located right on the Savannah River. [Hotelier Richard] Kessler has taken what was arguably Savannah's biggest eyesore for the past 50 years and transformed it," says Marinelli.
The complex will include a 420-room hotel (due to open in phases, with 300 rooms coming online this spring and the remaining 120 by year's end), 14 food and beverage outlets associated with the hotel, indoor and outdoor concert facilities, and retail development.
That means massive new developments extending the riverfront's tourism orientation in both directions. But don't forget the middle. Plans are afoot to double the size of the existing Savannah Convention Center, on Hutchinson Island in the Savannah River, with funding working its way through the state legislature. If all goes as planned, the potential $250-million expansion could open by the end of 2023, in lockstep with a second privately developed convention hotel on the island, Marinelli says.
But lest one think that all tourism development travels by water, he points out the growing role of the Savannah/Hilton Head International Airport in bringing in visitors. Allegiant Airlines just added five new cities for seasonal nonstops to and from Savannah, bringing the nonstop service total to more than 40 different cities, though many of them are seasonal.
Marinelli says the expansion of restaurants, homes and nightclubs into the Starland and Victorian districts will help spread the tourism crowd out over more real estate, while also keeping things fresh for the repeat visitors who are one of the city's tourism strengths.
---
Growing Green
Many of those repeat visitors – and residents, too – enjoy the natural beauty of Savannah as well as the restaurants, riverfront and architecture. It's an area that's also growing.
"Savannah is known across the nation and even the world for our tree canopy. It is one of the reasons people travel here, but we are losing our tree canopy through development and through storms," says Nick Deffley, sustainability director for the city, referring to the double hit sustained from back-to-back Hurricanes Matthew and Irma.
In a grant-funded project involving partnerships with the city, the University of Georgia, commercial nurseries and other stakeholders, the Savannah Green Infrastructure to Green Jobs Initiative set out last year to address the shortage of landscape professionals with green infrastructure training.
The program scored on two fronts by working to help vulnerable low-income neighborhoods reduce their flood risk. Paid apprenticeships and classes were geared toward helping participants gain credentials through the Georgia Certified Landscape Professional Industry Certification Program.
The program has three urban tree nursery sites, Deffley explains. It opted for small seedlings of resilient native trees like bald cypress, river birch and live oak instead of the more expensive saplings and set them out in barrels on flood-prone lots.
"The plastic pots looked kind of ugly, so we worked with [community youth group] Loop It Up Savannah and had the kids do artwork on them. You see all these cool, whimsical, bright-
colored pots. It's just another way to engage the community and the youth in the importance of trees," he says.
---
Construction, Movies, Industry
The expansion of the Savannah Convention Center, on Hutchinson Island facing River Street across the Savannah River, will be another massive project, notes Trip Tollison, president and CEO of the Savannah Economic Development Authority (SEDA). There's also the $300-million widening and reconstruction of Savannah's two interstates, I-16 and I-95.
But some of SEDA's latest initiatives go outside the usual box for such organizations.
"Every community struggles with their workforce now because of the strong economy, so we have developed our Workforce Initiatives Fund," he says.
That $375,000 fund's first focus will be on helping licensed childcare facilities in Chatham County become Quality Rated – a type of accreditation – via capital improvement mini-grants. State and federal regulations will require centers that serve children receiving subsidized tuition – such as for children living in poverty, in foster care or those with specialized needs – to have this rating by the end of the year. Keeping an ample supply of childcare facilities, especially those with flexible schedules, has been identified as a local workforce issue, he says.
SEDA also serves as the parent agency for the Savannah Regional Film Commission, which helms the movie and TV production efforts that have become a major powerhouse in the local economy. In 2019, entertainment production generated $125.6 million in direct spending, leading to a $266.3-million economic impact for the region, the commission says. That includes 129 professional productions and 56 student productions, among them films like The Glorias and NBC's Council of Dads, based on Savannahian-turned-New- Yorker Bruce Feiler's book.
"We've restructured to attract more TV series, because they're here longer, and Council of Dads is a good example," he says.
SEDA is four years into a five-year program of local incentives that complement state film and TV production credits. Will the program be extended? "It's too early to tell, but maybe as long as the state keeps up its end, and a lot depends on the market," Tollison says, in a veiled reference to the uncertainty about how the entertainment industry will react when and if restrictive new abortion laws take effect or if state tax credits are adjusted.
Meanwhile, on more traditional economic development fronts, SEDA expects to make some announcements soon about tier-one suppliers in aerospace, linked to Gulfstream, still far and away the county's largest employer despite a round of layoffs last year. New manufacturer Plastic Express is making Savannah an export market for resin products, Tollison notes, and the Savannah Manufacturing Center – SEDA's latest pad-ready industrial site – likely will be completed later this year.
---
Apprenticeships and Internships
Major employers like Gulfstream Aerospace and St. Joseph's/Candler, operator of two of Savannah's three general hospitals, are partnering with the Savannah-Chatham County Public School System to address their workforce development needs – grooming potential employees early in their
high school careers rather than waiting for technical college. And that's good news, says M. Ann Levett, the system's superintendent.
The goal is for each student to graduate prepared for additional education, the military or direct entry into the workforce, she says, and she doesn't shy away from apprenticeships and internships, even for the traditionally college-bound. Education has evolved from the theoretical and has to be practical about workforce issues, she says.
"I have five college degrees – I still need a job," she says. "No matter how many college degrees you have, you have to sustain yourself and your family. That's one thing schools are more in tune with now. The days are gone when we didn't think about the economic outlook. We don't just teach a standard curriculum and send them out saying 'Oh, I hope you make it.'"
A prime example is the Aviation Manufacturing and Service Program, based at Groves High School near Gulfstream. This January, 27 ninth graders became the first enrollees in a
program that, with the cooperation of Savannah Technical College, will see them work toward aviation careers each year in high school. Thanks to dual enrollment in the technical college, they can graduate with additional professional certifications in aircraft assembly or avionics.
Then there's the Community Education and Health Screening Clinic at Beach High School. It will give high school students interested in allied medical careers an opportunity to work alongside physicians from St. Joseph's/Candler in a community clinic located on the school grounds.
Other apprenticeship programs are in place for building trades and welding, she says.
And students aren't the only ones taking classes. SEDA has stepped into the arena, offering classes to teachers, counselors and other educators that give a first-hand look at what it takes to succeed in manufacturing and other industries in one class and at creative careers like film production in another.
It's another example of the diversity of the economy and the commitment by the community to work together to keep making life better in the Savannah area.
---
Local Flavor
All Aboard
Every city with a past boasts at least one example of the one that got away – major buildings with rich histories and architectural virtues that fell to the wrecking ball. Savannah, appropriately for a city whose image is bound up with all things historic, has several.
There was the original Hotel DeSoto, built in 1890 and replaced in the mid-1960s by the modern convention hotel that still bears the DeSoto name. There was Ellis Square, home of the original City Market building, that was demolished in 1954 to make way for a parking garage – which, in a feat of urban resurrection, was in turn demolished more than 50 years later to become Ellis Square once again. And there was Savannah Union Station, an elaborate and ornate c. 1902 structure complete with towers and an octagonal rotunda that was destroyed in 1963 to make way for the terminus of Interstate 16.
When Savannahians talk about the long-vanished Union Station, it's usually with a sniff at its modern replacement that was originally leased to the Atlantic Coast Line and Seaboard Airline railroads and is now owned by Amtrak. But in an ironic twist, the replacement station has now been around long enough that its own mid-century modern architectural style is coming in for some historical appreciation.
You'll find Savannah's Amtrak station far from the city's tourist attractions, deep in a slightly intimidating light industrial area interspersed with vacant lots. Amtrak says the annual station ridership tops 50,000 a year, but show up between the arrivals of the Palmetto, Silver Meteor and Silver Star and you'll likely have the place virtually to yourself.
Admire the exterior tile mosaic that simplistically depicts a steam locomotive and then step inside – into a virtual time machine. The trains you catch here can take you to New York, Washington, D.C., or Miami, but the vast open waiting room takes you straight to the '60s.
A stylized clock is built high into one of the walls, which also sports metal letters as signage. The terrazzo floor has some cracks, the only visual shabbiness on display. Pierced metal light fixtures and seating further set the period, and there's even a wood-framed telephone booth that still houses a phone.
Dominating the large waiting area are two murals in after-dinner-mint pastel shades, depicting the Port of Savannah on one side and the city of Savannah on the other. Amtrak attributes these to Tattersfield Associates of Philadelphia, and they depict many of the sites on any Savannah tourist's standard itinerary (along with, ironically enough, the long-gone Savannah Union Station).
Beauty is in the eye of the beholder, and where one person sees a mid-century gem, someone else sees something less. Five years ago, the citylab.com website blasted it among "The Saddest Amtrak Stations in America." Never mind such naysayers, though: this station has aged into respectability.