2020 Economic Yearbook: Northwest Georgia
Location, Location, Location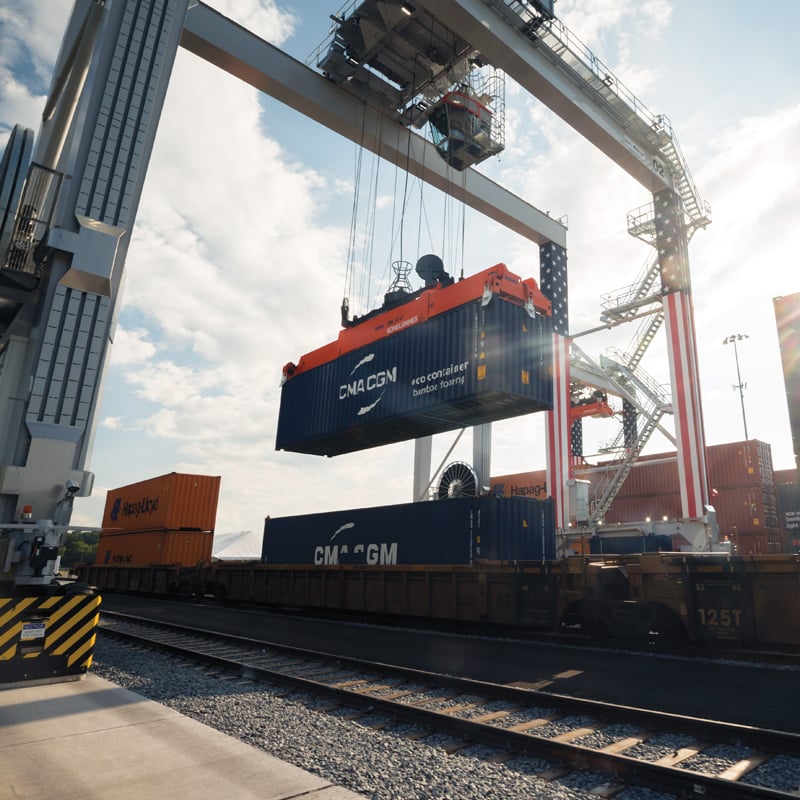 Access to major interstates, close proximity to the world's largest airport, a ready workforce and communities eager to welcome businesses make Northwest Georgia an ideal location for both international and domestic companies looking to put down roots in the southeastern United States.
And it doesn't hurt that the area has amazing natural and man-made resources, including glorious mountains and the Appalachian Regional Port (ARP), an inland facility that offers importers and exporters a direct, 388-mile rail route to the Port of Savannah.
"This port is now the No. 1 economic development asset in North Georgia," says Illya Copeland, executive director of the Murray County Industrial Development Authority and the Development Authority of Murray County. "People know about us now around the world, which is fantastic."
Novalis Innovative Flooring is just one of the most recent international companies to announce plans for additional investment in Georgia. The producer of luxury vinyl tile flooring will build a $30-million production facility – its first in the U.S. – next door to its North American headquarters and innovation center in Dalton. The new facility is expected to deliver 120 new jobs.
"It's extremely gratifying that the area's industry talent and workforce played a key role in Novalis Innovative Flooring's decision to expand," says Pat Wilson, commissioner of the Georgia Department of Economic Development. "In 2019, Georgia set a new record in international trade, and we were the No. 1 exporter among U.S. states for floor covering product exports."
More than 30 international companies call the Dalton area home, including floor-covering behemoths Shaw Industries and Mohawk Industries, along with solar panel manufacturer Hanwha Q CELLS and equine nutrition manufacturer Cavalor, says Carl Campbell, executive director of the Dalton-Whitfield County Joint Development Authority.
"Dalton has a vibrant long-term multi-cultural community from a manufacturing base that has been here for decades," he says.
Both foreign and domestic companies are attracted to the Northwest Georgia area for the same reasons: access to an excellent workforce and speed to market, says Melinda Lemmon, executive director of the Cartersville-Bartow County Department of Economic Development. And once these companies arrive, they put down roots and continue to expand.
An example is Anheuser-Busch, which has been part of the Cartersville community since 1993 and announced an $85-million investment in January that will involve 12 new jobs.
China-based GreenView Floors International, a manufacturer of vinyl and laminate flooring, announced in December that it would bring its first U.S. manufacturing facility to Adairsville. The $26-million investment will deliver 238 jobs.
Georgia's own fast-food favorite Chick-fil-A announced the first company-owned distribution center last year. It's expected to open in Cartersville later this year and be home to 300 employees.
The area's largest employer is Shaw Industries, with six facilities. In addition to making carpet for use in homes, the company also makes commercial carpet tiles for hotels and large companies. "They make yarn in this region. There are yarns made in northwest Georgia that are used here for things like commercial carpet tiles. Shaw has four carpet tile facilities," Lemmon says. "One is in China, one is in Scotland and the other two plants are right here in Bartow County."
---
New Leaders
In neighboring Polk County, 2020 got off to a great start, says Terry Schwindler, the new president and CEO of the Development Authority of Polk County. Expansion announcements this year include Gildan Yarns' $3-million expansion and Sheboygan Paint's $1.2-million expansion. These continue a long history of manufacturing in Polk.
"Polk County, Georgia, has been a preferred location for manufacturers for more than a century, and while the products have changed, the industry-friendly attitude, innovative workforce development programs and dedicated workforce continue to contribute to the success of the county's diverse manufacturing base," Schwindler says.
Rome also has new leadership. Rome native Jeanne Krueger has been with the Rome Floyd Chamber for five years and was named president and CEO last July. It's a busy time to be leading the organization, with huge expansions announced in 2019 by business stalwarts including Ball Corp., a $200-million investment in manufacturing aluminum cups; International Paper, $150 million; Georgia-Pacific, $30 million; and Marglen Industries, which recycles plastic bottles into sustainable fiber and resin, $17 million.
Southeastern Mills, which produces gravy and baking mixes, opened a new culinary innovation center to test its products and a center for superior logistics to get goods on the road and around the world more efficiently, Krueger says.
Rome isn't all business, however. Fun is coming as the ACC men's and women's tennis championships are scheduled as of press time at the Rome Tennis Center at Berry College this month and in April 2021, bringing not only teams of players, but families, friends and tennis fans to enjoy the action and spend money in area hotels and restaurants.
We're excited about "all that's going on across Rome and Floyd County," Krueger says. "College students love it here. We're a thriving medical community. We have great manufacturing, and many of those are suppliers for the automotive industry. We see all of these different entities growing and investing in their people and jobs and in our community."
---
Working Across the Lines
Dade County's proximity to Chattanooga and the inland port are attractive to foreign trade. With easy access to Interstates 24, 59 and 75 (which is a bit farther away) Dade draws employees from Georgia and Tennessee, says William Back, executive director of the Dade County Industrial Development Authority.
About 22% of the county's businesses have international connections, particularly in the automotive and food industries, Back says.
Murray County is courting businesses in China, Japan and Germany – as well as domestic companies – that are interested in being near the inland port. "Easily 80% to 90% of what I'm working on now is because of the port," says Copeland. In the past year and a half, since ARP opened, he says he's closed four new projects, three of which are under construction with openings planned soon.
We've created more than 400 new job opportunities," he says. "That's big for us; we're a community of 40,000 people."
The job-creating companies include the recently opened GE Appliances distribution center, two tenants in the county's new industrial park and Appalachian Port Services, which repairs, maintains and stores shipping containers for customers as a value-added service to the port.
In addition, Copeland says several developers are interested in constructing spec buildings near the inland port. The average size will be in the 250,000- to 400,000-square-foot range with capabilities for expansion.
"On the horizon, we have the potential of creating another 400 to 600 jobs with two projects we have in hand now," he adds. "And it's not just the numbers, it's the quality of jobs. It's a diverse mix that will bring average wages up. We're seeing new middle management and upper management-type jobs, and with those you'll have excellent benefits."
City, county and regional officials in Northwest Georgia work together to attract businesses to the area, making it a powerhouse when it comes to competing for foreign and domestic trade, Back says.
The relatively low cost of doing business in Northwest Georgia, the state's willingness to work with foreign companies and a skilled and experienced labor force are the reasons the region has been able to compete with other parts of Georgia as well as other southeastern states to land – and keep – businesses across industry sectors.