2020 Economic Yearbook: Metro Atlanta
A Humming Hub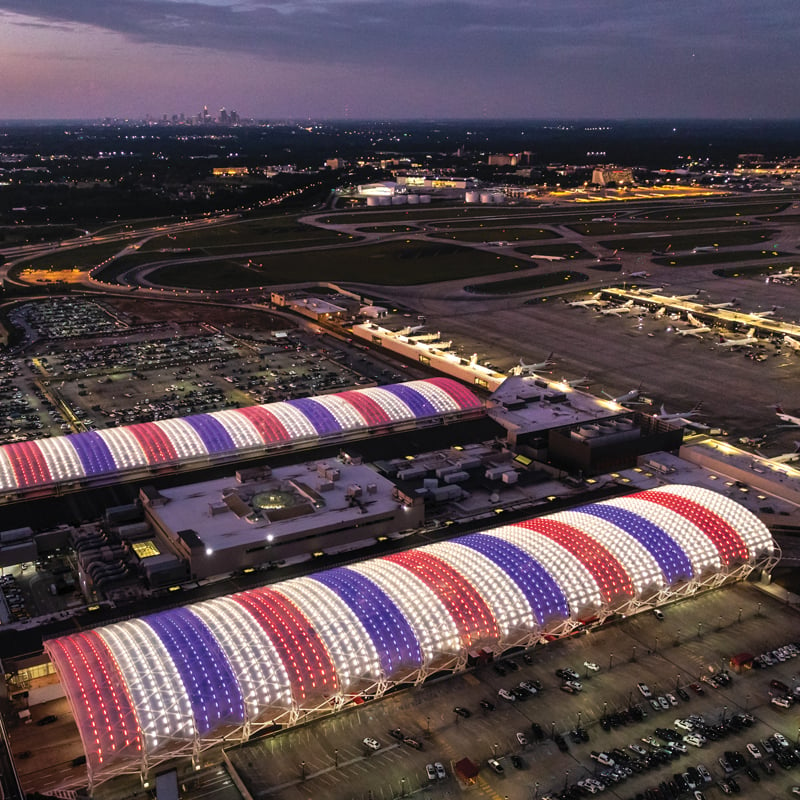 Numbers don't tell the whole story about a region's economic health, but it's a place to start when it comes to global trade. For example, the Metro Atlanta Chamber (MAC) lists 2,600 internationally owned establishments and 78 consulates and trade offices. Its Metro Export Challenge provides grants to help small-to-medium-sized companies expand internationally and has supported more than 90 companies in the past three years. There's no denying that on the global trade front, Metro Atlanta has been feeling pretty good.
Atlanta has always been a hub for commerce. Hartsfield-Jackson Atlanta International Airport – the world's busiest – is a big incentive to locate North American headquarters or major operations here since it offers easy access for multinational companies to and from global headquarters, as well as to the rest of the U.S. So is the Port of Savannah, closely connected to Atlanta as cargo comes in and crosses Georgia along train tracks and interstates and is distributed to the rest of the Southeast. With its diverse economy and workforce, the Atlanta area draws international business thanks to that strong background in logistics and supply chain management.
Atlanta has taken its legacy as a hub for trains and planes (and trucks) and evolved that into the highly technical areas of supply chain software, says John Woodward, vice president of Global Commerce at MAC.
"As that sector has become more automated and computerized … it's also a hub for the supply chain software companies and management companies," he says. So companies like Dematic, for instance, call Atlanta home for their global headquarters. In 2019, the supply chain tech company that has engineering centers in 25 countries decided to establish its headquarters in Midtown's Tech Square, investing about $30 million and creating more than 230 jobs.
"Trade has helped our companies grow," says Joan Young, president of the Fayette County Development Authority. Peachtree City's Aventure Aviation, for example, was one of 25 Atlanta companies that won a 2018 GLOBE Award from the Georgia Department of Economic Development (GDEcD), recognizing companies that have broken into new international markets. That trade isn't limited to physical products, either. Last year's winners of MAC's Export Challenge included an engineering firm, a cloud software company focusing on due diligence data search and Skillshot Media, a company in the growing area of esports, competitions among multiple players on video games. Esports is an international category where Woodward thinks Atlanta can become a U.S. hub, given the city's prominence in digital media and engineering.
Among the international companies locating or expanding in Atlanta are Canadian produce company Earth Fresh (100 jobs) in College Park, European data intelligence company Collibra (more than 200 jobs) in Atlanta, Finnish content discovery hub Smarp (60 jobs) in Atlanta and German auto tray maker Variotech (20 jobs) at its new North American headquarters in Fulton County.
---
Strength in Numbers
Many counties in the metro area have established themselves as hubs with clusters of companies that share a specialization, a U.S. market or a country of origin. The Lakes at Green Valley, an eco-business park in Spalding County, is home to five Japanese companies including Mitsui Kinzoku Die-Casting Technology America (MKDA), which is bringing 30 new jobs and an investment of $20 million.
"To this point, every company that has located in the park has been Japanese," says Chuck Copeland, chair of the Griffin-Spalding Development Authority board, who says that a sixth Japanese company has committed to join the park.
Having a cluster of established companies from one country or region helps recruit others, Copeland says, because prospects can get on-the-ground information from their counterparts already in the community.
Georgia and Atlanta also benefit from the clustering of automotive manufacturers. Korean company Sangsin Technology America is opening a new $20-million factory in McDonough that's bringing about 200 jobs, making brakes and axles for trucks, buses and trailers. Hitachi Automotive Systems Americas is expanding its existing facility in Monroe, which will add 100 jobs in Walton County.
In Cherokee County, a group of Dutch and German companies includes Inalfa Roof Systems in Acworth, which supplies sunroofs to the BMW plant in South Carolina. The Dutch company is Cherokee County's largest manufacturer, with 300 jobs added over the past four years, and won the 2019 Automotive Supplier of the Year award from GDEcD.
A new Dutch company, Thomas Regout Inc., which makes adjustable mounts for interactive flat panels in schools, opened its first U.S. location in Woodstock with 25 jobs and $2 million in investment. Overall, Misti Martin, president of the Cherokee Office of Economic Development, says the county saw 13 established companies expand operations and 600 jobs were announced or committed last year.
Cobb County made international commerce a priority in 2019, starting with its first international trade mission to Toronto. Chamber President and CEO Sharon Mason says Cobb is home to more than 200 international companies, including those from Canada, Japan and Germany. German company thyssenkrupp continues to build its North American headquarters and innovation center at The Battery, complete with a 420-foot-tall test tower for its elevator products.
"Last year was a great year where we helped with almost 2,500 jobs and 19 companies expanding or locating to our area," says Dana Johnson, executive vice president of economic development at the chamber and executive director of Select Cobb. They include Elogistics, a New Jersey-based logistics company that brought 150 jobs to Austell, and Plethora, an on-demand manufacturing company that brought 250 jobs to Marietta. Johnson and Mason both credit the strength of the county's workforce as a major attraction.
---
Priming the Pipeline
Cobb Workforce Partnership is a coalition of the county's higher education institutions, K-12 schools and businesses that was launched a few years ago to address workforce needs and skills gaps. This year Marietta City Schools will launch a college and career academy, and in the fall the county school district will open the Cobb Career Academy at Osborne High School.
It's not just Cobb – the entire state received the top ranking for workforce development in the South Atlantic region, according to Site Selection magazine.
"Workforce crosses all boundaries," says Johnson. "It doesn't matter if you are a national company or an international company, a startup or a legacy company. All of them need workforce right now because our unemployment is so low."
Daniel Jackson, president and CEO of Carroll Tomorrow and the Carroll County Chamber of Commerce, couldn't agree more. "We know that's the No. 1 issue for our businesses," he says. Here, too, higher education institutions work with public schools, private companies, the chamber and other community leaders to prepare high school students to either "enroll, enlist or be employed."
In addition to an eighth-grade career academy, the partnership also seeks to identify high school students who haven't made a plan yet. "We're trying to provide some opportunities to do some fast-track training, get them trained and coached up, and create a job fair to get them employed before they graduate," says Jackson.
Carroll County is home to 14 international companies, including Japan-based auto parts supplier Yachiyo, which has expanded several times since opening a plant in Carrollton in 2013. Also active this past year was Japanese-owned OFS, which added new jobs in Carrollton and Norcross. And Tanner Health System continues to expand in Carrollton, Villa Rica and Bremen, according to Jackson.
At the north end of the metro area, a reputation for a high-tech workforce is paying off with a cluster of tech companies. ZKTeco, a global biometric tech company that will locate its U.S. headquarters in Alpharetta, brings 40 new jobs. And Premier Automation, an engineering company, opened a new location in Forsyth County.
"This was a great project for us," says Robert Long, vice president of economic development for the Forsyth County Chamber of Commerce. "It will be about 100 jobs, and probably a good quarter of the workforce is engineers. That's a great fit for us because we have a concentration of engineers that live in Forsyth."
In Cherokee County, workforce development efforts include a six-week paid high-school internship program that launched in 2018. Electronics parts supplier Roytec Industries participated in the pilot and developed a program to cross-train the interns in all departments of the company. "They were able to retain some of their interns and make those into part-time and then full-time positions," says Martin.
Workforce was also a key factor in an expansion that brought 300 jobs to Gwinnett County. CarMax launched its new Customer Experience Center where employees will help customers buy a car online, over the phone or in person – or a combination of those. Speaking languages other than English was crucial to the venture, says Andrew Carnes, vice president of economic development for the Gwinnett Chamber.
"Our diversity index is 80% in Gwinnett, and it's one of the things we talk about to prospects," Carnes says. "We have over 600 internationally based companies, so we are extremely diverse. … We speak over 100 languages in our school system today." That diversity means that international employees will find a level of comfort with a quality of life that includes international cuisine and grocery stores – as well as a diverse workforce.
Gwinnett saw an amazing amount of business activity last year. Belgium-based electronics manufacturer Barco added 50 jobs to an existing facility, Italian maker of refrigeration systems Rivacold announced it is opening its first U.S. manufacturing location in Buford with 140 jobs and German company Boehringer Ingelheim's animal health subsidiary located its North American headquarters in Duluth, adding 75 new jobs. The company is also adding more than 150 jobs elsewhere in the state.
That doesn't even count Amazon's new fulfillment center on the Gwinnett-DeKalb border that will bring 1,000 new jobs, or OS National's expansion of its title and escrow business at its Gwinnett headquarters that will add 1,000 jobs. Multinational transportation company Hapag-Lloyd America is expanding its service center and adding 363 jobs. And, says Carnes, there are 14 other projects that will be announced soon.
For the past five years, Gwinnett has been focused on creating a sense of place, says Carnes – places with personality where people can live, work and play, whether that's in Peachtree Corners Town Center or around the Infinite Energy Center in Duluth. "Companies locate where talent is, and talent locates where we have a sense of place – where [people] can walk out of their flat or home and go to a coffee shop or a restaurant."
That quality of life is important in Henry County, too. You might credit the county's proximity to the airport, and there's no question that helps, as does its reputation for being a logistics hub. But F.J. "Josh" Fenn, executive director of the Henry County Development Authority, notes that as more people move to Henry, "the workforce is coming to us." In 2019 the county saw more than 1,000 new jobs created through expansions and new business locations.
Beyond international trade, a number of counties and cities saw major projects last year, including four distribution centers: Stitch Fix's facility in Douglas County will create more than 900 jobs over a few years for the personal styling service. Grocery retailer Kroger is partnering with retail-tech company Ocado to create a new distribution center in Forest Park with 410 jobs. Global apparel company PVH is investing $77.6 million and creating 575 jobs at a distribution and warehouse facility in Palmetto. POP Displays is building a new manufacturing and distribution facility in East Point that brings 280 jobs.
As Metro Atlanta continues to build on its advantages – from the airport to the workforce efforts locally and at the state level – businesses should keep coming, and growing, in the region.