New logistics center opens in Murray County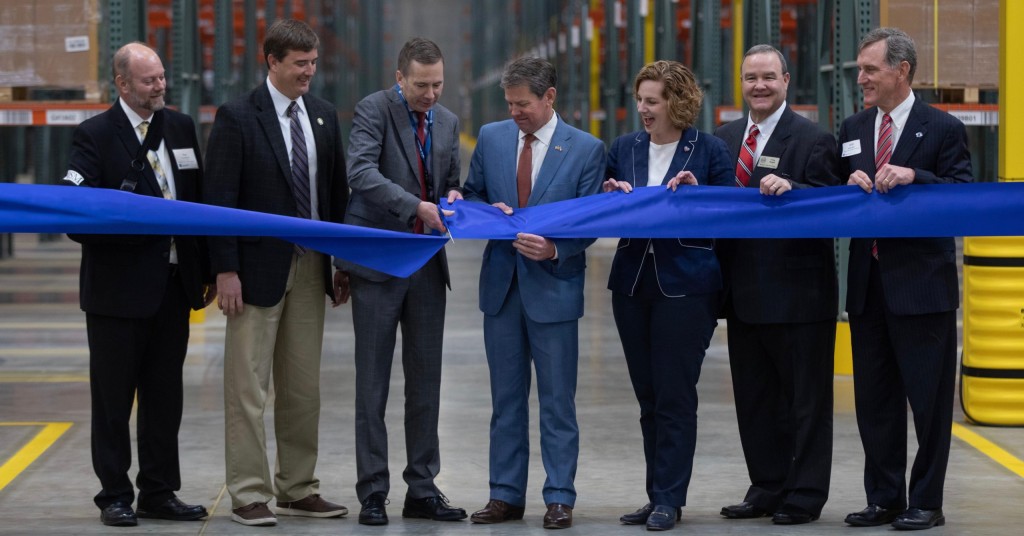 This week, the partnership among the state of Georgia, Murray County, the Georgia Ports Authority and GE Appliances (GEA) celebrated a huge win for all with the opening of GEA's Southern Logistics Center. An important economic development project for Georgia and Murray County, the center is employing 50 people now and will add another 50 within a year. The $32-million state-of-the-art facility is the largest investment and the first fulfillment and distribution warehouse located near the county's Appalachian Regional Port (ARP). ARP, which opened in 2018, is a rail-connected inland extension of the Port of Savannah.
The new facility will be a strategic link in GEA's U.S. supply chain. The 504,000-square-foot center will facilitate fulfillment of parts for some of the 2,300 appliances that GEA plants build per hour. The company expects a 30% increase in transportation efficiency resulting from parts being delivered by rail and estimates it will eliminate more than three million long-haul trucking miles.
Learn more about how Georgia's ports, including ARP, are spurring economic development in "Good News Keeps Coming," in our November issue.
GE Appliances provided the photo of the Southern Logistics Center ribbon cutting. Shown left to right are: Illya Copeland, executive director, Murray County Industrial Development Authority; Bert Brantley, COO, Georgia Department of Economic Development; Kevin Nolan, CEO, GE Appliances; Georgia Governor Brian Kemp; Melanie Cook, COO, GE Appliances; Greg Hogan, sole commissioner, Murray County; and Will McKnight, Georgia Ports Authority Board chair
 Do you follow us? Find us on Linkedin, Facebook, Twitter and Instagram.