Waycross/Ware County: Investing for the Future
Logistics, education and tourism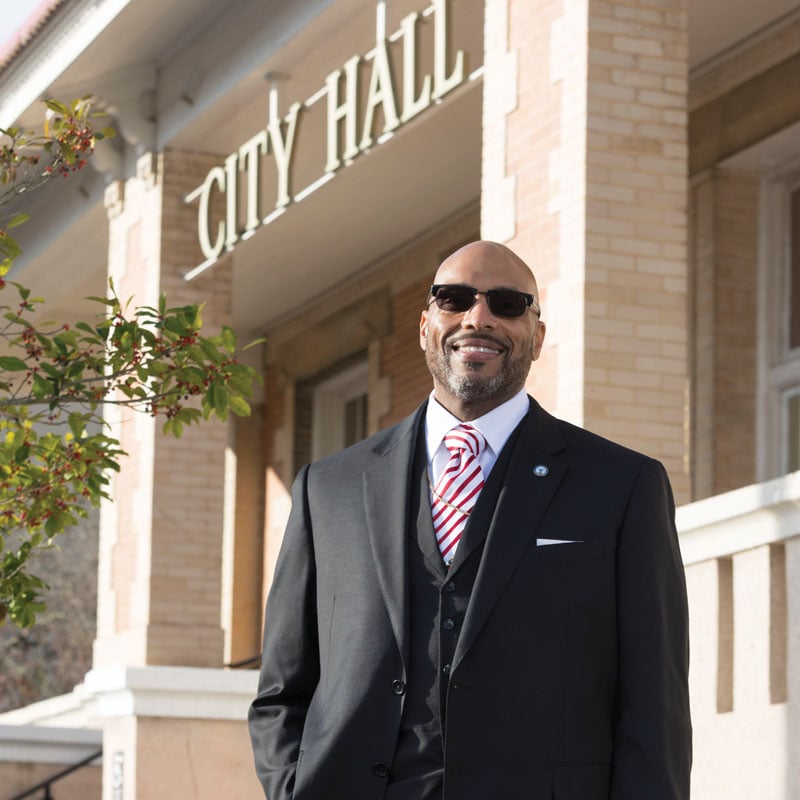 In Waycross and Ware County, its not just "location, location, location." It's also "logistics, logistics, logistics."
"Our No. 1 strength is that we are a logistical hub for our region. We have access to rail, to our airport, easy routes to bigger cities and yet it is still a small-town environment where people know you and know your family," says Jana Dyke, president and CEO of the Waycross-Ware County Development Authority (WWDA). "From a business standpoint, location is our selling point, but we also have the warm and fuzzy community side."
---
Rail Assets
Focusing on logistics as it recruits industry and aims to help existing industries grow has been a successful WWDA strategy for the area, Dyke says. She and fellow local business leaders put a lot of stock in the wealth of rail assets on the ground in Ware County. While interstates passed the area by long ago, recent years have seen the development of four-lane links to I-75 to the west and I-95 to the east – useful, given the relative proximity of the ports of Brunswick and Jacksonville.
"We've had the creation of over 400 jobs since 2017 – in a community of 35,000. We've had 350,000 square feet of industrial space that's been developed, predominantly through existing industries expanding, and we've had right at $60 million in capital investment," Dyke says.
Smaller industries build varied products here – from fishing boats to mattresses to mobile homes – but the biggest thing that gets put together in Ware County is trains. No, not the actual train equipment, but the trains themselves – the linking of the railcars that form the train. If you've sat at a railroad crossing on the East Coast waiting for a long freight train to pass, chances are good that the train streaking past was assembled at CSX Transportation's "hump yard" – a sprawling complex where railcars coast down slight inclines to couple to other cars to form a train.
"If there's a hiccup here, all the major rail traffic on the East Coast of the United States is affected," says J. Edward Cady Jr., executive director of the Downtown Waycross Development Authority.
Why does an exec who's focused on downtown revitalization know that much about trains? Well, there's a lot of that in Waycross, where railroad tracks are part of the warp and weft of the community. Railroad complex buildings, both active and not, are part and parcel of downtown Waycross. There are places for train buffs to watch the trains go by and plans to enhance that experience. There are also new uses for railroad infrastructure. The Waycross-Ware County Sports Hall of Fame, for example, is housed in a former railroad building downtown.
Danny Yarbrough is the vice chair of the Downtown Waycross Development Authority, and he's proud not only of what's happening in Waycross but also how it's being done.
"Our town is old," he says. "Our infrastructure is old. We've made a commitment to try to repair roads fully instead of just covering them up. We passed a local T-SPLOST [Transportation Special Purpose Local Option Sales Tax] that's going to bring in $45 million in five years to handle infrastructure needs. This town was willing to tax itself to take care of our problem. We are not relying on the state or someone else to come in and to take care of our problem. To me, that speaks volumes about our community."
Cady echoes that sentiment. "Our community is reinvesting in itself. It's not looking for a knight on a horse to ride in and save our downtown," he says.
The former Ware Hotel was redone a few years ago as affordable housing and has maintained more than 90% occupancy since then, the two development officials say. Next up? A similar project with the Bunn Building, a c. 1912 five-story brick building downtown.
"Bill Gross is doing a $9-million restoration of this project, and it will become affordable housing. He's taking one of our historic landmark buildings that was in decline, and it should really be a catalyst for our downtown," Cady says.
That big dream threatened to go up in smoke – literally – last May, when fire broke out on the building's roof as renovation work was underway. But the dramatic-looking fire didn't destroy the largely concrete building, touted as fireproof when it was new, and work resumed the next day.
Cady admits the downtown area has lots of work to do, but he's optimistic. "The last year, we have had more inquiries about our buildings downtown. We've had people looking at us that we didn't have two, three years ago."
---
Swamp Tourism
A small Southern town that's wrestling with revitalizing its downtown, however optimistically, seems unlikely to become an international tourist destination. But Waycross has something that no other place on the planet has – the Okefenokee Swamp, "Land of the Trembling Earth." It's the largest swamp in North America and features a variety of habitats that support more than 400 species of vertebrates.
Ware County is the largest county in the state of Georgia, if you go by landmass, that is. It's just that a large part of the landmass is under the black
water of the Okefenokee, which covers about 700 square miles as it straddles the Georgia-Florida border.
The swamp is home to wildlife from gators to black bears, but perhaps its most famous denizen is one particular 'possum named Pogo. The Pogo comic strip by cartoonist Walt Kelly hasn't been around since the early 1970s, but the famous swamp philosopher still holds pride of place on the water tower in downtown Waycross. Think of him as a symbol of the town's relationship with its famous geographical feature (although Kelly's connection to the town was tenuous, at best).
"It's an economic driver for Waycross. While other communities have museums, we have the totally unique Okefenokee," says Dr. William Clark III, better known as Bill. And he's in a perfect position to see the way the swamp flows through the town's economy – he's both immediate past chair of the WWDA and chair of the board of trustees for Okefenokee Swamp Park (as well as an ophthalmologic surgeon).
He explains that the bulk of the swamp is included in the Okefenokee National Wildlife Refuge. Visitors to the swamp have a choice of three entry routes into the famed swamp, and one of them is Okefenokee Swamp Park in Ware County, which is operated by a nonprofit entity. (The others are via the federal facility and a state park, both of which are outside of Ware.)
Martin C. Bell, general manager since 1995, explains that Okefenokee Swamp Park – located about 8 miles outside Waycross on the edge of the swamp – attracts 80,000 visitors a year. That's two visitors for every resident of the entire county, with 10,000 visitors left over.
"They come from all over the U.S., from Germany, from Canada," he says, adding that the park appears particularly popular with German tourists.
Visitors to Okefenokee Swamp Park will find the facilities smack of the '80s and need a little updating, but plans are in the works for a capital campaign to modernize. The real attraction is not the black bears in a pen nor the preserved skeleton of a 14-foot, 100-year-old alligator, but
the swamp itself. Guides take flat-bottomed tour boats – the product of local manufacturer Carolina Skiff, which produces all of its products in Ware County – into the swamp's waterway, offering visitors a close-up look at this natural wonder.
The park added a train to its attractions in 1999 because ongoing drought conditions sometimes interfered with the tour boats' travels, says Bell. This winter, the impact of that drought was visible, with water two feet lower than usual.
---
Changing of the Guard
Waycross enters the new decade with a new mayor, Michael-Angelo James, a bishop in his church. And it might well be looking at a second attempt to renew a SPLOST program that failed last year.
"That's why we'll do listening tours," James says. "Once we listen, we'll know how to put something together for the city."
Immediate past Mayor John Knox believes the SPLOST renewal failed – after a long track record of successful sales tax referendums, including the recent T-SPLOST – because it came up during an election cycle with lots of uncontested seats and lower voter turnout.
Meanwhile, Patrick Simmons, board chair of the Waycross-Ware County Chamber of Commerce, points to the value of the area's education resources.
"We have good school systems, both public schools and higher education. We are fortunate to have both a technical college and regents college right here in Waycross, Coastal Pines Technical College and South Georgia State College. So they're able, with Quick Start, to offer customized training and customized courses to assist employers," he says.
"At South Georgia State College we are committed to continuous collaboration with our community and regional partners through the establishment and maintenance of partnerships for educational and workforce development purposes," says Ingrid Thompson-Sellers, president of South Georgia State College. "As we focus on educating and training people to meet the workforce needs in South Georgia, we continue to positively impact the economic viability, prosperity and stability of our region."
Knox offers up a specific example of education and business working together. "GATX [a major rail car leasing firm] has a maintenance operation locally. The development authority has been working with GATX for about three to four years. Now, young people can come out of school with a welding certification, and I think about the lowest they pay is around $44,000."
In other words, railroading is still the area's bread and butter.
---
Local Flavor
Elvis Was Here
The most ardent local history buff in Waycross isn't a native. In fact, she's a transplant from Ohio who's only lived in Waycross for 25 years or so.
But Marla Howell's enthusiasm for her adopted hometown is unmistakable, and she has a wealth of stories from Waycross's glory days, back when the railroads ruled and this was essentially a company town. Oh, and she not only knows the history, she owns part of it – she and husband Steve bought and restored Waycross's oldest café back in 1994.
The Plant Café has stood at 504 Plant Avenue since at least 1921, and Marla is convinced it really goes further back than that. Every inch of wall space in the small restaurant is covered with posters and memorabilia – some vintage, some reproduction – and most of it salutes the famous folk who have passed through Waycross. After all, this place figures in the birth of Burt Reynolds and Red Lobster restaurants and has played host to the likes of Elvis and Ella Fitzgerald.
"Burt Reynolds was born in Waycross. His mother was on the way to Florida by train, and her water broke right here in the restaurant, and he was born at the local hospital," Howell says.
The Red Lobster story may be a bit more of a stretch. Red Lobster founder Bill Darden opened his first restaurant on Lee Avenue in Waycross in 1938, 30 years before the massive seafood franchise launched in Florida. The precursor restaurant was a diner called the Green Frog, with a tag line of "Service with a Hop." The internet even sports a photo of Darden holding a placard promoting something called the "Swamp Boy Breakfast" at the Green Frog.
"Waycross also had Ella Fitzgerald, Cab Callaway and Louie Armstrong perform twice a year here," Marla says. The trio traveled by train each year to entertain snowbirds in Florida, she says, and they broke up their trip in Waycross, where they performed at the city auditorium before walking back to the segregated hotel in the 1930s.
Back when rail travel filled the role now played by airlines, the 300-seat city auditorium benefited from all the trains whose ways crossed here. Marla reads out a laundry list of stars: Hank Williams (the original one), Minnie Pearl, Ray Charles, James Brown, the Carter family, Chuck Berry.
Today the theater in town hosts community productions, but the legendary performers live on, on the walls of the Plant Café. The menu is simple – burgers, sandwiches, soup – and it's a welcome break from the fast-food franchises that make up the bulk of the local restaurants.
Marla insists there's no irony intended in the placement of her two vintage (and non-local) Elvis posters in the restaurant's bathroom. That was just the only bare wall space available when she acquired them.