Trendsetters: Sleep Pod Startup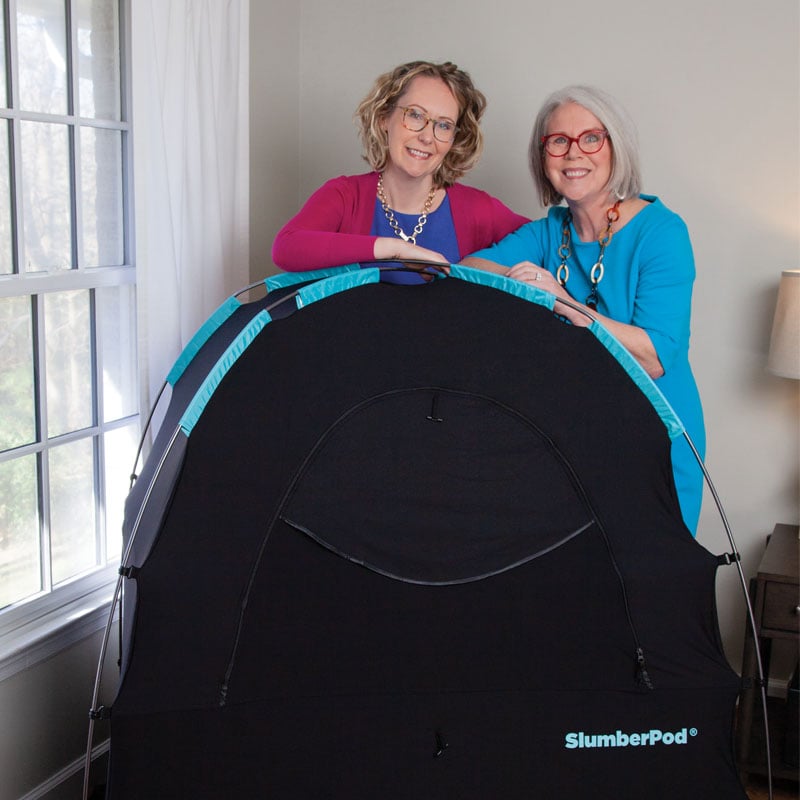 "Necessity is the mother of invention," as the saying goes. A perfect example of the proverb is the mother-daughter team who invented a product that helps babies, toddlers and their parents sleep better when traveling. SlumberPod, the brainchild of Lou Childs of Columbus and Katy
Mallory of Decatur (Lou's daughter), is an easy-to-assemble privacy pod – like a freestanding tent – that completely encloses a travel crib, playard or toddler mattress.
The idea for SlumberPod surfaced in 2014 when Mallory and her husband were visiting Childs for the winter holidays with their toddler. The three had to share a room, and the one-and-a-half-year-old daughter kept waking up throughout the night. She'd see her parents across the room and couldn't go back to sleep, causing everyone to remain awake.
"We left a day early because we were so sleep deprived and miserable," Mallory says. "We immediately started looking for alternatives and couldn't find anything."
Nearly two years later – after many do-it-yourself fails – she and Childs created the initial design for SlumberPod. With help from an accelerator program now called Startup Columbus, the pair wrote a business plan, applied for a trademark and patent, and pitched their product to investors.
"It forced us to hit milestones," Mallory says of the program, which resulted in seed money from Columbus investors and a valuable networking contact who provided links to manufacturing facilities in Columbus and China.
The SlumberPod team also worked with Launchpad2x, an Atlanta-based female entrepreneur program, to solidify their business skills.
And they did their homework to gauge demand, surveying more than 600 parents, two-thirds of whom said their children did not sleep well when away.
Once the SlumberPod prototype was built, it was tested and reviewed before Childs and Mallory launched it in 2018 with a Kickstarter campaign that beat its goal by nine times.
Today, the bottomless tent-like structure is in demand for its many benefits. To create an optimum sleep environment, SlumberPod can be made completely dark inside or ventilation windows can be opened. Made of lightweight, breathable fabric, the pod is easy to assemble and will fit over most standard-sized sleep and play enclosures. It can be packed in carry-on luggage when collapsed.
On a whim, Childs and Mallory decided to try to sell ABC's Shark Tank investors on SlumberPod, and they were given a chance to pitch out of about 40,000 who applied in 2019. One of the sharks, Barbara Corcoran, invested $400,000 for 20% equity in the company.
Childs says the funds will be used to buy additional inventory and for enhancements like color choices to the current SlumberPod model. She estimates the company made $100,000 in revenue in the last six months of 2018, but surpassed $2 million last year.