Rural Renaissance
Initiatives throughout the state are addressing communities' unique challenges.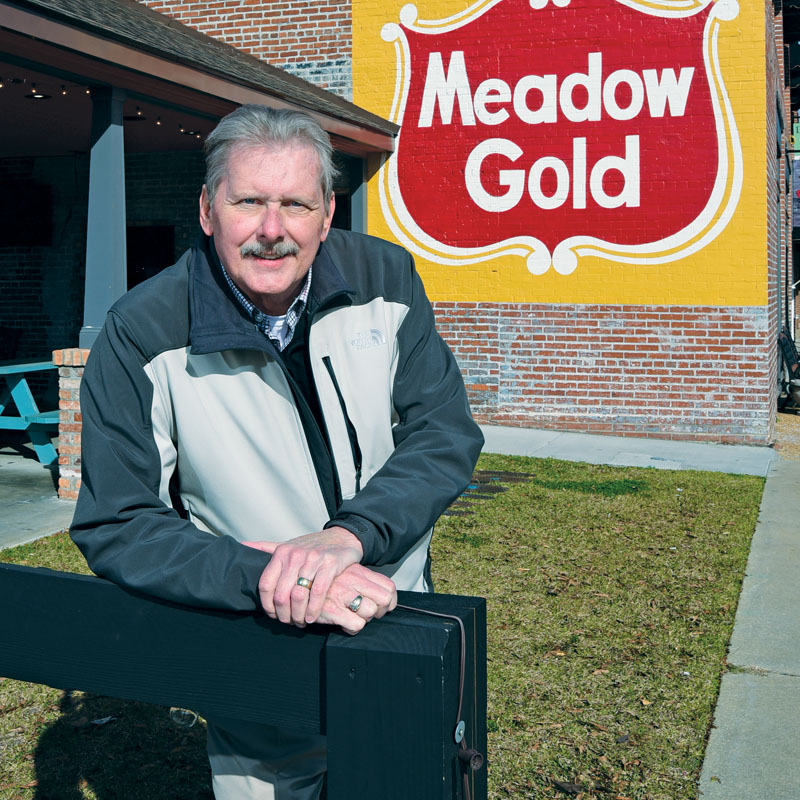 The needs and projected growth of Georgia's rural communities are quite different from their urban counterparts. While large and small metro areas are currently adding residents, rural parts of the state are seeing populations level off or decline. The Georgia Chamber of Commerce estimates that 74 mostly rural counties will lose population in the next 10 years or remain at a zero growth rate, and 84 counties will lose jobs unless significant changes are made.
Factors that can help mitigate the trends and spur rural residential growth and economic development include better access to quality healthcare, more post-secondary education and training for the jobs of the future, an increase in affordable housing and amenities that create a sense of place. Tying it all together requires rural leaders who have shifted from a purely local focus to one of regional cooperation.
The good news is that many initiatives are already underway throughout the state – supported by government leaders and public and private partners – to turn rural challenges into opportunities.
"There's been a lot of attention from a statewide perspective on rural Georgia for the last couple of years," says Darrell Moore, executive director of the Valdosta State University (VSU) Center for South Georgia Regional Impact, "and we've got a lot of good things working right now."
He likens VSU's role to that of University of Georgia's (UGA) Archway Partnership, which connects a specific community with university resources to work on an initiative that positively impacts economic development, education, workforce development, leadership, health and quality of life.
"The center is kind of like an Archway Partnership for 41 counties [in South Georgia]," he explains. Established in 2018, the VSU Center has been working on projects that include marketing plans for cities, websites for chambers of commerce and county governments, wage and benefit analyses and a workforce development video promoting South Georgia.
On another front, the Georgia Chamber opened its Center for Rural Prosperity in Tifton in 2018 and created the Rural Prosperity Council to come up with solutions to address systemic problems and ways to promote rural Georgia. Last year, it opened a satellite office in Ellijay. In addition, the chamber has hosted Rural Prosperity Summits in Tifton the past three years and a forum in Dahlonega last summer to discuss issues and share best practices.
Working in tandem with the chamber during this time, the Georgia General Assembly passed several key pieces of legislation aimed at retaining jobs and promoting growth in rural areas. Among these were laws that removed barriers to providing high-speed internet, allowed small "micro-hospitals" to provide healthcare services and provided tax credits for rural hospitals.
"Over the last two and a half years, we've tracked close to 30 bills that have gone through the General Assembly and been signed by the governor or have been included in budget recommendations that directly support and impact rural prosperity," says Chris Clark, Georgia Chamber president and CEO. "Things have coalesced in the state around making a difference and trying to improve the lives of rural Georgians."
---
Physicians: A Vital Link
When trying to recruit businesses or residents and retain them in a rural community, one of the most important factors is the ability to see a doctor and receive medical treatment. According to a report from the Georgia Board of Health Care Workforce, nine rural counties have no physician at all, while in 2018, 60 counties had no pediatrician and 76 were without an OB-GYN.
The state's longstanding doctor shortage led five hospitals to form the nonprofit South Georgia Medical Education and Research Consortium (SGMERC) in 2012 to focus on expanding the pipeline of rural physicians. These include Phoebe Putney Memorial in Dougherty County, Archbold Memorial in Thomas County, South Georgia Medical Center in Lowndes County, Colquitt Regional Medical Center and Tift Regional Medical Center.
Consortium Executive Director Jessica Rivenbark says having rural hospitals accredited to accept medical residents is key to increasing the number of doctors in rural areas.
"Residents spend at least three years in a community," she says. "They become part of the community, their kids go to the schools, they buy houses and they're more likely to stay and practice."
When SGMERC was formed, Phoebe Putney was the only South Georgia hospital with an accredited residency program, and its experience has been vital in helping other hospitals ramp up. After completing the lengthy and rigorous accreditation process, Colquitt Regional started its family medicine residency program in 2016. Last year, two of the three who completed their residencies signed on to stay at the hospital. Colquitt Regional is now in the process of pursuing accreditation in a psychiatric residency program that could recruit residents next year or in 2022.
Rivenbark says South Georgia Medical Center is working on its internal medicine residency accreditation and hopes to have the first of 15 residents in 2021 at the earliest. Archbold Memorial and Tift Regional are also interested in beginning their residency programs.
Each physician will generate an average total economic impact of $3.2 million, according to the American Medical Association. "Anytime you can place a physician, you're going to build capacity in your community," she says. "But you're also going to be able to provide quality healthcare to people in need. You're going to improve rural outcomes, and everything rises from that."
---
Filling Workforce Gaps
Physicians aren't the only healthcare workers needed in the state's rural areas. In 18 South Georgia counties, from Brooks to Brantley and Echols to Ben Hill, healthcare is a key industry that accounts for nearly 10% of all workers in the region and more than 13,000 jobs. Worksource Southern Georgia (WSG), under the auspices of the Southern Georgia Regional Commission, supports programs that produce skilled workers through partnerships with employers and secondary and post-secondary schools.
With funding from the U.S. Department of Labor administered by the Technical College System of Georgia, WSG is a one-stop shop for job seekers and employers. The organization's work commenced in 2018 with a needs assessment and goal setting around filling high-demand healthcare jobs.
"We listened to employers about people coming out of high school and post-secondary education to find out where the gaps are [for them] to be work-ready when they walk in the [employer's] door," says Roberta Lovett, WSG workforce development director. "We also focused on what are the shortages and how to get kids on track to go into healthcare professions. We're trying to make a ladder or pathway to employers' doors."
She says rural areas have to think outside the box to quickly fill the need for healthcare workers. As an example, she points to a project with Bacon County Hospital to hire and train certified nursing assistants (CNAs). The Alma hospital hired eight adults with no previous experience and trained them for nine weeks. After that, the individuals took their state licensing exam and were ready to work as CNAs. WSG assisted by supplementing the individuals' full-time salaries while they were training.
"This was one way we could respond to Bacon County Hospital," she says. "Hopefully [those CNAs] will stay and continue to work at the hospital."
While healthcare workers are one of the biggest demand sectors for rural South Georgia, Lovett says manufacturing and logistics are a close second, and WSG is now focusing on how to help fill those gaps.
---
Reviving Downtowns
In rural parts of the state, downtowns can be significant economic drivers, and the trend toward revitalizing rural downtowns is beginning to generate economic activity and create jobs. Through its Renaissance Strategic Visioning and Planning (RSVP) process, UGA's Carl Vinson Institute of Government (CVIOG) has helped more than 15 Georgia cities implement downtown revitalization in the past six years, including a unique three-city collaboration among McCaysville, Ga., its twin city of Copperhill, Tenn., and nearby Ducktown, Tenn.
"It's a great example of regional cooperation," says Saralyn Stafford, rural development manager for the CVIOG. "These are very small communities that were involved in copper mining for decades," but since mining ceased they haven't been thriving. To attract more tourism to the picturesque area, the three cities forged an economic development partnership and embarked on a strategic visioning and planning process in 2018 that resulted in co-branding the area the Copper Basin. With guidance from the institute, funding from the Chattanooga-based Lyndhurst Foundation and the state of Georgia, and input from more than 600 residents, the Copper Basin last summer unveiled its branding and revitalization efforts.
"They did an excellent job with the branding," she says. "And they've done a great job of envisioning how they can position the communities to be attractive for more tourism."
In the works for McCaysville are restored buildings, design of a 12,000-square-foot event center and music venue, beautified streetscapes and plans for a river walk and a new park. Ultimately, the hope is that the revitalization will turn the Copper Basin district into a destination that is "too great for one state," as one tagline suggests.
About five hours south in Douglas, the Main Street historic district is separate from downtown, but it's the city's central location for shopping, dining and entertainment. According to Dave Hughes, Main Street program director for the Douglas-Coffee County Chamber of Commerce, the district has been booming in the past year.
One investor purchased and renovated an old ice cream plant, adding a restaurant on the first floor and five loft apartments above it that were the first in downtown. He expanded that building with more apartments, and now Douglas has nine in the district, most of which were rented before they were constructed, says Hughes.
With renovations of other historic buildings, Hughes says 18 new businesses opened in the district last year and there are now 13 restaurants. "Right now, there are very few buildings available," he says. "We're at about 90% occupancy."
In addition, an investor built what he calls an incubator shopping village on an empty lot. The Shoppes at Tip Top, which opened in 2018, consist of 16 200- to 450-square-foot spaces that "give people the chance to get in and open a business and see how they do." Three outgrew their space last year and moved to larger quarters in the district.
He says adding more events like First Friday evenings where shops and restaurants stay open later and arts, crafts and food festivals are giving more people a reason to support downtown.
To aid in further downtown revitalization, Douglas this year has been designated as a Rural Zone, meaning it can offer tax credits to eligible businesses that create jobs and stimulate economic activities. In 2018, Bainbridge was among the first cities to receive the Rural Zone designation, and Downtown Development Authority Executive Director Amanda Glover says the incentives have worked.
"For us, the Rural Zone tax credits have had a huge impact," she says. "In the past two years we've had 57 public-private projects completed." In addition, 15 new businesses have moved into downtown creating more than 100 jobs. These include an upscale restaurant, a brewery, an architectural firm and other retail shops.
"When we applied for it [the Rural Zone designation] in 2017, we had a 24% vacancy rate," she says. "[In 2019] it was 16%, and we've got eight more properties that will be occupied in 2020, so we're steadily notching away at that vacancy rate."
Another incentive for investors and residents alike, Glover says, has been the city's open container district, where people can walk downtown with beer or wine in approved cups.
In the Bainbridge downtown development pipeline are nine loft apartments that will add to the existing 30, a boutique hotel, plans to connect the Flint riverfront to downtown with the creation of a trail system, a park expansion and an open-air venue space being developed from an 1800s livery stable.
"With the [state] legislation overall and the concentration on rural Georgia on many levels, it's helping all of us," she says. "It's starting to pay off."
---
The 2020 Census
Why it matters to rural Georgia
This month and next, most of the nation will begin responding to the 2020 Census. It's the counting of the population the U.S. Constitution mandates every 10 years.
An accurate population count is important for many reasons, including determining how much federal funding flows to states and communities each year and how many representatives each state has in Congress.
For rural communities in Georgia, census data has a direct impact on federal money available for economic development, education, healthcare, social programs and infrastructure projects. It's critically important that every resident be counted.
"We realized the impact the 2020 Census will have on rural Georgia and have worked with multiple partners on the Governor's Complete Count Committee to develop a plan to help every Georgia community secure an accurate Census count," says Darrell Moore, executive director of the Center for South Georgia Regional Impact at Valdosta State University (VSU). 
In January, the U.S. House of Representatives Committee on Oversight and Reform invited Moore to testify about the region's efforts to generate accurate counts in hard-to-count rural communities.
He told the committee about the need to share best practices and customize counting strategies for individual communities.
He also outlined the VSU center's efforts to promote participation. These include collaborating with a statewide committee on a comprehensive marketing plan to educate the public and raise awareness about Census participation. As part of the plan, VSU has delivered more than 65,000 posters and 45,000 restaurant table tents to 48 Georgia counties. Additional efforts include coloring pages for children distributed throughout the region, a social media campaign, banners, T-shirts and other promotional materials to support local efforts.
"The stakes are very high for our region and for similar regions in rural America," Moore testified.