Macon/Bibb County: Middle Georgia's Gem
Music, manufacturing and medicine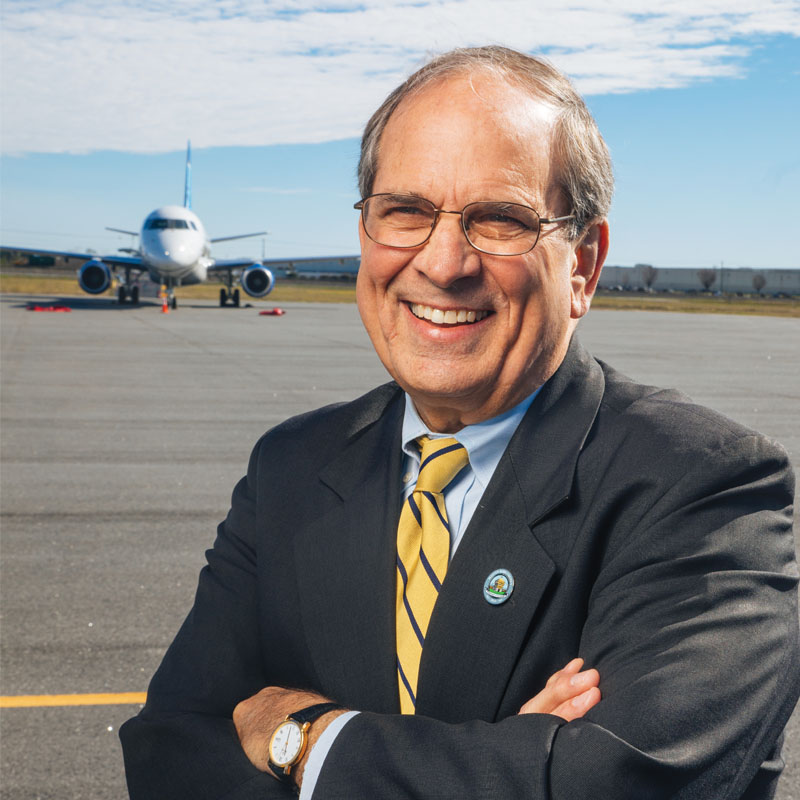 What's the best thing about Macon? That can be a difficult question to answer in a city with so much to offer. There's 17,000 years of history to explore at Ocmulgee Mounds National Historical Park, the musical legacy of the recently reopened Capricorn Records, five different higher education institutions each serving a unique mission, massive logistics centers, an airport and nearby military base, and a rapidly improving infrastructure system.
Just to name a few.
Located 85 miles south of Atlanta on I-75 and 150 miles west of Savannah on I-16, Macon links one of the nation's most important ports with one of its most important business and population centers – not to mention the world's busiest airport.
"Being right in the middle [between] Hartsfield-Jackson Atlanta International Airport and the Port of Savannah means we're well-situated logistically," says Stephen Adams, executive director of the Macon-Bibb County Industrial Authority (MBCIA). "You can hit 80% of the U.S. population within a two- to five-day drive." For time-sensitive cargo, Hartsfield-Jackson is but a two-hour flight to 80% of the county.
And with new truck lanes planned for I-75, the location's advantages should only continue to grow.
There's also plenty of action in town to lure not only visitors but locals as well.
Cultural amenities abound, with Capricorn complementing the Macon Symphony Orchestra and concerts at the Macon City Auditorium, the Grand Opera House and the Macon Coliseum. There's both culture and convenience. Macon Mayor Robert Reichert jokes that the city has "rush minute" rather than rush hour.
"We're only 85 miles southeast of Atlanta, but we're a world apart," says
Reichert, a Macon native and graduate of Mercer University's Walter F. George School of Law.
Though there may not be a rush hour to battle, significant logistics traffic still swings through Macon, especially via the I-75/I-16 interchange, which is undergoing a $500-million improvement project.
Daily flights from Macon's Middle Georgia Regional Airport to Washington, D.C., now operate, too, along with commercial flights to Biloxi, Miss., and seasonal flights to Tampa, Fla. A long-term project will see the airport's runway expanded from 6,500 to 8,000 feet, enough to accommodate some 90% of all aircraft.
---
Building on a Legacy
The first thing many people think about when they hear "Macon" is music. The city's considerable history in this area includes Little Richard, Otis Redding, The Allman Brothers Band and The Marshall Tucker Band, plus contemporary artists like Jason Aldean.
A major step toward honoring and honing that legacy was the reopening of Capricorn Records, now known as Mercer Music at Capricorn.
Larry Brumley, senior vice president for marketing communications and chief of staff at Mercer University, knew the project would make an impact after a recent stop at the studio. A visitor from Virginia came by and asked if he could go inside. Once there, the man literally got on his knees and started kissing the floor.
"He had tears coming down his face," says Brumley. "It was an emotional experience for him to stand in that room where the music that inspired him was made. The emotional attachment of those spaces to people is strong. … Music tourism is a huge business, and Macon has a huge opportunity to promote it."
Another draw is the recently upgraded Ocmulgee Mounds National Historical Park, which was elevated from National Monument status in 2019. Macon leaders hope the boost will grab the attention of visitors passing through the city on the way to and from Florida or other destinations.
Ocmulgee Mounds is one of many attractions that Gary Wheat, president and CEO of Visit Macon, sells every day. He says many people make a goal to visit as many national parks as they can, which means the mounds were placed squarely on their radar last year.
In September 2018, Visit Macon absorbed the city's film commission, hoping to increase the already steady stream of film projects in the city.
"I think we were at about six film productions in 2019," says Wheat. "And [in 2018] I think there was one. So that's something that we're learning about each and every day, because we didn't really know what to expect when we got into it. We're working very hard to get in front of location scouts, to showcase our community and those film locations."
The city also leverages its cultural institutions to tie in with films created elsewhere. For example, the Tubman Museum recently hosted a screening of the 2019 Oscar-nominated film Harriet, which was attended by some of Harriet Tubman's descendants.
Macon touts itself as the festival capital of Georgia, highlighted by the weeklong International Cherry Blossom Festival each spring, the Bragg Jam music festival, Macon Burger Week, the Pan African Festival and the Ocmulgee Indian Celebration. High school students and their parents also flock to the city each year for the state basketball and wrestling championships.
---
Local Leadership
The Greater Macon Chamber of Commerce works hard to promote and expand business in the city and to advocate for business interests as well. In 2019, the chamber successfully opposed an increase in the business occupation tax proposed by the Macon city council.
The increase was expected to hurt companies with more than 250 employees, potentially curtailing new investment in Macon from large businesses like Amazon, Kumho Tire
and YKK.
"We took a position that the tax was not the right competitive move for us to impose on our existing businesses," says Yvonne Williams, president and CEO of the Greater Macon Chamber of Commerce.
And there are plenty of new and existing large businesses in Macon, many of them brought with the help and hard work of the MBCIA. As part of the 2014 consolidation of Macon with Bibb County, previously separate development authorities combined as well to place everything under one umbrella. Since that time, the MBCIA has generated more than $1.3 billion in new private investment, lured more than 2,500 new jobs and retained another 750.
In particular, Macon is a leader in manufacturing, aerospace and logistics. Irving Consumer Products has opened a $470-million, 1-million-square-foot advanced manufacturing facility and will soon begin work on a second phase of the project worth another $400 million.
"Irving Tissue has now committed to investing a total of $870 million into Macon-Bibb County since they made the decision to locate in Macon-Bibb County back in 2017," says Robby Fountain, chair of the MBCIA board. "A financial commitment like that does not happen by luck. It happens with hard work and a lot of partners working toward a common goal. I am proud of our community's ability to attract and now help grow a world-class company like Irving Tissue."
Irving isn't the only recent big announcement. Amazon has also opened a 1-million-square-foot facility that employs 1,000.
Nearly 500,000 square feet of vacant space has been filled at the Middle Georgia Regional Airport (MGRA) thanks to companies like Embraer and Stevens Aerospace and Defense Systems. The airport is also experiencing new construction for the first time since the 1980s through a new 127,000-square-foot Dean Baldwin Painting facility.
"The MGRA is a major economic driver for not only Macon-Bibb County, but the entire Middle Georgia Region," Fountain says. "Companies like Embraer, Stevens Aerospace and Defense Systems and now Dean Baldwin Painting have proven our community is a great fit for the aerospace industry."
Once those new employees arrive, Macon offers plenty to do, not only through its revitalized downtown but also the Ocmulgee River and surrounding parkland. There's easy access to biking and kayaking, along with fishing, golfing and hunting. The cost of living is also reasonable, leading to an enjoyable lifestyle without a lot of overhead.
---
Campus Culture
Any 21st century city needs strong colleges and universities to prepare its workforce, and Macon boasts no less than five higher education institutions to fill that need.
There is Mercer University, a large research institution with campuses and programs crisscrossing the state; Wesleyan College, a private liberal arts school and America's oldest women's college; Middle Georgia State University, a large public institution serving more than 8,000 students; Central Georgia Technical College, which serves an 11-county area and more than 6,000 enrollees; and Georgia College and State University's Graduate Center, which offers professional programs.
As a major university with nearly 190 years of local history, Mercer draws highly qualified students and faculty members to Macon every year. The school's engineering department conducts innovative research with a national impact, while the medical school fights on the front lines to confront Georgia's rural healthcare crisis.
"Mercer is very invested in Macon. We're all about making Macon a better, more vibrant place to live, work and play," says Brumley. "It's in our self-interest to ensure Macon is the best Macon it can be, because we are all about recruiting and retaining talent."
On the entrepreneurship front, the Mercer Innovation Center helps incubate local businesses and startups to create the next generation of economic leaders.
"We have a culture of young people who are very much intertwined through our young professionals network at the chamber," says Williams. "It's an ecosystem the chamber is pulling together to help businesses be seen, to connect and to network."
She credits the schools with helping fill the tremendous need for healthcare professionals as well.
"Wesleyan is producing a wonderful percentage of nursing students for our major medical facilities, Coliseum Health System and Navicent Health," Williams says. "Both are a big presence in healthcare as well as major employers."
Ninfa M. Saunders, Navicent's president and CEO, is the leader of a health system that serves more than 30 counties and operates the only designated children's hospital between Atlanta and Gainesville, Fla.
"We're huge from a space standpoint, but people are spread everywhere," says Saunders. "So in that respect, timely access to care, affordability of care and equity of care is going to be important. We must ensure that all people get the same care irrespective of age, ethnicity, religion and everything else."
Navicent has grown from 4,500 employees a decade ago to 8,000 now. Its largest facility, The Medical Center, serves nearly 750,000 people and is the second-largest hospital in Georgia, with 637 beds. Its emergency department treats more than 140,000 visitors per year. Not only is Navicent a major asset for Macon, it is one of the community's largest economic engines.
Many of those healthcare employees, college students and entrepreneurs are drawn to Macon's historic and revitalized downtown, thanks to the efforts of numerous stakeholders such as NewTown Macon, a nonprofit public-private partnership aimed at community development. There have been multiple streetscape projects, and new retail and restaurants, breweries and coffee shops have opened to complement established players such as H&H Soul Food Restaurant. Wheat says you can't throw a rock downtown without hitting a great place to check out.
With so much to offer in a charming southern setting, a downtown sign perhaps sums it up best: "Welcome to Macon, where the south rocks!"
---
Local Flavor
Historic Jewel
Macon-Bibb County boasts an incredible history, spanning the construction of Fort Benjamin Hawkins in 1809 through Macon's status as a port city, a transportation hub, the home of celebrated musical acts and a regional economic center.
But its full history dates back much, much further.
Just north of the city center stands Ocmulgee Mounds National Historical Park, which celebrates Native American people who inhabited the area as early as 17,000 years ago.
"This is the sixth park where I've worked, and this one has more history than all of the others combined," says Angela Bates, park ranger and volunteer manager. "We think America started in 1776. It did not. As a country we did, but people lived here long before we ever got here. I think it's a jewel for Macon to have this in our own backyard."
Native Americans inhabited present-day Macon due to its strategic location on the river and built a series of mounds that still stand tall today. Those mounds were previously named a national monument but received an upgrade in 2019 to become a national historical park. With the boosted status, marked by a ceremony featuring tribal chiefs, U.S. Rep. Sanford Bishop and then-U.S. Sen. Johnny Isakson, comes a nearly tripled footprint and, Macon leaders hope, a lot more visitors.
"That designation is a major milestone for the region," says Yvonne Williams, president and CEO of the Greater Macon Chamber of Commerce. "It's going to infuse quite a bit of annual visitation and economic opportunity. There's a 10-to-one ratio of the number of people who will visit a national park compared to a national monument."
Visitation was already on the upswing, rising from 120,000 patrons in 2008 to 160,000 last year. Ocmulgee Mounds has gone from 700 to roughly 2,800 acres along with its new status, and it includes eight miles of hiking trails, but the biggest draw remains the 55-foot-tall Great Temple Mound. From the top of that mound, one enjoys a panoramic view of downtown Macon, with plans in the works to connect the park with downtown via paths crisscrossing the Ocmulgee River.
Several smaller mounds dot the landscape, including one that was restored by President Franklin D. Roosevelt's Works Progress Administration in the 1930s. Visitors can actually enter the mound, which has a sculpted clay floor with what's believed to be an ancient fire pit and seats for the community's leaders.
Since Macon serves as a stop for anyone traveling on I-75 and I-16, the idea is to lure more folks off the interstate for a quick visit and history lesson, plus maybe a meal or an overnight hotel stay. Beyond that, Bates says visitors have come from as far away as Germany and France to learn more about America's unique history.
It's a draw for anyone passing through and a point of pride for anyone living in Macon, including Mayor Robert Reichert.
"It's not every mayor that can tell you they have a 3,000-acre greenspace operated by the National Park Service inside the city limits," he says.