Douglasville/Douglas County: Welcoming Disrupter
Recruitment, greenspace and a new vision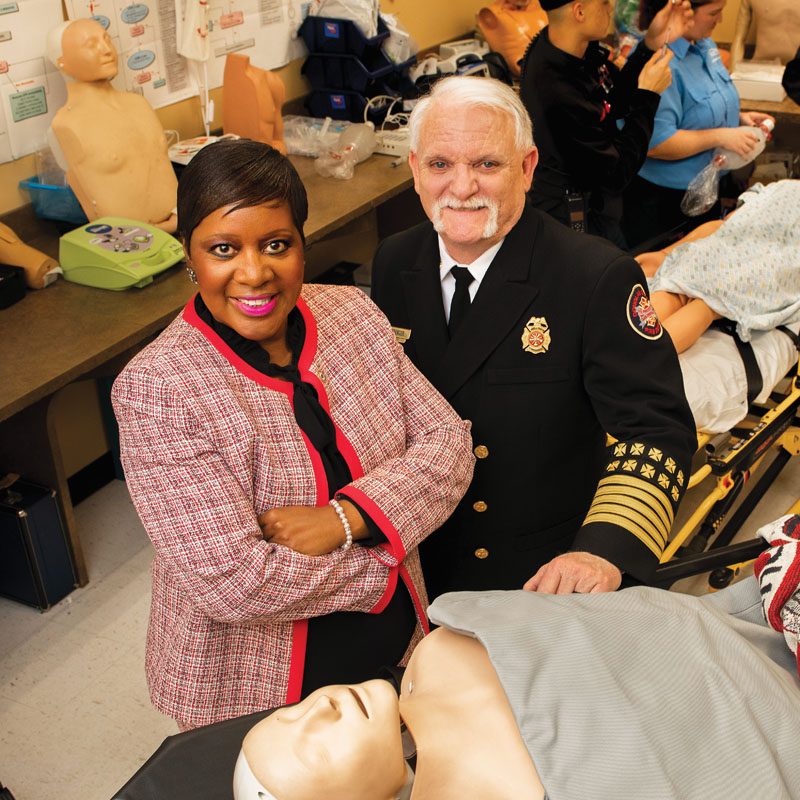 Douglas County, just west of Atlanta, has been busy establishing itself as an outlier, one that is thinking ahead and coloring outside the lines. Over the past 10 years, they've welcomed companies like McMaster-Carr, Gordon Food Service and Google to the county. Now Stitch Fix, an online styling service that delivers personalized clothes for men, women and kids to your door, is opening a large distribution center in Lithia Springs.
It's a result of the Douglas County Economic Development Authority's (DCEDA) service-oriented approach – a style that's helping the county to grow and attract innovative businesses like Stitch Fix, which is making a $56-million investment that will bring 981 jobs to the county over the next five years.
The county's development authority is assisting in multiple facets of the company's experience from real estate to recruitment, and that's in part why the company chose Douglas County. "It was the proof in the pudding that we could do what we say we do as it relates to our work," says Chris Pumphrey, the authority's executive director.
Speed was a factor in recruiting the company, Pumphrey recalls, adding that they had to move quickly to get a certificate of occupancy for the building, put together a rolling timeline and provide added incentives to lure the company to the county. "It gave the development group an opportunity to really showcase the community," says Pumphrey. "It just turned out to be wildly successful, for us and for them."
Success is nothing new to Pumphrey, who was recognized in 2019 as one of North America's Top 50 Economic Developers by Consultant Connect based on peer nominations and is the 2020 board chair of the Georgia Economic Developers Association. In his nine years at the Douglas County Economic Development Authority, he's helped bring large investments to the county. These wins include wire and cable producer Southwire, which invested $20 million to expand its Villa
Rica distribution center in 2017, and Las Vegas-based Switch, which built a $2.5-billion, 1-million-square-foot data center in 2018.
---
Celebrating Strengths
Enticing more diverse and forward-thinking businesses like Stitch Fix to Douglas County is part of a larger Community Strategic Plan that was unveiled to the public in August 2018. The plan identifies four pillars of focus: celebrate the community, invest with intention, cultivate talent and build business success.
That last one is being put into action by Pumphrey and his economic development team. The goal is to not only recruit new types of business to the county, but also to continue to support existing local businesses and to enhance the support systems for entrepreneurs and startups to find success in Douglas County.
Local leaders are also aiming to boost pride within the county by encouraging citizens to help put the plan into action and to spread the word about all that Douglas County has to offer. To that effect, the county recently launched a marketing campaign, Live Outside the Lines, to remind families and businesses that Douglas County has so much to offer just outside the Atlanta city limits, including plenty of greenspace, a lower cost of living and access to all of Atlanta's amenities just a short drive away.
The local public-private partnership Douglas UnitE3 – which stands for Envision, Engage, Energize – worked with Douglas County Tourism to recently launch a billboard campaign promoting that new brand. A social media campaign, #douglasunite is also in the works to build pride and celebrate community.
---
Preserving, Reinterpreting History
Even while looking forward, the county continues to respect and preserve its past. That's important to Douglasville Mayor Rochelle Robinson, who was first elected in 2015 and ran unopposed in the last election. She's focused on making historic preservation economically viable for the city.
That includes last year's reopening of the c. 1904 Welcome Center, which is housed in the former Douglasville Banking Co. building. The brick and marble structure is an important landmark in the historic downtown.
Recognizing when older structures must be replaced is also part of Robinson's leadership. In the center of downtown Douglasville, the c. 1954 Old Jail sat empty for years save for a few movie crews filming in the abandoned space. The city purchased the 10-acre parcel from the county for $850,000 in 2018 and demolished the structure last November. The area will now be transformed into greenspace and a 4,200-seat amphitheater surrounded by retail, restaurants and office space, in part funded by Special Purpose Local Option Sales Tax (SPLOST) dollars.
The Old Jail Project will help reinvigorate downtown Douglasville and is part of a larger 10-year, $40-million master plan to revitalize the growing community's city center.
The master plan includes relocating Highway 92, which is currently in progress, and establishing a multimodal transportation corridor with a greenway and mixed-use activity along that corridor. Both Dallas Highway and Fairburn Road will be transformed into complete streets – the concept of making a street safe and accessible to pedestrians, bikes and transit alongside cars.
The plan also intends to preserve existing historic districts, neighborhoods and buildings and add art, monuments and memorials in public spaces, which will
include new pocket parks and gardens throughout the downtown area.
"I'm excited about Douglasville and where we are going," says Robinson. "The community has a lot of trust and faith in me, and I intend to honor that and to see these projects through."
The rerouted Highway 92, which will be completed in three phases, is being used by the surrounding community as a catalyst to increase walkability and property values in what is called Douglasville's North Side neighborhood.
Interest in revitalizing the long-overlooked area is high, and more than 400 residents showed up for a planning meeting in 2018. "Everyone was really excited and engaged in the process," says Douglasville Community Development Director Patrice Williams.
The city has set aside $1 million for trail systems connecting the parks, and Williams says plans are attracting new residents. Georgia Power is providing power line easements to help build the trails.
"We have the older generation already, and now younger residents are making the conscious decision to move there," she says. Putting the "tools in place where we can have quality development on the North Side," Williams says, will hopefully lead to "more stores and a coffee shop in the neighborhood."
---
Workforce Cultivation
The county's not only focused on bringing new people to set up shop or live in the county, it's determined to build a workforce from the inside out with a program to help students identify and complete specialized training for vocational careers. For example, the Career Ready Training Program offers free training to those who are looking for careers in advanced manufacturing, logistics and warehousing, creating a pipeline of skilled talent for Douglas County employers.
"These are good students, and they're looking to graduate and get into the workforce," Pumphrey says. The program targets both recent high school graduates and adults looking to change careers and is sponsored by a number of entities, including the Douglas County Economic Development Authority, the Douglas County School System and West Georgia Technical College.
With unemployment in the county at 2.9% at the end of 2019, the program serves the community and local businesses, says Pumphrey. "We're using that lens to drive our programs."
Douglas County Board of Comissioners Chair Romona Jackson Jones is especially proud of a recent Lithia Springs High School initiative in partnership with the Douglas County Fire/EMS Department to address the local – and nationwide – shortage of EMTs. While the school has offered an emergency medical responder pathway for years, this year it started providing all the education and clinical needs for students to take the National Registry of Emergency Medical Technicians test.
By adding state-certified classes at the high school and enabling future EMTs to "do a clinical rotation where they ride in the ambulance with us," says Chief Scott Spencer, they are able to fill paramedic/EMT openings on the 165-person staff. "It's a way to start or build a career, not just a job."
The program includes hands-on learning like helicopter landing and loading demonstrations, ambulance driving simulators and time on ambulances and fire trucks – more than 40 hours of clinicals vs. the state-required minimum of 20 hours.
There are 22 students in the program, with more interested in transferring in. With a basic starting salary of $36,142, the career is a good option for students who want to stay in the area.
The Douglas County Chamber is also focused on growing the local workforce by supporting small businesses and startups. Chamber President Sara Ray cites its nine-week CO.STARTERS program in conjunction with Mercer University's Douglas Campus that fosters and helps entrepreneurs. "We are focused on building out an entrepreneurial pipeline," she says.
---
Improving Quality of Life
Commission Chair Jones hopes more young adults will stay and raise families in Douglas County. She is proud of recent economic results, including a median household income of $65,012 for 2018, which is up from $57,384 in 2016, and a 1.57% growth in tax digest, up from 0.9% in 2016.
Making sure citizens have access to the county's amenities and are staying safe are top of mind. To that end, a new Connect Douglas bus program with 12 15-passenger buses launched in June 2019. It offers one-way fares of $2.50, a flex ride option – which provides direct access to schools, businesses or other amenities in communities without a fixed bus route – and ADA/Paratransit service around the county. "We had 11,000 riders in the first 120 days," Jones says.
Additionally, an innovative $32-million public safety digital radio system was in its test phase at the end of 2019 and should be up and operating this year. A project that "has been on our radar for 20 years," says Jones, the response system uses technology similar to iPhone's FaceTime. Douglas County is the second county in the state to have the technology. (Fayette County was the first.)
Many of the countywide improvements are being funded through SPLOST dollars. To offer residents transparency, the board of commissioners is tracking projects from 2017 to 2023 at celebratedouglascounty.com. The 1-cent tax, which began in April 2017, funds fire and public safety, transportation and parks and recreation.
From new businesses coming to the county to new ideas when it comes to growing a workforce, downtown improvements and countywide services, Douglasville truly is thinking outside the lines.
---
Local Flavor
Sweet Alpaca Life
Laura Marshall is an accidental alpaca expert. A yearning for "some type of farm animal," led her to the doe-eyed, long-necked, nimble-footed herd animals about four years ago. She and her husband, Rick Marshall, are now the proprietors of their very own alpaca farm, the 25-acre L&R Alpaca Haven Farm in Douglas County.
Starting with eight that she adopted from another owner in nearby Winston, the couple's herd has grown to 32, spurring them to open to the public on the weekends and for special events.
As with many niche interests, social media has played a large role in their business, Laura Marshall says, with many visitors finding the farm via their Facebook page (LRAlpacaHaven) and website (lralpaca.com). For $10 a person (under age 3 are free), visitors spend about an hour feeding the alpacas carrots and posing for selfies.
The animals are very gentle, says Laura Marshall, and while they are not overly affectionate they are safe (no biting since they don't have top front teeth), don't have the strong smell that goats do and get along well with humans. "They basically have the temperament of a cat," she says. They are a little standoffish but very receptive to snacks and willing to pose for photos.
Alpacas originated in the high altitudes of Peru, so the animals are shorn every April. Each animal generally produces four to six pounds of fleece a year. "The biggest problem they have here is the heat," she says.
Their hypoallergenic fur is often used for knitwear and textiles. Their waste is also valued as garden fertilizer because its pH level helps soil retain moisture. Marshall sells it to gardeners for $10 to $15 for a 5-pound bucket.
Because the Marshalls work full time, they employ two guardian livestock dogs to help, although "the alpacas are pretty low maintenance," says Marshall. She and Rick spend long hours growing barley seed hydroponically for the herd's food supply – they eat 80 to 100 pounds of it each day in addition to grazing on grass, leaves and the like – and maintaining and improving the ranch. They have plans to build an enclosed pavilion as well as an ADA-accessible restroom on the property.
Learning the personalities of the animals is part of their daily lives, and they've witnessed seven alpaca births. (Babies are called crias.)
"The gestation period is about 11 months and 15 days," Rick says, "So they are pretty fully developed when born. They're nursing within an hour. The next day you can't even catch them."
The Marshalls enjoy sharing the herd with the community and are active members of the Georgia Alpaca Association board. They will also be included in an upcoming agri-focused trail that Douglas County Tourism Director Collin Cash is planning. "Our county is very fortunate to have such a unique attraction, and we look forward to working with them," says Cash.