Continuous Improvement
North Fulton County CIDs focus on residents' quality of life.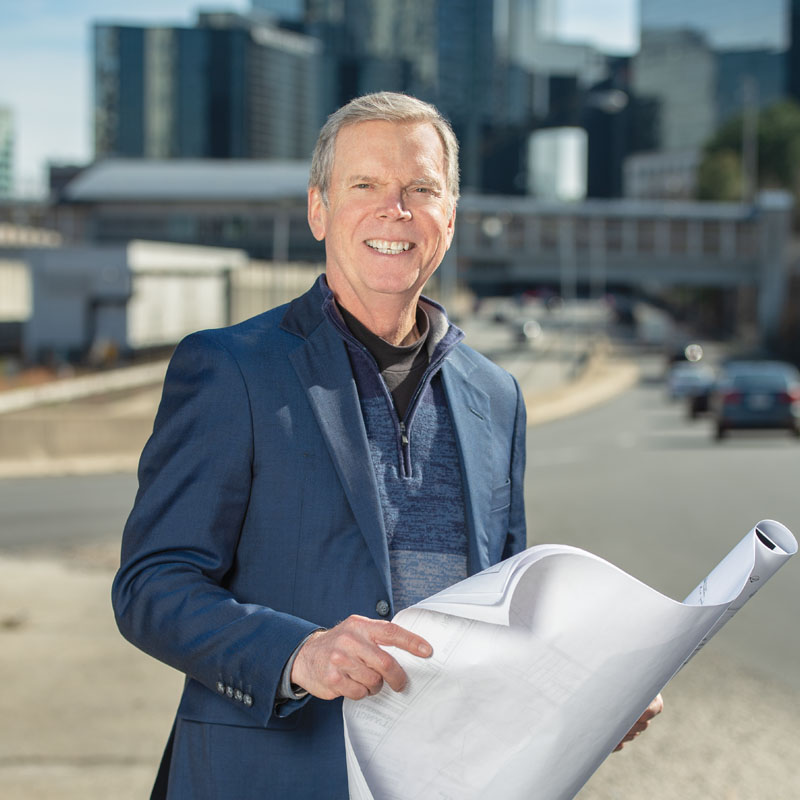 Putting in a sidewalk. Replacing lampposts. Planting new flowers. All small things that community improvement districts (CIDs) do as a matter of course. And they're all important – they do a lot to affect the daily quality of life in their areas – but that's not all CIDs do.
Extending a currently dead-end road in the middle of Midtown so it connects with a major artery. Partnering with Georgia Department of Transportation (GDOT) to upgrade (so extensively that's it's practically like a rebuild) one of the most heavily trafficked metro intersections at I-285 and Ga. 400. Building a park on top of a highway in the heart of Atlanta's retail district. Those are just some of the projects that the CIDs in North Fulton County are working on.
A CID is composed of commercial and industrial property owners who agree to tax themselves to pay for improvements within a defined area that help drive local economic development. The projects benefit property owners and also people who work in the area. And in the case of the North Fulton CIDs – which include the Perimeter CIDs, Midtown Improvement District, Upper Westside CID, Buckhead CID and North Fulton CID – they increasingly benefit the growing number of people who live there.
---
Dense and Desirable
After two legends of Georgia politics, Roy Barnes and Johnny Isakson, worked together to help create the first CID in Cobb County in 1988, one of the first things the new entity did was start working on transportation improvements (specifically the Kennedy Interchange on I-75). Getting people in and out of Metro Atlanta's CIDs makes for endless ongoing projects, but one big thing has changed since the '80s: CIDs are now home for a lot of Atlantans – literally. From Midtown to North Fulton, they're being shaped by residential density in what were formerly commercial cores.
It's common to see cranes towering over streets in Midtown. "Anywhere you see a surface parking lot or one-story building, it's a development site for all practical purposes," says Kevin Green, president and CEO of the Midtown Alliance, sister organization to the CID that provides staff and day-to-day management for its projects. That's thanks to office space demand and job growth – according to Green, more than 21,000 jobs were announced in a one-square-mile area in the past five years – but it's also drawing residents. And the two aren't really separate, because many of the new buildings are mixed use.
"Employers are voting with their feet. I think residents are also voting with their feet," says Green. A recent Midtown Alliance survey showed that 96% of residents, workers and visitors thought walking should be at the top of the list for infrastructure investment. Transit was second; cars were last. Even the much-maligned e-scooters ranked ahead of cars in the survey.
"This is what we've been planning for," Green says of the district's growth. He notes that Midtown's streets are laid out on a grid, which enhances walkability. And, he says, "it helps when almost everything is within a short walk of rail transit and a lot of local and regional bus routes."
To alleviate some traffic woes, Midtown Alliance partnered with GDOT and the city of Atlanta to extend 15th Street from West Peachtree (where it currently dead-ends) to Williams Street, a major artery that feeds into I-75. Green says it should take some traffic pressure off frequently congested 14th Street.
And it won't be just for cars. The design includes bike lanes connecting to the Arts Center MARTA station and a 10-foot sidewalk. It will be constructed on GDOT right-of-way, avoiding expensive land purchases, starting in 2021.
It makes sense that Midtown is getting even more dense – it's well within the city of Atlanta. The same trend, though, is changing the face of the Perimeter CIDs. (Because CIDs can't span county lines, one is in DeKalb County and one in Fulton, though they operate together.) Anchored by Perimeter Mall, the area has long been home to corporate headquarters and offices. Now massive developments like State Farm's campus, which has thousands of workers and is directly connected to the Dunwoody MARTA station, have sparked the transformation of the district into a walkable – and livable – area. Two new large mixed-use developments are planned along Ashford-Dunwoody Road.
"The investments the Perimeter CIDs have made for the last 20 years are culminating now," says Executive Director Ann Hanlon, who estimates about 9,500 residents call the area home. "All the sidewalks that got built, the streetscapes, decorative lighting, landscaping, roads, timing of the traffic lights. All the infrastructure is here, and now everything has started to fill in and people are living here, and they will be drinking and dining and shopping."
Those projects are a CID's bread-and-butter. And even though the Perimeter CIDs are old enough and large enough to partner on big projects like the Ga. 400 interchange, one of the newer organizations finds that kind of smaller investment transformative, too. "Small projects that have such a huge impact," is how Elizabeth Hollister, executive director of the Upper Westside CID, describes them.
For the three-year-old Westside CID, that includes things like a trail system through the four-and-a-half acres of public land at the corner adjacent to the Atlanta Waterworks Hemphill Reservoir. (The CID was instrumental in bringing together a number of partner organizations to designate the passive greenspace.) It also includes adding crosswalks and a four-way stop to the intersection of Brady Avenue and 10th Street and making improvements to MARTA bus stops. When her CID was even younger, Hollister remembers hearing Hanlon talking about a new sidewalk and thinking, "Even Perimeter is excited about this!" It's encouraged the Westside CID to look for smaller projects that can be funded locally while working on its first master plan.
---
More Mobile Options
Like the other districts, the Westside is becoming denser and more residential. The CID's projects include some that address car traffic directly, like adding lanes to Huff Road. It also includes projects that encourage alternate means of transportation, like creating bike lanes on Brady Avenue and improving Howell Mill Road for people in cars, on bikes and on foot.
"Our congestion strategy is, in part, how can we relieve congestion by getting people out of their cars and taking alternative modes of getting around?" Hollister says.
She adds that such an approach is only possible in a dense district, and it's true that Midtown also has a number of such projects starting, such as repurposing some lanes on Juniper and Piedmont to accommodate bike lanes and adding or widening sidewalks. But Buckhead and North Fulton are also looking to make it easier to get out of your car, even as they pursue road projects.
For example, within the North Fulton CID are a number of road improvements, such as adding a third left-turn lane on Windward Parkway, extending west toward Deerfield Parkway and Westside Parkway. The CID is partnering with Alpharetta and GDOT on the project and has kicked in just over $1 million of the cost, according to Executive Director Brandon Beach. The organization is looking at extending Davis Drive to Westside Parkway, a "small but important project for connectivity," says Beach.
It's also investing in new MARTA bus stop shelters as part of its efforts to encourage transit and working with Alpharetta on the Alpha Loop, a series of multi-use trails that will connect Downtown Alpharetta, Avalon and the North Point Activity Center – the area around North Point Mall. Even the 'burbs are growing denser – Avalon's high-end, mixed-use success has encouraged developments like Alpharetta City Center in downtown. "Look at Avalon – people are living there, working there, dining there, and then they can walk to downtown Alpharetta," Beach says. "Fifteen years ago, no one was walking around downtown Alpharetta, and now everyone is."
The Buckhead CID is "doing whatever we can" to increase walkability, says Executive Director Jim Durrett. This includes "the buc," a long-running free shuttle that offers last-mile connectivity from the district's two MARTA stations, a Piedmont Road project that will add a multi-use path as well as another traffic lane, and a planned multi-use trail that will function like a linear park between Lenox Road and the Lenox MARTA station. Work continues on PATH400, which will eventually be a 5.2-mile multi-use trail extending from the Atlanta BeltLine to the south through the middle of Buckhead to Sandy Springs and Dunwoody.
The Perimeter CIDs also provide alternative transportation assistance through Perimeter Connects, a service that works with large employers to help their employees understand the options for getting around. Hanlon describes it as a "transportation concierge" that partners with companies to find catered solutions, from telework programs to discounted MARTA and express bus passes.
In addition, the CIDs' "next big project" in partnership with the city of Dunwoody is a "commuter trail" with a wide sidewalk, landscaped median and bike lane that will run down Ashford Dunwoody Road from Hammond Drive to Perimeter Center West. "Our biggest rush hour is in the afternoon," says Hanlon, "and the second peak time is at lunch. [People] are getting in their car to drive to lunch, as opposed to getting out and walking." The trail will provide an alternative, as well as another reason to consider transit. "We need to keep building up infrastructure so people can walk around," Hanlon says.
Beach, who as a state senator is a longtime transit advocate and played a crucial role in the legislation that created Atlanta's new transit authority, the ATL, says "There's no one silver bullet. It's going to take a combination of everything to enhance mobility and decrease congestion."
The important thing, he says, is making sure all the systems are integrated. That's exactly what the CIDs are aiming for, with paths, trails and bike lanes complementing rail and bus service.
---
Parks and Rec
Along with trails, the CIDs are investing in greenspace and gathering space to serve workers and, increasingly, residents and to provide a sense of place. And they're getting creative about it.
Other than Piedmont Park, Green points out that Midtown's largest public space is streets and sidewalks. Midtown Alliance has already worked with MARTA to create public space around some of the rail stations and is planning an Art Walk that will connect the Midtown and Arts Center stations.
"It's really going to be a linear park with a street where cars, bicycles and pedestrians share space," Green says. Public art and creative lighting and landscaping will be part of the experience. On other streets, realigning the median and removing some on-street parking – Green calls it "reassembling the public space" – will allow for a little park to be sandwiched in.
Transportation and greenspace are the Westside CID's priorities, says Hollister. "We're trying to bridge the gap between the greenspace network and the transportation network." The CID looks for "slivers of land," especially anything municipally owned because private land is cost-prohibitive. But in some cases, landowners are amenable to providing space – for example, Brady Pocket Park being constructed in front of West Egg Café on Howell Mill Road is partly on private land and partly on public right-of-way. "It will be a public space right in the center of the walkable part of our district," Hollister says.
One of the most creative approaches is the plan to build a 9-acre greenspace with trails, plazas and an amphitheater on top of GA 400 and the Buckhead MARTA station. The brainchild of the Buckhead CID, it will provide much-needed public space for a district whose gathering spot has often been the Lenox Mall parking lot. "It's important for us to have an attractive public realm where the community can come together in ways other than through shopping and dining," says Durrett.
"Designing nature into urban environments" is critical as more people move into cities, says Durrett, who calls the multi-model, transit-oriented park dubbed HUB404 "the most important project we are spending our energy and eventually our resources on." An independent nonprofit kicked off fundraising for the project last fall.
Their projects are diverse, but the CIDs in North Fulton County all have one aim: To improve their districts in the middle of substantial growth in commercial and residential opportunities. In the end, says Midtown's Green, you get the city you build for. "So you just have to make sure as you grow," he says, "the quality of life gets better for people."