CyberKnife® M6 —Reimagining Cancer Treatment
at Southeast Georgia Health System Cancer Care Center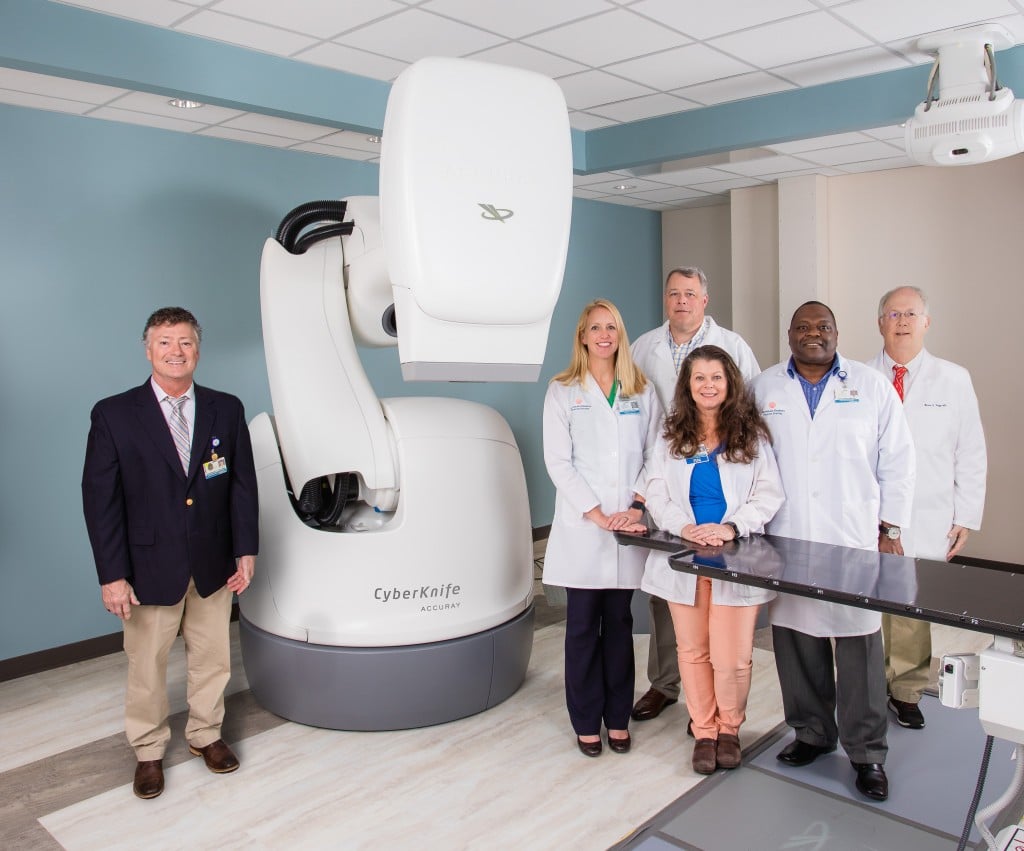 Imagine battling cancer not once, but twice. It's a daunting prospect for anyone, but that was the situation facing Fernandina Beach, Florida resident, Phil Whitaker. In 2016, Whitaker was diagnosed with prostate cancer. He sought treatment from board-certified radiation oncologist Timothy A. Jamieson, M.D., Ph.D.—medical director of the Southeast Georgia Health System Cancer Care Centers and CyberKnife program. Jamieson evaluated Whitaker's cancer and decided he was a good candidate for CyberKnife treatment.
CyberKnife is a painless, incisionless robotic radiosurgery system that uses sophisticated real-time imaging to target cancer cells and tumors with high-dose radiation beams while leaving healthy tissue intact. CyberKnife treatment for prostate cancer is typically five sessions for approximately 30 minutes. More than 1200 prostate cancer patients have been treated at Southeast Georgia Health System's Cancer Care Center with 5-fraction CyberKnife, making it one of the busiest prostate radiosurgery centers in the world.
The treatment was a success and Whitaker beat the cancer.
Two years later, Whitaker found himself facing a second cancer diagnosis. While doing yard work, an insect flew into his mouth, causing him to cough violently. Although the coughing subsided after a few hours, the throat pain remained. When he sought treatment, it was discovered he had a cancerous lesion at the base of his tongue. Without hesitation, Whitaker again sought the help of Dr. Jamieson. After an evaluation of Whitaker's cancer, Dr. Jamieson recommended surgery, followed by 33 five-minute CyberKnife treatments.
To ease the burden of travel between Whitaker's home in Florida and Southeast Georgia Health System during the 6-week treatment course, the Cancer Care Center staff arranged for Whitaker and his wife to stay at the Health System's Nunnally House, a 40-room residential facility next to the Brunswick Campus.
For Whitaker, the benefits of CyberKnife were clear:
Sub-millimeter precision targeting only the cancerous cells
Reduced damage to healthy tissue
Shorter treatments (depending on the tumor or cancer, each CyberKnife treatment lasts only 5–30 minutes)
Shorter recovery periods
Fewer disruptions to daily routines
And Phil is not alone. One of the first breast cancer patients treated using the CyberKnife M6 at Southeast Georgia Health System was Marilyn Steiner, who underwent treatment for breast cancer. After the treatments, Marilyn reported that, "I had no fatigue, no skin irritation—not one side-effect. There's nothing I couldn't do after treatment." Marilyn's experience represents a sharp contrast to the often-debilitating side-effects of more traditional cancer treatments.
Steiner also praised the quality of care she received. "Across the board, the quality of care at Southeast Georgia Health System is exceptional," she said. Steiner said her doctors were "as wonderfully caring as they were skilled."
CyberKnife® is revolutionary because it delivers radiation only to the area surrounding the original tumor site, where cancer is most likely to recur. This targeted therapy greatly reduces or eliminates the negative side-effects of full-body radiation therapy. Greater accuracy also means fewer side-effects. Prostate cancer patients typically experience fewer post-treatment issues when treated with CyberKnife, and lung cancer patients can preserve pulmonary function when healthy lung tissue is preserved.
Patients are able to receive CyberKnife treatment for various types of malignancies, including prostate, lung, breast, pancreatic, liver, and even brain cancers. Dr. Jamieson credits the program's popularity to its low side-effects, high cure rate, and minimal disruption of patients' daily activities. Since its inception, the CyberKnife® program has treated over 300 patients annually, allowing physicians to treat more types of cancer, including irregularly shaped tumors, more easily.
To learn more about the CyberKnife M6 program, contact Southeast Georgia Health System Cancer Care Centers. The future of cancer treatment begins today at SGHS.
Southeast Georgia Health System is the only medical center in Georgia to offer the CyberKnife M6 Series with MLC technology, a faster more effective treatment option that provides unmatched precision. Installed in November 2017 at the Health System's Cancer Care Center in Brunswick, it replaced an earlier CyberKnife system primarily used to treat prostate and lung cancers.