Visionary Cities
Forward-thinking leaders help make their communities welcoming for generations to come.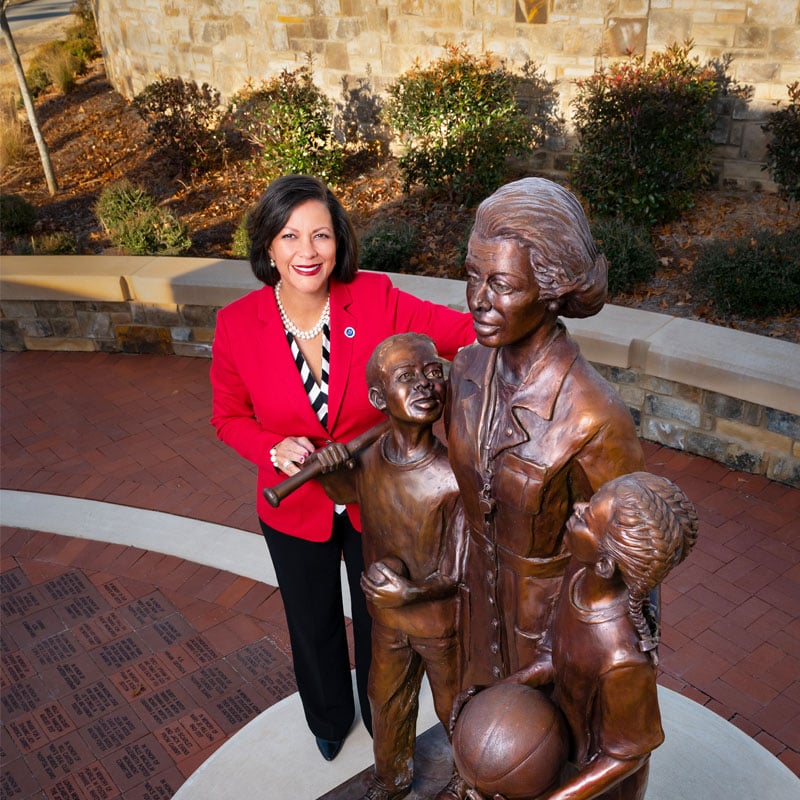 Cities that are successful at luring residents and visitors all have one thing in common – a vision for making that happen. This year, the Georgia Municipal Association (GMA) and Georgia Trend have teamed up to honor nine cities with the inaugural Visionary City Award.
The award spotlights cities that have exhibited success in planning and forward-thinking in the areas of civic engagement and collaboration.
"It's our privilege to honor the elected officials, city staff and community leaders of these nine cities who've led these initiatives and projects," says GMA Executive Director Larry Hanson. "These cities exemplify what it means to be forward-thinking for their residents and generations to come and also serve as inspiring examples of civility, collaboration and creating communities of positive change across Georgia."
These cities are grouped by population size – Large (more than 25,000), Medium (5,000 to 24,999) and Small (fewer than 4,999) – with projects that include public events, a rec center and park that honors a community leader, a city center, a data center, a creative district, an auditorium and broadband.
The goal of each of these projects? To foster healthy working relationships and make the communities places where people truly love to live and work. – Karen Kirkpatrick
---
Large Cities: Looking Ahead
CHAMBLEE
Chamblee had a slate of transformative infrastructure projects planned for its key corridors, including adding bicycle lanes, raised crosswalks and stop signs to encourage pedestrian and bicycle traffic. These would be a big change for drivers – and the city needed buy-in from the community to ensure success.
The solution? Transform the typical public information workshop into an interactive, lively event – a "community engagement activity disguised as a special event," says Matt Dickison, Chamblee planning and development director. The city held two of these events – the Mid-City Stroll along Peachtree Road in 2017 and the Town Center Stroll through downtown Chamblee in 2019 – to engage community members more effectively in the planning process.
"We also wanted to engage them in different environments than they're used to," says Dickison, "and we wanted to do a lot of demonstration projects alongside the project to show people how the recommendations and plans could be realized in real life."
The city partnered with local businesses to create a street festival atmosphere, moving information stations inside boutiques and shops and holding visual preference surveys in local restaurants. To demonstrate how a bike lane would look and feel, the city simulated one by closing a lane of traffic and installing temporary streetscape improvements and pocket parks using materials donated by Lowe's.
In total, the events attracted about 800 attendees and cost the city less than $5,000, since most materials and manpower were donated. And the results? Enthusiastic buy-in from the community, vital to securing funding and moving forward with the plans. – AB
---
MARIETTA
When Marietta voters approved a $25-million parks bond in 2009, one facility in particular was in dire need of attention: the Elizabeth Porter Recreation Center, located in the heart of Baptist Town, the city's historic African-American community.
Originally built as a hospital for African Americans during segregation, the building became a recreation center when the hospital closed in 1952. It was eventually named the Elizabeth Porter Recreation Center in honor of Elizabeth Porter, the recreation center's first director and beloved community member.
"As you can imagine for that immediate community, this had been a facility that had really meant a lot," says Marietta City Council member Michelle Cooper Kelly, who led the park's redevelopment. "It was a place to go, a place to gather, a place to have weddings and family reunions."
The park development team was careful to give the Baptist Town community something new while honoring the site's past. Alongside the $6.5-million park's pavilion, walking track, playground and sprayground (the only one of these popular water-based playgrounds in the city) are two pieces of public art honoring the site's history: a 130-foot historical timeline mural and life-size statue honoring Elizabeth Porter, both created in close collaboration with Baptist Town community members.
"We are a city that always celebrates history. We pride ourselves on history, but we realized that we had a gap in celebrating the African-American history of the city," says Cooper Kelly. "This project really brought it full circle in celebrating all of Marietta's history." – AB
---
SUGAR HILL
The ribbon-cutting ceremony for Sugar Hill's E Center was packed. Mayor Steve Edwards looked at the crowd of 200 and thought, "This is pretty cool. We did something really right," he says.
Dubbed "the center of everything," the 180,000-square-foot mixed-use development features a community gym, 406-seat Eagle Theatre and 40,000 square feet of office, retail and restaurant space, all connected to the Bowl, a 1,750-seat amphitheater that attracts acts like Joan Jett & the Blackhearts, Trace Adkins and Third Eye Blind in its summer concert series.
The E Center gives Sugar Hill residents a place to gather with family and friends and more options for entertainment – needs first identified in a 2003 citizen survey. The center's design also celebrates the city's 80-year history: The Eagle Theatre's Art Deco styling honors Sugar Hill's beginnings
in the early 1900s, and the gym's industrial feel reflects the site's original use as a manufacturing facility.
The $46-million development represents more than a decade of brainstorming, planning and strategic land acquisition by Sugar Hill's leaders, city council and the Downtown Development Authority. More than a community center, the E Center anchors the city's downtown, which didn't even exist a decade ago.
"We've got a growing 25,000 population, and it's just a unique situation where we created a downtown, a destination, from nothing." Edwards says. "It took about 10 years and the vision of good staff and council members to make it happen." – AB
---
Medium-sized Cities: Community Connections
ADEL
Located a half-hour north of Valdosta on I-75, Adel is the seat of Cook County, home to attractions like Reed Bingham State Park, Horse Creek Winery and South Georgia Motorsports Park.
In addition, Adel is one of 49 Municipal Electric Authority of Georgia (MEAG) cities. That means it owns all of its own utilities, including electric, gas, water, sewer and dark fiber (unused fiber that is already in the ground). When Adel's electricity sales were cut nearly 40% following the Great Recession, the city was placed in an "excess condition," meaning it needed to sell the electricity it wasn't using.
By teaming with six other MEAG cities and marketing itself, Adel found a big company in need of excess energy. Blockstream, a Canadian provider of technology used in the bitcoin industry, signed on to build a massive data mining complex in Adel, which will eventually require 10 times more power than the city itself.
"At full buildout they'll use 270 megawatts, and Adel uses 26 megawatts," says Adel City Manager John Flythe. "Those 270 are split between the seven cities, so each will get their cut through an intergovernmental agreement. Adel is the lead community since we put the deal together."
So far, 12 containers of computer servers have been installed at a cost of roughly $1 million each, using 40 megawatts of electricity. Upon completion, the total project cost will reach $300 million, with 270 containers on site by the end of 2023. All infrastructure costs are being paid by Blockstream.
Adel is expected to bring in over $15 million in gross sales annually, along with at least 15 jobs paying $75,000-plus. – HW
---
DECATUR
In 2014, the city of Decatur committed to being a compassionate, diverse and welcoming city. About the same time, however, the city of nearly 24,000 also began to see a loss of diversity as younger, predominately white families replaced an older African-American population. The city also faced complaints of racial profiling by police.
To shore up its commitment, Decatur gathered a group of 19 residents from various backgrounds, including the police chief and a resident who had accused the police of racial profiling, to engage the community in creating a more just, welcoming, inclusive and equitable experience for everyone who lives, works or visits Decatur. It became known as the Better Together Initiative.
The yearlong visioning and outreach process led to the Better Together Community Action Plan for Inclusion, Equity and Engagement, which includes six focus areas: support community participation; promote racially just community policing; ensure the availability of affordable housing; cultivate an inclusive retail environment; maximize the use of public spaces; and develop low-cost transportation options.
"The plan contained 60 action items for individuals, businesses and organizations to tackle," says Linda Harris, Decatur's assistant city manager for community and economic development. "It wasn't a plan saying, 'okay government, you have to do this.' It was about what we all need to do individually and collaboratively."
The project grew to include 800 citizens who contributed more than 1,300 hours to the effort, including many from diverse or marginalized communities. Local photographer Beate Sass has documented the diversity of the area with the I Am Decatur project, which features stories and photos celebrating the differences and shared humanity of Decatur residents.
Funding for Better Together included a $25,000 grant from the Community Foundation for Greater Atlanta, and the overall expense was $132,000. But it was the community-wide engagement that made it a true success. – HW
---
THOMASVILLE
As the second-largest city in southwest Georgia and the self-proclaimed City of Roses, Thomasville professes a proud history.
It found a way to celebrate that history and more through a new downtown creative district known as "The Bottom," which has been developed on what was a center of local African-American and Jewish culture. Included in the wide-ranging project are The Ritz Amphitheater, a park, new streetscapes and a community trailhead that will span 15 miles upon completion.
But beyond the amenities, the project honors a unique aspect of Thomasville's history. There are 60 new plaques honoring former minority-owned downtown businesses, including those owned by African-American, Jewish and Greek residents.
More than $8 million in public and private investment has been poured into the district since 2014, including 30 new businesses and 160 new job opportunities. Free Friday concerts at the 1,200-seat amphitheater from March through December draw thousands to the area.
The creative district spotlights both the future and the past, promoting the rich history of Thomasville while also providing activities and interest for tomorrow's residents. The total cost for the project came to $3.8 million, funded through 2012 Special Purpose Local Option Sales Tax (SPLOST) dollars.
"This project preserves the character of the area and allows us to capitalize on that historical element," says Thomasville Main Street and Business Development Director April Norton. "One element we've been working on is how to connect generations and how to give our younger folks a sense of excitement. Yes, we want you to further your education, but we want you to come back to Thomasville to raise your families." – HW
---
Small Cities: Making Magic
DONALSONVILLE
The eDonalsonville broadband initiative rolled out in 2018 with an initial goal of helping Donalsonville students get the education they need to succeed. Now the system is being adapted for use by businesses, job applicants and disaster recovery agents – not to mention folks who just want to watch Netflix.
Donalsonville, in Southwest Georgia, could be the poster child for the rural south. With just over 8,000 people in Seminole County and about 3,000 in the city, the area isn't densely populated enough for major cable/internet providers to come in. And yet today, internet access is key to many parts of life.
In 2016, when no one was coming to the broadband rescue, city leaders decided to offer affordable, fixed wireless broadband to residents and businesses – technology that needs no fiber, no outside cable, just boxes on towers. The timing was perfect. When Hurricane Michael hit in October 2018, just two months after eDonalsonville launched, the system literally saved lives.
"You can't recover if you can't submit a FEMA application. The insurance people won't write you a check unless they can get access," Jeffrey Hatcher, the city's communications director and tech guy, says.
FEMA reps and insurance agents couldn't even get service on their phones. Until they got to the city limits. "We were only down that first day," he says.
The quick recovery meant pharmacists could fill prescriptions and police and fire departments could respond to calls. Now, the city is looking to expand the system.
"We've got a farmer who's got a tower outside the city limits," says City Manager Steven Hicks. "We approached him and said, 'Can we get access to your tower, and what would you charge?' And he said, 'nothing.'"
In this agricultural region, he's not the only farmer interested in trading tower space for broadband. "There are farmers who … need technology to run their systems," Hicks says. "There's all kinds of opportunities." – KK
---
HOGANSVILLE
Today the job of postmaster of a small town like Hogansville, in West Georgia, doesn't seem like a position that should come with hazardous duty pay. But in 1897, when President William McKinley appointed Isaiah Lofton, a black Republican Party organizer, to the position, it turned out to be extremely dangerous.
Hogansville's white citizens boycotted the post office, which was located in the black business district called Cross Town, and on Sept. 15, 1897, an unknown gunman shot Lofton as he was leaving his job. Lofton recovered and moved north, but this event sparked a movement across the south. Acts of violence like this are believed, according to the Georgia Historical Society (GHS), to have led to the creation of the National Afro-American Council in 1898, which eventually became the NAACP.
Now Lofton's legacy is being honored in Hogansville with a GHS historical marker on the site where he lived and near where he was shot.
It's part of the society's approximately 40-marker Civil Rights Trail that commemorates the freedom movement in Georgia.
It's also part of an effort to draw visitors to Hogansville, says Lynne Miller, the city's community development director. The site will one day be part of a city trailhead that leads to the local splash park. In addition, a mural is going up across the street that will honor Lofton, she says.
"We're extremely excited," Miller says. "We have our 150th birthday coming up next year, which is important to us. We want to make sure we have interesting history to relay at that time." – KK
---
WINTERVILLE
Winterville Mayor Dodd Ferrelle campaigned on the idea of renovating the city-owned Winterville Auditorium and making it a home for the arts. Since his 2016 swearing-in, he has fulfilled that promise, engaging the community to help turn the auditorium into what he calls a "magical place."
The town of Winterville, population approximately 1,200, sits just northeast of Athens. The auditorium, built in 1953, had been empty since 2002. "It was basically just a storage unit for the city," Ferrelle says.
"I had a community workday very early in my first year in office," he says. "I put the word out, and they [citizens] showed up. It was incredible."
The first day focused on cleaning and clearing out, to get an idea of what they had in the building. "At the end of the day the auditorium was sparkling, even though … parts of the roof were sagging in," he says.
The auditorium has come a long way since then thanks to community support and grants from the Fox Theatre Institute. The building has HVAC, power, sound and light systems, and a lobby. Granted there aren't restrooms – yet – but the Winterville Auditorium is back in business.
"[RespirOpera] had a weeklong run," Ferrelle says of the North Georgia opera company. "Great crowd. Great production. It's exciting to sit in the back of the auditorium and know that two-and-a-half years ago it was full of dirt."
Up next is a strategic plan – again with citizen input – to determine operations and visioning for future programming. But Ferrelle's vision is already fixed in his mind. "When you walk in, you'll know you're in a special place," he says, "and you'll remember it. Whether you're in there one time or a hundred times, you remember it being a special, unique theater for the arts."